Old Clybourn Porter

Goose Island Beer Co.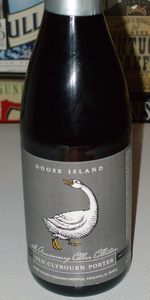 Write a Review
Beer Geek Stats:
| Print Shelf Talker
Style:

ABV:

5.5%

Score:

Avg:

3.81

| pDev:

9.71%

Reviews:

14

Ratings:

From:

Avail:

Rotating/Seasonal

Wants

Gots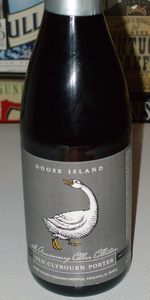 Notes:

ChicagoJ from Illinois
4.04
/5
rDev
+6%
look: 4 | smell: 4.25 | taste: 4 | feel: 3.75 | overall: 4
7/3/18: Now 6.4% ABV, drafted at Goose Island Clybourn. $5 16 ounce pitch black pour into nonic glass, light tan lacing. Nice chocolate roast coffee aroma. Taste matched aroma, nice malt blend. Carbonation holds. creamy mouthfeel. Overall very good offering.
Jul 04, 2018

REVZEB from Illinois
3.74
/5
rDev
-1.8%
look: 4 | smell: 3.75 | taste: 3.75 | feel: 3.5 | overall: 3.75
Had on tap. Solid throwback all around. Dark and with a hint of light coming through. Smells of dark chocolate, roasted malt, and light coffee, like decaf I guess. The taste is malt heavy with slight hints of the coffee and chocolate. Little watery
May 18, 2018

TMoney2591 from Illinois
3.74
/5
rDev
-1.8%
look: 4 | smell: 3.75 | taste: 3.75 | feel: 3.5 | overall: 3.75
Served in an imperial pint glass at the Clybourn brewpub.
And the Pre-Gold Box Excursion refuses to stop, this time making a brief sojourn at this porter. It pours a deep black-brown topped by a finger of khaki foam. The nose comprises roasted malts, dark chocolate powder, and very light coffee. The taste brings in more of the same, with the roast dominating all else and a twinge of dark greens creeping in near the rear exit. (Gotta throw this in there: "The question mark was emphasized." Those who know know...) The body is a light-leaning medium, with a light moderate carbonation and a sorta/kinda drying finish. Overal, a solid porter, nothing earth-shattering, really, but a tasty offering nonetheless.
Jul 05, 2013

jegross2 from Illinois
3.2
/5
rDev
-16%
look: 3 | smell: 3 | taste: 3.5 | feel: 3 | overall: 3
Fresh pint served in an imperial nonic tumbler glass (the British version of the tall pint glass).
Appearance: A thin quarter finger of creamy cream-colored head. Dark black colored body that is mostly opaque with ruby highlights around the perimeter of the beer. 3/5
Smell: Subtly creamy coffee aromas. Unsweetened cocoa powder. 3/5
Taste: Very creamy, subdued-flavor beer (most British-style porters are). Faint coffee with a roasted malts. Hints of smokiness. 3.5/5
Mouthfeel: Light bodied, medium carbonation. Creamy-smooth mouthfeel. Finishes very dry. 3/5
Overall: A very average, disappointing Guinness-like brew.
Nov 26, 2011
GbVDave from Illinois
3.95
/5
rDev
+3.7%
look: 3.5 | smell: 3.5 | taste: 4 | feel: 4 | overall: 4.5
Poured from a 750ml wax sealed "20th Anniversary Cellar Collection" bottle into a 20oz imperial pint.
The label clearly states "Goose Island Clybourn Brewpub, Chicago, IL 60614" so that's why this review is here and not in with the Fulton St. brewery reviews.
A: Pours, with a typical Porter thinness, a dark brown almost black color with a very bubbly light-tan head. The recedes from about three fingers to a whispy skim in no time at all and leaves no lace behind.
S: Hard to get much aroma from this but I was able to squeeze out some roasted malt, tart grain, chocolate, and citrus.
T: Oddly appealing interplay between dark roasted malt and slightly tart graininess. Also found some tangy citrus, bitter dark chocolate, spicy hops, toasted sourdough, and a pinch of espresso.
M: Starts out quite roasty and thin but thickens considerably during the second half of the bottle. Cool mixture of roasty, tangy, toasted, and creamy.
D: Excellent drinkability! I enjoyed this bottled version a lot more than the draft versions I've had of this over the last 15 years.
Oct 08, 2008
mikesgroove from South Carolina
4
/5
rDev
+5%
look: 4 | smell: 4 | taste: 4 | feel: 4 | overall: 4
Another wonderful 20th anniversary bottle that I was able to secure from a most generous BA. This was my second foray into the series and I was much looking forward to opening up the 750 ml bottle. Very nice and tough to open wax seal greeted me. Served at cellar temperature in an oversized wine glass. This was consumed on 09/15/2008.
Poured into the glass with a very dark brown color. This one was nearly opaque in its color. Nice two inch head of light tan came up over the top and quickly settled down into a soft layer about a quarter inch high that stayed across the top of the glass throughout the rest of the session.
The aroma was rich with roasted malts. Semi sweet with a noticeable amount of caramel coming through, but at the same time, a very noticeable amount of bittering hops as well. Light touch of peat as it warmed gave it that nice smoked touch. This carried over very well into the flavor. Rich and smoky, the roasted malts stole the show here for at least the first good bit of it. Lots of caramel touches as well as a decent smack of peat and smoky flavors, especially in the finish where it took on a good deal of a dry and bitterness as it washed down. Very nice consistency here, with a subtle, yet noticeable carbonation profile that was just enough to take notice of. Easily a session able porter, there was no trouble at all here with enjoying this one repeatedly without issue.
Overall this was definitely a very solid sample of the style. Was it a knock, no, but it was good in every conceivable way. This is another fine example at how to make an interesting, yet not over the top brew. I was quite impressed by it to be honest, and would love to try it on tap. Score another one for Goose Island.
Sep 19, 2008
nem2006 from Illinois
3.62
/5
rDev
-5%
look: 3.5 | smell: 4 | taste: 3.5 | feel: 3.5 | overall: 3.5
The beer is dark brown to black with a slightly tan head that leaves good lacing.
The smell is slightly smoky, sweet and malty.
This is a medium-bodied beer with sweet malts that start it off. It then finishes with a mild bitterness. There is a little smoky flavor in there. I didn't catch the chocolate finish they talked about at the pub.
Sep 09, 2008
semihobo from Michigan
2.83
/5
rDev
-25.7%
look: 3.5 | smell: 3 | taste: 2.5 | feel: 4 | overall: 2.5
Served on cask in a nonic / gently curved pint glass.
Jet black, head is only a tan ring with impossibly small bubbles in the foam. No lacing.
The smell is dominated by a sour note, very heavy on the funk, roasted. Not picking up the wheat malt described on the menu.
Tastes of sour funk. There should be another way to describe it -- I spent all pint trying to think of the words. I'd experienced this taste in a batch of stout I'd homebrewed and didn't like it then. I didn't like it much more this time around. Is it a yeast byproduct? Contamination? Has the cask damaged the beer? Tastes of leather, with hops barely evident on the finish.
Medium body with light carbonation. Very gentle and complimentary to the brew. The highlight of the beer. Slightly sticky finish.
Couldn't have many more of these, the funk is one note and a dominant note at that. One was an experience, though. Served a little too warm -- close to room temperature.
Aug 16, 2008
spointon from Illinois
4.1
/5
rDev
+7.6%
look: 4 | smell: 4 | taste: 4 | feel: 4 | overall: 4.5
I had this one on tap at Goose Island Clybourn in Chicago.
A= This porter poured a deep dark blackish brown with a 1.5" dense tan head. Some minimal lacing down the glass.
S= This ale smelled of dark roasted malts, a hint of smoke, and faint earthy hops.
T= The taste was rich and balanced. Very good roasted malt presence with more noticeable hops that I would have expected, but good nonetheless. Sweet upfront with the roasty flavors giving it a bit of a long bitter finish
MF= Soft carbonation, creamy and smooth. Medium-heavy body.
D= This was a very good porter. I highly recommend it to anyone wanting a solid example of the style. Highly sessionable.
Aug 15, 2008
botham from New York
4.1
/5
rDev
+7.6%
look: 4 | smell: 4 | taste: 4 | feel: 4 | overall: 4.5
on tap into a pint glass at the Clybourn Brewpub in Chicago. pours black without highlights and a half finger of light tan head, moderate retention and light lacings.
aroma is of roasted malt mainly, with subtle chocolate and coffee notes and a lightly sweet character along with a creamy base that holds the profile together.
taste is of roasted malts again, with a sweet character and subtle grain and chocolate notes that work well with the malt. solid proportioning and a great profile make this one a notable porter.
mouthfeel is medium to full bodied with a rich and creamy texture that compliments the dark malts nicely. finishes with a wonderful creamy smoothness.
drinkability is good. this is a solid porter with good proportioning and a solid profile. one of Goose Islands best brews, this is a solid porter that is rich and satisfying. cheers!
Aug 10, 2008
rhoadsrage from Illinois
3.73
/5
rDev
-2.1%
look: 4 | smell: 3.5 | taste: 3.5 | feel: 4.5 | overall: 4
(Served in a nonic)
A- This beer pours a opaque black body that glows of brown at the base. There is a creamy tan head that last and last. There is no sign of carbonation.
S- The notes of black toasted malt and dark chocolate cocoa have hints of cream and a light tartness in the background.
T- This beer has a taste of dark toasted malt and a chocolate malt flavor with a cream and light coffee roasted flavor. There is a nice dark roasted flavor that comes through after a few sips and a fusel alcohol heat at the finish. There is a nice coffee roasted malt bitterness that hangs on after the finish.
M- This beer has a light airy mouthfeel with a creamy texture and an alcohol heat at the finish.
D- The temperature in Chicago is in the high 90s and this cask beer was very warm and not at proper cask temp. That was the reason for the high fusel flavors. The smooth airy mouthfeel was very nice.
Aug 04, 2007
letsgopens from Pennsylvania
2.71
/5
rDev
-28.9%
look: 3.5 | smell: 2.5 | taste: 3 | feel: 2 | overall: 2.5
Sampled at the Goose Island brewpub, this selection pours a matted deep brown with ruby brown highlights. The thin tan head leaves little lace to speak of.
The aroma is a bit lacking. Some slightly roasted malt and a bit of chocolate sweetness.
A little bit of roasted malt and some caramelized sweetness. Unfortunately I didn't find this porter to be particularly flavorful or complex. Very mild.
Light bodied, and not in a good way. Not much body with moderate carbonation. I try not to trash any beer but this was not what I want from a porter. That's just my opinion in comparison to others I've had.
Jul 30, 2007

bashiba from Iowa
3.93
/5
rDev
+3.1%
look: 4 | smell: 3.5 | taste: 4 | feel: 4.5 | overall: 4
Got to drink this at the Wrigleyville Brew pub.
Was a nice dark brown with some oaky highlights and a long lasting creamy head.
Had a nice lightly burnt malt nose with a touch of chocolate.
Taste was very classic porter, light burnt malts, some hints of chocolate with a bit of coffee and just enough hops to even it out well.
Mouthfeel was nice, light and creamy.
Very drinkable, Very good porter, I wish they would bottle this instead of the oatmeal stout.
Aug 04, 2006

Gueuzedude from Arizona
3.8
/5
rDev
-0.3%
look: 4 | smell: 4 | taste: 4 | feel: 3 | overall: 3.5
Sampled on tap at the Goose Island Clyborne location
This beer has a rich, thick, creamy, light brown head. The beer is a deep brown to black color. The dominant aroma I can pick out is of burnt raisins. The taste is creamy with a deep roast character in the finish. I get notes of toasted malts, coffee and burnt raisins. The sweetness up front is balanced by the dry roastiness in the finish. This is actually fairly light bodied and refreshingly smooth, despite the ample roastiness. When paired with my food, notes of chocolate came to dominate as the roasted notes were muted by the pairing.
Aug 05, 2004
Old Clybourn Porter from Goose Island Beer Co.
Beer rating:
86
out of
100
with
28
ratings