20th Anniversary ESB
| Goose Island Beer Co.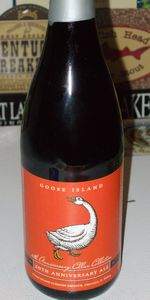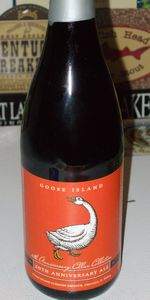 BEER INFO
Brewed by:
Goose Island Beer Co.
Illinois
,
United States
gooseisland.com
Style:
Extra Special / Strong Bitter (ESB)
Alcohol by volume (ABV):
not listed
Availability:
Limited (brewed once)
Notes / Commercial Description:
No notes at this time.
Added by botham on 08-10-2008
This beer is retired; no longer brewed.
HISTOGRAM
Ratings: 13 | Reviews: 11
Reviews by botham:
4.32
/5
rDev
+9.9%
look: 4 | smell: 4.5 | taste: 4.5 | feel: 4 | overall: 4
on tap into a pub glass at the Clybourn Brewpub in Chicago, this was the cask conditioned ale of the day on Friday, August 8, 2008. pours a dark chestnut brown with amber highlights and a semi-haze. one and a half fingers of tan, dense head top it off, with great retention and no lacings.
aroma is malty and nutty, with a lightly sweet profile and a rich, smooth character.
taste is malty up front, with caramel and a bit of chocolate along with a nutty base and a smooth character. finishes creamy with an aftertaste of caramel malt. the brew has a warming base and a lightly sweet overall quality.
mouthfeel is smooth and creamy, with a medium body and a very smooth character from the cask conditioning.
drinkability is great. mild in alcohol and rich in profile, this is a solid and drinkable ESB, with a smoothness rarely obtained within the style. cheers!
866 characters
More User Reviews:
3.38
/5
rDev
-14%
look: 3.5 | smell: 3 | taste: 3.5 | feel: 3.5 | overall: 3.5
On tap at Goose Island Clybourn
Served in a pint.
A: Deep amber to light Cognac. Short head b ut holds a light skim. No lacing.
S: Lightly fruity with a bit of grassy hops. Very subtle.
T/M: Bitterness is very controlled. Thick juicy fruits. Mango? Citrus. Sweet malts but kind of bland. Carbo seems very low. Body is medium.
D: Decent but kind of odd for an Anniversary beer... Not very exciting and doesn't seem like much effort was put into it.
452 characters
4.35
/5
rDev
+10.7%
look: 4 | smell: 4 | taste: 4.5 | feel: 4.5 | overall: 4.5
Big thanks goes out to a very kind BA who has promised to so graciously help me out with this lineup of excellent anniversary beers. This was the first one i got to try and I decided to open it up last night. Served chilled and poured into an oversized wine glass, this one was consumed on 09/13/2008 while watching Ike come onshore.
The pour was very nice, rich dark caramel in color with a nice carbonation profile. A nice two inch head of white foam came up over the top and settled down nicely into a thin pillow that covered the rest of the session. Very look with a very nice bit of clarity to it.
The aroma was intesnly bitter from the first whiff of the bottle. Lots of rich notes of bitter hops here, not your typical floral asault of citric power, no, rather a more subtle, bitter, almost dark fruit like hoppiness that was balanced nicely against a bready malt profile that really started to show itself off after a few sips. Rich would eb an understatement here. This was tremendously good flavor here. Lots of caramel and pine like hops seemlessly mixing in with one an other and creating a delicate balance. Bisuit like flavor in the middle which gave it a good bit of heft, and went well with the chewy, medium bodied ale that was before me. Filling I have to admit, but an easy session beer that left me looking for more after every sip with that long drawn out bitter flavor sappin my mouth of moisture everytime.
Overall I thought this was excellent, seriously excellent. I would have loved to try this one on tap, but it served up well out of the bottle I have to admit. THis was a great introduction to the series for me and I look forward to trying a few more of them!
1,692 characters
3.53
/5
rDev
-10.2%
look: 4 | smell: 3.5 | taste: 3.5 | feel: 3.5 | overall: 3.5
Served in a 20oz imperial pint at Goose Island Clybourn 5/10/08. Thanks to HeatherAnn for the assist!
Listed on the beer menu as 6.8% abv.
A: Served a nice looking cloudy caramel color. Topping that was a 3/4 finger cap of quickly receding off-white foam. This beer appeared very still.
S: Aromas of sweet caramel malt, mild floral hops, and an odd whiff of fruit laced tobacco.
T: Caramel malt and hops with some toasted malt, and apple. Once again that weird fruit laced tobacco rears its' head in the taste.
M: Starts smooth and gradually turns sweet and then ultimately takes on a decidedly "rough" mouthfeel.
D: Quite good yet doesn't hold a candle to the 18 Year or 19 Year ESB's. I loved the suggestion of tobacco flavors in their beer, Maduro. However, in this beer I found it to be a minor distraction.
819 characters
4.02
/5
rDev
+2.3%
look: 4 | smell: 4.5 | taste: 4 | feel: 4 | overall: 3.5
On cask, nice temperature, had it on tap later, not as good.
Orange cloudy hue with small head, nice looking ESB.
Nose is dominated by a smell of cogmac, or maybe bourbon, slightly sweet, no hops as it should be, very enticing.
Taste is of deep malt, not as great as the nose but very nice, English malt of high type.
Full feel, with a nice bit of CO2 carbonation from the cask, very nice, but one will do as a finish to the night.
435 characters

4.03
/5
rDev
+2.5%
look: 4 | smell: 3.5 | taste: 4 | feel: 4.5 | overall: 4.5
On cask at the Wrigleyviille outpost. The beer is a hazy bronze with a dense off-white clingy head & great lacing,
Fresh and inviting aroma of fresh herbal hops, grains and something woody.
The taste is extremely creamy with malts, flowery hops and grains. There is a bit of wood in the back taste. It becomes slightly sweet with backend bitterness.
The mouth is extremely smooth with excellent low level carbonation. Sessionable to the max!!
448 characters
4.3
/5
rDev
+9.4%
look: 4 | smell: 4 | taste: 4.5 | feel: 4 | overall: 4.5
On tap in a pint glass at the Clybourn brewpub.
Lots of lacing, slightly hazy darkish brown. Slightly ominous color. Head started off nice and subsided toward the end of the pint.
Smells of piney hops with a sweet nutty malt balance. The hop profile is very complex.
Lots of tarry, piney, resinous hops with a decidedly west coast slant. Nutty malts provide balance. Hops are excellent -- 2 stage dry hopping pays off (according to the menu, this beer is dry hopper in the fermenter and in secondary with different hops).
Mouthfeel is light and fluffy carbonation. Slick, resinous finish.
Very easy drinking for a 6.9% ABV. Also very hoppy for an ESB... who would complain?
678 characters
4.1
/5
rDev
+4.3%
look: 4 | smell: 4 | taste: 4 | feel: 4 | overall: 4.5
Thanks to WeeHeavySD for the share.
A: Pours a sort of vibrant orange hue with a nice tall creamy white head. Okay retention and a smattering of lace.
S: Lots of sweet malt melded into fresh citrus.
T: Wonderful balance. Huge sweet candied sugar malt with hints of fresh citrus and floral goodness.
M: Medium in body, smooth, and tasty.
D: I had heard mixed reviews of this series of beers but I really liked this one. Thanks Jon.
435 characters

3.63
/5
rDev
-7.6%
look: 4 | smell: 3.5 | taste: 3.5 | feel: 3.5 | overall: 4
*Review is for 21st Anniversary ESB.
A: Served in British style pint glass. Light brown in color with some orange tinting. About a finger's worth of creamy off white head. no lacing.
S: Mix of caramel malts and light spicy/herbal hops.
C: Respectable balance of nutty, caramel malt on the front end with a brief sweetness then finishing with a good, albeit brief, dose of bitterness. There is some slight hop spiciness, but malt is certainly the dominant flavor.
M: Medium body, but low carbonation lends to a feeling on a heavier beer.
D: Well balanced and easily drinkable. While this beer is respecatable on its own, its maltiness and very lightly agressive hops characters would allow it pair well with many different foods.
736 characters

4.35
/5
rDev
+10.7%
look: 4 | smell: 4 | taste: 4.5 | feel: 4.5 | overall: 4.5
Thanks to Jay23 for sending me this growler, it arrived 8/23 and it was consumed that same day ;o) Me and a friend pretty much finished the whole growler (althought I did save about 8oz for a third friend that got here late, that's what he gets for being late, haha).
Poured a copper, muddy brown hue with about ½ inch of foam.
The smell was of noble hops, earthy, fruity, toast, butterscotch and caramel. Very bready. The bread aroma really deepened as the beer warmed up, a lot of toast and multi-grain bread.
The taste was similar to the aroma but the bread was more intense in the taste. Toast and a bit of chocolate followed with some earth and finished with a bit of bitterness. Dry finish with toasted bread. A little fruity too, almost vinous. During the second or third glass I tasted a bit of berries and grapes.
Very decent mouthfeel, pretty good for the style.
Now, Honker's Ale is one of my favorite session brews, this one was still decent and actually quite good for the style but I have a soft spot for the Honker's.
1,039 characters
3.1
/5
rDev
-21.1%
look: 3.5 | smell: 3.5 | taste: 3 | feel: 4.5 | overall: 2
A big thanks is out to DIPA for the hookup on this great beer.
A - Poured into my North Coast nonic pint glass. Medium copper with a very slight haze and some gold/yellow highlights. The thin off-white head is only partially retaining. Little to no lacing.
S - My initial impressions were of a bready malt character and a mix of floral and piney hops. Some fruity esters are also being picked up underneath although moderate to moderately low in intensity. Slight caramel malt character.
T - Initially something tastes awry here. There's a tart, citric component that I really wasn't expecting to be here. As if I've mixed a little sour beer in with the rest. I don't think the beer is supposed to have this and I'll look beyond to comment on the other flavors. Bitterness is quite prominent and lingers on into the finish. A bready malt component is here along with some caramel. Piney hops seem very present.
M - Medium bodied with a moderate level of carbonation.
D - Having trouble getting past this tart citric flavor. I'd go so far as to call it sour but this just doesn't make sense in an ESB.
1,108 characters

20th Anniversary ESB from Goose Island Beer Co.
Beer rating:
3.93
out of
5
with
13
ratings