Ellicottville Brewing Co.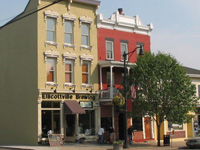 PLACE INFO
Type:
Brewery, Eatery, Store
34 West Main St.
Fredonia
,
New York
, 14063
United States
(716) 679-7939 |
map
ellicottvillebrewing.com
Notes:
No notes at this time.
Added by John on 06-20-2005
Reviews: 8 | Ratings: 15
4.65
/5
rDev
+10.5%
vibe: 4.5 | quality: 5 | service: 4 | selection: 5 | food: 4.5
I was very impressed. Located in a ski resort somewhere in the Midwest part of NY State. A gem to be found. I showed up on a nice sunny Saturday afternoon in early December. The place was packed but was lucky to get a table with no waiting. At first the beer menu did not look very exciting, just the normal brewpub styles plus a few seasonal. Then I flipped the menu over and they had a whole sheet of Imperial brews. Wow! I ordered a flight of all six. Only one was not to my liking. I highly recommend this place to anyone in the NY State area.
547 characters
4.25
/5
rDev
+1%
vibe: 4.5 | quality: 4.5 | service: 4 | selection: 4 | food: 4.5
A very nice place. The atompshere is very good, a nice big bar is set up down stairs with seating upstairs and outside. The building is exposed brick and has a real nice feel to it. The beer is very solid, the beer ranges from A+ to B- solid beers. The imperial series is very good. There are usually around 10-15 beers on tap. The service is solid not the best you have ever had, but very good. The food is excellent some plates have bigger portions than others, but the food is so so good. The price is reasonable, the beer has a nice price point, the food is a little pricey but worth the cost.
597 characters
4.6
/5
rDev
+9.3%
vibe: 5 | quality: 4.5 | service: 4 | selection: 5 | food: 5
I love this place....absolutly love this place. I drive 2 1/2 hours to go here in the summer...and its worth it. The food is always solid, very fresh, and a good selection. My firend ordered the best Carrot Cake he ever had there.
The beer is what brings me there...they serve the blueberry wheat with blueberries in your draft beer...how cool is that! Eating on the deck in the summer is a must, very relaxing and fun. They have pretty good service considering how packed they get.
The selection of beer is great, they have about everything they make and they change up the Imperial list quite frequently which I like.
Its set in a nice small college town and is easy to get too. Worth the trip!
702 characters
3.8
/5
rDev
-9.7%
vibe: 4 | quality: 3.5 | service: 4 | selection: 4 | food: 3.5
I go to SUNY Fredonia. As one of very few beer geeks who attend the school, EBC is really the only place I can go to where I can count on having a good beer and an overall positive experience.
The beers on taps are all beers brewed by EBC, and just about all of them are damn good. The prices aren't really that bad either really. The quality is worth the price, plus the bartenders are always friendly and quick to serve.
The only problem I have, and it's really not something I can blame the bar itself for, is the rowdiness of the place on Friday and Saturday nights. All of the college kids come to the bar, and they are all absolutely hammered - to the point where it just gets obnoxious. Once again, this is not on the bar itself.
I'd highly suggest that anyone who is in the Fredonia/Dunkirk area visit EBC for a drink. If you go, try to shoot for a Sunday, Monday or Tuesday. You could go on a Friday or Saturday, but make it lunch.
Thank you EBC for giving this college student a decent place to hang out with friends and drink good brew.
1,053 characters
4.33
/5
rDev
+2.9%
vibe: 4 | quality: 4.5 | service: 4 | selection: 4.5 | food: 4.5
When time ran out. I think I've got one more absurd run in me yet and it's gettin' on dinnertime, so what does that tell you? There are 2 Ellicottville locations both roughly the same timewise and in distance from Rochester; one in Fredonia and one in (duh) Ellicottville. I was going to take in the latter and look in on another place along the way back, but thought to call first and found them closed for holiday. Good thing, too, because if I had trudged the hell out there to find it closed, the place might have caught a-fire somehow, so it's just as well I went to Fredonia instead. And stupid Google maps gave me jack directions, taking me off I-90 somewhere on the far side of Buffalo and putting me back on at the same spot like 8 miles later after having me circle the exit some. It was like it planned a bathroom break stop or something. The upside being that I got out there a little sooner and slightly less thirsty than I would've otherwise...
EBC on the corner, do I need to feed the meter, you thinks? No. The welcoming mash tun in the front window to the right of the entrance doesn't discriminate. A pair of low roundie tables on the other side in the window and working back to 4 raised bar tables rolling to the rear along the wall big brick, decorated with old black & white ski prints. On the inside wall, an "L" shaped bar running below staircases to up somewhere at both ends meeting at a center point above. Dark wood top with a lighter wood trim and a foot rail; seating for 9, but you'd think more. The bar back is made up of tall shelving units 3 wide, the middle one running higher than the others. Shelved glassware and booze, and lined with EBC growlers and pint glasses above. Smaller units on the ends hold wine, and more booze & glassware, mounted TV's atop. Stacked glassware on the countertop and glass front coolers below sporting macros and EBC bottles. Lime green walls to the rear, yellow pressed tin ceiling and exposed ductwork above, cone chandeliers over the bar and to both sides of the door, and wood panel floorings. Something of a dj booth in the back corner near the staircase to the basement brewroom. Light artwork and some jazz a-jammin', they've got a good sound system. I wonder what's upstairs. Nearly 2 dozen tables & booths big and small, wood beams above, ducts, drop spinning fans on lighting, and a large framed mirror where a doorway to elsewhere might have been at one point. And access to exterior deck small, with a handful of tables there.
16 taps in a row below the bar, of which 11 are house beers. The sampler is a "brewski", 5 beers of your choice served in a ski shaped holder. I had to do 2 of them to take it all in. Whatever. House regulars, Toasted Lager, really nice, euro Pils, crisp, spalt hop; Blueberry Wheat, non sticky syrupy, a good blueberry with a few actual boos thrown in there floating; Two Brothers Pale Ale, a big nose Cascade APA; the Impy Pale Ale, 10%, super sweet; the German Red, excellent maltiness, Crystal & Munich, sweet, just what I want in a red; the Nut Brown Ale, an English brown, had some chocolate to it, nutty and toasty; Black Jack Oatmeal Stout, licorice, nitro, niiice; and the seasonals, Imperial Raspberry Beret, 7.1%, not cloying, but you get warming alcohol; the Scotch Ale, 6.2%, not overly sweet, not so scotch aley, and has some hoppiness to it; the Rye Pale Ale, a very good rye beer, crisp, with more rye flavor than most; the Chocolate Cherry Bomb Impy Stout, 8.2%, you get the big chocolate sweet nose, and the cherry on the finish, not so much the impyness. Too chocolatey, too much. I liked the Toasted Lager, Blueberry Wheat, German Red, Black Jack Oatmeal Stout and Rye Pale Ale the best, but I don't think I caught a bad beer in the lot. The remaining 5 beers on are guest taps (Sam Adams Cherry Wheat & Summer Ale, Blue Moon, Labats Blue Light, Woodchuck Cider).
And din. Started with the Crunchy Oriental Salad with chicken, done up Romaine, Radicchio and (the king of all lettuce) Iceberg, with toasted almonds, scallions, crispy rice noodles and an oriental sesame vinaigrette. The salad was kickass, especially when it got down to the small bits of noodles, scallions and almonds. Entrée play, the Orange Glazed Duck (good, but there wasn't a lot of it) served with a rice pilaf and seasonal vegetables (asparagus spears, my first time ever etting them, we got on pretty well. It tasted like other vegetables but not. I'd eat it again, have in fact. I'm all about new things).
Nice beers overall, and fine foodings. A good comfy place, near nowhere I've got to be anytime ever again probably so I'm glad I got out here when I did. Worth the trip.
4,683 characters

3.95
/5
rDev
-6.2%
vibe: 4 | quality: 4 | service: 4 | selection: 4 | food: 3.5
My first time at this EBC brewpub location just off the thruway on the way up to the soon to be new home.Fredonia is a nice little college town with small town charm,brewpub looked like its in an older building a former firehouse is what I was told.I really liked the interior an older somewhat nostalgic feel,there were 8 beers on tap but the Impy Pale Ale was not wich was a bummer, the Two Brothers Pale ale was the best along with the Brown Suga brown ale.Food was decent I had the perogies not as good as moms but they were ok my wifes french onion soup was very good though.Why cant the town of Hamburg have a EBC branch if Fredonia can they should to,I like most of their beers and its a local to support I will be making the trip to Fredonia and Ellicottville when I relocate there in the near future.
809 characters
4.03
/5
rDev
-4.3%
vibe: 3.5 | quality: 4 | service: 4 | selection: 4.5 | food: 3.5
This brewpub was smaller than I believed from the website but I was not disappointed. The selection of their own brewed beer was exceptional at I believe 13.
Only the toasted Lager was sub par, all the rest I sampled were impressive(6).
The food was indicative of a brew pub, I had the wings, very nice.
The waitress was very friendly and knowledgable about the brews she was serving.
The brewing itself is easily viewed from most seats in the house.
Definetly plan on a retrurn visit my next time through the area.
520 characters

4.33
/5
rDev
+2.9%
vibe: 4 | quality: 4.5 | service: 4.5 | selection: 4 | food: 4.5
I was pumped to see that this place just recently opened. I spend most of my summers painting houses in a small community outside Fredonia and rarely "hit the town" because there are really only a few places worth going to, and NONE of them have good beer. Until now. This place moved into the building where the Barker Brew, another decent brewpub, used to be. It's an old fire house, revamped of course, nice wood everywhere and bricks behind the bar. They even still have the old fire pole in there. When ordering drinks before dinner the waitress asked if I wanted a sample before I tried the beer (a German red ale) which I thought was a nice way to get people into their beers, though I didn't really need that special treatment. She asked me again when I ordered the Nut Brown Ale, but I said I'd just go for it. Again though, it's a nice way to make sure people who don't know beer get something they like. Decent selection there - I haven't tried all the beers yet, but I'll get there. They have a nice variety of styles including a Dopplebock and a Belgian Wit, something you don't always see in an American brewpub. They were good too. I'll have to add them to the site sometime but here it's just worth saying that these are well-crafted brews. I recommend the Nut Brown Ale, that seems to be my fav so far. Also, this place had great food. Lots of vegetarian options, for those who care, and also just a lot of variety in general, especially for this area. I got a flatbread pizza with lots of veggies and goat cheese, with a spicy pepper pesto sauce, it was great. So if you're in the somewhat dumpy, boring, Dunkirk/Fredonia area, have no fear, there is redemption at the Ellicottville Brewing Co. I'll have to make it to the original place in Ellicottville someday. Cheers.
1,789 characters
Ellicottville Brewing Co. in Fredonia, NY
3.76
out of
5
based on
115
ratings.