Aurora Borealis
| Bridge Road Brewers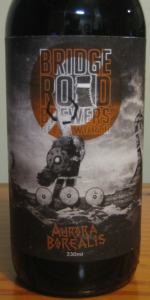 BEER INFO
Brewed by:
Bridge Road Brewers
Australia
bridgeroadbrewers.com.au
Style:
Quadrupel (Quad)
Alcohol by volume (ABV):
14.90%
Availability:
Limited (brewed once)
Notes / Commercial Description:
No notes at this time.
Added by ADZA on 02-10-2013
This beer is retired; no longer brewed.
Reviews: 8 | Ratings: 17

4.35
/5
rDev
+3.8%
look: 4.25 | smell: 4.25 | taste: 4.5 | feel: 4.25 | overall: 4.25
Great beer - lots of flavours going on and amazingly drinkable for the amount of alcohol present
Whiskey, slight bourbon, oak, spice, caramel, raisins, slight citrus and brown sugar all come into play on the palate and in the aroma to produce a beer that is a pleasure to drink - straight from the handpump at the brewery!
323 characters

3.79
/5
rDev
-9.5%
look: 3.25 | smell: 3.5 | taste: 4.25 | feel: 3 | overall: 3.75
From Cellarbrations Carlisle. No BB
A - dark brown, ruby highlights. One finger head dies quickly, leaves no film, cola like. Powdery residue around neck of bottle is a worry.
S - raisins, sherry, dried fruits. Massive hit of booze.
T - sherry, Christmas cake, raisins, brown sugar, its good and complex but where is the barrel?
M - very lightly carbonated, almost thin for the ABV. Poor.
O - I was expecting to be blown away by this and wasn't. Std quad really. The barrel aspect was almost non existent. For the ABV I expected a massive taste and it was somewhat less than that. All I am left with is a warm feeling from the alcohol in my throat. I have another, will cellar and see....
693 characters

4.33
/5
rDev
+3.3%
look: 4.5 | smell: 4 | taste: 4.5 | feel: 3 | overall: 5
Pours a dark cola colour, thin beige head. nice and dense and creamy. Lace is OK, yeah looks like a well-put-together heavy beer.
Smells a little light, maybe too cold. OK, warmed up and plenty of complex, dark fruit: sultanas, booze and peppery phenols. Very decent, nothing too mind-blowing though.
Taste is fruity, dark: sultanas, plums, figs, dates and chocolate on there. Oak takes over midway, huge and woody with a touch of coconut and even pineapple on there. Sweetens it up a little, adds a slight woody flavour and a bit of tart astringency at the back as well. Pretty amazing palate though; a little out of control but so tasty I don't mind a bit.
Mouthfeel is hot, boozey, quite harsh actually. Needs a bit more body to temper all the hot spiciness.
That said, pretty amazing beer. Quadrupel as a style has a degree of difficulty of 3000 so the fact that it's drinkable is awesome. The fact that it's tasty and coherent is incredible.
954 characters
4.34
/5
rDev
+3.6%
look: 4.25 | smell: 4.5 | taste: 4.25 | feel: 4.5 | overall: 4.25
Heavily opaque brown with some mahogany highlights. Tan head. Fair head retention.
Smoky. There is some serious peat and oak on the nose. Touches of spirit and caramel. Nutty. Pear. Some hard fruits.
Smoky and fruity. Touches of oak and malt. The fruit is a little citrussy and a little like pear. Clear whisky notes. Good but not jumping out of the glass for me.
Medium-full body with moderate carbonation. Good.
A nice beer. The flavours are well integrated and the smoke plays nicely with the fruit and malt. I find the barrel to be very powerful as a portion of the beer. Enjoyable.
590 characters
4.44
/5
rDev
+6%
look: 4.5 | smell: 4.25 | taste: 4.5 | feel: 4.5 | overall: 4.5
Reviewed again 16/04/2016
A - Appearance is same as 2013
S - Somewhat diminished from 2013. Much more mellow now
T - Vanilla flavours have gone. The whiskey barrel is still very present. The main difference is the finish where it has taken on a slightly smokey flavour. The booze factor is still large and reminiscent of a barrel aged barley wine
M - medium body light carbonation
O - This really is a monster quad
Drank from my Duvel tulip
A - Pours a very deep mahogany colour with an off white head that reduces to a lacing film.
S - Plenty of oat, mats and whiskey barrel sweetness.
T - Up front some nice vanilla flavours followed by some nice figs and dark fruit. The finish is heavy and the whiskey booze kicks in with a retainment of toffee and caramel.
M -Thick and oily with minimal carbonation.
O - This is a very heavy quad. Possibly the best non-Belgian quad that I have tried. May be suffering from too much whiskey barrel time.But nonetheless its very well constructed given its ABV. It is a monster of a quad really.
1,045 characters
4.68
/5
rDev
+11.7%
look: 3.75 | smell: 5 | taste: 4.75 | feel: 4.5 | overall: 4.5
This is a collaboration beer between Nøgne Ø and Bridge Road, brewed at Nøgne Ø and then sent in casks across the sea back to Australia. Weighing in at 14.9%, yeah, this is an impressive beer. Tried on-tap at the Local Taphouse in Sydney.
Pours a murky brown colour, solidly hazed, with a very minimal ring of beige for a head. Body is very heavy, but that's not unexpected. Minimal carbonation: again not unexpected. It's fine for what it is, but it's not terribly appealing in and of itself.
But from there, wow, this is everything it deserves to be. The aroma is a thing of wonder. Big oak characters. Big smoke characters. Big sweetness. Big roast. Hints of rose, fragrant tannic red wine, booziness potent and dangerous, acetone and permanent marker huff. Holy crap. This is immense and extremely exciting.
Light spicy empty lulls you into a false sense of security, before a wallop of smoke and boozy richness thumps you on the back of the head. Smoke—dark smoke, like smouldering incense or burning minerals—this is no comforting campfire aroma. On the mid-palate comes more of that oak, giving a big vinous character and hints of pepper. Finish is intense: booze, intensity, sharp, almost a bite of apple on the finish, where did that come from? ... seriously: holy shit.
Feel is bitingly sharp but blisteringly full and rich.
My notes just contain a string of expletives and superlatives in the summary. Suffice it to say that this is a brilliant, exceptional and very rare brew. So good that it's dangerous.
1,530 characters
4.07
/5
rDev
-2.9%
look: 4 | smell: 4.5 | taste: 4 | feel: 4 | overall: 3.75
Pours dark brown, almost black, with a fading light tan head.
Nose shows caramel, chocolate liqueur, liquorice, soft alcohol, whisky, and woody oak. Great stuff.
More chocolate as a flavour along with some roasted malt, big woody whisky, peat and booze. The booze and whisky cover up the base beer which is a bit unfortunate.
325 characters
3.82
/5
rDev
-8.8%
look: 4 | smell: 3.75 | taste: 3.75 | feel: 3.75 | overall: 4
This is a collab between Nogne and Bridge Road and its a big boy which pours a dark brown non see through hue with a creamy two finger head that stays and a rim of lacing,,the smell is raisins soaked in brandy,cherries,dark plums,toffee,marzipan and boozy alcohol,the mouthfeel is full bodied with minimal carbonation and its a sipper thats for sure which really allows you the nice tastes of cherries,brandied raisins,toffee,butterscotch,port and finished with a ever warming booziness that really warms you up and overall you have to try it just dont plan on driving anywhere when you do as its a creeper cheers.
614 characters
Aurora Borealis from Bridge Road Brewers
4.19
out of
5
based on
17
ratings.