O'Shea's Irish Pub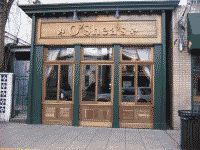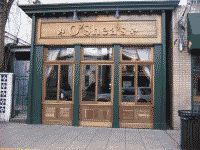 Bar, Eatery
956 Baxter Ave
Louisville
,
Kentucky
, 40204-2065
United States
(502) 589-7373 |
map
osheaslouisville.net
Notes:
Reviews: 7 | Ratings: 19
4.2
/5
rDev
+6.3%
vibe: 4 | quality: 4.5 | service: 4.5 | selection: 3.5 | food: 4.5
A: Located in Louisville's Highlands area, O-Shea's is an Irish-style pub and eatery located along the main drag of Baxter Avenue. The facility, itself, is well-maintained and clean with a cozy, intimate feeling. The outside dining area is nice too. Feels like an Irish pub with more than a bit of New World flair.
Q: A combination of attention to detail, great service, great food, and a nice location make this place a must try if you're in Louisville. I've begun to measure local pubs and eateries by the standard set by O'Shea's. I've never had a bad experience here and have been a regular for nearly three years.
S: The service is always prompt, discreet, and courteous. I've never had a complaint in this regard. If you go after sunset, though, your experience will be different. As other reviewers have noted, the place becomes more like a nightclub.
S: The beer selection is generally pretty good, especially for the area. Don't expect to be overwhelmed; O'Shea's focuses more on quality than on quantity of offerings. There is, however, a sizable list of bottled beers available. The taps are rotated frequently and are thoughtfully selected. If you can't find something good to drink here, you are far too picky.
F: The food is great and the portions are generous. I've had a good deal of their offerings, and have yet to be disappointed. The daily specials are always a good value.
V: The prices are generally reasonable, though I find the prices of some of the bottled beers to be quite high. Overall, I have few complaints in this area. One can easily grab a few beers, as well as a large meal, and spend $25 or less.
1,636 characters
4.5
/5
rDev
+13.9%
vibe: 4 | quality: 4.5 | service: 4.5 | selection: 4.5 | food: 5
Weekend nights are generally to be avoided if you want a beerpub experience! It's much more like a nightclub then.
That being said, it's one of my favorite haunts. I usually order the daily special and I've never been served a bad dish. A variation of sandwich and fries is the general idea of the special. Perfect for a lunchtime visit. Service is usually very prompt. Even during the World Cup surge, my glass was never empty.
The bottle selection is adequate, representing more than a few of my favorites in domestic craft and imports, but their draft selection is great, varied and frequently rotated. I'd like a few more that I haven't had to get rotated in, though.
All in all, I find it hard to walk by without stopping in for a drink, or maybe what's on the grill today. Give it a try.
797 characters
4.83
/5
rDev
+22.3%
vibe: 4.5 | quality: 5 | service: 5 | selection: 4.5 | food: 5
Took a trip to Baxter Ave. on the advice of sefus12. Got there around 7 on a Tuesday, they were reasonably full, I got seated at a booth in front of a massive projected picture of ESPN (we're off to a good start!)
The server (Shelly, highly recommended!) showed me the beer list and I expressed interest in their "Around the World" club. There's 77 beers on the list and each one can be imbibed in 12oz., half-yard, or yard glass. Getting all 77 filled in gets you an Around The World T-Shirt and your name engraved in the bar. Half-yards will get your own 20 oz. mug instead of the 12 oz. drafts. Not bad at all. I started my journey with a BBC Hell For Certain on-tap (check for my review on it, excellent Belgian) and ordered the Patrick's Burger, medium with fries.
The beer came out in a very nice heavy snifter, perhaps a touch warmer than I would've had it served but not at all enough to detract from the beer.
The meal was out quick and was excellent, the best burger I've had since I've moved up to Louisville; well-grilled and very juicy and flavorful. I gave my compliments to the cook.
Price for the beer, burger and fries came to 14 bucks and change. Tipped well for the excellent service I received throughout. Highly recommended and in a pretty unique part of Louisville.
A tip, with regards to parking. If you're coming south on Baxter you'll see Flanagan's Pub, watch for the alley almost immediately afterwards, the parking lot is back there. Quite a bit better than having to park on the street.
1,520 characters

4.08
/5
rDev
+3.3%
vibe: 3.5 | quality: 4 | service: 4 | selection: 4.5
This was my second stop on my Baxter Avenue pub crawl. Forget the # 17 bus, stick with the # 23 (Broadway), instead.
Entering, the m.d.s. was directly to the right with a sign that read "O'Shea's - Welcome! Please Sit Wherever You Like!" Now yer talkin'! I immediately plunked myself down at the bar, had a look at the "Draught Beers" menu, and promptly ordered just what they were out of - Breckenridge Christmas. I am not known as "The Beer Pest" for nothing. Fallback position: Schlafly Oatmeal Stout. Out?!? F**ksake, what sort of Irish bar are ye runnin', lass? Oh wait, that's the sort of talk that always gets me 86'd. "Ah, shame, that," he said instead. "How about the Bell's Hopslam?" he asked with a conniving smile since the obviously running tap was right in front of him, endearing him to everyone within eyesight.
Off to the left, up a short set of steps, was the non-smoking restaurant area which consisted mainly of booths. Back at the bar, it was an odd mix of high tables and chairs; standard restaurant tables and chairs; and some booths. They were set up for twenty-two (22) taps plus sixty-seven (67) bottles. The bottles ran the gamut from BMC to quality imports with a lot in between. The drafts were the real winner with only a couple/few BMC clinkers in the mix. BA worthy? Hell, yeah.
Finally, a couple of the regulars were worried that I might give this place a bad review based on the initial missteps. I do not work that way. Instead, I try to focus on what I did like and hopefully the discerning reader of my reviews can spot what was missing.
1,578 characters
4.18
/5
rDev
+5.8%
vibe: 4.5 | quality: 4 | service: 4 | selection: 4.5 | food: 4
After a long day at Churchill Downs and a long, drawn-out argument over whether we were going to go here or Rich O's in Indiana, I got overruled. Location is in a nice part of town- one of the cleanest bar-ridden areas I have ever seen. We sat in the central patio area- if I had to compare the setup/decor of the bar to a place I have visited, I would say Pat O'Brien's on Bourbon Street, but this place seemed much more family-friendly (at least before 11pm, when I was there).
At first the only taps I saw were Smithwick's, Guinness, Blue Moon, and a couple of more BMC's- I could feel the Early Times and mint sugar boiling in my veins. I ordered a Smithwick's, remained calm, and decided to search for a beer menu, which brought me into a room with around 20 tap handles- including Kwak, BBC Jefferson's Reserve Bourbon Barrel Stout, SN Celebration Ale, DFH 90minute, and my new favorite Dub/Imp IPA- Bell's Hopslam. A large grin grew over my face. Then I picked up a beer list- bottled selections included some good Belgian and Belgian-style beers (Chimay, Duvel, Maudite, La Fin du Monde), some other good European beers (Spaten Optimator, Theaksten Old Peculier, Old Engine Oil, some Sam Smith's selections, Celebrator, Paulaner Hefe), as well as some good American craft/micros (GL Burning River, Goose Island IPA, Rogue Dead Guy). Of the beers I had, the 16oz BBC Bourbon Barrel, at $6, was the most expensive, and the 12oz Hopslam was second, at $5.50- both seemed pretty reasonable.
My party all ordered Bison burgers w/ Amber Bock reduction- the menu was diverse, ranging from standard pub fare to beef filet. The burger was great (although messy), and served with tasty homemade (I'm guessing, since they were so good) potato chips. The clientele was also diverse - lot's of 20-somethings, a few families, groups of older adults- a good busy crowd, without ever seeming "crowded." As the live music kicked up, accompanied table of 5-6 six single women asking if we wanted to join them, we sadly had to leave to drive back to Bowling Green. Had we have stayed in Louisville that night, we probably would have tried to stay until closing (6AM on that day), but it wasn't meant to be. Maybe next year!
While I hear (and judging by selections, agree) that Rich O's is the pre-eminent place for beer geeks in the Louisville area, O'Shea's holds it's own in catering to beer geeks- the only real issue I had with the beer is that Duvel and La Fin that my friends ordered were served in narrow glasses, making pouring them a chore, but no glasses were frozen (maybe a tad chilled, but nothing extreme), and the flavor of the three draught beers I had (Smithwick's, Hopslam, and BBC Jefferson's Reserve) were great, especially the latter two. I recommend this to any BA that finds themselves in the area, both as a place to have a decent meal (a family-friendly one, too), or as a great place to meet singles while enjoying some high-quality beer and good music.
2,978 characters

3.65
/5
rDev
-7.6%
vibe: 4.5 | quality: 3.5 | service: 3 | selection: 4 | food: 4
I generally visit O'Shea's early in the evening and avoid the weekend twentysomething party crowds. I can't comment on that atmosphere.
I really like to go to O'Shea's (walking distance from my house) and have a beer on the patio. Birch trees overhang the heavy, metal chairs and fountain. The courtyard usually has relaxing (but not bad) music playing. Inside has several bars and many dark wooden booths, smoking is no longer allowed. It has been pretty clean when I visited.
The atmosphere is casual and you feel like you can linger without being rushed. You will see people in after work get-togethers, couples with their dogs (water bowls provided by staff), families, young and old.
Look at the photos on their website to get an idea of the layout and atmosphere and the menu. Typical American fare. Not especially vegetarian friendly but they do have the old standby-- a veggie burger. Large portions.
Chances are you will know more about the beers than the wait staff but they do try. My server last night was very eager to share her knowledge and asked us what we like so she could make recommendations. She poured our Dinkel Ackers into chilled pint glasses with great care as to not create a head! When I later ordered a Maudite I asked to pour it myself. I was given a Grimbergen chalice. The server said they recently had Maudite stemware but since it had a demon on the glass people thought they were cool and had stolen them all.
They have an "Around the World Club" where you can get a T-shirt and nameplate on the bar after drinking the 77 beers they list. Some are great, some are not so great. I like the broad selection. Here are some of the current offerings on draft: Leffe Blonde, Bell's Oberon, Celebrator, Delerium Tremens, Dogfish Head 90 Minute IPA, Bluegrass Brewing Co. Bourbon Barrel Stout and Alt Bier. They also have about a dozen other drafts like Guinness, Harp, Smithwick's, Blue Moon, etc.
The bottled selection is wide: 33 Export, GL Burning River, Chimay, Corsendonk, Duvel, Goose Island Honkers Ale, Great Divide Raspberry, Grimbergen Blonde, Lindeman's Kriek, Peche, and Framboise, Rogue Dead Guy Ale, Sam Adams Black, Spaten Optimator, Theakston's Old Peculiar, Tuborg, Tusker, etc. Plus the usual Amstel Light, Corona, Fosters, Pilsner Urquell, etc.
The area is a little bohemian, and neighborhood-like. There are coffee shops, antique stores, thrift shops, resturants, and several other beer bars (Flanagans, Molly Malone's) within walking distance. Cumberland Brewpub is about 2-3 miles south on the same Baxter Ave. Bardstown Rd. corridor. Parking is not a problem until weekend nights when you may have to walk several blocks.
2,697 characters

3.95
/5
rDev 0%
vibe: 4 | quality: 4 | service: 4 | selection: 4 | food: 3.5
I have to say...what a difference a few years makes. I've been to O'sheas many, many times. I've never had an opportunity to review it until now. About 5 years ago, I'd say it was very good in many categories...except for appearance. WELL, that has certainly changed. A couple years ago there was some updating and upgrading of the decor...including restroom renovations, which helped considerably. They also got new flooring in certain parts of the place. So a total hit with me on what they've done to the appearance.
As far as the beer selection and service go... that was never a question. These guys/gals give some great service. The beer selection is good...better than most bars along Bardstown Road. I like O'sheas. I've never had a bad night there...
762 characters
O'Shea's Irish Pub in Louisville, KY
Place rating:
3.95
out of
5
with
19
ratings