Super Jupiter Grapefruit IPA
| Howe Sound Inn & Brewing Company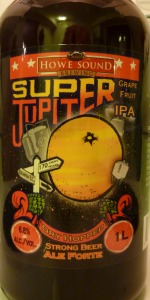 BEER INFO
Brewed by:
Howe Sound Inn & Brewing Company
British Columbia
,
Canada
howesound.com
Style:
American IPA
Alcohol by volume (ABV):
6.80%
Availability:
Limited (brewed once)
Notes / Commercial Description:
No notes at this time.
Added by Rutager on 02-03-2013
This beer is retired; no longer brewed.
Reviews: 12 | Ratings: 30
3.93
/5
rDev 0%
look: 4.25 | smell: 3.75 | taste: 4 | feel: 3.75 | overall: 4
A - clear deep bright copper, tower of white head, plenty of sticky lacing
S - earthy and grainy, grapefruit is fairly subtle but there on the nose
T - starts like the nose but grapefruit hoppiness is more prominent and builds, hints of peppery hops on the finish
M - medium body, slightly sticky through the middle, finished juicy and lightly bitter
T - a tasty ipa with just enough subtle grapefruit to make it unique but not a gimmick, Howe Sound always delivers the goods
475 characters
4.1
/5
rDev
+4.3%
look: 4 | smell: 4 | taste: 4.25 | feel: 4 | overall: 4
on-tap, pint @ the brewery
Hard to pass up a "grapefruit IPA" given the alternatives - "PA brewed with real grapefruits and dried grapefruit peel. Brewed with Canadian pale, dark crystal and carastan malts, and four varieties of bittering and aroma hops."
Honestly, not sure it's really possible to discern an IPA brewed WITH grapefruit from an IPA hopped with grapefruit characteristics. Regardless, this was a nice one for a sunny day on the way back from Whistler - moderate bitterness, lots of citrus. Not too much to complain about.
539 characters
3.79
/5
rDev
-3.6%
look: 4 | smell: 3.75 | taste: 3.75 | feel: 4 | overall: 3.75
Appearance - Pours a reddish amber hue with two fingers of frothy white head.
Smell - Grapefruit flesh, touch of citrusy hops, bready caramalts, slight spiciness on the nose.
Taste - Straight up hit with grapefruit flavour, along with caramalts and citrus hops. Lingering bitterness of the grapefruit rind in the finish.
Mouthfeel - Medium bodied with moderate carbonation.
Overall - I liked this American IPA, however I found it more grapefruit-forward. More malts to balance out the bitterness would make this IPA even better.
533 characters

3.83
/5
rDev
-2.5%
look: 4 | smell: 4 | taste: 3.75 | feel: 3.75 | overall: 3.75
Interesting idea given that many IPAs have that grapefruit thing anyways. This is an IPA first and foremost not a fruit beer and it suceeds in the taste department. The hop nose is pure citrus and west coast hops but the grapefruit sneaks in as well. The taste is pretty tasty IPA with the grapefruit showing more in the finish which is pretty dry. All in all a pretty decent beer that uses grapefruit to highlight the hops.
424 characters

3.81
/5
rDev
-3.1%
look: 4.25 | smell: 3.75 | taste: 3.75 | feel: 4 | overall: 3.75
1L swinging pop top bottle poured into tulip 9/5/13
A shitloads of sediment in a bright orange body with a hint of pink, two fingers of light tan foam has enough retention to leave a couple thick rings of lace followed by random patches, looks pretty good and very much unfiltered
S bready malt and soft caramel, lots of grapefruit juice with a little sweet orange and tangerine, has a herbal tea thing going for it with a little chewing gum and leafy hops that I often associate with dry hopping.
T not far from the nose with a some pine resin and a little more rind, lots of grapefruity citrus almost makes it seem straight forward but there's some nice malty notes and pine in the background
M medium bodied with soft carbonation creaming it up after a few seconds, pine, rind and caramel on the finish
O well concealed booze and its pretty easy to drink but I feel that if all the grapefruit notes came from hops instead of actual grapefruit I'd like it more, hard to explain myself here.
A little more malt then expected, more of an English IPA to me with grapefruit added. I like it for what is but I'd hop it up a little or cut back on malt to get that balance a little more lopsided towards the green stuff.
1,226 characters
3.97
/5
rDev
+1%
look: 4.5 | smell: 3.75 | taste: 4 | feel: 4 | overall: 4
1L capped swing-top howler bottle, as ever was for this brewer (save their six-pack lager), and named after the newest super Jupiter planet discovery, which apparently included a Canadian contingent - yay! The label imagery is rather Hitchhikers' Guide to the Galaxy in style.
This beer pours a slightly hazy, medium copper amber hue, with three fingers of densely puffy, rocky ecru head, which leaves some resplendent layers of old-growth treeline lace around the glass as it slowly slinks out of sight.
It smells of bready, biscuity caramel malt, pithy grapefruit rind, musty sweet orange, pine and grassy hops, and a sort of mountain springs minerality - all more of a very peppy ESB than I was expecting. The taste is acerbic grapefruit essence, really lacking any sweet flesh semblance whatsoever, grainy, biscuity toffee malt, a more pleasant muddled tropical fruitiness, a soft herbal, leafy pine bitterness, and some understated citrusy alcohol warming.
The bubbles are pleasantly supportive, and nothing more, the body a decent medium weight, and actually fairly smooth, as the hops have a gentlemanly nature about them that lets this be so. It finishes barely off-dry, the malt's biscuity breadiness really not up for the tussle with the lingering grapefruit aura and otherwise real-world pine and leaf hoppiness.
I am actually kind of happy that this isn't some fruity paean to grapefruit (in all its glory), to the relative detriment of the base beer - we already have that around here, and I'm sure it will arise elsewhere soon enough. Anyways, the purported overdose of said fruit is in a form that could readily be wrung from the right kind of hop - but they didn't, so what's it all mean, then? Well, it means that I'm just gonna go and enjoy the rest of this man-sized serving in quiet solitude, i.e. some unfettered web surfing.
1,851 characters

3.54
/5
rDev
-9.9%
look: 4 | smell: 3.75 | taste: 3.5 | feel: 3.5 | overall: 3.25
This beer is weird. Everything about it makes you think this will be some amazing hop bomb. First off, its name is SUPER JUPITER. How can you fuck with that? You can't. It's not just the same size as Jupiter, which is already a fairly large gas giant orbiting in our solar system (just fyi, in case you weren't up to date), but it's a SUPER JUPITER, meaning it's quite a bit larger than a regular Jupiter. This already made me think it will be absolutely enormous on the palate. Then you also get the label which proclaims it's been dry hopped, meaning you don't just get a regular dose of hops, but an insanely aromatic double dose, causing you to veritably start evolving into the Starchild, much like that guy at the end of 2001. Needless to say, I bought a bottle. Who the hell doesn't want to evolve into the Starchild?
Obviously, after this much (mostly self-induced) hype, this beer is a pretty huge letdown. It's a very malt-forward IPA, which really shouldn't come as a surprise since Howe Sound seems to be quite fond of making those. After I bought it, I also noticed that it was brewed with "real grapefruits" and "dried grapefruit peel". Isn't that cheating, kinda? I mean, I guess it's right in the name ("Grapefruit IPA") but personally, when I think of a "grapefruit" IPA, I generally assume it was brewed with certain kinds of hops to reach that flavor. It'd definitely take a lot more skill than just dumping some grapefruits and grapefruit paraphernalia in your beer and calling it a day. This also allows them to cheat the beer into having a hoppier aroma. The problem is, again, one of prestige. It just seems lazy to dump a bunch of citrus in your beer instead of using the right hops, especially since people are generally complimenting of its "citrusy" and "grapefruity" smell and taste as an IPA.
What this ultimately does is also rob the beer of its complexity. The grapefruit is just that: grapefruit. The hops are nowhere near strong enough to envelop that grapefruit flavor and add some complexity to it. They're mainly felt in the aftertaste, which give the beer a bitter, earthy tone. For a beer that was supposedly dry hopped, I was pretty disheartened with its lack of alpha hops. We get a very bready malt body instead. I suppose in a hoppier IPA it would've been pretty okay, but in this case the hops aren't anywhere near what they should be to balance anything out.
Anyway, maybe an IPA brewed with actual grapefruit isn't a horrible idea, as long as it was still an IPA first and fruit beer second and, more importantly, an actual Good Beer. I think this beer failed in that most important of criteria. No matter how good the grapefruit would taste, it would still be dragged down by a malt-heavy IPA with a bland, timid hop profile that just doesn't add anything to the mix.
2,817 characters
4
/5
rDev
+1.8%
look: 4 | smell: 4 | taste: 4 | feel: 4 | overall: 4
Poured from a 1L bottle. Pours a deep orange colour with a big frothy beige head. Smell is, of course, all about big grapefruit aromas from both the grapefruit and hops. there are some malt and spice notes in there as well, but not as dominant. The taste is also big on grapefruit, though this still just tastes like a really tasty IPA. There's nice bitterness and spice to it as well.
385 characters

3.93
/5
rDev 0%
look: 4.25 | smell: 3.75 | taste: 4 | feel: 3.75 | overall: 4
A: Copper-bronze with a white head, ring of retention leaves a bit of lace.
S: Marmalade, sponge toffee, mango, steelie earth.
T: Tangerine, grapefruit, pine, grainy biscuit, sponge toffee, papaya, raspy bitterness, modest alcohol.
M: Very dry and crisp. Perhaps a bit thin, though one could argue that's how an IPA should be.
O: This mix of new-shool & old-school American hops gives it a unique (yet somewhat familiar) citrus zest.
437 characters

4.12
/5
rDev
+4.8%
look: 4.5 | smell: 4.25 | taste: 4.25 | feel: 2.75 | overall: 4.25
A: massive 1" tan head over deep amber liquid that was nearly red in color.
S: grapefruit, pine, grass...
T: lemon and astringent grapefruit upfront which transitions to bready caramel malt finish. Given the taste and color, my bet is on some caramunich being included in the grain bill of this one.
M: medium viscosity and carbonation, but an extreme amount of drying from the grapefruit.
O: I enjoyed the bready malt backbone and hop flavors, but the drying on this beer is the most extreme I have ever encountered.
521 characters
3.92
/5
rDev
-0.3%
look: 4 | smell: 3.75 | taste: 4 | feel: 3.75 | overall: 4
A: Giant foamy sand coloured head topping a clear copper amber brew.
S: Caramelized sugar and grapefruit, tangerine, and lemons
T: Dry pith of grapefruit with malt and caramelized sugars, some hints of a herbal or leafy notes, and lemon sours.
M: Medium mouthfeel with delicate carbonation. Acrid and dry on the palette, the brew sucks down and hugs the tongue. Super Jupiter make my mouth water, I don't know if that has anything to do with the mouth feel, but worth noting.
O: Grapefruits and citrus are front and centre in Super Jupiter, not especially complex, but great for food pairing as its clean and refreshes the palette with that dry citrus bite.
664 characters
4.16
/5
rDev
+5.9%
look: 4.25 | smell: 3.75 | taste: 4.25 | feel: 4.5 | overall: 4.25
Appearance. Pours a clear amber-orange with two fingers of off white head.
Smell. Caramel malts, Yellow grapefruit citrusy, piney hops.
Taste. Big hops, bitter grapefruit rinds and juice, a little pine and cedar and some pretty big toasted malts backing up those hops.
Mouthfeel. Medium+ body with soft and smooth medium carbonation.
Overall. A very nice IPA with a complementary addition of Grapefruit in an apropriate amount. I think I liked Hip Hops a bit more, but this is an excelent brew that I'll buy again if it sticks around.
548 characters
Super Jupiter Grapefruit IPA from Howe Sound Inn & Brewing Company
3.93
out of
5
based on
30
ratings.