Profanity Stout
| Williams Brothers Brewing Company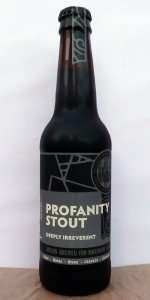 BEER INFO
Brewed by:
Williams Brothers Brewing Company
United Kingdom (Scotland)
williamsbrosbrew.com
Style:
American Stout
Alcohol by volume (ABV):
7.00%
Availability:
Year-round
Notes / Commercial Description:
No notes at this time.
Added by jazzyjeff13 on 09-13-2011
Reviews: 12 | Ratings: 36
3.53
/5
rDev
-9.5%
look: 4.5 | smell: 3.25 | taste: 3.5 | feel: 3.75 | overall: 3.5
L:
-pours the darkest of brown with a medium to big,creamy,light brown head
S:
-chocolate,slight coffee,oats,zesty,nutty
T:
-chocolate,coffee,toasty,lactose sweetness,grapefruit,orange zest
F:
-light to medium body
-low to medium carbonation
O:
This was very fruity,i'd almost put it as a Black IPA.
Good overall
★
312 characters

4.5
/5
rDev
+15.4%
look: 4.5 | smell: 4.5 | taste: 4.5 | feel: 4.5 | overall: 4.5
Nice brown head. Smell: lemon peel, coffee beans. Taste: same. Nicely balanced, smooth but kicking. Somewhere between Sierra Nevada Stout and BrewDog Libertine. Would have it again.
★
181 characters
4.22
/5
rDev
+8.2%
look: 4 | smell: 4.5 | taste: 4.5 | feel: 2 | overall: 4.5
Pours black with a small head.
Nose shows chocolate, roasted barley, nutty and toasty malt, oatmeal and a very faint liquorice note. Very nice, very complex.
Equally rich flavours, with more cocoa, burnt toast, roasted barley and soft coffee.
Carbonation seems very low, body feels a little watery.
★
298 characters
3.96
/5
rDev
+1.5%
look: 3.5 | smell: 4.25 | taste: 4 | feel: 3.75 | overall: 3.75
330ml brown bottle purchased for me by my brother-in-law from Oak Barrel in Sydney.
Pours a murky brown-black, certainly not opaque, and certainly not black. Head forms a fairly solid and fine-bubbled crest of beige, but settles out to a fine ring with some pancake bubbling across the top. Body looks a bit thin. Overall though, it looks fairly decent.
Nose is pleasant. Chocolate sweetness caresses a mild roast note with lingering overtones of berries and something a little floral. It's quite fragrant, but with depth and with a sweetness and roast to drag it back firmly into stout territory. It's very nice indeed.
Taste is back into more familiar territory, but still with plenty of pleasant things to drive it. Solid mid-level malts give chocolate and sweetness, while the body remains pleasantly dry, leaving the roast to come out more fully in the finish. The chocolate character stays around until the end, leaving the aftertaste smoother than it could have otherwise been. Feel is, as I said, rather light in the body, but it has a pleasant slickness to it, especially on the back.
Overall, I like it a fair bit. There's a little complexity lacking in the palate, but it's still extremely solid, and with good structure. The aroma is really wonderful. It's certainly something I'd drink again.
★
1,309 characters
3.65
/5
rDev
-6.4%
look: 4 | smell: 4 | taste: 3.5 | feel: 3.5 | overall: 3.5
330ml bottle: best before Jan 2013, poured into a Gordon 'Finest Gold' thistle shaped glass on 10 Oct 2012 @ home.
Lovely dark looking brew: hints of ruby red tints when held up to a strong light souce. The head was a deep, rich tan coloured affair which stayed and produced some heavy lacing.
Chocolate malts fill the nose, nicely roasted but not burnt: coffee esters reach out as the beer warms in its new surroundings of my thistle glass.
The taste mirrors the aromas: dark chocolate first and foremost with coffee arriving later: there is also a semi-bitter hop undertone within the flavours, this takes away the smoothness and richness I anticipated would be in the mouthfeel.
Dry finish to every sip and although not unpleasant it took some of my pleasure overall.
★
774 characters
3.5
/5
rDev
-10.3%
look: 3.5 | smell: 3.5 | taste: 3.5 | feel: 3.5 | overall: 3.5
Really nice beer. This is almost a stout "lite", but it is so very smooth, clean and crisp...it is one of the cleanest stouts I have enjoyed.
A: Nice and dark, not pitch black, but has the color of aunt jemimah's syrup
S: Lite and sweet, somewhat fruity and clean
T: Some light roast, syrup notes
M: Smooth, nice
O: Lacks the kick and tastes of a bigger stout, but a really nice, drinkable beer...no compliants here...
★
419 characters

4
/5
rDev
+2.6%
look: 4 | smell: 4 | taste: 4 | feel: 4 | overall: 4
On tap at Churchkey poured into a sampler glass. Pours ruby-highlighted black pour with a rocky light brown head. Nose is very sweet and dark, hellish roast with char and very evident dry-hopping. Taste is bitter and very dry, has some ash and char, it's hard-edged but very seductive. Coffee notes here and a very healthy level of hops. Fruitiness is over-advertised, though, and closer to absent. Standard full body maintains a smooth-crisp balance without being oily. Overall, an interesting stout from Williams Brother.
★
525 characters

3.59
/5
rDev
-7.9%
look: 3 | smell: 4 | taste: 3.5 | feel: 3.5 | overall: 3.5
Flat long smooth suave flat coffee and roast malt bottle nose. When poured in the glass there's a lovely almost dark one and a half inch easy foam tan head though this disappointingly devolves into a thin line. Fairly deep glossy black there are some traces of reddy rust at the bottom of the glass. Smoot, not rich but dry earthy body. Slight chewiness and sort of thin. Light spiky spice at the en sord. Booze is very well contained.
Promises much but sort of falls apart in the glass. Really needs more structure, stuffing and slickness for me unlike most people. Unlike some people I'm not really pumped for this
★
616 characters
3.63
/5
rDev
-6.9%
look: 4 | smell: 3.5 | taste: 3.5 | feel: 3.5 | overall: 4
Black, with a thin, bubbly head that is a nice cream colour. Roasted malts, noticeable fruity hops and some chocolate mingle in the scent.
Chocolate malts and a definite hop profile are the primary flavours. Coffee, light rum and raisins are in the background. A bit more hoppy than expected.
Carbonation could be tuned down a bit, but it does ease off as this warms. Still could be a bit lower though.
Not a bad stout - but a bit hoppier than I'm used to. A good drink, if a bit heavy handed on the carbonation.
★
515 characters
3.82
/5
rDev
-2.1%
look: 4 | smell: 4.5 | taste: 3.5 | feel: 4 | overall: 3.5
Bottle #5 of Sainsbury's Beer Hunt! Poured from a 330ml bottle into a Chimay goblet.
Pours a dark black colour, with a fairly decent head and very nice lacing along the inside of the glass as you drink.
Smells of roasted coffee/malts and alcohol, faint aroma of hops as well.
Tastes lighter than I expected, hoppy flavours upfront, with well hidden for the most part alcohol too, followed by burnt flavours and roasted coffee and malts present, pleasantly refreshing as well as it is not very thick in mouthfeel.
Overall a decent drink. Well balanced and refreshing for a stout.
★
583 characters
4.17
/5
rDev
+6.9%
look: 4 | smell: 4.5 | taste: 4 | feel: 4.5 | overall: 4
Black with a red hue and a great little head that leaves pretty lacing and sticks around for a while. Smells of super sticky pine resin hops with a great balance of Malt in the backround. Taste begins with a a muted combo of both roasted malt and hops, then the hop presence increases and you taste some pine and smoke. It ends quite dry and sticky Medium to full bodied with soft carbonation that feels light on the palate. Overall a nice really hoppy stout that is easy to drink and not overpowering in the least. Will be picking up a couple more.
★
549 characters

3.98
/5
rDev
+2.1%
look: 4.5 | smell: 4 | taste: 4 | feel: 3.5 | overall: 4
A 330ml bottle with a BB of Jan 2013. Purchased from Sainsburys during their British beer hunt. Described on the label as deeply irreverent - the product of two students who created it while studying on a brewing course.
Poured into a Sam Smith's pint glass. Pours a jet black hue, though this is revealed to be a deep ruby when held to the light. Produces a massive head of tan foam with a creamy texture and good retention; this eventually subsides to a thick surface layer. Nice lacing. Aroma of rich, dark malt with a large dose of aromatic hops; plenty of roasted grain and bitter coffee notes ,along with pine and subtle citrus. A whiff of alcohol in the background.
Tastes of dark roasted malt with a spicy aromatic hop bitterness. Notes of burnt grain, coffee, resinous pine, stewed hops and booze on the finish. Mouthfeel is smooth, tingly and spicy - well carbonated although the body is less substantial than it could be. Aftertaste of bitter malt and pine.
Good stuff; an impressive effort and the hoppiest stout I've tried so far. Bitter - both from the roasted malt and the hops, with a distinctly piney flavour. The only weak point is the body, which feels thinner than it should. Might also benefit from some sweeter malt to mellow out the coffee-like bitterness. Nonetheless, a quality brew and well worth trying.
★
1,339 characters
Profanity Stout from Williams Brothers Brewing Company
3.9
out of
5
based on
36
ratings.