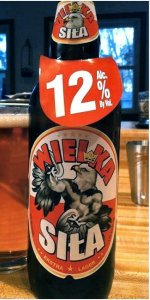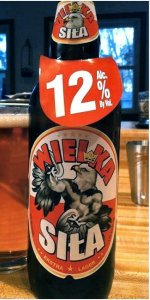 BEER INFO
Brewed by:
Rinkuškiai
Lithuania
rinkuskiai.lt
Style:
Euro Strong Lager
Alcohol by volume (ABV):
12.00%
Availability:
Year-round
Notes / Commercial Description:
No notes at this time.
Added by Derranged on 12-22-2013
HISTOGRAM
Ratings: 11 | Reviews: 9

2.56
/5
rDev
-17.4%
look: 3 | smell: 2.5 | taste: 2.5 | feel: 2.75 | overall: 2.5
Ever have Before After? This is the same exact brew. No difference whatsoever. Oh, except for the label. No other difference. Same bottle, same brewery..Wildly different overall rating. WTF? Oh, you want to know what I think of this? Go read my review of Before After.
269 characters
2.86
/5
rDev
-7.7%
look: 4 | smell: 3.5 | taste: 2.25 | feel: 3.75 | overall: 2.5
Poured from a brown 16.9 oz. bottle. Has a dark golden color with a 1/2 inch head. Smell is of green apples, malts, sweet. Taste is alcohol, malts, green apples, considerable sweetness. Alcohol becomes stronger as it warms. Who dropped a shot of vodka in my beer? Feels medium/full bodied in the mouth and overall isn't horrible, but I won't be drinking another.
362 characters
3
/5
rDev
-3.2%
look: 3 | smell: 3 | taste: 3 | feel: 3 | overall: 3
javascript:void(0);
19 characters

3.3
/5
rDev
+6.5%
look: 3.5 | smell: 3.5 | taste: 3.25 | feel: 3 | overall: 3.25
Bought it randomly, had no idea what to expect, didn't even notice the ABV until I opened the bottle
500ml bottle poured into a Sam Adams Perfect glass
It's a hazy/cloudy orange with a 1/2 in head that fades to a thin layer on top. The alcohol is noticeable but not solvent or harsh. Lots of fruit & honey in the taste, no hop presence whatsoever. Light carbonation, not surprising with a beer this high ABV. A very thick mouthfeel - even more so as it warms.
I always enjoy trying new beers, but will not be revisiting this again.
539 characters
3.12
/5
rDev
+0.6%
look: 3.75 | smell: 3 | taste: 3 | feel: 3.25 | overall: 3.25
500 ml Bottle from Tres Bonne Cuisine. Was completely expecting this to suck, so am pleasantly surprised. Amber body with small creamy head. Bready malt dominates the taste and aroma, as expected, but without the normal funky/musty cooked vegetable character. Warming, to say the least, it brings the heat, as it should at 12%
327 characters

2.85
/5
rDev
-8.1%
look: 3 | smell: 3 | taste: 2.75 | feel: 3 | overall: 2.75
Poured from 500mL bottle into a dimpled mug.
Appearance: medium golden hue with a touch of haze and limited effervescence. Head pours a thin layer of frothy white foam that dissipates quickly.
Smell: strongly malty with a dash of peppery alcohol heat. Not quite inspiring, but better than a lot of other examples of the style.
Taste: very malty indeed with a little bit of alcohol heat and a kind of flat aftertaste. Not the worst thing in the world, but not great.
Mouthfeel: medium body with a low level of carbonation and a light, but present, creaminess.
Overall: not the worst Euro strong lager out there, but still not a wonderful beer.
654 characters

3.49
/5
rDev
+12.6%
look: 3.25 | smell: 3.5 | taste: 3.5 | feel: 3.5 | overall: 3.5

2
/5
rDev
-35.5%
look: 2 | smell: 2 | taste: 2 | feel: 2 | overall: 2
Pours a clear golden color with white head. Cereal grains and booze on the nose; follows onto the palate. Medium bodied with a lot of carbonation. Finishes boozy.
163 characters
3.67
/5
rDev
+18.4%
look: 4.5 | smell: 3.75 | taste: 3.5 | feel: 3.5 | overall: 3.75
Pours a clear gold with a white head. Head is dense and one finger in height. Recedes down to a thin but clearly defined layer on the top. Massive amount of bubbles rising from the bottom mean the head never disappears until the beer is finished.
Heavy sweet malt aroma. Some alcohol. Cane sugar, faint banana, straw and dense bread. Some sweet caramel.
Sweet caramel flavor. Heavy malt and noticeable alcohol. Bread and honey. Sweetness is almost overpowering.
Rich, thick body. Medium carbonation. Syrupy mouth feel.
This is a decent beer which could use a hop presence to counterbalance the heavy malt. Hopheads should avoid this beer.
655 characters
4.6
/5
rDev
+48.4%
look: 4 | smell: 4.5 | taste: 4.75 | feel: 4.75 | overall: 4.5
Pours a deep golden color with an slightly tan head that disipates quickly. Little visible carbonation.
Smells of caramel, candied fruit and earthy notes of barley and wet hay.
Taste is strong and very sweet with malted barley and notes of caramel and fruity (most notably apple-ish) flavors. Mild hops and a hint of alcohol in the aftertaste. Hard to believe it could get any better, but it does as it warms close to room temperature!
Mouthfeel is a medium to heavy body with only a slight presence of carbonation. A slight burn, as expected from the high ABV.
At the initial taste, I thought this was an English Barleywine. The sweetness, strength of flavor and heavy body would certainly suggest so, but it is a strong, high-fermentation lager. I'm amazed that this beer is priced at under $2.50 for a 16.9 oz. bottle. At 12% ABV, I'm sure its recent popularity stems from those who just want a quick, cheap buzz. However, this is definitely a beer worthy of attention for its complexity and unique character. This beer has just hit the very top of my list of favorite brews!
1,083 characters
2.65
/5
rDev
-14.5%
look: 3.25 | smell: 2 | taste: 2.75 | feel: 3.25 | overall: 2.75
Saw this at DeCicco's in Ardsley, New York and realized it wasn't on this site so I added it. I don't even know if this qualifies as a Euro Strong Lager but it seems to fit the category based on my beer drinking experience. Of course, this site makes it tough to upload photos so I'll have to add it another time.
Poured into a pint glass.
A- Dark golden in color, thin white head.
S-Old mushy grapes, honey, booze mixed with cheap lager .
T- Cloyingly sweet, mixed with a bit of booze and other odd, unidentifiable flavors. Strong banana flavor pops up every now and again .
M- Thick and very filling with a decent amount of carbonation. Booze lingers a bit. Numbs limps just a little.
O- My goodness, this is basically Lobster Lover's Beer on steroids. As noted above, very filling and tough to get down. I'll finish the pint but this isn't something I'll buy often, if ever.
887 characters
Wielka Siła from Rinkuškiai
Beer rating:
3.1
out of
5
with
11
ratings