Sauerstrom Ale
| Lightning Brewery
BA SCORE
79
okay
12
Reviews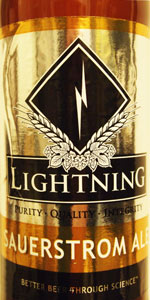 BEER INFO
Brewed by:
Lightning Brewery
California
,
United States
lightningbrewery.com
Style:
Berliner Weissbier
Alcohol by volume (ABV):
4.20%
Availability:
Limited (brewed once)
Notes / Commercial Description:
No notes at this time.
Added by womencantsail on 08-29-2011
This beer is retired; no longer brewed.
Reviews: 12 | Ratings: 30
2.96
/5
rDev
-9.5%
look: 2 | smell: 3.5 | taste: 3 | feel: 2 | overall: 3
22 oz. bottle,
A: Pours an extremely cloudy goldenrod. Big fizzy white head, good amount of lace, tons of sediment. Bordering on a comical amount of unfilteredness.
S: Lemon zest, wheat malt, some yeast.
T: Tart lemon with a lot of wheat and bready flavours. Some chalky yeast taste as well. Never as acidic as a classic Berliner, but there is a bit to differentiate it from the APWAs of the world.
M: Light-bodied, crisp, mild acidity.
O: Tasting this blind, it would be hard to peg this as a Berliner, since the acidity simply isn't there. A solid wheat ale, but don't go in expecting Kindl.
598 characters

4.32
/5
rDev
+32.1%
look: 4 | smell: 4.5 | taste: 4.5 | feel: 4 | overall: 4
A - Pours a very cloudy golden-yellow color with a thin finger of frothy white head. The head fades down fairly quickly leaving behind some lace.
S - Aroma is a mix of wheat, lemon zest, sourness and tartness, and some funky barnyard smells.
T - Starts off with a mix of wheat, sourness, tartness, and lemon zest. Through the middle, some funky barnyard flavors come through with some bubblegum yeast esters. The finish is a mix of lemon zest, wheat, sour and tart flavors, and some light funk.
M - Medium-light bodied with moderate carbonation. Feels smooth with a tart and dry finish.
D - Very drinkable. Nice berliner weiss. Good mix of sour and tart flavors with a nice finish.
685 characters
3.34
/5
rDev
+2.1%
look: 4 | smell: 2.5 | taste: 3.5 | feel: 4 | overall: 3.5
Recommended after purchasing 1809 as an additional Berliner Weisse to try. Brought home a bomber to enjoy
Appearance: Pours a golden orange w/ a huge head (probably a bit overcarbonated). Good head retention and lacing. Initial pour is clear w/ substantial bubbles emanating from the bottom of the glass.
Smell: Surprisingly a touch of heat with minimal tartness lingering. Citrus w/ oranges predominating.
Taste: Sweet! and minimally tart/sour. Not expected at all from the style, but very palatable nonetheless.
Mouthfeel: Smooth and velvety; lingers. Not as carbonated as one would expect from visual inspection.
Overall: Good brew, but would not be my first choice when hankering for a Berliner. Curious of the variability between bottles given the wide-ranging reviews. Will drink again.
800 characters
3.6
/5
rDev
+10.1%
look: 4 | smell: 4 | taste: 3.5 | feel: 3 | overall: 3.5
Poured from the bottle into a wheat ale glass. Lots of cloudy yeast in the bottom of this bottle.
A real hazy, but also orb glowing neon like yellow and green body, with lemon hues towards the bottom of the glass is presented. Head is soapy and does manage some retention and thick bubbled collar while settling.
Nose is quite tart and refreshing. A real nice sense of dry grain, faint sweet malts on this hiding too. Some faint spicy phenols seem to come out also. Very nice smelling.
Palate hits with a very weak mouthfeel and body, even for a Berliner. Refreshing watery lemon quality, big estery banana finish on the swallow though. Lemon and banana roll all over the palate quite nicely, but I am looking for a malt density that doesn't seem to build, and there's not much sourness to this either in the mouth.
Overall it's not too bad, things could be worse, but not the best Berliner Weissbier I've had.
914 characters
3.08
/5
rDev
-5.8%
look: 3.5 | smell: 3 | taste: 3 | feel: 3.5 | overall: 3
22oz bottle
Pours a hazy gold with a prickly white head. Aromas of crisp wheat, lemon zest, and lactic acid. Mild, and much more akin to a Wit then a Berliner. Taste is similarly disappointing, wheat, banana, and clove with just a touch of the sought-after lemon and lactic yogurt flavors I want. Not tart, not sour, not flavorful. Mouthfeel is light and crisp, with a thin body and low carbonation. Definitely underwhelming, but I've heard other bottles are better. May need to re-visit.
489 characters
3.7
/5
rDev
+13.1%
look: 4 | smell: 4 | taste: 3.5 | feel: 4 | overall: 3.5
A big thanks to eagles22 for sharing this bomber with me. Poured into a tulip, the brew appears a hazed color of yellow. More than 2 fingers worth of white froth sits atop and displays pretty good retention for the style with upward rising bubbles of carbonation continuously supporting. Towards the bottom of the bottle, pours start to get a little dicey with big chucks of white spackle and chucks that almost look like cracked rice.
The aroma is sweet and grainy like wheat or cereal with a depth of something else lightly fruity. More smells reveal a bit of yogurt character, stinky cheese, lacto and a touch of lemon. There is a very mild earthy character to this as it warms up which takes the focus back into a strong scent of yogurt.
The taste is sweet and grainy just like the aroma led on with a very mild amount of fruit character like pear, apple and lemon. The grain has some wheat tartness about it with the tartness getting a little exaggerated with the lemony flavoring. The backend of the flavor has some funky aspects almost like feet and cheese.
This is a light bodied brew with a moderate amount of carbonation. I enjoyed the sweeter and more fresh and grainy aspects of this brew but it could have used just a bit more tartness. I think the folks at lightning brewery are on the right track with this and they should continue to experiment with the style. As-is this wasn't my favorite berliner offering but I had no problems finishing a glass and looking for more.
1,489 characters

3.92
/5
rDev
+19.9%
look: 3.5 | smell: 4 | taste: 4 | feel: 3.5 | overall: 4
A: Poured from a bottle to a pint glass. Had a yellow color and a cloudy consistency. There was a half inch of foamy head that quickly dissipated. Not much lacing.
S: Lots of wheat and malt in the aroma, though that's not very surprising.
T: Tasted of wheat and the bubblegum flavor up front with a malty finish. There's a hint of citrus in there as well, though it's very subtle. A solid flavor that gets better as you go along.
M: A fair amount of carbonation with a smooth finish. Light- to medium-bodied.
O: At first I wasn't that enamored with this beer, but it grew on me. A solidly made, drinkable brew.
614 characters

3.18
/5
rDev
-2.8%
look: 4 | smell: 3.5 | taste: 3 | feel: 3 | overall: 3
Purchased from The Beer Exchange in Charleston. I was excited for another Berliner Weiss to try and brought home a 22oz bottle.
Poured in a tulip glass it has a hazy golden color. The head is nice white lite foam.
The nose has some banana, yeast, and a slight sourness.
Taste is not nearly as sour as other Berliner Weiss I've tried. There is some sourness but not what I was expecting. Some wheat sweetness that makes it feel kind of like a straight up German weissbier with a hint of some sour and tartness, but I don't think it lives up to the Berliner Weiss style. There are some tropical fruit flavors that show up.
Not much of a finish.
647 characters

3.97
/5
rDev
+21.4%
look: 3.5 | smell: 4 | taste: 4 | feel: 4 | overall: 4
Sauerstrom Ale from the 22 oz bottle from Best Damn. Pours a hazy golden at first, lots of sediment starts stirring up after that. Very nice foam and lacing in the tulip glass. Light body with pleasant creamy mouthfeel. Label says 4.5% ABV.
More tart than sour, without any suggestion of vinegar. Just a suggestion of malty sweetness gives it more interest than some of this style. Certainly more drinkable that other examples, like the DFH Festina. Nice nose that hints at the German wheat esters. Slight warmth and spiciness balances against the acidity. The tartness fades with each sip, leaving that touch of malt. I think this should add some credibility to Lightning's capabilities. A new West Coast Berlinerweisse style?
728 characters
3.88
/5
rDev
+18.7%
look: 4 | smell: 3.5 | taste: 4 | feel: 4 | overall: 4
Very nice Berliner. It pours a very yellow color with a lot of haze and not a lot of head, but good lacing. The nose is slightly sour with a distinct and noticeable German wheat beer yeast background. The flavor is nice. Tart an sour, not funky. The same German wheat beer yeast makes a statement too. There is some residual sweetness that helps prop-up the body on the lower- ABV beer. Ringing in at just over 4% this Berliner is delicious and very drinkable. Great work Lightning...please keep brewing this!
509 characters

2.29
/5
rDev
-30%
look: 3 | smell: 1.5 | taste: 2.5 | feel: 3.5 | overall: 2
8/27/2011
Bottle shared by Evan at Woodshop Classix, thanks. Hazy yellow with no head. Wheat and horsey notes with pronounced sulfur and burnt rubber in the aroma. The flavor is less offensive, with notes of wheat and salt and a light watery grainy sweetness. Lactic notes are evident and I get a little leather with a mild tartness. Not recommended.
351 characters

1.9
/5
rDev
-41.9%
look: 3.5 | smell: 1 | taste: 2 | feel: 3.5 | overall: 1.5
Thanks for sharing this, Evan.
A: The beer pours a cloudy yellow/straw color with a finger of white foam.
S: Smells just awful. Full of sulfur and cheesy funk with a bit of...barnyard (not the good kind). Slightly salty with some banana and lemon zest. In true Lightning fashion, unlike any Berliner Weiss I've smelled.
T: Banana flavor dominates, but overall, it's pretty light. A bit watery with a mild tartness and a hint of salt. The funk that was so prevalent on the nose has died down. Mild bread sweetness, too.
M: Light bodied with a medium carbonation.
O: Smelled like a sour mash gone wrong. Didn't taste much better.
632 characters
Sauerstrom Ale from Lightning Brewery
3.27
out of
5
based on
30
ratings.