Moo Brew Pilsner
| Moorilla Estate
BA SCORE
82
good
12
Reviews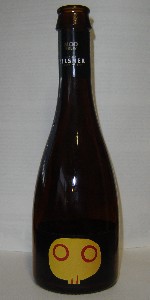 BEER INFO
Brewed by:
Moorilla Estate
Australia
moobrew.com.au
Style:
Czech Pilsener
Alcohol by volume (ABV):
5.00%
Availability:
Year-round
Notes / Commercial Description:
No notes at this time.
Added by joecast on 11-28-2005
Reviews: 12 | Ratings: 19

2.99
/5
rDev
-15.1%
look: 3.25 | smell: 3 | taste: 3 | feel: 2.75 | overall: 3
From bottle, Clear straw yellow color, white head. Sweet, malty scent. Malty, citrus, sweet taste. grainy, dry aftertaste. Medium mouthfeel, medium bitterness.
159 characters

3.19
/5
rDev
-9.4%
look: 3.25 | smell: 3 | taste: 3.25 | feel: 3.25 | overall: 3.25
I had 330ml bottle. This beer won a bronze medal in 2014 CBIA Craft Beer Awards in the 6A class German style Pilsner.
Appearance: light pale straw colour, clear, no head remains to speak of but consistent with the style.
Aroma: very light aroma, hard to pick up any specifics. Largely yeasty or light floral. Disappointing really.
Flavour: lingering sophisticated bitterness through out. Makes the beer quite refreshing and leaves you looking for that next mouthful.
Medium carbonation initially but it faded away like the head.
Overall: good refreshing Pilsner and an enjoyable drinking beer but not very complex in the sense that aroma is very low.
650 characters
3.27
/5
rDev
-7.1%
look: 3.25 | smell: 3 | taste: 3.25 | feel: 3.5 | overall: 3.5
drank from my duvel tulip
A - Pours a light golden clear colour with a one fingered head that retains ok
S - Light grains not much else
T - Up front some light grains with a malty backbone, bits of residual sweetness in the dry finish.
M - Light to medium body with low carbonation.
O - A pretty good example of the style and worth a try.
343 characters

2.65
/5
rDev
-24.7%
look: 2.5 | smell: 2.5 | taste: 3 | feel: 2 | overall: 2.5
From Leura Cellars. No BB.
Pours a pale clear straw, no head at all, no lace whatsoever.
Aromas of doughy malts, a little grain.
Taste is of mainly of doughy malts, a little butter, with very little hop presence. Quite sweet. Slightly astrigent bitter aftertaste.
Mouthfeel is under carbonated, which for this style is a real let down.
Overall, the beer looks great in the Moo Brew bottle, and I really wanted to find a good Aussie Pilsner. Add in... it is expensive too, hence down half a mark.
500 characters
3.32
/5
rDev
-5.7%
look: 2.5 | smell: 3 | taste: 3.5 | feel: 3.5 | overall: 3.5
Bottle from Beer Deluxe. From notes.
A - Poured golden and bright with one finger of white head. Good carbonation, no lace and no retention.
S - Noble hop, some tropical fruit, hay, light malt.
T - Noble hop, citrus, tropical fruit. Noble hop was nice but different. Probably the Spalt element. Light malt/hay character.
M - Good, relatively strong carbonation. Light to medium body and a good classic noble bitterness.
O/D - Nice and flavourful. Not one of the better versions of the noble forward Pils, but still enjoyable.
530 characters

3.38
/5
rDev
-4%
look: 4 | smell: 3.5 | taste: 3 | feel: 4 | overall: 3.5
Pours a clear, metallic gold colour with snowy head, visible bubbles and pretty beautiful lace. Good pils look.
Smell is mildly grainy but well balanced with hops, slightly herbal and also metallic. Largely cereal grain sweetness; puffed rice and oats. Not bad, am willing to give it the benefit of the doubt.
Taste is very grainy and sweet. Lots of puffed rice upfront giving way to barley mash flavour that almost makes it taste a bit underattenuated, and a hint of honey. Very mild bitterness is more an after-thought, the hops have very little presence on the main palate. Slightly phenolic, it emerges after the back-palate and does sort of vanquish any residual sweetness, but it could have been used early and with more complexity to it.
Bit of tingle but decent body. Good pils texture, not too light and slightly fizzy.
Drinkable enough but there's quite a few shortcomings. None of them are egregious though. At times it strikes me more as a German pils than a Czech one.
985 characters
3.9
/5
rDev
+10.8%
look: 3 | smell: 3 | taste: 4.5 | feel: 4 | overall: 4
Good stuff this but not what you would call classical, rather it continues a trend of very good Antipodean new worldly pilsners and is right at the front of the class with Murray's, Emersons and Wanaka. Good lifted nose of fruit, particularly passion fruit; very pretty. Palate goes into overdrive with masses of sweet fruits but with an undeniable pilsner edge. (Side note: I consumed this beer with a strong King Island 'black' cheese and this had the incredible effect of lifting the flavours significantly. This must be MB's best beer?)
548 characters
2.92
/5
rDev
-17%
look: 3 | smell: 3.5 | taste: 2.5 | feel: 3 | overall: 3
Pours gold with a large fading head.
Nose shows lemony, spicy and floral hops with some soft bready malt in the background.
Flavours instead show a grainy, cardboard character, although there is some bready malt underneath along with some more hops. Finishes very dry with a bold bitterness.
Carbonation is rather high.
319 characters

3.76
/5
rDev
+6.8%
look: 4 | smell: 3 | taste: 4 | feel: 4 | overall: 4
A - Golden, small but good retentive head with some ok lacing. Large bubbles flow and stick to the edge of the glass.
S - Faint, hints of pilsner malts and floral hops.
T - Quite smooth and sweet, some floral-like hop flavours in there. Some grassy hops at the back of the palate are also tasted which leave a reasonably dry aftertaste. Not as crips or bity as would be expected.
M - Bit low carbonation, thin and very smooth.
D - Very easy to drink, a little smooth and sweet for this style but a refreshing good beer non the less.
544 characters
3.52
/5
rDev 0%
look: 3 | smell: 3.5 | taste: 3.5 | feel: 3 | overall: 4
On holiday in Hobart, I started the evening in a pub with only Cascade/CUB beers: I tried to amuse myself by comparing Cascade Premium with Boags Premium to see which was the best Tasmanian lager. It wasn't particularly interesting. But it did set the scene for going to the next pub and finding out what really IS the best lager in Tasmania!
Clear straw blonde with small lasting head. Grapefruity hops aromas. To taste: biscuit with good hops bitterness gives a lovely flavour in keeping with the style of a pilsner, with a lasting finish. Crisp, refreshing, nice level of carbonation, not too fizzy. Lovely stuff, and a better lager than I remember trying before from Australia.
685 characters
4.32
/5
rDev
+22.7%
look: 3.5 | smell: 4 | taste: 4.5 | feel: 4.5 | overall: 4.5
330 ml bottle which encourages one to, "drink fresh and enjoy"...but no freshness dating apparent.
Aroma is of honey malt with a spritz of euro hop. Entry is quiet and leads to a midtaste dominated by malt in front of a honey background. Finish is distinctly Czech with a sazzy fade.
Body was a hazy yellow capped by a wonderful two finger collar of rocky, small-bubbled foam.
The quality of this beer came as a complete shock...thanks to joecast for spreading the love!
479 characters
4.8
/5
rDev
+36.4%
look: 4.5 | smell: 4.5 | taste: 5 | feel: 4.5 | overall: 5
after revisiting james squire pilsener to recalibrate my pils tatse buds (couldnt find matilda bay bohemian), i can finally crack open the last of the three moo brew regular offerings. here we go.
pours very pale golden with a thin white foamy head. plenty of small bubbles streaming to the surface help make this quite an attractive beer.
aroma seems more floral then grassy. mainly hops though as not much malt is noticeable on the nose.
speechless. taste is a perfect mix of malt base and hop flavors. bitterness up front, with a sweet hoppy middle. finish is crisp and light.
yeah, i dont remember it being this good at the tasting a few weeks ago. most likely the same batch and all, but it was about the third beer of the night, its a lager, and it was more of a relief that it wasnt another bland premium lager that we get so often.at least for me.
well done moo brew. cant wait to get down there and try it on tap at the restaurant.
956 characters
Moo Brew Pilsner from Moorilla Estate
3.52
out of
5
based on
19
ratings.