Red Hill Weizenbock
| Red Hill Brewery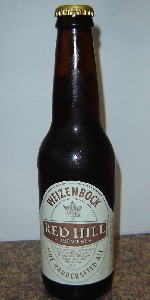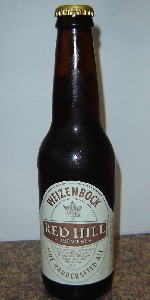 BEER INFO
Brewed by:
Red Hill Brewery
Australia
redhillbrewery.com.au
Style:
Weizenbock
Alcohol by volume (ABV):
7.90%
Availability:
Spring
Notes / Commercial Description:
Available in Spring (Southern Hemisphere Spring).
Added by belgbeerdrinker on 02-09-2007
HISTOGRAM
Ratings: 15 | Reviews: 15
3.77
/5
rDev
+0.8%
look: 2.75 | smell: 3.75 | taste: 3.75 | feel: 3.5 | overall: 4.25
Opaque treacle with ruby hues. Modest beige head falls with audible speed to nought.
Rich sweetness abounds. Thick raisins, banana toffee and dates, shaped a little by some woody spices.
Similar flavours. Banoffee pie, brandy snap, butterscotch sauce, toffee apple. Uncompromisingly rich and decadent.
Medium syrupy entry with not quite enough cut through from the modest carbonation.
Overall it's excellent really. Does everything you want from the style with no rough edges.
480 characters

3.88
/5
rDev
+3.7%
look: 4 | smell: 3.5 | taste: 4 | feel: 4 | overall: 4
Pours a copper body, two finger coarse off-white head. Little lacing.
Aromas of ripe bananas, spices.
Taste is a sweet sensation of bananas, cloves, even some figs/dates(!). Alcohol warmth comes thru.
Mouthfeel - well carbonated - works for me.
Overall - quite a sweet beer, but well made. Would only go one.
312 characters
3.94
/5
rDev
+5.3%
look: 4 | smell: 5 | taste: 3.5 | feel: 3 | overall: 4
Appearance as per the 2009. Aromas remain of super high quality and character; massive lift of fruit cake and zinfandel grapes. Relatively subdued to taste but a high amount of fizz doesn't help the flavour penetration. Lighter fruitcake, some licorice and some woody, hot character from the alcohol. Can't help but be let down after the nose.
347 characters
3.8
/5
rDev
+1.6%
look: 3.5 | smell: 3.5 | taste: 4 | feel: 3.5 | overall: 4
330 ML poured into a Tulip
Thanks to Triple5 for providing the beer
A-- Poured a dark, golden brown and settled black with tints of gold. Short lived dark brown sugar colored head that went to film quickly. Lively carbonation to this and good head retention on swirling.
S-- Soft smelling banana, clove, other spices and carmel.
T-- More of the same. Banana, clove and cinnamon. Very ripe banana taste.
M-- High, lively carbonation. Very prickly feel. ABV is much more apparent in the mouth. Has a lot of the qualties of a dried banana in the mouth. Kind of ripe but not overripe. Banana gets much bigger as you drink on.
D-- A little too much carbonation for me. It is good though. Not a big wheat beer drinker but this would work from time to time. ABV is hidden pretty well. Only in the mouth it is really noticeable.
828 characters
3.75
/5
rDev
+0.3%
look: 3.5 | smell: 3.5 | taste: 4 | feel: 4 | overall: 3.5
Rich, bready malt aroma with some light spicy phenols and moderate banana esters. Very sweet, almost sickly.
Dark, deep brown with light haze. Small, light tan head. Poor head retention.
Good flavour with lots of rich, sweet, malt. Plenty of melenoidins. The spiciness is subdued as is the banana flavours. Lots of dark, dried fruit as is appropriate.
Medium-full body with moderately-low carbonation. Good. Just a little bit of alcohol heat comes through.
A decent drink with lots going on. Just a little bit sweet for my taste but on the whole a good example.
565 characters
3.75
/5
rDev
+0.3%
look: 4 | smell: 4 | taste: 3.5 | feel: 3.5 | overall: 4
Pours dark coppery ruby with a large, almost white head. Nice combination!
Nose shows lots of creamy chocolate and hazelnuts, with some soft alcohol and toasty malt following later.
Dominant flavour is the same creamy chocolate, with figs not left far behind. Unfortunately the alcohol is quite noticeable, otherwise this would have been great.
Quite strongly carbonated, but still creamy.
389 characters
3.53
/5
rDev
-5.6%
look: 4 | smell: 3.5 | taste: 3.5 | feel: 3.5 | overall: 3.5
a: This was a slightly hazy, dark chestnut color. It pours with a big billowy off-white head that fades to light lace.
s: Light, musty banana phenols, surprisingly strong herbal hops, and sweet toffee. A little heat coming off this as well.
t: Starts off with warm banana that transitions to charred, sweet toffee. The finish is very dry, perfumed, and just a little spicy.
m: Viscous and chewy with gently foamy carbonation.
d: The driest weizenbock I've tried. Different, but not bad at all.
497 characters
3.4
/5
rDev
-9.1%
look: 3 | smell: 3 | taste: 3.5 | feel: 4 | overall: 3.5
Pours a hazy, but not particularly cloudy deep brown colour, with a very filmy head of beige bubbles. Some Lacing along the edges. The body looks very thin though, and I have to say it looks a pretty disappointing weizenbock.
Large banana esters on the nose, reeking of those banana candies. Just a touch of something darker and deeper - perhaps a little molasses, but it's pretty one dimensional - it certainly doesn't have the layers of a traditional weizenbock.
Taste is strikingly similar to the nose, with just a darker grainy roasted character coming in on the back palate. A touch of booze perhaps noticeable on the back, but there's certainly not a great deal of complexity to it, and the banana phenols become quite overpowering after a while. Fortunately, the mouthfeel is creamy and full, which really boosts the character of the beer - because it certainly needs a boost.
I found this to be quite disappointing - I'm a huge fan of some of Red Hill's other beers, and this one really doesn't live up to my expectations. Sure, it's a drinkable beer, and hey, a decent stab at a classic style - but in the past, I've been impressed with this brewery's ability to nail a style to perfection, and this one falls well short stylistically.
1,247 characters

2.51
/5
rDev
-32.9%
look: 3.5 | smell: 2.5 | taste: 2.5 | feel: 3 | overall: 2
Pours a dark, burnished orange colour, with a very thin ring of beige bubbles passing for a head. Quite cloudy in appearance, doesn't leave much lace, just dots hereabouts. Looks sweet, but not devilishly so.
Nose is really quite fruity, with a HUGE banana hit, as well as some pears and some maply syrup kind of character. But yeah, really serious banana. Actual fresh banana smell, in essence. I don't really like banana, but I'd forgive this if this were meant to smell exactly like banana with little else.
Taste starts off quite fruity with, yes, more of that banana, blended with some darker, syrupy flavours like golden syrup, some molasses, maybe a hint of some spice, even some light clove characters. But seriously, weizenbock with only a hint of a light clove character? Needs far, far more spice. Really syrupy sweet for the most part, and has a slight bitterness on the late mid, but it feels more an unrefined sugar bitterness than any brewing yeast character or hops. Fairly one note and overly sweet.
Mouthfeel is fairly viscous, leaves an unpleasant earthy hang. Good for what it is but no more.
Not really drinkable, too sweet and not in any way clean. This is a huge disappointment, both as a weizenbock and as a Red Hill brew. I expected so, so much more from this beer.
1,294 characters
4.52
/5
rDev
+20.9%
look: 4 | smell: 4.5 | taste: 4.5 | feel: 5 | overall: 4.5
pours a hazy glowing amber/ruby color. a thin lightly tanned head made up of thousands of tiny bubbles sits atop the beer. if it was a bit thicker it would look like a nitro can.
very full nose on this. lots of sweet dark fruits make it a real sniffer. some spicy wheat and yeast notes fill in what little room is left. a bit of alcohol heat comes in when i bury the nose to remind of the significant strength. just about spot on according to the style description, and quite enjoyable i think.
lots going on in the taste. some soft sweetness, a bit of malt and probably quite a high finishing gravity. not much hop bitterness to speak of but some balance provided by the alcohol perhaps. more dark fruits which give it some kind of familiarity.
fantastic mouthfeel. low carbonation and such softness. like nothing i can remember. nice and smooth but not slick or over filling.
nectar of the gods anyone? this is fantastic. so much character to it that i doubt i could ever get tired of drinking this. and me being a no holds barred hop head this is a surprise to me. credit to red hill for providing such a fine beer in a style thats not much brewed in this country. and thanks to brendan13 for this one!
1,210 characters
3.62
/5
rDev
-3.2%
look: 3 | smell: 3.5 | taste: 3.5 | feel: 4 | overall: 4
This pours a murky dark brown colour with a finger of head but it doesn't hang around long.
Banana/vanilla milkshake type aromas.
A real vanilla richness in the mouth. Again with some bananas.
Big mouthfeel and some nice alcohol warmth without it being OTT.
260 characters
4.17
/5
rDev
+11.5%
look: 4 | smell: 4.5 | taste: 4 | feel: 4.5 | overall: 4
Dark Brown with a strong, thick white head. Good persistence.
Woah! Intially has a very floral nose of violets. This leads into a strong dark chocolate/powdered cocoa vibe. Mix in with this some hints of yeast flavour and a little cola of all things. Enjoyable and complex.
More dark chocolate on the palate, yet this time it is well backed up by raisin and dried fruit flavours. Some slight spirit warming, but works well and helps balance out this brew and give you a little reminder of the alcohol %. Some anise as well.
Top notch palate - very creamy, full and balanced. Some sweetness and low bitterness but it all seems to fit into a neat little (yet powerful) package.
Good gear, one for winter!
Update: had again in 2010. The banana flavours are very powerful. Candy banana at that. Still a good beer but perhaps not as interesting as this review.
861 characters
4.07
/5
rDev
+8.8%
look: 4 | smell: 4.5 | taste: 4 | feel: 3.5 | overall: 4
Says "Best Enjoyed in a Glass" on the bottle...
Appearance - Beautiful, deep, dark copper huge. Great two-finger head on medium that lingers for a long time. Excellent head retention that leaves a healthy amount of lacing throughout.
Smell - Malty smell dominated by wheat characteristics of banana and spices (cloves) in addition to raisiny notes. Sweet and savoury blend, extremely aromatic and balanced. Very subtle sour edge (from the yeast, I suspect). ABV not apparent at all.
Taste - Great, well-balanced weizenbock. ABV more apparent on the palate with slightly warming finish. Blend of dark fruits plus banana and spicy yeastiness dominating the direction of the flavor.
Mouthfeel - Full, smooth velvety body with carbonation level that convets it to a light, frothiness as it goes down. Perhaps one notch too high for carbonation, but above average nonetheless.
Drinkability - Slightly alcoholic, but fully appropriate for the style and a great sipper. Excellent Aussie stab at a weizenbock and it appears to have hit the nail on the head. Will be trying more Red Hill beers from now on...
1,107 characters
3.47
/5
rDev
-7.2%
look: 3.5 | smell: 4 | taste: 3.5 | feel: 3 | overall: 3
Pours a copper colour with little to no head.
Upon opening I first got a spicy apple aroma but once poured the malty goodness came through. Warm alcohol notes were present too.
An abundance of sweet maltiness dominates the taste.
Quite a burning alcohol sensation is left on the throat I felt.
Drinkable if your in the mood for this sort of beer.
351 characters
3.93
/5
rDev
+5.1%
look: 4 | smell: 3.5 | taste: 4 | feel: 4.5 | overall: 4
a: slightly hazy copper color, good carbonated activity, good head that dissipates quickly
s: mild hops smell, some wheate & sweet odors i can't place
t: mild sweetness throughout, wheat taste with a great warm finish (alcohol well-hidden)
m: medium body but crisp with lots of carbonation and smooth
d: very easy to drink with so little notice of alcohol & very solid taste & mouthfeel. really enjoyed this one & will continue to enjoy whenever i can
455 characters
Red Hill Weizenbock from Red Hill Brewery
Beer rating:
3.74
out of
5
with
15
ratings