70 SchillingBridge
| SchillingBridge Winery & Microbrewery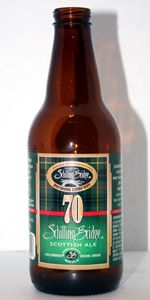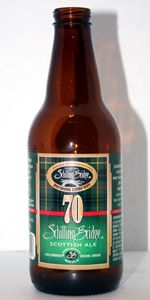 BEER INFO
Brewed by:
SchillingBridge Winery & Microbrewery
Nebraska
,
United States
schillingbridgewinery.com
Style:
Scottish Ale
Alcohol by volume (ABV):
4.00%
Availability:
Year-round
Notes / Commercial Description:
70 SchillingBridge is a traditional Scottish "70 Shilling" Ale developed in a brewery in Scotland especially for us! The flavor starts with a light caramel-like sweetness and ends with smooth maltiness. It is medium-bodied and rich in color. Truly a must-try beer!
Added by bditty187 on 05-09-2006
HISTOGRAM
Ratings: 15 | Reviews: 4





2.8
/5
rDev
-13.6%
look: 3.5 | smell: 3.5 | taste: 2.5 | feel: 2.5 | overall: 2.5
This one founds its way to me from a friend who received from family that took part on a cross country driving excursion... I'm always up for a Scotch Ale that I've never heard of...
A - A finger's worth of off-white colored head that is both visibly and audibly fizzy... Minimal retention gives way to a mostly full lacing with carbonation bubbles bursting through the surface... The color is on the lighter side of medium brown... Loaded with small bubbled modest paced carbonation... Not a bad looking brew by any means...
S - Fairly subdued, but still pleasant... This one is equal parts sweet malt and peat... Caramel... Toffee... Brown sugar... The earthy peat component is quite inviting... I only wished there was a bit more umphf to the nose...
T - The muted nose should have served as a warning as this one is even more devoid on the palette... Just a touch of peat mixed with some to be a bushel of adjunct malts... Little or no sweetness to be found...
M - On the lighter side of medium bodied... Lots of fizziness... Definitely a bit on the thin side... No real substance and a bit of a disappointment given the style...
D - A potentially promising start quickly falters... A meek effort at the style... I hate to be harsh on a small brewery that I've never had exposure to before, but was more than disappointed in this representation of my favorite style...
1,377 characters


3.47
/5
rDev
+7.1%
look: 3 | smell: 3.5 | taste: 3.5 | feel: 3.5 | overall: 3.5
A - Poured out a clear, dark cola brown color with a very small, white, bubbly head. It left no lacing.
S - It smelled of peat, earthy notes and grasses.
T - It tasted very malty, earthy and grassy.
M - It was crisp, sharp and smooth. A light to medium bodied ale with a dry finish.
O - This is a nice scottish ale. It seems true to the style.
347 characters
2.98
/5
rDev
-8%
look: 3.5 | smell: 3 | taste: 3 | feel: 2.5 | overall: 3
Old copper penny with tangerine edges and a decent looking crown of golden beige foam that started at a single finger and loses half that height in the first minute. Pint glass decoration is not impressive.
The aroma isn't a standout either, but it does deliver the usual earthy caramel maltiness and low hoppage of the style. No true negatives (other than a lack of personality) keeps the score from falling further.
70 SchillingBridge Scottish Ale is a pedestrian effort at best. The ABV could be anything from 4.0% to 6.0%... and my guess is the lower end of that range. Granted, we aren't dealing with a Scotch ale/wee heavy, but even Scottish ales should be more full and flavorful than this.
Midrange malts carry the day, as they should, with caramel and hints of toasted bread leading the way. Maybe a little nuttiness too. Hop bitterness is generous for the style (while hop flavor is minimal), which probably has more to do with a lack of malt sugars than an abundance of alpha acids.
The mouthfeel is on the skimpy side, doesn't have much hang-on, and the bubbles are too big and harsh. Some settling down occurs over the life of the bottle, which helps.
Sorry, not impressed with my first SchillingBridge Winery & Microbrewery offering. 70 SchillingBridge Scottish Ale is a ho-hum effort that is bound to be forgotten before the sun comes up. Maybe wine is what they do best.
1,391 characters
3.08
/5
rDev
-4.9%
look: 4 | smell: 3.5 | taste: 3 | feel: 2 | overall: 3
12 ounce bottle. Poured into a Samuel Adams Perfect Pint glass. Pours a brownish amber with loads of carbonation. No real head retention, I had some to begin with but it fades away relatively quickly. Earthy nuttiness hits the nose first, followed by grainy caramel notes. Mouthfeel is lightly carbonated with toffee sweetness at the end. Body of the beer comes across as thin. Earthy hops hit the palate first, lending a pleasant yet light bitterness. This gives way to an uneven wateriness before ending with malt sweetness. I'm left wanting more of that classic Scotch Ale peat moss character, but it's just not there. Somewhat disappointing, especially for a 70 shilling, which I have a certain fondness for. On the bright side the lack of punch makes this easier to drink than other examples of the style, lending itself to easy drinking. Still, I find this beer to be a bit uneven. If the body of the beer had more to it this would be quite good. Instead it's just adequate.
980 characters
70 SchillingBridge from SchillingBridge Winery & Microbrewery
Beer rating:
3.24
out of
5
with
15
ratings