Palo Alto Brewing Barley Legal Coconut Porter

Firehouse Grill & Brewery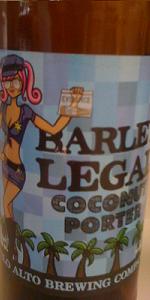 Rate It
Beer Geek Stats
| Print Shelf Talker
Style:

ABV:

6.5%

Score:

Avg:

3.29

| pDev:

21.58%

Reviews:

9

Ratings:

From:

Avail:

Year-round

Wants

Gots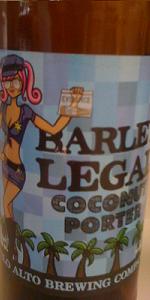 Notes:

ngeunit1 from Massachusetts
4
/5
rDev
+21.6%
look: 4 | smell: 4 | taste: 4 | feel: 4 | overall: 4
A - Pours a dark black-brown with a finger of frothy khaki-chocolate colored head. The head fades down at a normal pace leaving behind some nice lacing.
S - Aroma is a mix of roasted dark chocolate, coffee, toasted coconut, some vanilla, and a bit of molasses.
T - Starts off with a mix of sweet dark chocolate malts with vanilla and lactose sweetness, molasses, and a touch of dark fruit. Through the middle, the toasted coconut comes through with some roasted coffee. The finish is a mix of sweet chocolate malts, coconut, vanilla, coffee, and a bit of molasses.
M - Medium bodied with moderate carbonation. Feels smooth with a sweet and roasty finish.
D - Very drinkable. Nice overall balance with a good mix of chocolate and sweet coconut.
Oct 13, 2012
bugaboo416 from New York
2.85
/5
rDev
-13.4%
look: 3 | smell: 3 | taste: 2.5 | feel: 3.5 | overall: 3
Appearance: clear, black, typical porter look to it
Smell: slight sweetness and milkiness/creaminess to it
Taste: starts out slightly spicy and roasty like a coffee porter then
the ghost of sweet cream shows up in the middle and lingers for a few moments before the roasted coffee flavors kick back in.
Mouthfeel: light-medium body
Overall: Its an ok porter with a bit of creaminess and sweetness to it. You can tell there was coconut in it because upon first opening the bottle, I saw tiny specks of white floating at the top. That's likely the bits of coconut. Sadly, the coconut flavors were barely perceptable, overshadowed by the roasted quality of the porter. Cute label though.
Mar 23, 2012

DarthKostrizer from California
2.99
/5
rDev
-9.1%
look: 3.5 | smell: 4.5 | taste: 2 | feel: 3 | overall: 3
Look: Dark dark brown almost black with some lighter brown rings at the top and bottom of the glass. 1/4 inch tan head and no real retention
Smell: Coconut and vanilla sweetness upfront. The coconut is a bit more pronounced than the vanilla is. The back end has some nice chocolate notes
Taste: Lots of roasted malt upfront with a slight ash note. Sadly I do not pick up any coconut on the palate. The beer does have a slight sweetness and I mean slight on the back end. The beer finishes with just a hint of coffee
Mouthfeel: A bit on the thin side and mildly carbonation
Overall: I have to give this a lower score because the flavor is a huge let down because I really wanted the coconut to shine but it's not there at all.
Dec 13, 2011

laituegonflable from Australia
3.29
/5
rDev 0%
look: 4.5 | smell: 3 | taste: 3.5 | feel: 3 | overall: 3
Pours a murky dark-red, almost opaquely dark except around the edge. Head is lovely and dense foam, almost like honeycomb. Lace is sticky in trails. Looks wonderful.
Smells very grainy. Quite sweet with spent grain and bread dough, slight roasty note to it almost to the point of spicy espresso. Yeah, very barley, wet mash aroma. Could definitely use more, it's a bit bland and pedestrian.
Taste is unfortunately similar. Plenty of flavour but never really goes anywhere. Grainy upfront with burnt caramel and a hint of dates. Develops more roasty notes midway, mild black pepper and licorice come through that are the highlights here. Hint of cinnamon on an overcooked-toffee malt finish, and still retains that grain mash flavour without quite developing any interesting fermented esters. A bit one-note, but not unpleasant.
Fairly light, with a hint of sharp booze midway through, and quite dry on the back. More malt body wouldn't go amiss.
Bit underwhelmed here. Doesn't really go anywhere, yet it's a bit too much for a session beer.
Dec 08, 2011
lacqueredmouse from Australia
3.5
/5
rDev
+6.4%
look: 3.5 | smell: 3.5 | taste: 3.5 | feel: 3.5 | overall: 3.5
Bottle purchased in, indeed, Palo Alto (well, close to, anyway), and brought back to Australia and shared with @LaitueGonflable and @tobeerornottobe in Sydney.
Pours a dark, but translucent brown colour, with a rather light coloured, and fine head of beige. Pleasant fine, if insubstantial lacing. Pretty light body, but not too bad overall. It looks decent, at least.
Nose is pleasantly roasted and slightly sweet, giving characters of cocoa and palm sugar, and indeed perhaps a slight coconut hint. slight hint of sulphur early on. It's quite mild, but it's an alluring sort of mildness, that makes it seem more drinkable.
Taste is similar. Very light bodied, and quite thin on the palate, but with a pleasant mild roastiness, and a (possibly purely psychosomatic) hint of coconut. It's certainly taking that mildness a little further than the nose did, and it's certainly weaker for it, but it's not a bad brew overall.
Yeah, it's mild, and drinkable for its mildness, but it's not something that's going to make you stand up in bright-eyed enthusiasm. It's solid, without being outstanding.
Nov 26, 2011

Philousa from California
2.7
/5
rDev
-17.9%
look: 3 | smell: 3 | taste: 2.5 | feel: 2 | overall: 3
Pours black with a good head that doesn't stick around very long.After the first 12 ounces, this beer is pretty much bubble-less. A whiff yields chocolate and a hint of vanilla. After a swirl to get the bubbles going again, I get lots of roasted malt aroma. Chocolate flavor up front fades to syrupy caramel. A bit smokey at the end with bitterness. This is a little heavy for a porter, not much carbonation. Feels like they packed a lot of malt into this beer.
This was a bit of a letdown due to the "coconut" label. This is a good porter, but I didn't get any coconut at all. I tried this once on tap at The Rose & Crown in PA months ago and I seem to remember it being much better. I'll be sure to update if I try on tap again, but as it stands now, this is a solid, if undercarbonated porter.
Aug 29, 2011
birchstick from Colorado
3.97
/5
rDev
+20.7%
look: 3.5 | smell: 4 | taste: 4 | feel: 4 | overall: 4
Big thanks to KevSal for sending this unexpected extra my way
A - pours a nice black color with a white head that dissipates
S - smell is of sweet chocolate malts, a bit of vanilla, and a touch of smoked caramel malt
T - Tatse is nice, opening up with a nice sweet malt base that consists of caramel. Some sweet vanilla fla print is added to the mix before it finished with a touch of toasted caramel malts and a lot of chocolate.
M - medium body with light carbonation
D - pretty solid porter here. It is pretty sweet overall, but that's not a bad thing. I would gladly try this one again.
Jul 17, 2011
TheStove from Illinois
3.85
/5
rDev
+17%
look: 3.5 | smell: 3.5 | taste: 4 | feel: 4 | overall: 4
Poured from a 22oz bomber into a mini imperial pint glass (12oz), as two servings.
A light colored yet thick head forms upon pour with the beer maintaining a nice dark cola coloring. Decent head retention with very faint lace as beer is consumed.
Initial smell yields aromas of toasted coconut and toasted malt with light smokiness. Sip starts with initial light coconut taste, malt sweetness and great porter flavor, ends with a light yet noticeable and lingering hop bitterness on tongue, nothing sharp. Nice rich mouth feel make this feel like you're having a bit of a dessert than just a beer.
Overall pretty impressed. I had low expectations given the lack of notable things I've had from this brewery however I last gave them a shot a few years ago. To me the coconut was hardly noticeable with the tasty malt flavors and great hop finish. In my opinion this drinks more like a sort of sweet porter than having any obvious flavor. Mouthfeel and excellent consistency through sip make this one enjoyable. Given the relatively small price tag, I can see myself picking up and enjoying this one again.
Jul 13, 2011

nickd717 from California
4.3
/5
rDev
+30.7%
look: 4 | smell: 4 | taste: 4.5 | feel: 4 | overall: 4.5
On tap at Rose & Crown.
Black in color with a fairly large beige head and good lacing.
Aroma is roast, coffee, and coconut. Pretty nice.
Flavor is very good. Really roasty with a good balanced coconut flavor as well as some coffee, chocolate, and mild sweetness.
Fairly dry on the palate with medium body.
Pretty drinkable. Like the Hoppy Ending Pale Ale, this is really improved from the Devils Canyon version.
Feb 21, 2010
Palo Alto Brewing Barley Legal Coconut Porter from Firehouse Grill & Brewery
Beer rating:
81
out of
100
with
20
ratings