Tasha's Red Ale
| Stark Brewing Company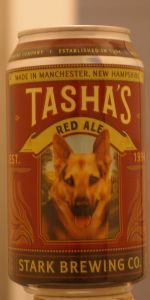 BEER INFO
Brewed by:
Stark Brewing Company
New Hampshire
,
United States
starkbrewingcompany.com
Style:
American Amber / Red Ale
Alcohol by volume (ABV):
5.00%
Availability:
Year-round
Notes / Commercial Description:
Formerly Milly's Tasha's Red Tail Ale
Amber colored ale with a rich caramel malt character, balanced by a bit of bitterness and a great finish.
25 IBU
Added by UncleJimbo on 02-17-2003
Reviews: 8 | Ratings: 16
4.34
/5
rDev
+19.6%
look: 4.5 | smell: 4.25 | taste: 4.25 | feel: 4.5 | overall: 4.5
Awesome beer. It is very drinkable and has a great finish. If you are unsure what to get when you go to Stark, start with Tasha's Red Ale and you will not be disappointed.
171 characters
3.53
/5
rDev
-2.8%
look: 4 | smell: 3.5 | taste: 3.5 | feel: 3.5 | overall: 3.5
Poured from a 12 oz. can. Has a dark brown color with a 1/2 inch head. Smell is of caramel malts. Taste is caramel malts up front, hops kicking in at the finish, some sweetness, light bitterness. Feels medium bodied in the mouth and overall is a decent and easy drinking beer.
276 characters

3.36
/5
rDev
-7.4%
look: 4 | smell: 3.5 | taste: 3.25 | feel: 3.25 | overall: 3.25
Can from Bert's
Brilliantly clear tawny brown with a decent sized long lasting beige head. Caramel and earth dominate the nose with a light toffee rounding it out. Light fruity flavor with bit toffee caramel and earthy flavor. Sweet almost syrupy mouthfeel moderate carbonation. Not a bad beer, but certainly reminds me of what everyone sold in the mid 90's.
358 characters
3.58
/5
rDev
-1.4%
look: 3.5 | smell: 3 | taste: 4 | feel: 3.5 | overall: 3.5
Poured on-tap and served in a tumbler pint, the beer is a dark, deep, chestnut coloring with a thin, filmy, off-white head that clings well. Aromas of malt sweetness with a touch of hazelnut and smoke. Flavors are malty and bold, with a chocolatey highlight throughout and a solid toffee backbone. Smooth, balanced malt bomb. Rich, sweet aftertaste is like a warm caramel hot chocolate. Smooth, slightly cloying finish. Tasty brew.
431 characters
3.56
/5
rDev
-1.9%
look: 4 | smell: 3 | taste: 3.5 | feel: 4 | overall: 4
Welcome to Manchester!!! Arrived at Manchester airport for a 1/2 marathon over in New Market. Was picked up by my bro-in-law and quickly swept away to Milly's Tavern to begin our pre-race inebriation. The Tasha's Red Tail Ale was a solid beer. The color was definitely red with thin head that left a good lace. There was light malt on the nose. The taste was malty and lil sweet. The mouthfeel was fine...could drink alot of it if I had to. Certainly worth a try.
463 characters

3.53
/5
rDev
-2.8%
look: 1.5 | smell: 3.5 | taste: 3.5 | feel: 4 | overall: 4
Dark, muddy amber color--almost brown actually. I was hoping my red ale would be more, um...red. Thin white head that was gone as soon as it came.
Aroma is a pleasant citrus hop and biscuit malt blend. Taste is similar albiet a tolerable, but noticeable, cloying light caramel sweetness in back. Honey-esque.
I like it.
322 characters
4.03
/5
rDev
+11%
look: 4.5 | smell: 4 | taste: 4 | feel: 4 | overall: 4
Sampled on September 20, 2009. The color is a kind of copper-red tone with a thin beige head. The aroma is pleasing enough with a mixture of sweetness and malts. The mouthfeel is medium with a honey like texture. The taste is sweet and rich with some nice bitter hops as well. A nicely done red ale.
299 characters

3.83
/5
rDev
+5.5%
look: 4 | smell: 3.5 | taste: 4 | feel: 3.5 | overall: 4
This red ale poured a light red-amber color with white foam that left lace on the glass. The smell was malty but mild. The taste was dominated by malt, but with a touch of hop bitterness, especially in the finish. There was also a slight caramel sweetness in the flavor. The mouthfeel was smooth, but a little thin. The body was medium with decent carbonation. The drinkability was good. This seems to be a popular beer at the brewpub.
435 characters
Tasha's Red Ale from Stark Brewing Company
3.63
out of
5
based on
16
ratings.