Pavlov's Russian Imperial Stout (Port Barrel Aged)
| Lucky Labrador Brewing Company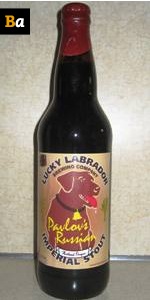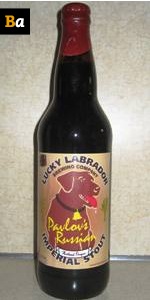 BEER INFO
Brewed by:
Lucky Labrador Brewing Company
Oregon
,
United States
luckylab.com
Style:
Russian Imperial Stout
Alcohol by volume (ABV):
9.90%
Availability:
Limited (brewed once)
Notes / Commercial Description:
Port barrel-aged for 6 months.
Added by HopHead84 on 04-23-2011
This beer is retired; no longer brewed.
HISTOGRAM
Ratings: 11 | Reviews: 10
Reviews by tpd975:
4
/5
rDev
-1.2%
look: 4 | smell: 4 | taste: 4 | feel: 4 | overall: 4
This one comes via the SeaBass!
A: Pours a rich deep dark black hue with a small tan head. Light retention and lace.
S: Aromas of roasted malt, chocolate, light smoke, and oak.
T: Roasty for sure. Light barrel with oak and vanilla coming through. Chocolate and dark roast coffee stand out. Nice hoppy bitter finish.
M: Medium in body, smooth middle with a hoppy finish.
D: Pretty solid offering. I liked it.
412 characters
More User Reviews:
4.28
/5
rDev
+5.7%
look: 4.5 | smell: 4 | taste: 4.5 | feel: 4.5 | overall: 4
Thanks to Matt for sharing this beer at thirdeye11's recent tasting.
The beer pours black with a dark brown head. The edges of the beer are dark red. The aroma is chocolate, port and roasted malt. The flavor is chocolate, roasted malts, dark fruits, oak, vanilla, port and licorice. Medium mouthfeel and low carbonation. A very nice barrel-aged beer where the port notes really shine.
385 characters
3.98
/5
rDev
-1.7%
look: 4.5 | smell: 4 | taste: 4 | feel: 4.5 | overall: 3.5
A thousand thanks to msubulldog25 for this bottle. I was lucky enough to visit this brewpub in the fall of last year. Their commitment to dogs (Labs, obviously) was as impressive as the beer I sampled there. Let's see how this one rolls out...
Wax covered bottles look awesome, but they can be a pain in the ass. This bit of wax come off easily, and the pour was lovely: inky black that looks like an oil slick, and a head that is so brown as to rival Foothills' Sexual Chocolate and Bell's Expedition stouts. Doesn't last long though. A swirl forms some lace, but it slides down and disappears quickly, as if on a greased surface.
Aroma is burnt marshmallow (forget "toasted", it's definitely burnt); dark roast coffee; background woodiness. That's about it.
Flavor is, once again, burnt marshmallow, plus espresso beans, dark baking chocolate, wood, and a hint of graham cracker that hardly stands a chance against the stronger, more robust flavors. Finish is like liking the inside of the barrel. This could be in danger of leaning too much on the roasted/woody side, but that's balanced nicely by a slick, soft, creamy mouthfeel. Had it been too thick, this sucker might've been overkill. As it is, there's a wide variety of flavors, smells and textures playing off each other.
A pretty bold stout here, made much more so by port-barrel aging. There are other RIS's I'd reach for more often, but this one is a definite treat, with balance and depth. Go for it if you ever get a chance. Thanks again, Brian.
1,514 characters

4.47
/5
rDev
+10.4%
look: 4 | smell: 4.5 | taste: 4.5 | feel: 4.5 | overall: 4.5
Thanks to HopHead84 for splitting out the port barrel-aged version from regular Pavlov's. Bomber poured into a Duvel tulip.
An initial pour of 1/3 of the bottle yields a dense 2-finger dark tan head that's lumpy in some places, smooth in others. Very nice retention on the first pour, and it only gets better after that. Body is very deep brown, almost black. Plentiful lacing.
I've only had the regular version on tap before, but from the first sip, the port barrel aging is adding to this beer in a very positive way. The port/barrel aromas aren't overpowering at all, and are an excellent complement to cocoa, charred wood, baking chocolate, a few drops of vanilla, a bit of molasses. Smells much more roasty than sweet.
Wow, this is a pretty complex sipper. The port plays a more prominent role now, but still is a very complementary player in the overall flavor profile. Sharp burnt malt and raisins are counteracted by a very light chocolatey sweetness. Some tart dark fruit and a little bit of coffee in there. Rather charred toward the finish, but it's smoothed out by a slick, oily body. While the port was apparent early, the actual woodiness of the barrel is only apparent right at the finish. Very dry afer the swallow, leaving burnt and darkly roasted malt, a sour cherryish tang and a pleasantly warming, never harsh, alcohol presence. Very smooth, very satisfying.
Overall impression: Holy crap, this is a great beer. The Lab is my favorite brewpub and churns out a lot of beers I love, but I had no idea they could turn out a cellar-worthy gem like this. Highly recommended if you can get ahold of it. I'm planning to cellar my remaining bottle for at least another year, and I hope they happen to have this available the next time I'm in town.
1,765 characters

4.2
/5
rDev
+3.7%
look: 4 | smell: 4 | taste: 4.5 | feel: 4 | overall: 4
6/3/2009
22oz bottle with red wax shared with Overlord. This spent 6 months in Port wine barrels. The base beer, Pavlov's Russian Imperial Stout, was not in barrels and is regularly on tap at the brewpub.
Snifter. Pours the color of motor oil, with what appears to be similar viscosity. The creamy brown head is one finger high with good retention, leaving a little lacing as it recedes.
The aroma is of chocolate with some coffee. Sweet Port wine notes are evident, though not nearly as sweet or strong as the last two Port aged beers I had. The malt is very roasted, with hints of dark fruit and oak.
The Port character is more up front in the flavor, but it still takes a back seat to the traditional RIS flavors. The malt is very roasted, nearly ashen, with sweet plum notes. The charred malt character is reminiscent of Deschutes' The Abyss. Bitter dark Chocolate is evident, as well as coffee notes which are integrated nicely into the beer. The finish is astringent, and some dark fruit sweetness lingers. My mouth is devoid of moisture.
The beer is full bodied with a medium level of carbonation. The mouthfeel is dry, powdery, and chalky.
1,153 characters

4.2
/5
rDev
+3.7%
look: 4 | smell: 4 | taste: 4.25 | feel: 4.5 | overall: 4.25
Date: 08/25/2011
Type: 22oz. Waxed Bomber
Vintage: 2009
Glass: Pilsner Glass - Try Something Different
First off, I feel bad that the bottle I gave Masterski ended up being infected because this bottle was from the same source and was a very nice brew when I sampled it a year prior to him. However, I am just putting in the review now from roughly 2 year old notes.
Pours a jet black in color w/ a 1/3 finger light brown head that leaves light lacing. Aromas of molasses, char, booze soaked fruits, and earthiness. The taste was of molasses up front, followed by a huge Port wine characteristic that dominates, and finishes w/ a mild hop bite. Full bodied and rich. Pretty easy to drink for a 9.9% ABV brew.
Overall, too bad this is now retired. I happen to love beer and Port wine, so this pairing worked for me. Also, have another 2008 vintage bottle of this brew that I am interested to see how it tastes. Plus, I have the rare Pinot Noir barrel edition of this beer from 2010 that is 1 of only 36 bottles produced. These bottles are all courtesy of pkasten and his generosity. Looks like I have a good reason to hold an upcoming tasting at my house.
1,157 characters
4.07
/5
rDev
+0.5%
look: 3.5 | smell: 4 | taste: 4 | feel: 4 | overall: 4.5
Originally Reviewed on: 02-08-2008 15:26:32
Recently a couple hundred bottles of this Port Barrel-Aged RIS were released. As the timing coincided with the frenzied pursuit of 'Deschutes' The Abyss' and because of Pavlov's availability only at the 3 Portland-area LL pubs, this one may have been overlooked by many. Fortunately I snagged several of these 22 oz. bottles, sealed with red wax and with a label depicting the labrador wearing a small bell on his collar (dripping bead of drool included); $8.95/btl, $1 of which goes to 'Friends of Forest Park'. Will I have the same Pavlovian Response to this RIS (my favorite beer style) as the salivating pooch?...let's find out...
Poured to a snifter and served 15-20 minutes out of the fridge...
A: Quite dark, a rich chocolate brown tinted with edge highlights of garnet and ruby. Very little head, and virtually no retention...maybe my pour was too careful, but I expected SOMETHING. A smoke-thin cap of rusty tan film and pencil-thin ring. There is, however, a neat effect of clinging lace in a million tiny beads after the glass is swirled; they stick and look rather pretty.
S: Dark chocolate and fresh, lightly acidic roasted coffee aromas are upfront. Grainy oatmeal and a touch of vanilla. After some warming, a pronounced 'berry' aroma hits, as does a subtle charcoal/wood fragrance.
T: Roast coffee is flavorful if not full and robust. Dark fruit, a little tart and somewhat 'juicy', follows. Hints of tangy/vinous wood build through the tasting. 'Barrel' flavors are pretty light - a bit of smoky char, some vanilla and a mild alcohol booze.
M: Bitterness mounts and the body seems to expand as the evning progresses, but still this feels a little thin compared to some of the big RISs out there. It's velvety and smooth, low in carbonation. Finishes with just a little chalkiness and a subtle alcohol warming, evidence of the near 10% abv.
D: A tasty and surprisingly easy to drink barrel-aged (6 months) RIS. Has a likable smoothness and good flavors right now - no need for extra aging on this one. Balanced character of sweeter malts in fore and aft, with robust coffee/chocolate in the middle. One I'm glad to have a couple more bottles of...I might even drool a little thinking about my next one...
2,271 characters
4.23
/5
rDev
+4.4%
look: 4.5 | smell: 4 | taste: 4.5 | feel: 4 | overall: 4
Thanks Hophead84!
Pours a dark inky black with some ruddy carnelian highlights. Nice appearance.
Smells like charred, not roasted, but charred malts along with burnt candied plums and a bit of woodsy-ness.
Taste is quite nice, if a bit bitterly astringent. Coffee base along with dark, unsweetened chocolate, and it is quite drying. Some more woodsy-ness, a dark roasted fruit component that I absolutely love, and the port shows itself as a hint of candied fruit sweetness. Just a hint, if not for the label I never would have identified it.
Doesn't blow me away with its syrupiness, but nice and creamy.
609 characters

2.61
/5
rDev
-35.6%
look: 4.5 | smell: 3.5 | taste: 2 | feel: 3 | overall: 2
2009 vintage, from Mikeyv35 in the White Whale BIF. Served in a 3 Floyds tasting snifter.
A - Tan foam settles to a thin ring, wisps, and splotches of lace. Black body, with brown glints at the bottom of the glass.
S - Musky port, dark fruits, vanilla, Nestle Quik, and a odd metallic/coppery flavor. There's also a bit of oxidation present.
T - While the aroma was a bit odd, the flavor is downright terrible. Black cherry, ash, metal, astringency, and a strange tangy sourness. There's cocoa in the periphery, but this seems to have been largely overwhelmed with off-flavors.
M - Zesty carbonation, thin but chewy texture, and a light sticky finish. The lack of alcohol presence is a plus I suppose.
D - I sincerely hope this was infected, because it would explain why it tasted so bad. Reminded me a little of Churchill's 2010, but with even more pronounced off-flavors. Wish I'd opened this sooner, as perhaps it would have been better.
945 characters

4.48
/5
rDev
+10.6%
look: 4.5 | smell: 4 | taste: 4.5 | feel: 4.5 | overall: 5
A big thanks goes out to HopHead84 for creating this new beer entry and notifying me of my mistake (this review was previously under the regular version of Pavlov's RIS). This beer was consumed and reviewed with SwimSum back on November 9, 2009. Thanks for sharing Brent!
Poured into a snifter.
Appearance: Pours out like motor oil. Nice. A small, brown head forms on top but quickly dissipates. Body is totally opaque, even at the edges. Light lacing.
Smell: Port is definitely apparent in the nose, and may even be the most dominant aspect. Roasted malt and molasses complement it well. Some red currants and moist pine peek through as well.
Taste: Roasted malt and port wine stand out the most. This is fantastic (I just couldn't wait to say that)! The red wine tartness and roastiness work together so harmoniously. Molasses and unsweetened dark chocolate play significant roles as well. I'm really having trouble articulating what I'm tasting, but this is awesome!
Mouthfeel: Oily, creamy and very roasty, and somehow it's still very soft on the palate. Carbonation is pretty low. Feels awesome!
Drinkability: This was one of the best RIS's I've ever had - no doubt. A beautiful twist on the Russian Imperial Stout style. Highly, highly recommended! This went down SO fast!
1,284 characters
Pavlov's Russian Imperial Stout (Port Barrel Aged) from Lucky Labrador Brewing Company
Beer rating:
4.05
out of
5
with
11
ratings