Chris (15th Anniversary)
| Rogue Ales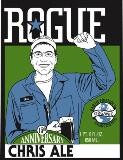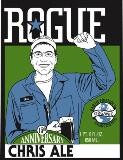 BEER INFO
Brewed by:
Rogue Ales
Oregon
,
United States
rogue.com
Style:
American Pale Lager
Alcohol by volume (ABV):
5.00%
Availability:
Limited (brewed once)
Notes / Commercial Description:
No notes at this time.
Added by francisweizen on 11-25-2003
This beer is retired; no longer brewed.
HISTOGRAM
Ratings: 7 | Reviews: 7
Reviews by Edwin:

3.68
/5
rDev 0%
look: 4 | smell: 3.5 | taste: 3.5 | feel: 4 | overall: 4
Appearance - Poured a deep gold color with a white head on top.
Smell - Tough to tell with people all smoking around me, but I smelled some malted notes with some hoppiness laced within. Possibly a burnt aroma of nuts.
Taste - Pretty unassuming, if anything. The flavor was that of an ale with malts and some hops. Not at all what I had been expecting from this beer. Not a hint of alcohol on it whatsoever.
Mouthfeel - Smooth and crisp. Easy to wash down. Not very heavy.
Drinkability - Very drinkable in my book. The flavor won't bowl you over, but neither will the alcohol. It would be a good beer to have if you pulled in for lunch and planned on staying for the afternoon.
Overall - Not a bad selection, but not a particularly great one, either. Would be a good beer to use as a "gateway" beer for a new or aspiring BA.
839 characters
More User Reviews:
3.5
/5
rDev
-4.9%
look: 3.5 | smell: 3.5 | taste: 3.5 | feel: 3.5 | overall: 3.5
Appearance – This one poured a clear orange in color and looked like a sheet of colored glass. The head was light and fluffy.
Smell – The strong malt base is very sugary. The hop profile is hard to pick out. It almost seems kind of Pilsyish. There's also some weird spicing that I can't pinpoint.
Taste – This one is very bitter, almost like a strong English bitter. The malts are good though and full of sugar.
Mouthfeel – This Lager is light to medium-bodied and very sticky. It is fiercely bitter and leaves a nice aftertaste.
Drinkability – This one was drinkable but absolutely bizarre. It is definitely NOT a session brew.
647 characters
3.86
/5
rDev
+4.9%
look: 4.5 | smell: 3.5 | taste: 3.5 | feel: 4.5 | overall: 4.5
Cloudy cider colored with a bit of creamy white head in the corners. Lotsa carbination a-risin. Can't smell too much in this one, but there is a bit of mustiness that comes through- but it is not a bad thing. Slight hoppy scent.
Dry and hoppy, it leaves flavor on your tongue, but sucks the moisture out of your mouth at the same time... Light in body, with no real carbination in the mouthfeel/taste, so it is an easy drinker.
431 characters

4.07
/5
rDev
+10.6%
look: 4 | smell: 4.5 | taste: 4 | feel: 3.5 | overall: 4
22 oz. bottle. Not available here in Wichita. Thanks, Rob!
Appearance: This beer was a chill hazed, golden-amber color. The off-white head rose up to almost two fingers with some coaxing. As it settled, it became a little fluffy and dense. It lingered for quite awhile until it settled into a thin layer on top of the brew. Some light lacing was left behind on the side of the glass.
Smell: A very nice smelling beer, especially right after the pour. Malty sweet with major notes of sweet grasses and vanilla. A great herbal hops bite balanced out the aroma nicely. There was an underlying layer of smokiness after the beer had sat for awhile, which I thought was strange for the style.
Mouthfeel: Light-bodied and sharp and crisp on the tongue. The carbonation was lively in the mouth, but it never became harsh.
Taste: Light, sweet malt with some light roasted qualities emerged upfront. These were accompanied by a little bit of sweet grass. This all faded very quickly when the hops exploded in the middle. Bitter floral and herbal hops rose up to dominate the rest of the flavor. On the finish was some sweet vanilla and a re-emrgence of the roasted malt, but stronger. Even though the hops were strong, the beer was still nicely balanced and the finish had a warm, round quality to it.
A nice beer. Despite being an ale, it was very pilsner like, but without the Saaz. (Hallertau was listed on the bottle.)
1,427 characters

3.65
/5
rDev
-0.8%
look: 3.5 | smell: 3.5 | taste: 3.5 | feel: 4 | overall: 4
Wow, the 2nd in a series of 15 Anniversary ales from Rogue is quite a suprise. The appearance is a light golden colour with a quite fluffy head of white foam. The aromas are quite simplistic and non-complex for a Rogue brew, and even more shockingly, there are no hops in the aroma! The aroma is of clean pilsener malts and very, very slight crisp new zealand hops. The mouthfeel is nice with a lot of small bubbles grasping my tongue and making for a very smooth tipple. The drinkability is quite good, and this is definately one of the smallest, if not *the* smallest ales that Rogue has ever ventured out to make. All in all, this is quite different than many other Rogue beers, but the fact that it is still mighty tasty, and greatly drinkable is a true indicator of just how excellent the brewing staff at Rogue truly is!
826 characters
3.73
/5
rDev
+1.4%
look: 3.5 | smell: 3 | taste: 4 | feel: 4 | overall: 4
Appearance: This still pours a clear orange gold. Slight head. And still has good carbonation.
Smells moderately of hops. Very light.
Taste: Very light sweet malt flavor, followed by heavy hop hit. This is followed by a continued hop bitterness. A pilsner like taste from an ale. Holding up fairly well for a beer released in November 2003.
Mouthfeel: Smooth with a tingle from the carbonation. Stays with you for a few minutes.
Drinkability: A good sipping beer. As it warms up it gets a bit smoother and loses some of the early hop bite.
551 characters

3.25
/5
rDev
-11.7%
look: 3.5 | smell: 3.5 | taste: 3 | feel: 4 | overall: 3
Not impressed with this one really. It was a nice golden colour with a head that lasted for a while. To me it smelled and tasted like Yuengling, no spices present, kind of malty and a little hoppier maybe. It wasn't bad but I just don't really like that kind of beer, so I'm not sure what good things I can say about it. A little bland, not like usual Rogues. I think this should be the beer for the non BA beer drinkers to try though. Oh but it's organic, and I like that part of it, so... good one Rogue!
506 characters
Chris (15th Anniversary) from Rogue Ales
Beer rating:
3.68
out of
5
with
7
ratings