Santa's Little Helper 2012 Cognac Barrel

Mikkeller ApS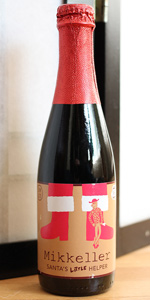 Write a Review
Beer Geek Stats:
| Print Shelf Talker
Style:

ABV:

10.9%

Score:

89

Avg:

4.33

| pDev:

7.16%

Reviews:

8

Ratings:

From:

Avail:

Retired (no longer brewed)

Wants

Gots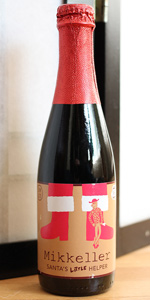 Notes: Belgian Ale Brewed With Spices & Aged In Cognac Barrels.

Brewed & Bottled By Mikkeller At De Proef Brouwerij, Lochristi-Hijfte, Belgium
metter98 from New York
4.09
/5
rDev
-5.5%
look: 4 | smell: 3.75 | taste: 4.25 | feel: 4 | overall: 4.25
On-tap at Mugs Alehouse, Brooklyn, NY
A: The beer is black when viewed from afar but when held up closer to your eye near a light source there are hints of brownish red hues. It poured with a dense beige collar and a star shaped patch of bubbles on the surface. There is a light amount of visible carbonation from the bubbles rising near the edge of the glass. The head died down, leaving lots of lacing down the sides of the glass and a collar around the edge.
S: Light aromas of dark fruits are present in the nose along with hints of spices.
T: The taste follows the smell, having flavors of dark fruits along with notes of spices and cognac. No alcohol (even from the cognac) is noticeable. Flavors of dark fruits and spices linger into the finish and somewhat resemble a fruit cake.
M: It feels medium-bodied on the palate and has a moderate amount of carbonation.
O: This beer is quite easy to drink, considering its strength since it does a good job at masking its alcohol, although it still is a slow copper given the amount of fruit and spices.
Serving type: on-tap
Dec 05, 2015

cbutova from Massachusetts
4.39
/5
rDev
+1.4%
look: 4 | smell: 4.25 | taste: 4.5 | feel: 4.25 | overall: 4.5
Thanks Chico1985 as always. A perfect pre-holiday treat.
A- Dark leather brown pour from the Belgian 375ml bottle to two glasses. A tan cap ends up over two fingers with a foamy consistency and fairly good retention. Sheets at the top with drizzle and lace spots below.
S- For the ABV and style it is impressively smooth with a rounded out barrel and Brown toasty malts. Superb use of barrels to get this aroma. Smooth sweet dark caramel, brown candi sugar, toasted almonds, toffee, cocoa, spices and brown sugar coated raisin. Cognac donates a degraded oak vanilla that pulls it all together.
T- One huge thing really comes to mind and shines here for me: toasted almonds. Unlike any beer I have had to this point it reminds me of biting down on a box of toasted nutty assorted Christmas chocolates with a decent note of cocoa. Spiced red fruits like raisin, fig and cherry leading to caramel, brown sugar, leathery tobacco candi sugar and bitter chocolate. Cognac barrel adds vanilla sweets, wet toasty oak and a certain sweet fruit feel. Spicy nutmeg and earthy feel. Something reminds me of coconut.
MF- Lacks a bit of carbonation but that actually seems to suit the flavors presented here as they are rich and toasty. Medium-thick bodied with a viscous slick consistency and a dark toasted nutty bitter finish.
Toasted nutty dessert feel that really comes to life with the oak and cognac. Toasted and spicy sugar coated nuttiness really brings you into the holiday mood. Splendid surprise.
Dec 28, 2014
Chico1985 from Massachusetts
4.5
/5
rDev
+3.9%
look: 4 | smell: 4.5 | taste: 4.5 | feel: 4.25 | overall: 4.75
375ml split with Butova, C. Had this last year under memorable circumstances, trying it again with 2 years age.
A - Dark brown/blackish pour with a thick tan head. Retains nicely considering the beer. A patchy cap, thick ring, and strands of lace are left by the end.
S - Exceptional. Excellent nutty chocolate and cognac/dark fruit interplay. Spiced caramel pastries, chocolate covered raisins.
T - Flavors carry over surprisingly well to the taste, probably opening up a bit more even. Really nice mixture of quality chocolate, cognac barrel, piny cinnamon spice, almonds, caramel, raisin. Light toastiness helps balance out the sweetness. Decadent and interesting, loads of good things going on here. Christmas treats/delicious cookies come to mind.
M - Surprisingly light-bodied but works well here, well-carbonated, only slight alcohol heat. Pretty crazy drinkable for nearly 11%.
O - Better than I remembered, and glad it's doing this well after 2 years. Kind of lacks Belgian qualities, but the chocolate/spice/cognac make up for that. Complex and awesome flavors all around, damn good Xmas dessert beer.
Dec 24, 2014
BEERchitect from Kentucky
4
/5
rDev
-7.6%
look: 4 | smell: 4 | taste: 4 | feel: 4 | overall: 4
Tromping through the various barrel aged varieties of both the Santa's Little Helpers and the To-Fro-Via's, I had come to the conclussion that I enjoyed the Grand Marnier versions best, the Tequilla versions second and the Cognac the least. ...that is until...
And like the other "Santa's Little Helper" versions, the ale leads with dark "bark" brown hues with a mocha-laden haze. Perhaps taken for a porter, its head character is patient to release and is creamy in its structure. Even though the ale is sturdy, its foam exudes confidence as it coats the glass with artistic patterns.
Grape and booze aromas are evident as the aromas of charred toast, coffee, chocolate are buried within a charred toffee scent that limits the beer's fruit and spice scent. Heading into taste, its a lead of fennel and wine that keeps the nose engaged.
In its early palate, the beer enlivens with a sweet and boozy taste- brown sugar, toffee and bittersweet chocolate seems porter-like but the middle comes alive and it nearly bursts with a tinge of grilled grape and light licorice- but more so of coconut, walnut and marzipan. Light licorice and chicory trails as the ale recedes into a coffee-bittered taste to finish.
Full bodied throughout, the ale has a zesty and creamy quality that's lightly acidic but its undoubtedly full. Its rich and savory taste blends well with its rich body and offers up a bready sweetness with a twangy booziness that heightens its toasty, boozy and wine influences.
Agreeing with my earlier sentiments, the Santa's Little Helper series are equally rewarding as they are and frustrating. They give all merely the necessary character of fruity, spicy and dryness to qualify as "Belgian", and its porter-like chocolate, coffee and toast kicks its out of focus. Yet, the beer doesn't do either Belgian or Porter all that well- but its cognac fruit and spice character easily saves the day!
Jan 05, 2014
seand from California
3.71
/5
rDev
-14.3%
look: 3.5 | smell: 3.75 | taste: 3.75 | feel: 3.5 | overall: 3.75
A: Pours a dark slightly translucent brown, with a fair amount of tan head. Just a film on the surface retains, leaving reasonable lacing.
S: Sweet roasted malt, vanilla, and some nuttiness. Quite pleasant, and good depth.
T: Starts relatively light with nutty sweetness, becoming deeper towards the finish, with notes of toffee and raisin.
M: Medium body, with a full aftertaste, light carbonation.
Overall, quite nice. A bit light, and doesn't taste as strong as it is. Drinks pleasantly though.
Jan 05, 2014

SeatsTaken from Oregon
4.47
/5
rDev
+3.2%
look: 3.75 | smell: 4.25 | taste: 4.75 | feel: 4.75 | overall: 4.25
Pour: Into a tulip glass. Almost black, just over an inch head. Looks beautiful in the glass.
Aroma: Roasted malt, dark chocolate notes and a hint of sweet caramel with a sting of cognac at the end
Mouthfeel: Medium to low carbonation. Creamy and smooth going down, although the ABV does leave a tingle behind.
Taste: I'm getting an earthy, roasted nut flavor with a good balance of the yeast. There's the tease of chocolate right before the alcohol taste sets in and the cognac really starts to shine. The finish has a spice flavor, but I can't quite put my finger on it.
Overall: I love this beer. It's only my second time having anything by Mikkeller but I am a believer. If you come across this I would suggest picking up a couple because it is definitely something you will want others to try.
Dec 29, 2013

popery from California
4.23
/5
rDev
-2.3%
look: 3.75 | smell: 4.5 | taste: 4.25 | feel: 3.75 | overall: 4.25
Pours very dark brown, essentially black. Khaki head, smallish though larger than expected for the size, style, barrel aging, etc. Bubbles mostly die away after a few moments. Aroma is a mix of cocoa, cola, caramel, spice, and cognac barrel. It smells sweet and warm, like a warm slice of chocolate cake with a snifter of cognac. Everything comes together very nicely. The spice is a holiday-ish mix of nutmeg, cinnamon and allspice. It starts out with cola and honey sweetness. Unsweetened cocoa and holiday spice bring some depth to sweetness, while cognac and oak reign in the possibility of cloying sugariness. Very round flavor. Lots of stuff going on. The cognac barrel and chocolate combination is particularly nice. Mouthfeel is full and slick but a little fizzy at first. Tasty beer. I liked this one a lot more than expected. It tastes like a boozy Christmas dessert. I'm not normally a big fan of spiced Christmas beers, but Mikkeller did an excellent job, here.
Dec 17, 2013
pkalix from California
4.9
/5
rDev
+13.2%
look: 4.5 | smell: 5 | taste: 5 | feel: 4.75 | overall: 4.75
pour is dark and thick. fizzy head which disappears to almost nothing. very heavy bottle, I might add! this bottle is durable.... aroma is liquor, almost bourbon, unless I have been conditioned with all the bourbon barreled brews I've had lately. smells like a nice stout, almost like a FiftyFifty Eclipse, with no discernible Belgian yeast. dark fruit flavors with some alcohol heat. also get some thick pancake syrup flavor on the back of the tongue and a little rock candy as I get more into the bottle. as it warms i'm getting some sticky and very sweet fruitcake but very tasty and no bitterness at all. second pour yields some nice mocha-tan head, but that also dissipates to nothing. overall, this is a very nice, high-abv, brew. much more than I was expecting and after much contemplation (and sunday football), I am liking this more and more. i'd love to try the others (tequila barrel and marnier[?]), but at nearly $15 per 12.7 oz bottle i'm a little hesitant. but still tempted. it's that good. the best mikkeller I've had so far... yum, still getting a caramel syrup coat on my tongue!
taste and smell: 4.9
Nov 24, 2013
Santa's Little Helper 2012 Cognac Barrel from Mikkeller ApS
Beer rating:
89
out of
100
with
29
ratings