X Imperial Stout - Calvados Barrel Aged
| Mikkeller ApS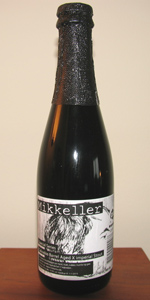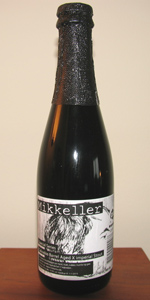 BEER INFO
Brewed by:
Mikkeller ApS
Denmark
mikkeller.dk
Style:
American Double / Imperial Stout
Alcohol by volume (ABV):
14.90%
Availability:
Rotating
Notes / Commercial Description:
No notes at this time.
Added by ricke on 03-14-2010
HISTOGRAM
Ratings: 12 | Reviews: 6
Reviews by Fux:
4.44
/5
rDev
+3.7%
look: 4.25 | smell: 4.5 | taste: 4.5 | feel: 4.5 | overall: 4.25
On tap at CBC 2013
A: Pours black, opaque with a small mocha head which quickly fades to a thin collar.
N: Nose is complex and fruity, dominated by apples and toasted malts.Behind come dried fruits, grapes, raisins and other white fruits.
T: The palate differs from the nose with coffee flavors upfront along with roasted malts. Then come white fruits and dried fruits, grapes, pears, also some alcohol, calvados. The aftertaste is strongly dominated by apple flavors.
M: The palate is thick and oily, a bit sticky.
O: A very good sipper, well balanced between the malt flavors and the barrel aging, even if the base beer is nowhere to be found.
645 characters
More User Reviews:
4.33
/5
rDev
+1.2%
look: 4.5 | smell: 4 | taste: 4.5 | feel: 4 | overall: 4.5
Pitch black with a minimal brown head that dissipates quickly.
The aroma is intensely vinous with lots of liqueur-like notes. Lots of roasted malts, toffee, spices and brown sugar as well.
The flavor is very sweet with lots of molasses and brown sugar tones to it. Lovely oak barrel notes and fine liqueur qualities from the calvados barrels. Roasted malts and mild coffee hints. The finish is warming and packed with sweet alcohol notes, lovely rich fruit aromas and licorice.
Full-bodied, smooth, very sticky mouthfeel and mildly carbonated.
Good stuff. Just a tad less sweetness would have made this a perfect ten.
632 characters
4.32
/5
rDev
+0.9%
look: 4 | smell: 4.5 | taste: 4.5 | feel: 4 | overall: 4
Thanks to bu11zeye for sharing this bottle.
The beer pours an inky black color with a few brown bubbles but no real head. The aroma is alcohol, dark fruit and roasted malt. The flavor is a mix of vanilla, brown, sugar, oak, smoke, cherries, other fruit and tobacco. Low carbonation and thick mouthfeel. A ridiculously complex beer that is very well done.
355 characters


4.3
/5
rDev
+0.5%
look: 4.5 | smell: 4.5 | taste: 4.5 | feel: 4.5 | overall: 3.5
Thanks to Baggio for sharing this one.
Black as pitch, syrupy and nearly flat. Impressive viscosity.
The aroma is enormous. Molasses, tar, charred malt - the signature of Mikkeller. The calvados barrel lends an awesome red apple apple fruitiness that manages to balance the dark, near-burnt malt.
It's very sweet, still surprisingly boozy but in a pleasant way. Flavors of molasses, bittersweet chocolate, burnt malt and asphalt open this one up, and then the awesome Calvados character appears, bringing to mind sweet red apples. There's some ashy bitterness in the finish, but overall it's more of a sweet dessert beer. Insanely full bodied, it took me a couple hours to finish my small pour, but it was thoroughly enjoyable.
731 characters



4.17
/5
rDev
-2.6%
look: 4 | smell: 4.5 | taste: 4 | feel: 4.5 | overall: 4
Thanks to Alex for this one. 375ml bottle into mini-snifter.
A - Pours black, some bubbles, slight head which vanishes quickly, no lace, retention, or cap.
S - Black liquorish, apple, chocolate, booze. A very rich and decedent beer we have here. Super sweet, nice smooth booze, and s touch of char in there.
T - Apples, sweet fruit, chocolate, oak, big char finish. The char and sweetness help balance each other out and works well together. This one is definitely a sipper...very big.
M - Body is medium, rich, smooth, flat, creamy finish.
O - The nose is excellent and the taste is good but not quite as good. Overall, a really nice beer that I really enjoyed trying....thanks again, Alex!
696 characters

4.25
/5
rDev
-0.7%
look: 4.5 | smell: 4.5 | taste: 4.5 | feel: 4 | overall: 3.5
375ml bottle courtesy of soulforpeanuts in the White Whale V BIF. Served in an Alvinne snifter.
A - A late-rising dark reddish foam quickly settles to a thin ring, and some wisps. Body is pitch black, with some legs to it. For nearly 15% it's pretty impressive stuff.
S - The apple flavor of the Calvados is front and center, along with some candi sugar, milk chocolate, dark fruits, oak, charred malts, light yeast and toasted bread, fruity esters, and that hard to qualify Scandinavian flavor to it.
T - Again, there's huge apple character, big sugar, and chocolate cake. The signature Mikkeller char is present, but pretty understated and seems to be capably balanced by the wonderful spirit flavors. I'm guessing this wasn't (deliberately) infected like the regular X 2007? Alcohol is very well-disguised.
M - Smooth, creamy, full body, with minimal carbonation, and mild barrel tannics. Some warmth is present, but I'm guessing three years of age has mellowed this out a bit.
D - It's definitely a dessert beer - extremely rich and sweet, and thankfully nowhere near as burnt and ashy as many of Mikkel's other offerings. I prefer Apple Brandy Hunahpu's, but this was a nice treat all the same. I think Mikkeller needs to focus on Cognac and Calvados beers from now on.
1,280 characters

X Imperial Stout - Calvados Barrel Aged from Mikkeller ApS
Beer rating:
4.28
out of
5
with
12
ratings