Cherry Alive
| Mikkeller ApS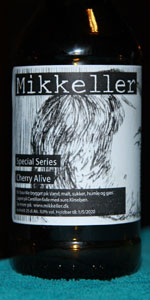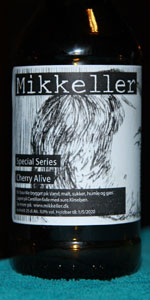 BEER INFO
Brewed by:
Mikkeller ApS
Denmark
mikkeller.dk
Style:
Lambic - Fruit
Alcohol by volume (ABV):
9.00%
Availability:
Limited (brewed once)
Notes / Commercial Description:
No notes at this time.
Added by craytonic on 09-13-2010
This beer is retired; no longer brewed.
Ratings: 15 | Reviews: 8

4.39
/5
rDev
+17.7%
look: 4.75 | smell: 4.5 | taste: 4.25 | feel: 4.75 | overall: 4.25



3.57
/5
rDev
-4.3%
look: 3 | smell: 3.5 | taste: 3.5 | feel: 3.5 | overall: 4
EMERGENCY BEER TASTING!!! Inflatablechair knocked this one out of his fridge tonight and the cap began leaking. Unfortunately for the less fluid and more responsible members of our little tasting group, I was the only one to make it on short notice... More for me!!! Thanks a ton Sammy, this was a surprise for sure.
Pours a murky pinkish amber with a pink/tannish head... the brew was obviously shaken up.. so it would probably should be much more clear.
Nose is a huge mash up of sour cherry, lactic acid, acetic acid, vinegar, alcohol, and acetone.... This is however not a bad thing, ... fruity and pretty nice.
Flavor is is a bit more aggressive... Sam described it as "reverse acid reflux"... good descriptor... no doubt, you feel it when the first sip hits the belly, and it burns the entire way down. Surprisingly, the flavor is not overly acetic.... just acidic in a good way... the sour cherries are very prevalent ... not a whole lot in the way of traditional funk, but a bit of cobweb and musky basement is there... a bit of perceived sweetness makes the fruit bloom, but the overall brew is bone dry... good medium body with a light carbonation that probably would have been better had the fridge accident not happened, but still respectable.
The small bottle is perfect.. even for 2 people... probably even 4 people... I would LOVE to score another one of these to hang on to for a while... I would never call it a lambic... just too aggressive.. but a pretty nice American Sour for sure. Thanks again Sam... I was wondering when you were gonna open this one.
3/3.5/3.5/3.5/4
1,594 characters

3.7
/5
rDev
-0.8%
look: 4 | smell: 4 | taste: 3.5 | feel: 4 | overall: 3.5
11/9/2011
Thanks Tim!
A: Hazy pink tinged red with a small white head.
S: Huge cherry nose with evident acetone. Reminds me of cherry pie. Big acetic profile and light oak notes.
T: Tart and lactic cherry with a light acetone presence. Pronounced lactic presence and a strong acetic acidity. Acetone becomes stronger in the finish and vinegar is apparent.
M: Medium body with light carbonation.
Overall: Solid, but a bit too much acetone for me. It reminds me of Cantillon Kriek at times.
494 characters
3.62
/5
rDev
-2.9%
look: 3.5 | smell: 4 | taste: 3.5 | feel: 3.5 | overall: 3.5
Bottle: Poured a clear reddish color ale with a small bubbly head with no retention and no lacing. Aroma of tart cherries and oak notes is quite sour with light funky notes. Taste is also a mix between some tart cherries with light oak and some barnyard notes. Acidity level is well balanced with low carbonation. Well balanced mix between some sour cherry notes is quite interesting but not as complex as I had anticipated.
424 characters

3.75
/5
rDev
+0.5%
look: 3.5 | smell: 3.5 | taste: 4 | feel: 4 | overall: 3.5
Bottle broke out by me. Poured into mini-snifter.
A - Looks like cherries, clear body, flat, with some random bubbles here and there.
S - Strong sour cherries, slight nail polish, oak.
T - Sour cherries, oak, acetic bite, tart finish.
M - Light body, flat, dry finish.
O - Good. Tastes like Lou Pepe Kriek on acid (acetic) with a nice sour cherry note. The Cantillon barrel helps add another dimension to this beer, but doesn't make it outstanding.
453 characters

4.04
/5
rDev
+8.3%
look: 3.5 | smell: 4.5 | taste: 4 | feel: 3.5 | overall: 4
Thanks to Sean for sharing this oddity. 25cl bottle split two ways. Served in tasting snifters.
A - Pours dead still. A partial ring of bubbles forms at the fringes of the glass. The body is a transparent cherry juice red color.
S - Smell reminds me of a more acetic version of Lou Pepe Kriek actually. Not totally unexpected considering this is aged in Cantillon barrels. Plenty of tart, sour cherries, a light acetone note and less pie-like sweetness than the Lou Pepe. Gets a touch nostril-singing as it warms, but is otherwise quite enjoyable.
T - Taste is a bit of a step down, as there's some pretty intense vinegar/acetobacter going on. Initially there's a wave of tart cherries and mild funk, but it's replaced with overt sourness. Seems less complex than the nose.
M - Well, it's flat. Medium body, extremely dry and tannic - feels like I've stuffed my mouth full of cotton. I was a bit surprised by the 9%, even though I knew the base beer was the same ABV. Without bubbles this gets quite fatiguing.
D - Considering the intense acidity, the 25cl bottle proved to be sufficient for the two of us. I actually liked the smell and taste quite a bit though, and with a bit of spritz I can imagine this being quite enjoyable, although still probably hard on the stomach. I'm curious if more brewers will start asking for spent Cantillon barrels, as it seems like a great way to add complexity to wild ales.
1,416 characters
4.17
/5
rDev
+11.8%
look: 3.5 | smell: 4 | taste: 4 | feel: 4 | overall: 5
250ml pink waxed bottle.
It pours a rosy pink with orangeish golden hues at the edge with a fizzy/foamy white head that quickly fizzles away. It has some pretty big carbonation bubbles.
It smells super acidic. The cherry is there, and that is about it. Clean and simple.
It is pretty tart but not extremely sour. It has a nice cherry flavor and a nice lemon citrus. It has some sweetness too.
----
Looks like brandy, tastes like a Warhead.
444 characters

3.9
/5
rDev
+4.6%
look: 4 | smell: 4 | taste: 4 | feel: 4 | overall: 3.5
25 cl bottle with pink wax and a best by date of 1/5/2020.
After cutting through the pink wax the cap popped with a nice hiss. The pour produced a cloudy pink strawberry body with a thin ring of white foam on top. Subtle lacing left behind.
Ripe, tart cherry on the nose with a large wave of nail polish and oak barrel. Oaky, vanilla-laced cherry and some earthy funk. A little less nail polish on the nose would be nice, but it still smelled quite pleasant.
Tart, sour cherry with a lot of acidity washes across the tongue. Vanilla and earthy oak barrel linger beneath. The Cantillon barrels actually come through pretty well in the flavor. However, many of the subtle aspects of this beer are lost due to the huge amount of acidic sourness. This beer has a lot of bite in the acidity department, which is not bad, but could be toned down a little bit.
Smooth, almost creamy, body with a huge serving of sourness. You can feel this one burn all the way down your throat. Also has a hint of warming alcohol. Could use a little more carbonation.
This was a fun beer to drink, but hard to drink too much of. I'm glad it comes in 25 cl bottles. A bit pricey, but worth trying, especially if you love really sour beers. It's also kind of cool that this was aged in Cantillon barrels from a novelty standpoint.
1,310 characters

3.37
/5
rDev
-9.7%
look: 3.5 | smell: 4 | taste: 3.5 | feel: 3 | overall: 2.5
Appearance: Pour is a very cloudy rusty-red. Not very alive actually, flat with no head or lacing.
Smell: Strong tart sourness and vinegar with a tart cherry funk backdrop.
Taste: Bracingly sour acidity. Vinegar mixed with tart cherries with some lemon juice in the background. This would pair well with a strawberry salad. I can't overstate how sour this beer is.
Mouthfeel: Very thin and dry
Drinkability: Close to battery acid, I felt this in my stomach immediately. I love a sour beer but.... wow. I see why they use such a small 25cl bottle
557 characters
Cherry Alive from Mikkeller ApS
Beer rating:
53.3%
out of
100
with
15
ratings