Big Worst (Bourbon Edition)

Mikkeller ApS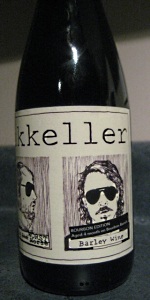 Write a Review
Beer Geek Stats:
| Print Shelf Talker
Style:

ABV:

19.2%

Score:

87

Avg:

3.85

| pDev:

16.88%

Reviews:

13

Ratings:

From:

Avail:

Retired (no longer brewed)

Wants

Gots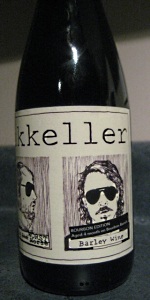 Notes: Brewed at De Proefbrouwerij.
Reviews: 13 | Ratings: 24
4.4
/5
rDev
+14.3%
look: 4.25 | smell: 4.25 | taste: 4.5 | feel: 4.25 | overall: 4.5
On tap at a Barleywine festival.
A: hazy amber with a little head. Unassuming looking.
S: citrus and bourbon are at the forefront with malt, not super aromatic.
T: surprisingly citrus. Malty citrus plays the dominant role to the bourbon. This is 19%abv? Because it sure doesn't taste like it. The booze is hidden extremely well, no super hot alcohol here.
M: a good moderate feel, some carbonation and a clean finish.
O: this beer hides it's alcohol very well, hard to believe its 19%. Surprisingly citrus dominant flavors. The bourbon doesn't play the leading role here which is refreshing compared to many of the bourbon forward aged stouts and barleywines out there (they are still good, this is just a nice change).
724 characters

3.06
/5
rDev
-20.5%
look: 4 | smell: 3 | taste: 3 | feel: 4 | overall: 2.5
The pour is a dark orange/amber color with a small head. Only a mild bourbon aroma with some maple syrup, brown sugar, and a hint of fruit. Definite heat and booziness, which is a bit harsh. The flavor has some malty sweetness of caramel and toffee, but the beer is just overwhelmed by the intense alcohol flavor and heat on the tongue. At least the naming is correct and worst is not as good as worse.
402 characters
3.97
/5
rDev
+3.1%
look: 3.5 | smell: 4 | taste: 4 | feel: 4 | overall: 4
375 ML bottle poured into a CBS snifter
A-- Poured and settled a clear orange amber color. Thin layer of white film that lingers after starting off as a thick layer of foam. On swirling get some spotty lacing and very thick ABV legs. Does not look 19% besides the legs.
S-- Soft oak, notes of bourbon, vanilla, caramel, and stewed dark fruits. ABV comes in waves and gives more of a cognac presence as the bourbon is quite restrained. Fruits starting to dominate this.
T-- Sweet and sticky at first. Mostly dark stewed fruits and brown sugar and caramel. Then ABV and bourbon with vanilla notes. Not as much of the wood as I thought there would be.
M-- Really picks up as a barleywine in the mouth. Quite sweet and sticky. Strawberry being most dominant fruit. Waves of the ABV and heat do arrive in the mouth. Oak makes an appearance in the back of the mouth in a big way. goes from watery bourbon to full force bourbon and alcohol and then backs off to a barleywine with a sticky sweet vanilla, caramel, and fruit finish. Still very boozy.
O-- A sipper and total nightcap on a cold night. Good BA treatment as it really shows off the base beer well and brings in the added dimensions of the barrel. Probably near peak. Nice beer.
1,239 characters

4.47
/5
rDev
+16.1%
look: 4 | smell: 4.5 | taste: 4.5 | feel: 4.5 | overall: 4.5
Pours a deep mahogany amber color with a thick, spongy white head. Foam slowly fades, leaving thick lacing.
Smell of sweet caramel, malts, and some vanilla. Bourbon alcohol is great.
Taste is smooth, lots of malty caramel sweetness. More bourbon notes including vanilla, oak, and charred smokiness.
Mouthfeel medium towards heavy, creamy smooth. Perfect amount of carbonation for a Barley Wine.
Not much more to say, other than delicious. Closer to a scotch / whiskey / bourbon than beer.
Loved it! If I ever see this again, I am buying it - regardless of the cost.
566 characters

4.25
/5
rDev
+10.4%
look: 4 | smell: 4 | taste: 4.5 | feel: 4.5 | overall: 4
Purchased at either Geers or De Struise in May 2011. Served into a HF tulip at 53 degrees. Is there a better way to drown my IU loss to KY? A preemptive "YES!" is in line. Best by 22/03/20.
A - Beautiful Amber color with a thick yet spacey white head. Slowly but surely gets down to some lacing.
S - Sweet caramel, malts, and vanilla. Dare I say that it smells good? Sure, why not, it does. Quite good, actually. Touche Mikkeller, touche. My only gripe is the booze in the back part.
T - Malty caramel, vanilla, smooth finish. There is the slightest bit of dryness and burn in the finish, but it is far back there. Minimal oak/wood coming through. From start to finish, the flavors transition well and don't fight each other. The finish is just still a little harsh after the liquid is gone. It is tolerable, but I can see some people disliking the finish.
M - On the thick side of medium, or the lighter side of thick. Right amount of carbonation. On point, can't get better for the style.
O - Ok Mikkeller, what happened here? I actually like this one and am....upset that I gave my other bottle away a while ago in good faith. After a little more time, I think this one is a home run. Too bad it just came off too hot upon arrival, and finishes too hot now.
1,265 characters
3.58
/5
rDev
-7%
look: 4 | smell: 3.5 | taste: 3.5 | feel: 4 | overall: 3.5
375ml bottle. Been sitting on this one for the better part of a year - the label sez I have another decade or so before this offering 'expires' - but the weather outside indicates that it's go-time now.
This beer cracks open innocuously enough, pouring an opaque, muddy golden brown colour, with one fat finger of foamy, bubbly pale beige head, which settles rather quickly, leaving a thin pocked meniscus over and around the glass.
The aroma, well, the aroma is scary. Scary in that I can feel it before I can smell it. There's a weight there that you just don't expect at this particular stage. Pushing forward, my nostrils are damned-near assaulted by a huge, lush (no pun intended, yet) caramel toffee malt, sharp woody alcohol esters, mild spicy rye notes, and relatively neutered citrus and pine hops. Screwing my courage, not to mention the rest of my evening, pretty much up, I delve headfirst into a gustatory broadside - ludicrously big, sweet, brown sugar, caramel, toffee malt, rather thorough rye, wood, vanilla, and boozy bourbon notes, kind of like having a side shot of Maker's Mark peeking in, all countered by some thankfully off-setting big citrusy American hops - more holding pattern in nature than truly balancing, however.
Once settling into the inevitable, the carbonation is actually somewhat noticeable, but quite sublimated in the same respect. The body is quite full, heavy in its full-on sugar/malt orgy, the smoothness a naturally welcome by-product. It finishes still sickly sweet, the heat and weirdly ineffectual hops doing the bare minimum to keep things in a teetering, 'balanced' state.
Like a few other things in life that come to mind, after a bit of acclimatization, and subtle coaxing, this big-ass barleywine ceases to be scary, or even difficult to put down (which in turn begets a new scariness). And Gibby Haynes, currently on the 21st century version of a mix-tape blasting on the stereo, may just have proclaimed it best: "Pouring like an avalanche, coming down the mountain"...
2,029 characters

3.97
/5
rDev
+3.1%
look: 3.5 | smell: 4 | taste: 4 | feel: 4 | overall: 4
Thanks to boney for the bottle.
Poured a deep orange colour, light ring of white head, no lace. Smell is full of caramel and bourbon, some alcohol but far less than I thought would be there, lots of sweet scents come off of this, cherry, light oak. Taste is huge and malty, bourbon, oak, caramel and toffee, fairly sweet, warm alcohol is there but quite tame. Light carbonation, full body, thick and lightly syrupy, good feel. This was quite nice, flavourful without giving away that it is as strong as it is, good stuff.
522 characters

3.94
/5
rDev
+2.3%
look: 3 | smell: 4 | taste: 4 | feel: 4 | overall: 4
Bottle shared by Pino for my 22nd birthday, 375ml bottle into a snifter. Best before March 22, 2020.
Poured brown with a golden tinge, whisps of head and only a faint island of offwhite head remains. Nose is bourbon-forward, alcohol with caramel and toffee notes. Vanilla and candy also. Taste is extremely heavy on caramel, some toffee, coconut, bourbon-y alcohol. Alcohol contributes mostly just heat, only a bit of ethanol, but it's tolerable. Boozy, sweet and somewhat complex. Thick feel, close to still in terms of carbonation. Nice but certainly better to share this - 375ml would be a great task. Sharing is recommended.
630 characters
3.99
/5
rDev
+3.6%
look: 3.75 | smell: 4 | taste: 4 | feel: 4 | overall: 4
Well integrated bourbon. Thanks Peeno for sharing. A nice brown colour with a little soapy head. Boozy and sugary. Sweet, a good above average mouthfeel, some orange flavour. Nice caramel. Bottle says 19.2% abv.A good drinkability despite the load of the above.
261 characters
3.66
/5
rDev
-4.9%
look: 4 | smell: 3 | taste: 4 | feel: 4 | overall: 3.5
Thanks to bu11zeye for sharing this bottle. Sampled alongside the regular version of Big Worst.
The beer pours an orange color with a white head. The aroma is a mix of maple, caramel, oak and a little bit of nail polish notes that I got in the regular version.
The flavor is better. I get a lot of notes from the barrel aging. Among the flavors I get are some maple, oak, vanilla, caramel, toffee and a whole lot of alcohol. You can definitely tell this beer is nearly 20 percent in alcohol.
Medium mouthfeel and low carbonation.
532 characters
4.35
/5
rDev
+13%
look: 4 | smell: 4 | taste: 4.5 | feel: 4.5 | overall: 4.5
Hazy golden colour with a small, short lasted off-white head.
Caramel hits right up before giving way to a nice citrus and grapefruit note. There is also a distinct graininess. Alcohol.
Malty sweet with caramel and toffee notes. Moderate bitterness. Spicy alcohol. Mild hop. On the whole a decent beer.
Moderate body with moderately-high carbonation. Crisp.
A solid American BW, full of flavour with a pleasant sweetness, good bitterness and balance.
454 characters
4.12
/5
rDev
+7%
look: 4 | smell: 4.5 | taste: 4 | feel: 4 | overall: 4
First off, going into this you know it is almost 20%abv...thus it will taste and drink closer to a whiskey.
Cracking this thing open you smell the bourbon right away. Vanilla, oak, yeah it smells like bourbon.
Appearance, looks like a solid barleywine, nice dark orange with a thin white head.
Upfront; tons of sweet malt with lots of traditional bourbon notes. Solid notes of candied orange, raisins, belgian candy sugar, and some lingering hints of rye and grains.
Finishes the same as it starts, but with a long finish of warming alcohol and a lingering note of grains.
Overall; exactly what I expected and I loved it. Definitely a sipper, the BA version is much more enjoyable than it's base beer. It's smooth and complex, great notes from the barrel, and considering the high abv, it is not overwhelming. Some beers half it's weight have more booze present. A few years, or 10 in the cellar would be no problem for this beer.
Another great beer from Mikkeller, glad to have had it and thankfully split it 3 ways, it would be a long but interesting night with a bottle of this to yourself!
1,099 characters

2.95
/5
rDev
-23.4%
look: 3.5 | smell: 3.5 | taste: 3 | feel: 2 | overall: 2.5
375ml bottle poured into tulip april1 2011
A hazy amber with loads of suspended particles and very few bubbles, short lived thin film leaves no lace as expected with this Alc%
S booze with a little fruity aspect and some earthy tones, fairly intense but lacking the bourbon barrel other then a little sweet oak
T not far from the smell but the booze comes off a little harsh, maybe a little vanilla and toffee on top of what I smell
M thick and flat with a booze burn that I could live without
O not drinking that well fresh, it's just a little harsh. I understand its 19.1% but still it feels like I'm drinking a straight liqueur both in feel and effect
Out of curiosity I plan on aging a few of these for a decade or so, I could see this doing fairly well if the booze was toned down. This is the strongest beer I've had to date and I'm wondering if the novelty is perhaps the best thing this one has going for it
934 characters
Big Worst (Bourbon Edition) from Mikkeller ApS
Beer rating:
87
out of
100
with
24
ratings