Spontangrape

Mikkeller ApS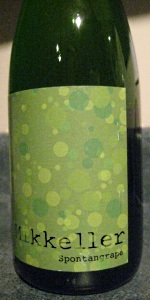 Rate It
Beer Geek Stats
| Print Shelf Talker
Style:

ABV:

7.7%

Score:

90

Avg:

3.98

| pDev:

8.79%

Reviews:

15

Ratings:

From:

Avail:

Retired (no longer brewed)

Wants

Gots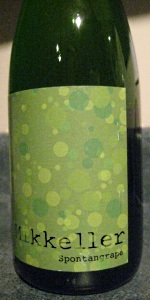 Notes:
q33jeff from New Jersey
3.39
/5
rDev
-14.8%
look: 2.5 | smell: 4 | taste: 3.25 | feel: 3.25 | overall: 3.25
**
03/03/17
On tap at churchville inn. 5oz.
Look: thick-ish apple juice, no head.
AROMA: lots of deciduous fruit, apple, pear, grape. Mild yeast, sweet smelling.
TASTE: sweet and sour grape, oak gives it almost a chardonnay type of taste but not so much that you feel like a house bitch of orange county.
FEEL: sharpness makes up for lack of carbonation...gives it a dry bite.
Interesting, but not my cup of tea.
**
Mar 03, 2017

77black_ships from Belgium
4.02
/5
rDev
+1%
look: 4.25 | smell: 4 | taste: 4 | feel: 4 | overall: 4
375 ml. bottle // caped not corked // @ Delirium Hoppy Loft alongside Spontankriek // 7.7 % grape "lambic" from Mikkeller // this is white grapes definitely // pours a lightly hazy golden with a small white great // nose is light tart young green grapes, clean sharp, green apple & grape skins, coated in a the lemon acidic substantial Spontan sourness, very clean, one dimensional // taste is unlike a real sour, very clean, sharp, one levelled, young sour green grapes, green apples, grape skins, substantial lemon acidity / sourness, plenty of lemons, small touch barnyard, minor, one levelled, sourness is substantial // body is crisp, nicely carbonated, easy too drink // bit too simplistic really but this one is good but for regular drinking a real one is cheaper & better & way more complex
Oct 23, 2013

peensteen from Canada (ON)
3.87
/5
rDev
-2.8%
look: 3.5 | smell: 4 | taste: 4 | feel: 4 | overall: 3.5
Bottle shared by Liam.
Hazy golden orange colour, ring of white head with some lace as well. Smell is really funky, lemon, some sweet candy kind of like Sweet Tarts actually, lots of acidity, I get very little in the way of grape however perhaps a bit of grape skins. Taste is quite funky and tart, really quite sour, big acidity, lemony with more noteable grape on the palate than in the nose, funky and yeasty finish. Mediunm carbonation with a big dry sourness, medium bodied as well. This was quite good but a little more grape flavour would be apreciated here, alcohol very well hidden though.
Oct 19, 2012

liamt07 from Canada (ON)
3.85
/5
rDev
-3.3%
look: 4 | smell: 4 | taste: 4 | feel: 3.5 | overall: 3.5
Bottle from wordemupg, 375ml into a tulip. Best before May 5, 2021.
Poured without the yeast, golden orange with a finger of white head. Whisps of retention and light lace. Nose is sour and funky, white/green grapes, lemons, some straw and malt sweetness is minimal. Taste is lightly funky, straw, grassy, tartness upfront and through the finish. Lemons and grapeskins again, light sweetness. Light feel, high carbonation. Tart and some grape notes here, but not as complex as others within the style.
Oct 07, 2012

EnemyWithin from Canada (ON)
3.97
/5
rDev
-0.3%
look: 3.5 | smell: 4 | taste: 4 | feel: 4 | overall: 4
Mikkeller Spontagrape
375mL bottle in Duvel tulip on July 6, 2012
Appearance 3.5
Clear golden body with 1/2 inch white head that dissipates into an incomplete covering. Mild lacing.
Aroma 4
Tart candy and lemon nose with mild/moderate slight funky sourness. Also, prominent notes of grapes/white wine that lend sweetness to the nose. Overall, there is a nice mix of sour and sweet notes in the aroma.
Taste 4
Initially a sharp lemony sourness, with a little tartness, that races sharply across the palate. Faint intermittent notes of whiter wine grapes. In the middle of the palate touch of softer, almost grainy biscuit taste of the malt that breaks through, then fades halfway through.
At the end, get a return of the same initial sourness, with perhaps a hint more mineral-ness. Pick up a bit of the hops notes, which remain slightly detectable late on the palate and in the aftertaste.
In late aftertaste, lemon and lingering sourness.
Mouthfeel 4
Moderate carbonation, which bursts across the mouth. Mild to moderate thickness and a moderate to high sour presence that is very striking across the palate. Gives a sharper finish, with the combination of sourness and carbonation. Does a good job cleansing and refreshing the palate, but is unmistakably sour. .
Overall 4
Good lambic. Definitely a significant amount of sourness. A little bit one dimensional, not offering complexity of other sours I've had, such as from Russian River. But, still an enjoyable offering, with some nice elements in it. I'd be interested to try other variants of the Mikkeller brew to see how they compare. I may consider purchasing again, but don't think it's a must buy. However, I would recommend trying it.
Aug 19, 2012
bark from Sweden
3.8
/5
rDev
-4.5%
look: 4 | smell: 4 | taste: 3.5 | feel: 4 | overall: 4
A Lambic brewed at one or more anonymous lambic breweries. Then, the beer is blended, matured and flavoured at De Proef.
The colour is gold, the liquid clear. Three fingers high white head. Lots of lacing.
The smell got notes of fresh apples, white wine vinegar, apple acid and minerals. It is a bit light.
The taste is sweet-sour with clean fruity flavours of white grapes and apples. Pleasant tart flavours (no acetum), white wine vinegar, some minerals. The quite short aftertaste got notes of vinegar and dry apple cider.
The carbonation is strong, the large bubbles smooth. The liquid is just a little sticky in the mouth.
A highly drinkable and very refreshing lambic with an pleasant fruity sweetness.
Aug 18, 2012

brokensail from California
3.58
/5
rDev
-10.1%
look: 4 | smell: 3.5 | taste: 3.5 | feel: 4 | overall: 3.5
A yellow-orange color with a white head. Quite funky with tons of grass, must, and mushroom. Only a mild grape aroma to this, but a nice lemon peel character. Plenty of oak, too. The flavor is more musty and oak-forward than anything. A bit of grass, lemon peel, and only a mild to moderate grape flavor. Not much in the way of tartness on the palate.
Aug 07, 2012

MasterSki from Canada (ON)
3.86
/5
rDev
-3%
look: 4.5 | smell: 3.5 | taste: 4 | feel: 3.5 | overall: 4
Bottle from wordemupg. Thanks Chris! Served in wine glass.
A - White foam settles to a thin cap, thicker collar, and some splotchy lacing. Golden body is transparent at first but gets a bit hazier towards the end of the bottle.
S - Smells more like a gueuze than a grape lambic - a mix of malt sweetness, wheat and cereal grains, white grape skins, lemon, and musky sweaty funk.
T - The taste is a bit more fruit-forward, with white grape juice and vinous sourness among the sweet stone fruit malts, light oaky vanilla, and sightly mineral finish. There's also an unexpected rock candy flavor.
M - Dry, with a candy-esque mouth-coating texture, medium-light body, lower carbonation, and no alcohol presence.
D - Reminds me more of a second-tier gueuze like Oud Beersel or Cuvee Rene than a grape lambic. I think this needs more grapes, but it's still pretty easy to drink. Probably my least favorite Spontan- variant so far.
Jul 17, 2012
Mora2000 from Texas
4.2
/5
rDev
+5.5%
look: 4 | smell: 4 | taste: 4.5 | feel: 4 | overall: 4
Thanks to bu11zeye for sharing this bottle.
The beer pours a yellow color with a white head. The aroma has a lot of wheat and biscuit malt notes, with a light bit of funk. The flavor has some additional notes. I pick up some white grape notes, as well as some biscuit malt, Belgian yeast, light funk and earth. There is a decent amount of tartness. Thin mouthfeel and medium carbonation.
May 18, 2012
biboergosum from Canada (AB)
3.97
/5
rDev
-0.3%
look: 3.5 | smell: 4 | taste: 4 | feel: 4 | overall: 4
375ml bottle, with another of those stupid, non-standard bottle opener sized caps. Meh.
This beer pours a hazy, medium golden straw colour, with one finger of tightly foamy white head, which leaves a few sparse stragglers of random island lace around the glass as it hies it outta here.
It smells of sour and tart fruit, fairly indiscriminate, though I'm getting some cherry notes, among a musty, dusty funkiness, and weird candy sugar sweetness, which increasingly, and appropriately, resembles white wine must. The taste is somewhat tart, under-ripe white grapes, steady barnyard/horseblanket meme funkitude, perfunctory bready, grainy malt, and still, the unexpected sweetness, origins increasingly muddled.
The bubbles, they render a bit stronger on the scope than some of this offering's more cutting brethren, but to no ill effect, the body a weak middleweight, and a bit clammy and dodgy in the smoothness realm. It finishes still on the tart, dry side, but not overly so - the musty, yeasty character nicely two-stepping with the underappreciated malt backbone.
Another nice lambic-style brew, this time based on a fruit near and dear to me in another life - the wine grape. Anyways, your tooth enamel should not fear this one, but still appreciate the complex funk, yeast, grain, and hop interplay. Oh, and the booze - right, it's there too, as introverted as it seems to be.
Apr 21, 2012

mattsander from Canada (AB)
3.92
/5
rDev
-1.5%
look: 3.5 | smell: 4 | taste: 4 | feel: 3.5 | overall: 4
A: Very clear, pale amber, more head than expected from a 'lambic'. No sediment at all, looks like it was force carbonated.
S: First whiff is surprisingly funky and sweaty, with notes of earthy hay and musty basement. The grapes are nicely integrated and fairly restrained. Some cheesy vibes but generally unoffensive for the style.
T: Rounded moderate acidity, light fruity character of grapes and pears, some dusty qualities but maintains a lovely fresh vibe. It seems 'simpler' than the other Lambic beers I love, but its not a detriment. No booze at all. As it warms up I get a slight metallic aftertaste.
M: Quite dry for the abv, impressive. After 20 minutes there is little visible carbonation but it still sparkles with each sip.
O: Quite impressed by this offering from Mikkeller, a brewery which is plagued by 'hit n miss' inconsistency. Will definitely be laying a few of these down for a few years.
Mar 30, 2012

wordemupg from Canada (AB)
4.07
/5
rDev
+2.3%
look: 3.5 | smell: 4 | taste: 4 | feel: 4 | overall: 4.5
375ml bottle poured into tulip 10/3/12
A slight haze in a golden yellow body, lots of tiny bubbles feeding a soapy finger of white head, not much for lace or retention pretty standard for the style
S acidic funky barnyard but not over the top, a little apple and grape juice, with just a little hay, its not overly complex but quite nice
T some vinegar, oak, and lots of vinous notes, on top of what I smell, just a little better then the already good nose
M sour and slick, pin prick bubbles work well for it and a the flavors linger for ages
O I hate to do it but 4.25 would have been used for taste if it was an option, pretty solid stuff at the end of the day worth a try
didn't know what to expect and this one was pretty good, I'm still new to lambics but I thought this one was pretty decent
Mar 11, 2012
dgilks from Australia
4.2
/5
rDev
+5.5%
look: 4 | smell: 4 | taste: 4.5 | feel: 4 | overall: 4
Clear golden colour with a moderate, foamy, off-white head. Fair head retention which is as expected.
The aroma is clearly tart with plenty of barnyard funk. The sourness and funk is balanced with a light fruitiness sitting under the yeast notes.
More tartness with a clear, vinous grape note. Quite light with just a touch of funk. A touch of sweetness. Good character overall.
Medium-light body moderately-high carbonation. Some astringency and a light tannic note.
Overall, this is well balanced with plenty of tart character and nice fruitiness. The time in the oak is evident from the tannins in the mouthfeel. Good.
Feb 14, 2012
ADZA from Australia
3.85
/5
rDev
-3.3%
look: 4 | smell: 4 | taste: 4 | feel: 3.5 | overall: 3.5
A-Pours a hazy golden hay hue which leaves a white two finger head that quickly settles to a wispy one finger head and a ring of lacing.
S-Wet hay,horse blanket,vinegar,pepperoni and white grapes.
T-Starts off mouthpuckering sour with white bitter grapes,vinegar,white wine,lemongrass and finishes with the same sourness from start to finish.
M-Light bodied and mouthpuckering sour.
O-A very nice lambic and withoutdoubt the most sour lambic of the bunch but in saying that i like it as it is very true to the white grape and carries itself well but if you dont like sour then you better avoid cheeers.
Dec 08, 2011
rarbring from Sweden
3.97
/5
rDev
-0.3%
look: 3.5 | smell: 4 | taste: 4 | feel: 4 | overall: 4
The beer is slightly hazy, somewhere between brass and copper colored, a small off-white head, no lacing but some curtains.
The smell is typical sulfur, stable, yeast and some fruity white currant notes. Fresh and intriguing.
Starting with a short dextrose sweetness, then the acidity takes over, white vinegar, very green apples and lime, some rhubarb and a slight citric peel finish.
Medium carbonation, small foamy bubbles, a dry acid finish that has a bitter stamina.
A good character and a nice bitter balance to the sourness. Very refreshing.
Oct 30, 2011
Spontangrape from Mikkeller ApS
Beer rating:
90
out of
100
with
40
ratings