Summit Single Hop IPA
| Mikkeller ApS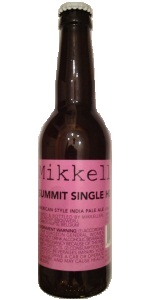 BEER INFO
Brewed by:
Mikkeller ApS
Denmark
mikkeller.dk
Style:
American IPA
Alcohol by volume (ABV):
6.90%
Availability:
Rotating
Notes / Commercial Description:
No notes at this time.
Added by ADZA on 02-25-2012
Reviews: 13 | Ratings: 34

4.25
/5
rDev
+13.3%
look: 4.25 | smell: 4.25 | taste: 4.25 | feel: 4.25 | overall: 4.25
For an ipa I'd rate this above average. You might hold it against me since it was aged a couple of years after bottling. Originally going for $6.99 this brew is very bready. It has some sweet malt texture like a brown ale not like that of a stout. It is very clear at the finish with not a lot hoppy bitterness. No district hoppy bitterness permeating through.
365 characters

3.15
/5
rDev
-16%
look: 3 | smell: 3 | taste: 3.25 | feel: 3 | overall: 3.25
Brown glass bottle with simple purple label acquired for 13 zloty at a Krakow bottle shop and served into a pilsner glass in me friend's gaff there. Reviewed live. Expectations are high given the brewer (my favourite). Served cold. Side-poured with standard vigor as no carbonation issues are anticipated.
No bubble show forms as it's poured.
HEAD: 2 fingers wide. Off-white colour. Nice thickness and creaminess. Decent complexion and consistency. No lacing clings to the sides of the glass as the head recedes. Head retention is well above average - about 4 minutes.
BODY: Dark copper of average vibrance. Clean; no yeast particulate or hop sediment is visible. Translucent.
Appears adequately carbonated. Not unique or special appearance.
AROMA: Pale malts, hints of caramalt, floral hop notes, herbal hops, and some mild bitterness.
No yeast character, alcohol, or off-notes are detectable.
Overall, it's a somewhat pleasant aroma of average strength.
TASTE: Overly herbal, with some unbecoming caramalt sweetness and bubblegum. Pale malts. Barley.
It's not real complex, subtle, intricate, or nuanced. Average depth, duration, intensity, and amplitude of flavour. It's fairly balanced. Not well built, but cohesive. Not gestalt.
I do like it.
TEXTURE: Smooth, wet, overcarbonated, medium-bodied, fairly thick, and unrefreshing.
Okay presence on the palate overall. Doesn't complement the taste all that well. Decently executed.
OVERALL: Drinkable, but a bit boring. It's decent, but I wouldn't buy it again. Not Mikkel's best work. I'm not all that pleased with this purchase, but I've definitely had worse.
C+
1,629 characters
3.69
/5
rDev
-1.6%
look: 3.75 | smell: 3.5 | taste: 3.75 | feel: 3.75 | overall: 3.75
Another nifty find at Beer Revolution, had a pint that arrived a cloudy, muddy reddish amber color (quite dark), smelling of medicinal honey, gummy candy, light molasses, a floral perfume (violets?), grapefruit rind. Was expecting something more green and fruity but its cool to be surprised sometimes. Tastes rather malty, rich, and dark to me, with caramels, plums, and bread crusts predominating initially but OK, here comes the Summit ... Fermented tropical fruit juices, grapefruit, gin-like aromatic notes like juniper (maybe?), a peppery spice. A hint of green onion. Again, not a citrus bomb but still quite oily and coats the mouth admirably. Leaves a long earthy, bitter finish that includes dry wood and minerals. Does get quite piney as you go, numbing the mouth, and almost a tad puckering in its tanninicity (yes, that's a real word). Unique. The flavors do meld together and the beer is a bit of a mess, but oh well. Do not expect something that tastes like a C-hop ... YMMV of course.
1,000 characters

3.59
/5
rDev
-4.3%
look: 3.5 | smell: 3.75 | taste: 3.5 | feel: 3.75 | overall: 3.5
Pours a dark orange color with a one inch head of nice cream/white foam that lasted very well. Smells of some pine, a little citrus. Has a nice bitterness with pine taste to it. Every couple sips I got a hint of citrus but more pine. Very smooth malt which counters the bitterness and does not leave a lasting aftertaste. Light in the mouth and very easy to sip on. Would buy again!
382 characters
3.98
/5
rDev
+6.1%
look: 4 | smell: 4 | taste: 4 | feel: 3.75 | overall: 4
330ml bottle. Been a while since I've encountered a new single-hop IPA from Mikkeller.
This beer pours a murky dark bronzed amber colour, with three fingers of ebullient, frothy, and eventually caked ecru head, which leaves some sudsy soap-scum lace around the glass as things heave southwards.
It smells of bittersweet white grapefruit and orange rind, a touch of leafy, acrid pine, tame bready, slightly crackery pale malt, and further floral, earthy hops. The taste is big and perfumed, the floral hop notes and free range booze kicking things off with a bang, followed up quickly by more grapefruit, lemon, and blood orange fruitiness, bready pale malt, a gin-like pine essence, house yeast, flinty minerals, and a basic down-home earthiness.
The carbonation is even and generally unassuming, the body on the lee side of medium weight, and a wee bit tight in its otherwise unassailed smoothness. It finishes off-dry, the fruitiness not quite having given up its sweetness in toto, the malt still mostly playing under the radar, and the herbal, piney hops riding things out without much fuss.
Another agreeable single-hopped lab experiment, this time with the Summit hop. I'm not getting a lot of the purported tangerine qualities, but despite that, this is a duly quaffable affair, the bitterness kept well on the down low, and the near 7 points of alcohol well obfuscated. Worthy of a go, to suss out this particular hop, or to just enjoy a pleasant IPA.
1,463 characters
3.46
/5
rDev
-7.7%
look: 5 | smell: 2.75 | taste: 3.25 | feel: 5 | overall: 3.5
It's with a heavy heart that I score this way. Seems to me that the hops are oxidized. Served at a good temperature with a giant, cream colored, foamy, frothy, very long lasting head and lots of lace. Color is a clear amber copper. Aroma is malt, oak, caramel, wet cardboard? Flavor's are similar to nose with cashed hop up front, followed by sweet malt. Hop isn't totally gone, still has a bit of freshness. Body/carbonation are perfect. Finish is like flavor, short lived, leaves me yearning for a fresh one.
510 characters
3.48
/5
rDev
-7.2%
look: 4 | smell: 3.5 | taste: 3.5 | feel: 3 | overall: 3.5
Pours dark amber with a large, lasting head.
Nose shows some soft fruity hops along with more prominent pine, grapefruit and resinous notes. Underneath is some sweet caramel and bready notes.
Flavours mostly comprised of pine and herbal hops, but some clean malt shows up later. Finishes with a sharp, aggressive bitterness.
Too highly carbonated.
Not particularly interesting, and summit doesn't really seem suited to bittering.
429 characters

4.58
/5
rDev
+22.1%
look: 5 | smell: 4.5 | taste: 4.5 | feel: 4 | overall: 5
Beer review from 8/17/2012; pours a hazy amber brown color with a huge frothy 2 finger tan head that didn't move and faded slowly, leaving excellent foamy lacing coating the sides and excellent foamy rings as it goes down. A fine looking IPA, par for the course from Mikkeller.
Smells of grapefruit, sweet citrus hops, grains, sweet malt, orange peel, brown sugar, caramel, piney hops/pine cones, floral hops, maple syrup, mango and light booze; a great smelling beer that is very potent and pungent like fresh hops were added in.
Tastes as good as it smells, with grapefruit, orange peel, citrus hops, grains, sweet malt, pineapple, brown sugar, caramel, light cinnamon, piney hops/pine cones, floral hops, tea leaf, flowers, grass, tobacco leaf, maple syrup, Razzles, mango and light booze like rum or beer aged in an oak barrel; damn this is a complex and tasty beer, with each wave and sip bringing more bursts of hops, citrus and candied sugar sweetness. The hops are potent and the mix is very sweet, with just enough grains to throttle back the hops and let the flavors shine. The sweetness borders on too sweet but manages to remain a potent IPA.
Mouthfeel is very creamy and silky smooth, with mild fizzy carbonation, a medium body and a citrusy bitter finish that is fruity, tart and sweet.
This beer stays at peak wet hop flavor from start to finish and was an excellent American IPA. A high recommendation that I will seek out again. The second bottle was just as tasty as the first, this is a hophead's dream.
1,530 characters
4
/5
rDev
+6.7%
look: 4 | smell: 4 | taste: 4 | feel: 4 | overall: 4
A: Pours a somewhat hazy amber with a thick, creamy whitish head.
S: Aromas of herbs, spruce, pine, juniper, lemon, bitter orange, and grapefruit merge with malty scents of caramel and biscuit.
T: Opens with notes of biscuit and caramel chased by a wash of lemon peel, kumquat, lime, bitter orange, grapefruit, herbs, spruce, pine, minerals, and juniper. The finish is resinous and intensely bitter with strong notes of pine, spruce, juniper, herbs, bitter orange, and lemon.
M: Medium-bodied, but a little firmer and fuller than many of the other ales in this series. Very dry and chewy. Carbonation is crisp and intense.
O: Summit hops are relatively new, and to this point, have been generally used as a replacement for Simcoe, so it is difficult for me to evaluate this beer without comparing it to Mikkeller's Simcoe Single Hop IPA or any of the other American IPAs that use Simcoe. Compared to the other Mikkeller brew, the Summit is more herbal and a bit muddier, presenting a wash of intensely bitter flavors instead of providing the nice separation of flavors that I got from the Simcoe Single Hop IPA. So, for those unfamiliar with this varietal, I think it would be safe to imagine Summit as a less refined, earthier, and more herbal version of the perennially popular Simcoe varietal. For what it's worth, Mikkeller showcases this comparatively rare varietal well, allowing one to really get an idea of its potential and how well it could combine with other hops.
1,479 characters

4.03
/5
rDev
+7.5%
look: 4.5 | smell: 4 | taste: 4 | feel: 4 | overall: 4
A: Poured from a bottle to a pint glass. Had an amber color and a clear texture. There was a two inch, foamy, long-lasting head. Great lacing.
S: A good amount of hops, with a slight floral quality evident in the aroma.
T: There's definitely a hops presence in the taste, but it's not as powerful as with other IPAs. Also had that floral quality, some malt, and a little pine thrown in. A forward, clean, balanced flavor.
M: A good amount of carbonation with a smooth finish. Medium-bodied.
O: Another solidly made, very drinkable IPA from Mikkeller.
554 characters
3.46
/5
rDev
-7.7%
look: 4.5 | smell: 3.5 | taste: 3.5 | feel: 3.5 | overall: 3
A: The beer is a hazy orange copper in color and has a moderate amount of visible carbonation. It poured with a finger high frothy beige head that has excellent retention properties and consistently left a small head covering the surface and lots of lacing running down the sides of the glass.
S: There are moderately strong aromas of grapefruit and tangerine in the nose.
T: Like the smell, the taste has lots of grapefruit and tangerine flavors and has a moderate amount of bitterness, which lingers into the finish and actually seems to become stronger in the aftertaste. Little if any hints of caramel malts are noticeable.
M: It feels medium-bodied and a bit crisp on the palate with a moderate amount of carbonation. There is a bit of dryness in the finish.
O: This beer isn't as drinkable compared to other beers in Mikkeller's single hop series and the Summit hops take a little getting used to. They would probably work better in conjunction with other hops to add some kick to an IPA, but not overwhelm it.
1,020 characters
3
/5
rDev
-20%
look: 3.5 | smell: 3.5 | taste: 3 | feel: 2.5 | overall: 2.5
Had on tap at Albion Hotel in Newcastle
A-- Served a dark, hazy orange amber color. Looks earthy and heavy in the glass. One finger off white head that nestled into a nice looking film through drinking. Good head retention through drinking, as well as good lacing on the sides of the glass.
S-- Earthy, heavy, gritty, and pungent. Pine, orange, grapefruit, bubblegum, toffee but quite grainy and earthy. Big malt bill in the nose but just a really earthy IPA.
T-- See above. Just really a chewy IPA. Burnt toffee, dirty pine, orange sherbert and grapefruit.
M-- Heavy, oily and chewy beer. Low carbonation but shows signs of creaminess in the mouth. Much bigger feel than the nose or taste leads on to. Put in a lot of work to drink this puppy.
O-- Slow sipper due to weight. Good aromatic nose but this was just a heavy beer to drink. One was more than enough.
869 characters
3.53
/5
rDev
-5.9%
look: 4 | smell: 3.5 | taste: 3.5 | feel: 3.5 | overall: 3.5
Pours a hazy orange copper hue which leaves a two finger creamy head and lacing everywhere,the smell is a touch of pine,bubblegum,sherbet and boiled candy,the mouthfeel is only medium bodied and has tastes of blueberries bubblegum,sherbet,candied oranges and has a bittersweet finish of sherbet and toffee and overall its very drinkable but not the best single hop Mikkeller has brewed cheers.
393 characters
Summit Single Hop IPA from Mikkeller ApS
3.75
out of
5
based on
34
ratings.