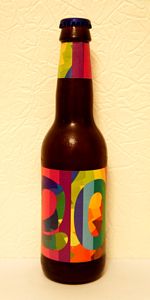 BEER INFO
Brewed by:
Mikkeller ApS
Denmark
mikkeller.dk
Style:
American IPA
Alcohol by volume (ABV):
6.80%
Availability:
Limited (brewed once)
Notes / Commercial Description:
No notes at this time.
Added by nmann08 on 08-18-2013
This beer is retired; no longer brewed.
Reviews: 8 | Ratings: 61
3.69
/5
rDev
-2.1%
look: 3.75 | smell: 3.5 | taste: 3.75 | feel: 3.75 | overall: 3.75
Amber color with a thick off-white head with great retention and leaving a wall of laces.
Aroma with notes of mango, spices, mild pine and caramel.
Hoppy flavor with notes of resin, lots of spices, melon changing to grapefruit, caramels, pine, slightly toasted and biscuit malts, dank and tangy hops and tea leaves. Dry and bitter aftertaste.
Medium towards full body with appropriate carbonation. Alcohol of 6.8% is absent.
Assertive American IPA, spicy, caramelly and citrusy. I was expecting more complexity given the magical number twenty, but it wasn't the case.
567 characters
3.9
/5
rDev
+3.4%
look: 3.75 | smell: 4.25 | taste: 3.75 | feel: 4 | overall: 3.75
330 ml bottle poured into a Lagunitas mason jar glass. A murky flat brown-orange amber hue with five towering fingers of frothy, soapy beige head. Leaves nice lacy rings on the glass. The visuals create a thick and dark impression.
The aroma is as hoppy as expected. Tons of sweet citrus and tropical fruit: I'm getting mandarins, limes, passion fruit, white grapefruit, guavas, blood oranges, dates (?), a little lemon. Low key pine needles. Some toffee underneath it all.
Palate is rather deceiving after the bright fruit nose. Weighted towards bitter citrus rind rather than fresh juice, herbs, melon skins, pink grapefruit rather than white, ginger root, lemon-lime soda, baby aspirin, old pineapple juice, dry biscuit, a slight toffee sweetness to provide a foil. The malts remind me of the Mikkeller single hop ales, bready and quite assertive considering the style but here the multitude of hops manages to gain ascendency. Decent whiff of booze. Quite dry and almost chalky. Medium thick body with low key carbonation.
All in all, this is worth your time as a hop head if not absolutely essential. I'd say the aroma hops outperform their flavor counterparts, which is not fundamentally a problem.
1,209 characters
4
/5
rDev
+6.1%
look: 4 | smell: 4 | taste: 4 | feel: 4 | overall: 4
A: Pours a hazy, murky amber with a thick, pillowy off-white head.
S: Aromas of talc, chalk, caramel, biscuits, lime, mandarin orange, lemon, and kumquat are present on the nose.
T: Notes of caramel, biscuit, chalk, crackers, pine, spruce, grapefruit, lemon, lime, kumquat, bitter orange, mango, guava, mandarin orange, and herbs coat the palate. The finish is bitter and bready with a nice balance of herb, tangy citrus, and biscuit flavors.
M: Medium-bodied and quite dry for the style. Carbonation is incredibly active and firm.
O: A nice mixed IPA. For some reason I love the muddy rush of hop bitterness many of Mikkeller's hoppier beers deliver, and this one certainly does not disappoint.
699 characters
3.91
/5
rDev
+3.7%
look: 4.25 | smell: 3.75 | taste: 4 | feel: 4 | overall: 3.75
330ml bottle. 20 different hops? Variety is the spice of life, I guess.
This beer pours a rather murky medium bronzed amber hue, with three fat fingers of puffy, frothy, and tightly foamy off-white head, which leaves a whole lotta splotchy snow rime lace around the glass as it slowly seeps away.
It smells of muddled (gee, really?) tropical fruit, a bit more focused fleshy orange and pine needle bitterness, a strange musty white wine sweetness, and bready, crackery, and biscuity caramel malt. The taste is buttery and bready caramel malt, hard toffee, mandarin orange, overripe lemon and white grapefruit rind, still mixed-up exotic, and somewhat sugary fruit, earthy spice, and more leafy, piney, and herbal hop notes.
The carbonation is fairly light and just a bit edgy, the body an adequate medium weight, and way more smooth than the collective efforts of a score of hop varietals should allow, with a nascent airy creaminess building as it warms. It finishes on the sweet side, with the obvious malt culprit, and the hops aiding and definitely abetting in their fruity rather than bitter demeanor.
Not a bad IPA, overall, but much like the 1000 IBU DIPA of a few years ago, the inflated numbers really don't mean squat, as far as one's tastebuds are concerned - it's more for the marketing wanks out there. In the end, the hops are decent, I suppose, but unfortunately, the herbal essence is what I take away from them, which consequently does little to engender desire for another.
1,495 characters

3.22
/5
rDev
-14.6%
look: 3.5 | smell: 3.25 | taste: 3 | feel: 3.75 | overall: 3.25
On tap at Max's (from notes).
A: Hazy copper.
S: Lots of notes that I couldn't really separate out. Piney.
T: Mainly pine and spice notes. Odd maltiness.
M: Prickly and crisp.
O: Doesn't really taste like an IPA. Weird. Way too many different hops in this. Interesting in that it shows you what happens with so many hops in the mix. Conflicting flavor profiles.
366 characters
4.08
/5
rDev
+8.2%
look: 4.25 | smell: 4.25 | taste: 4 | feel: 4 | overall: 4
With twenty types of hops laying around the brew kettle, Mikkeller doesn't settle. Why pick and choose when "everything" is the answer?
Mikkeller 20 opens with a heavy haze that muddles the light coming through, yielding a glowing color of orange and sand. A billowing ivory head rises from the beer with a very creamy and frothy texture that resists any type of recession. Its lace is intricate and well defined. Aside from its unusually dense haze, the beer looks spectacular!
You would think that the ale is all hops, but there's actually a firm bready, biscuity scent that's woven with caramel and honey. Layered upon that is a well-melded hop aroma that spans citrus, tropical fruit, pine, grass and a touch of wine. The nose balances toward the hops but its not as one-sided as you'd think.
Likewise its the bready, biscuity-sweet taste of malt that strikes the palate first. Its caramel and honey base easily supports the hop onslaught to come. Just before the hops are introduced the fruity taste of English ales set in with a light marmalade character. The classic American taste of grapefruit is both ripe with red juice and is pithy with its ribs. Layer upon layer of hop character can come across as oranges, pineapples, juniper, sassafras, lemon, grass, botanical, pine, stems and cat. Although all these flavors are present they largely cancel each other out by their sheer complexity. When everything stands out, nothing stands out.
Its creamy-dry body is quite pleasant. Early carbonation and residual malt textures ensure a dense mouthfeel. But as the hops coat the palate, it dries the mouth with its resinous bitterness. Clean and largely crisp late, the beer trails with pine and grassy notes into a long bitter finish.
Even though the ale is chocked full of hop variety, much of it gets lost on the palate. I love all the colors of the rainbow, but if you swirl them all together- you get a muddled brown color. This beer kinda does that.
1,964 characters
3.79
/5
rDev
+0.5%
look: 4 | smell: 3.75 | taste: 3.75 | feel: 4 | overall: 3.75
Coming in a slim 330ml brown bottle, BB 14/05/2015, served lightly chilled in a long-stemmed wine goblet.
A: dark reddish amber in colour with light haze, coming with a creamy and tight off-white frothy head which lasts well on top of rather mild carbonation.
S: pear-ish fruit esters come hand in hand with resinous and savoury-sweet citric hops, on top of a caramely malt backbone. Secondary aroma comes to the fore following a good swirl, suggesting zingy grapefruit peels, salted hawthorn fruits/prunes, lactic sour-sweetness, overripe melons, and old tangerine peels. Colourfully estery and hoppy at the same time.
T: moderately flavoured and softly effervescent on the entry, with lightly sour fruit esters and clear citric and lychee-ish hop features against a semi-robust malt profile; a bit understated comes the hoppiness, which I suppose is due to less hop rates applied in the late- and dry-hopping processes. The lingering finish is juicy, moderately bitter, peppery and zingy, very very enjoyable.
M&O: lightly effervescent, medium bodied and not heavy at all, this IPA is very pleasant, pretty balanced with a good complexity and rather drinkable at the same time.
1,180 characters

3.46
/5
rDev
-8.2%
look: 4.25 | smell: 3.25 | taste: 3.5 | feel: 3.25 | overall: 3.5
Had on tap at Max's hopfest.
Pours a hazy light orange, very bright and glowing, but no head at all.
The nose is pure hops, and all over the place. Floral, citrus, and piney hops. I suppose that is what happens when you use 20 different hops. Some caramel and toffee are sneaking in.
The flavor is all over the place, and a bit unbalanced. Not a single hop character seems to be developed. Piney hops and citrus hops battle for attention.
The aftertaste leaves a very bitter finish, dry.
499 characters
20 from Mikkeller ApS
3.77
out of
5
based on
61
ratings.