Traditional Shandy
| Simonds Farsons Cisk Plc.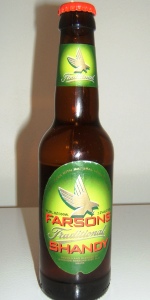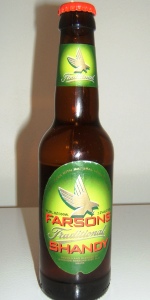 BEER INFO
Brewed by:
Simonds Farsons Cisk Plc.
Malta
farsons.com
Style:
Fruit / Vegetable Beer
Alcohol by volume (ABV):
2.20%
Availability:
Year-round
Notes / Commercial Description:
No notes at this time.
Added by GRPunk on 05-03-2009
HISTOGRAM
Ratings: 10 | Reviews: 7
Reviews by csmiley:
1.69
/5
rDev
-37.6%
look: 3.5 | smell: 2 | taste: 1.5 | feel: 2 | overall: 1
Many thanks to Josh for helping me dispose of this one.
A - Pours yellow and bright. It's crystal clear. The yellow almost has a gold hue to it. The under a finger head doesn't stay around for very long. Head recedes to a decent cap that fully coats the top. Carbonation is somewhat active. Lacing is minimal at best.
S - Lots of lemon all the way through this one. Oddly it really smells quite a bit like ginger ale. There is just a hint of malty goodness buried deep in the bowels of this one. Not much more to say about the aroma. Pretty one dimensional.
T - Once again. Lemon and more lemon. Some saltine cracker and tea come and go. Citrus seems artificial. Man, not sure I can drink any more of this to attempt to uncover any more flavors.
M - Lighter bodied with mild carbonation. Finish is sweet and has an off putting cough syrup quality.
D - Not good. Not good at all.
885 characters
More User Reviews:
3.76
/5
rDev
+38.7%
look: 4.5 | smell: 3.5 | taste: 4 | feel: 3.5 | overall: 3.5
Farsons Traditional Shandy pours a crystal clear straw-gold body beneath a tenacious head of frothy white foam. As you progress through the glass it leaves rings of craggy lace with every sip.
The aroma is sugary with a hint of lemon, a drop of lime, and some background spiciness.
The flavor is sweetish, almost like soda, but also beer-like in that you can taste the malt component and some background herbal hops. Beyond that it's mainly sugary and lemonish with just a minor acidity, and a touch ginger-like. A smear of minor bitterness appears in the finish, with some leafy and herbal hop flavors. There's a bit of spiciness to it as well, but I don't think it's from hops, I think it's from actual spice. I could be wrong though.
As to drinkability, on a hot day straight out of a tub of ice I'd find this very refreshing. Beyond that I find it more like soda-pop, which it is. Pretty tasty though!
908 characters

1.66
/5
rDev
-38.7%
look: 3 | smell: 2 | taste: 1.5 | feel: 2 | overall: 1
Thanks to csmiley for sharing the bottle.
Traditional Shandy pours a light gold color. It's crystal clear. A little light gives it more of a yellow look. The head is white and barely rises above the surface. It dissipates very quickly, and leaves very little lacing behind. Pretty average.
The nose is not good. It is somewhat fruity, featuring a mix of lemon and lime scents. They're followed by some earthy and grainy notes. Pale malt seems to be the base. It definitely adds a little more sweetness. Alcohol isn't noticeable. No shock there. That about wraps it up. As a beer, it's not very enticing.
The flavor is not impressive. Not at all. It is much more reminiscent of a soft drink than beer. It kicks off with a malty sweet flavor. It lingers throughout and seems to grow sweeter with passing sip. Lemon and lime flavors jump in and seem to dominate the flavor profile from there on. There are light grainy notes on the secondary level. Alcohol isn't much of a factor. Finishes sweet and fruity. Eh. Not good.
Traditional Shandy has a light body. Carbonation seems light, but it's nowhere near smooth. Drinkability is awful. It's way too sweet and does not taste good. An entire bottle would be impossible for me to finish. I'm struggling with half.
I'm happy to have tried Traditional Shandy. I'm always up for trying beer from Malta (wait...is this beer?). There's not much else to say about this one. It's not good. I guess you might like it if you're into Shandys or fruit beers. Unless that's the case, I'd suggest running away.
1,550 characters
3.15
/5
rDev
+16.2%
look: 3 | smell: 3 | taste: 3 | feel: 3.5 | overall: 3.5
Poured from an 11.2oz bottle into a US tumbler pint glass.
A: The beer is a pale gold color, with a thin white head that fades quickly and leaves a decent lace on the glass.
S: The aroma is of lemons, limes and very light malts.
T: The taste makes it seem a lot like you're drinking Sprite or 7-Up, very sweet with flavors of lemon and lime. There's a mild breadiness from the light thin malt character and almost no hops presence. The after-taste is likewise very sweet.
M: Smooth and a little crisp, light body, medium carbonation, finish is clean.
D: A little tasty, goes down very easily and not filling at all since it's so much like soda, extremely mild kick at 2.20%, I figured I didn't have much to lose in spending $1.79 on the six-pack, but I didn't really get much either. It could be something to give to someone trying to transition into beer since it's so light and sweet, but there aren't many beers similar enough that I know of for the next step.
968 characters
2.44
/5
rDev
-10%
look: 3.5 | smell: 2.5 | taste: 2.25 | feel: 2.75 | overall: 2.25
I had this one in both bottles and cans. Neither serving type impacted the quality…
The beer is medium gold with a massive white head. It has good lacing and is not a bad looking beer.
The aroma is of overly sweet, artificial lemon with a bit of grain.
The "lemon" taste totally overwhelms the base beer (guessing it the standard Cisk Lager). It is sweet and not really that refreshing. It didn't act as a hot weather thirst quencher like a good shandy would.
I actually resampled this one to confirm my initial impressions. I won't make that mistake again…
583 characters
3.25
/5
rDev
+19.9%
look: 3.5 | smell: 3.5 | taste: 3 | feel: 3 | overall: 3.5
Bottle (with best by May 09 date) poured into an imperial pint glass.
A- A normal pour left a 1-finger, white head. The body was a very clean straw color, with medium carbonation rushing toward the head. The head dropped to a full lace that left nice rings on the side of the glass.
S- A pretty decent combination of a "beer aroma" (light, grainy malts, and light, grassy hops)mixed with a clean citrus (lemon) scent.
T- Again, a nice combination of beer and lemonade. It might be slightly skewed toward the lemon side of flavor for my taste (after a bottle, I was looking for a beer sans fruit flavor). That said, it doesn't come off as a "flavored malt beverage." I poured this one quite cold, and the beer flavor came through better as it warmed slightly.
M- Definitely on the lighter side of the mouthfeel spectrum. There's a strongle prickle on the tongue from the carbonation and citrus flavor. There was some coating that I attribute to the lemonade flavoring.
D- It's a pretty easy drinker. I may not look to drink a bunch of these in a single sitting, but it definitely serves a purpose. At 2.2% ABV, it would make for a nice lawnmower beer or something to have with lunch when you don't want to get too drowsy afterward.
Overall- I was pleasantly surprised by this beer. A lot of the pre-mixed shandies and radlers come off as very artificial. This beer seemed to be a little more authentic mix of a lightly flavored ale with a natural lemonade addition. Who'd have thought it would come from Malta?
1,515 characters


2.5
/5
rDev
-7.7%
look: 2.5 | smell: 2.5 | taste: 2.5 | feel: 2.5 | overall: 2.5
3.18
/5
rDev
+17.3%
look: 4 | smell: 3.5 | taste: 3 | feel: 4 | overall: 2.5
a - looks like cream soda, very air head with lots of carbonation, clear golden light brown color
s - smells like ginger ale with lime
t - lots of lime with a soda-like sweetness, you can feel the beer flavor trying it's best to come out over top of the lime. A slightly tart finish.
m - again, like a soft drink
d - it's interesting to try but the more i got towards the bottom the more that slight tartness became a little unbearable. It's definitely a beer to drink with food, I don't think I could sit here and drink it by itself.
539 characters
Traditional Shandy from Simonds Farsons Cisk Plc.
Beer rating:
2.71
out of
5
with
10
ratings