Urthel Parlus Magnificum
| De Leyerth Brouwerijen (Urthel)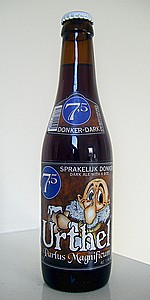 BEER INFO
Brewed by:
De Leyerth Brouwerijen (Urthel)
Belgium
urthel.com
Style:
Belgian Strong Dark Ale
Alcohol by volume (ABV):
7.50%
Availability:
Winter
Notes / Commercial Description:
No notes at this time.
Added by stcules on 05-05-2008
Reviews: 12 | Ratings: 16

3.42
/5
rDev
-13.9%
look: 3 | smell: 3.5 | taste: 3.5 | feel: 3 | overall: 3.5
330ml bottle.Chalice glass.Enjoyed on may´11. Pours dark mahogany in color.Creamy lasting crown.Roasted malt, candy aromas to the nose.Fruity notes & gentle sweetness. Medium body,puckering carbonation.Dry malty finish.Interesting beer.Easy drinkability.
255 characters

3.55
/5
rDev
-10.6%
look: 3.5 | smell: 3.5 | taste: 3.5 | feel: 4 | overall: 3.5
This beer pours out more like a Dubbel than a Doppelbock, the brown color was more muddy looking that clear. The head was pretty big at first but settled down after a bit. The smell of earthy dark fruits were dominant, the malts were there but not as sweet or strong as expected. There was a light yeasty flavor in there along with the other earthy spicy flavors. The mouthfeel was decent. Overall it wasn't the best Doppelbock and I can't say I'll miss it too much since it's been retired, but I am glad I tried it.
516 characters

4.12
/5
rDev
+3.8%
look: 4 | smell: 4.5 | taste: 4 | feel: 4 | overall: 4
Pours a rich cola-toned, deep chestnut brown color.Head is thick, lasting for quite some time. good lacing.Lots of reddish tones when held into the light, very nice.
Aromatically very full-raisin,oak,whisky,smoke,wet leaf, chocolate pepper, nutmeg, malt, wow-only in the first whiff.
Following comes more caramel, malt, a "doppelbock"like malt quality. Raisin, fig, dried fruits mix in as welll. The yeast comes through in the finish adding a sweet-sour fermented note that offsets the sweetness nicely, making aalmost a sourdough like quality.
Flavor is..wow. Sour red fruits, appel, raisin, cabernet vinegar, bread, grape must, pepper, tobacco, oak, fig, smoky, sweet-sour, thick0carbonated, really nice
Mouthfeel is medium, spiced, thick but well carbonated, alcohol adding a nice kick to the finish.
Urthel never dissapoints, very talented brewers, once again a high scorer.
878 characters
3.92
/5
rDev
-1.3%
look: 3 | smell: 3.5 | taste: 4 | feel: 4 | overall: 4.5
A - Deep dark reddish chestnut brown with a slightly larger than average foamy and bubbly beige head. Slightly below average retention with just a slight patches of lacing left, primarily on the side.
S - Good amount of toasted malt and bready smell. Large amount of dark fruit. Date, raisin, plum, cherry, and a bit of berry. A fair amount of jam like aroma too. Also some licorice, and faint spice. Fairly sweet and little tart and spiced
T - A good amount of roasted malt and chocolate, with a bit of caramel. Some dark fruit, particularly raisin, along with a touch of spice and yeast. Alcohol is well hidden. A touch of Belgian candi sugar as well. The taste was a bit thin for me though.
M - Light to medium body with above average carbonation. Fairly smooth and creamy.
D - Good drinkability with a well balanced and easy to drink flavor. Provides a number of dark flavors from traditional BSDA to a bit more stout or porter like. Enjoyable to drink and I could easily have another.
Notes: Nice beer, but it didn't really blow me away or impress me. It was a little thin on flavor for me. However, the flavor that was there was very nice. It is a nice, easy to drink dark beer. If you see it, it is worth a try, but I wouldn't seek it out specifically.
1,264 characters
3.95
/5
rDev
-0.5%
look: 3.5 | smell: 3.5 | taste: 4.5 | feel: 4 | overall: 3.5
33 cl bottle 'to losen the tongue'.
Urthel's quad was too alcoholic boozy for me, but i thought i'd give the brewery another go, so i bought this.
Dark chestnut colour with soapy head, not too much lacing on my sample.
Smell character of many fall and winter beers and bockbeers: roasted grains, a bit of coffee, plus dark fruit and caramel.
Taste is more interesting, as it clearly has coffee and chocolate notes, next to the roasted malt and burned sugar, and also a bit spicy and hoppy.
Mouthfeel is rather creamy and smooth, bittersweet.
Not an overwhelming brew, but certainly more to my liking than the earlier sampled quad.
637 characters
4.04
/5
rDev
+1.8%
look: 3 | smell: 4 | taste: 4 | feel: 4 | overall: 4.5
Brown 33cl bottle, best before 06/2010, drank 02/2010. Poured into a 'Corsendonk' stemmed tulip glass.
The whole bottle was poured into the glass, so a hazy, misty body of a dirty red/deep brown beer stared back at me as I stared at it. On top sat a light tan coloured head, thick and creamy looking.
The roasted malt smells hit my nose before it got to the glass. Shotrbread biscuits with caramel and chocolte on top (known as Millionaires shortbread in some parts) is how the aromas sorted themselves out during the tasting and as the beer warmed; add extra maltiness to that statement.
The taste was warming a sweetish, the molasses in the malts showing their true flavours. When I think of this style it includes Chimay Blue, 3 Pistols and Gulden Draak, this beer stands up with those no problem.
Sweet, but not overly so, rich and full bodied it is, warming as already mentioned, this is a cold evening nightcap sort of beer. Luckily it is very cold tonight, also luckily, it is still early and my nightcap will be a lot later!
1,036 characters
4.08
/5
rDev
+2.8%
look: 4 | smell: 3.5 | taste: 4.5 | feel: 5 | overall: 3.5
Purchased Nov. '09. Consumed 1/16/10
A - Dark brown soysauce color. Margarine color head. Slowly falling fine bubbled lacing.
S - Not much smell. Some yeast, like a fresh loaf of bread. Some roasted chocolate malt and some nice estery smells but all too subdued.
T - Sweet, buttery, lots of chocolate malts. Bit of hoppy/ yeasty bitterness. Slightly bitter aftertaste. Enjoyable.
M - Creamy, like a porter or an oatmeal stout. No alcohol burn. This beer gracefully trickles down the throat like a ballerina.
D - Very drinkable. Soft, creamy, warming. Could go for a bit more complexity in the smells but all-in-all very nice.
630 characters
4.23
/5
rDev
+6.5%
look: 4.5 | smell: 4 | taste: 4.5 | feel: 4 | overall: 4
A: Burgundy red color with a small white head that disappears quickly and leaves little to no lacing.
S: Aroma of dark fruits and milk chocolate, with roasted malts as well.
T: Favor is dominated by the fruit and chocolate combination, a very pleasant one, which progresses to a mildly bitter finish. Good balance and complexity.
M: Good body.
D: One of the best of the Urthel range.
383 characters
4.51
/5
rDev
+13.6%
look: 3.5 | smell: 5 | taste: 4.5 | feel: 4 | overall: 4.5
Picked this up at Bert's Bierhuis in Utrecht.
Into a chalice.
APPEARANCE: Pours a thick looking 1 finger tan head with decent retention. Colour is a deep dark red, perhaps falu red or sangria. Medium carbonation evident. Head slowly fades to a decent film cap that remains the entire way, but unfortunately leaves no lacing. Nice colour and head, but needs some lacing to really get it into first class.
SMELL: Magnificum to say the least. A very bold nose full of fruits, fruits, and more fruits. Lots of dark and red fruits. Raisins, grapes and dates, as well as raspberries and dark cherries. A touch of toasted malt and Belgian yeast in the background, but this one is all about the bold fruits. Wonderful and enticing.
TASTE: Lives up to the nose. A bit of caramel and toasted malt up front, but lots more fruits dark and red fruits soon take over. A bit of spiciness at the mid point, with cloves taking the lead and a bit of spicy yeast as well. A nice touch of bitter hops at the end with hints of bitter chocolate as well. A spicy and bitter aftertaste is mild and very long lasting. Very well balanced and not a trace of alcohol evident. Not quite as bold as the nose, but a real tasty treat for sure.
PALATE: Medium body with medium carbonation, though a little light perhaps. Creamy smooth on the palate, goes down smooth with no bite at all, and finishes crisp and slightly mouth coating. Nice here as well, but could use a little more weight.
OVERALL: This one was a pleasant surprise. Urthel makes good beer, but this one was outstanding. A great bold nose and taste profile made this one a real treat. Super drinkable and enjoyable, only the lack of lace and a slightly light palate kept this from being a whopper. This one will certainly become part of the rotation, and I'll probably pick up a nice Urthel glass at the beer shop to give it its proper place. Quite surprised there are not more reviews of this one. Well done Urthel!
1,961 characters
4.35
/5
rDev
+9.6%
look: 4 | smell: 4 | taste: 4.5 | feel: 4.5 | overall: 4.5
330ml short brown bottle, BB 06/2010, served lightly-chilled in Gulden Draak's tulip-shaped sniffer glass.
A: pours an elegant, dark red-russet hue with abundant carbonation at play, in support of a really thick, creamy, well-lasting beige froth.
S: the aroma features malts and estery elements as a result of sugar in the brew - toasted malts with a touch of chocolates, dark plum jam, licorice syrup and melted black sugar dominate the nose, leaving a little space for a honey-ish hint, mildly flowery hop aroma and (very) old ginger to linger at the fringe. Straight-forwardly pleasant, with no trace of alc. or any surprising elements (such as overly lively, sour yeast sediments).
T: the foretaste of black-cherry fruitiness and black malts develops with an aromatic bitter edge of roast-malts closely behind, along with licorice, old ginger, toasted nuts, and a really decent body of chewy hop bitterness to complement jammy dark fruits (coated with a touch of honey) and more top-quality aromatic dark malts lingering in the finish. Overall, the flavour is actually not very "estery" by the Belgian-ale standard, in a sense leaving the balance intact and the palate free to carry forward endless
M&D: overall the flavour profile is not dissimilar to a rather aromatically-yeasty but lighter-bodied Imperial Russian Stout, thanks to the level of delicious & intense black malts and an unusual manifestation of hop bitterness, I suppose. The palate is almost flawless, showing a creamy-textured fizziness on a par with a decent body of flavours, while only in the long finish does the mild touch of alc. reveal itself, discreetly. Interestingly, this not-so-estery Belgian dark ale proves a superb session ale to me!
1,723 characters

4
/5
rDev
+0.8%
look: 4 | smell: 4 | taste: 4 | feel: 4 | overall: 4
Pours a translucent reddish brown, with a good head that dissipates into a fine layer of foam leaving no lacing on the glass.
Smells of milk chocolate and toffee, and a hint of vanilla.
Tastes of caramel, chocolate, raisins and other dark fruit, with a dry hoppiness. Finish is even drier and peppery, with a bit of horseblanket, especially after burping. Mouthfeel is light. A scrubbing carbonation on the tongue makes it refreshing. I'd classify it along with the Orval style.
479 characters
3.63
/5
rDev
-8.6%
look: 4 | smell: 3.5 | taste: 3.5 | feel: 3.5 | overall: 4
Dark color, beautiful mahohany reflexes. Beautiful beige head, sticky. Good appearance.
Malty smell, light roast. Herbal.
Intense taste, again maltiness, and a good amount of roast.
Here again, herbal notes, with touches of roots and liquorice. Woody notes.
Pleasant, easy to drink.
Good bitterness in the aftertaste, long, with roots.
Good.
341 characters
Urthel Parlus Magnificum from De Leyerth Brouwerijen (Urthel)
3.97
out of
5
based on
16
ratings.