Monterey Coast Brewing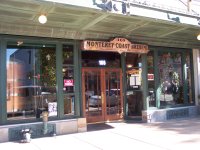 PLACE INFO
Type:
Brewery, Bar, Eatery
165 Main Street
Salinas
,
California
, 93902
United States
(831) 758-2337 |
map
montereycoastbrewing.com
Notes:
No notes at this time.
Added by bradybeer on 03-18-2006
Reviews: 13 | Ratings: 17

3.45
/5
rDev
-7.8%
vibe: 4 | quality: 4 | service: 2 | selection: 4 | food: 3.5
"Turned out that Castroville nearby is the Artichoke Capital of the World, so we had to explore it in more detail."
"Even the medium bodied IPA variety was not over to top - toasted caramel at the nose and, just at the finishing line, some toffee flavors."
"We did enjoy the environment though, the table with rough grain wood added to the rustic feel as well as the old brick walls with beer label murals painted over with the texture of the brick showing."
Just a few bites from our full review - http://ilianaspalette.blogspot.ca/2016/03/monterey-coast-brewing.html
★
577 characters

4.08
/5
rDev
+9.1%
vibe: 4 | quality: 4.5 | service: 4 | selection: 3.5 | food: 4.5
Went to this place for dinner last night with my dad and brother.
Walking in, I really enjoyed the atmosphere. It definitely conveys the brewery-and-restaurant very well- the walls are brick, giving off an old factory kind of vibe, while one side has all of the brewing equipment on the wall. However, in between the two walls, you have tables and such, which conveys the restaurant side of things. We went fairly late on a Sunday night so there weren't many people there, so our waitress was able to pay attention to us.
The food was very good. We all shared an artichoke appetizer which was excellent. My brother had swordfish (which looked really good) while my dad and I shared their pizza on special. The pizzas were reminiscent of Europe- medium-sized but thin, enough for one person or can be shared by two if your appetite is less. The menu fare is pretty standard- pizzas, steaks, some seafood dishes, pizza, and pasta- but everything we had was very well done. Most entrees ranged from $12-$20.
As far as beer, they make six or seven beers, one of which is a seasonal. There are no beers on their list that will make a jaded beer geek start jumping for joy, but it is always nice to go to a place that makes their own and try it out.I will also say that they do make a decent variety of beer across a good range of styles, so there is enough to choose from. When we went, they were out of their pilsner, Scottish Red, and Hefeweizen; I am not sure if this is a common problem. All three of us had their Octoberfest (pretty good), and my brother had their wheat beer as well (didn't taste it) while I also had their porter (pretty good). The beers we had didn't jump out at me, but were solid overall and went just fine with the food we had. Beers were $3.25 for 10oz or $5.50 for a 16oz, they also sold 64oz growlers for $25 with refills costing $14 (or $7 on Thursdays).
To sum it up, the Monterey Coast Brewery looks nice and has a good atmosphere. Despite what looks like an unspectacular beer list and a fairly average menu, the food was great and the beer, while not awe-inspiring, was solid. Definitely worth checking out if in the Salinas/Monterey area. The restaurant is right in the middle of the old town of Salinas and a few doors down from a movie theater, so it is also in an area that might be nice for a date or just to hang around for a day.
★
2,372 characters

3.73
/5
rDev
-0.3%
vibe: 3.5 | quality: 4 | service: 3.5 | selection: 4 | food: 3
Between the Steinbeck Center, the myriad taco trucks, and the cheap shady hotels I've always liked Salinas. On my most recent visit I finally made a couple visits to this establishment.
An L-shaped teak bar is flanked by a dozen chairs, while there are multiple rows of booths and tables to fill out the rest of the restaurant. Just behind the bar you get a glimpse of the large brewing machinery, the gleaming copper and steel seemingly right at home against the brick walls.
My fellow patrons were mostly couples and small groups - mostly mid-30s and older. The wait-staff and bartenders were efficient and friendly, though none seemed particularly knowledgeable about the beers beyond the info already provided on the menu. Despite the pleasing interior (good acoustics too!), the atmosphere reminded me a bit of a chain restaurant.
All the beer I sampled was quite fresh (as it should be, since it only had to travel a few feet from where it was brewed) and the range of styles was focused yet varied. The porter and Scottish red were enjoyable while the Irish stout was a bit thin and weak and the Oktoberfest was cloying with strange intensely fruity aromatics. They are generous with the samples, so definitely try before you buy. Growler re-fills are a very good value...I'd be here often if I lived in the area.
I only ate dessert which was adequate but not great. The preparation of coffee, tea, hot chocolate, etc is cheap and sloppy and the rest of the menu looked a bit slap-dash with standard Sodexo-sourced ingredients (despite the ready supply of local produce).
Over-all, worth a stop if you are in the area (especially if coupled with a trip to one of the local taco trucks) - some decent beer without the pretension you often encounter on the peninsula.
★
1,779 characters

3.5
/5
rDev
-6.4%
vibe: 3.5 | quality: 3.5 | service: 3.5 | selection: 3.5 | food: 3.5
I went here with my wife while we were on our honeymoon. It was a pretty good place. Unfortunately I wasn't able to get a shirt because the manager wasn't there to get them out. The food was pretty good. I had the IPA and I liked that. It was pretty good beer. There was pretty good service. I would like to come back there sometime. I wanted to get a growler but I was trying to save money so I didn't get myself a growler. I wished I could lol. Good place, I want to go back sometime. The bacon cheeseburger is what I had and it was pretty good.
★
547 characters
4
/5
rDev
+7%
vibe: 4 | quality: 4 | service: 4 | selection: 4 | food: 4
This brewpub is about 200 yards from the National Steinbeck Center. It's worth the walk. I enjoyed my burger & calamari, and the porter was fresh and quite drinkable. The menu was standard pub food, with nothing over $20. Seating was immediate; I doubt this place ever has a wait given its location in gritty Salinas.
They had a selection of 10 brews, from their own pilsler to pale ale, a wiess, porter and stout. One bargain - a growler costs you $20 for first-time purchasers. Refills are $12. On Thursdays they'll fill it with whatever they have on tap for 6 bucks!
★
570 characters

3.16
/5
rDev
-15.5%
vibe: 3 | quality: 3.5 | service: 3 | selection: 3
Very interesting that of the several people to have reviewed this place, one was my frequent WHF host, Carl N26.
It was just down the street from the National Steinbeck Center, which happened to be the impetus for my visit. They had a wide window front with the door in the center and the m.d.s. just beyond the entry. The copper-jacketed brewhouse was to the immediate left at the entry. The "J"-shaped varnished wood bar was also on the left side and four (4) FVs sat behind the back bar. Booths ran along the right exposed brick wall with logos painted onto the wall above the booths. A line of standard restaurant tables and chairs ran down the center line with a waist high divider bisecting the space.
Beers: Harvest Wheat; Pilsner (out!); Hefeweizen; Pale Ale; Scottish Red; IPA; Nut Brown; Chocolate Porter; and Irish Stout. Also, Christmas Ale and Father Charles' Abbey Ale.
★
885 characters
3.88
/5
rDev
+3.7%
vibe: 4 | quality: 4 | service: 3.5 | selection: 4 | food: 4
First off, I'd like to note that Monterey Coast is in Salinas, which means it's about a 30 min. drive from Monterey itself. Also, I haven't been there terribly recently, so it's possible that the reviewer who notes sub-par beer is correct that there's been a change in the brewery. In my experience, their beers were quite good, and I was happy to get a growler of their Scottish red.
The pub's atmosphere is definitely to my liking, as it is devoid of TVs and offers an excellent view of the brewing gear. The beers are listed on large chalkboards hung up on the rear wall, and they offer tasting flights. The food is quite good too -- overall, one of the better bars in the area, probably the best in Salinas itself, and easily the best brewpub in the area.
★
760 characters

2.75
/5
rDev
-26.5%
vibe: 3 | quality: 1 | service: 3 | selection: 4 | food: 4
I was pleasantly surprised to find a brewery in Salinas, since I'm a business traveler from Denver and always enjoy a great beer.
Liked the location downtown and the old building. Ordered the calamari appetizer, which was very good, and then a grilled chicken pizza. Enjoyed the food and the pleasant attitude of our waitress.
As far as the beer-- the worst I've ever had. Tried an IPA that was sour and medicinal. I'm a hop head and know my IPAs, and the only thing about this beer that even came close to an IPA was a bit of a hop aftertaste. I left almost an entire pint glass full on the table.
I did order a taster of the Pale Ale and it was watery and weak. I knew then that I did not want to try any more of their beers.
I wonder if they have changed brewmasters recently, since the other reviews seem to be positive.
★
831 characters
4.47
/5
rDev
+19.5%
vibe: 4 | quality: 5 | service: 4 | selection: 4.5 | food: 4.5
I live near this place and had not tried it until recently. I was very pleased to find a brewpub in my area with good food and a beer selection that varies from good to excellent! I have now sampled a pint of half of their brews (they serve 10) and love the stout and porter, like the IPA and pale ale and their lager isn't bad either. I seem to take the porter home in my growler most often ( thurs. is a $6 refill). This pub is in Salinas' historic "Old Town" area where the folks and the archetecture are both very nice.
★
523 characters
3.11
/5
rDev
-16.8%
vibe: 3 | quality: 2.5 | service: 3.5 | selection: 3.5
A: Stopped in here on my way to San Fran. Rather tough to find because the streets are a little screwey. The place itself is very nice. When you walk in the dining area is immediately thre with the bar against the wall to the left hand side and rear of the brewpub.
Q: Moderate to slightly aboveaverage. Drinkable I suppose.
S: The server was nice and outgoing. Did not seem busy at all. There were only 3 poeple in there including myself on a Friday afternoon.
S: About 12 taps if I recall.
The place was a average experience and find. The beer was average on quality but if I were in the area I would pass on it.
★
622 characters
4.28
/5
rDev
+14.4%
vibe: 4 | quality: 4.5 | service: 4 | selection: 4.5 | food: 4
Monterey Coast Brewing is located in historic downtown Salinas. The building is an old converted warehouse or hotel. It has high ceilings, and rustic decorations. A large dining area on the right is paired by an equally large bar area on the left. The brewing equipment is prominently displayed behind tall plate glass windows. The bar itself is constructed from rough sawed timber, sanded smooth, and varnished it blends in well with the remainder of the décor, and is a nice alternative to many stale environments.
They had about 10 beers on tap. I had the IPA. Nice and fresh, the beer appeared to be mostly Centennial hops, and you can't go wrong with that. On an earlier visit I had the Hefeweizen, and Impy Stout, both of these beers were good, and fairly true to style.
Nice menu in this place. Wide selection of beef, chicken and pork dishes along with fresh seafood, and a few vegetarian selections. Lettuce is king in the Salinas valley, so do your self a favor if you visit, and have a nice salad. You won't be disappointed. I had a garlic, sun dried tomato, and pine nut pizza. Again, all of the ingredients were fresh, the pizza was nicely grilled, and tasted wonderfully.
The bar was relatively quiet, so service was great. The process were right on target for the area. I like to stay in Salinas when I come to the area for a race at Laguna Seca. While the city does not have all of the charms of Monterey, it' much easier to get around, nice access to 101, and easy access to the track. This restaurant and brewery presents a much better selection than any place in Monterey itself.
Stop in.
★
1,624 characters
4.45
/5
rDev
+19%
vibe: 4 | quality: 4.5 | service: 4 | selection: 5 | food: 4.5
I visited Monterey Coast Brewing on a weeknight since it was close to Monterey where I was staying for a conference. The location is in an older part of town next to a movie theater in Salinas. The atmosphere inside is comfortable with natural wood and tile decor.
I had the sampler (8 4oz pours for $9) and really was impressed with the beer quality and selection. The beer lineup was: wheat, pilsner, hefe, pale ale, scottish red, IPA, nut brown, porter, imperial stout All were pretty true to the style and quite tasty although I think the pale ale was my favorite with a nice hop flavor. I had the porterhouse steak and mashed potatoes which was very good - although the food prices seemed a little high the quality was excellent and the service at the bar was very friendly. They sell growlers (and kegs).
Overall I'd definately reccomend stopping by, it's one of the best microbreweries in the area that I've been to.
★
931 characters

3.85
/5
rDev
+2.9%
vibe: 4 | quality: 3.5 | service: 4 | selection: 4 | food: 4
My partner and I stopped by here while in Salinas recently-we had been to this Brewpub a few years ago.
When you walk into the pub the bar is to the left and the dinning area to the right . The bar area reminded us of a late 19th century-early 20th century bar with its long wooden bar with mirror behind.
The atmosphere is upscale but not too upscale with plenty of wood and a little industrial with exposed ventalation pipes.
There were 10 beers on tap from a light ale to an Irish stout.
We had the Scottish Red, Nutbrown, and Chocolate Porter-all beers were good-the Nutbrown a little disapointing-because it seems to be lighter in body than our previous visit.
Growlers are on the expensive side at $25 for the first fill and $12 for a refill. However, these are the most elegant of growlers and are unique to this brewpub.
We split two sandwiches which were both good-and an order of calamari.
Service was excellent-never had to wait long for a beer and the food was delivered quickly.
I would suggest BAs in the Central Coast make a detour to Salinas and give this a place a try.
★
1,110 characters
Monterey Coast Brewing in Salinas, CA
2.86
out of
5
based on
38
ratings.