Jomo Vienna Lager
| Starr Hill Brewery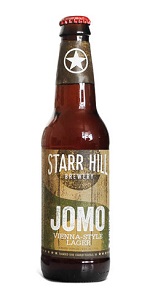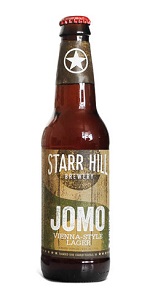 BEER INFO
Brewed by:
Starr Hill Brewery
Virginia
,
United States
starrhill.com
Style:
Vienna Lager
Alcohol by volume (ABV):
4.60%
Availability:
Year-round
Notes / Commercial Description:
Jomo Vienna Lager
Starr Hill's Jomo Vienna Lager is a smooth, multiple-award-winning Vienna-style lager. Fermented with Southern German Lager yeast, its crisp, clean taste, and noticeable hop aroma are effectively balanced with a slight malty sweetness. This is a crossover beer that appeals to the broadest spectrum of brew aficionados.
Ingredients
Malted Barley: Two Row, Munich, Caramel & Aromatic
Kettle Hops:Tettnang & Hallertau
Yeast: Lager Yeast
Characteristics
Flavor: Smooth and mellow with a slight floral finish
Color:Light Copper
Style: Vienna-Style Lager
BUs: 23
ABV:4.6%
Availability: All Year
Release Date: December 31, 2008
Reviews: 6 | Ratings: 59

2.38
/5
rDev
-31%
look: 2.5 | smell: 2.5 | taste: 2.25 | feel: 2.25 | overall: 2.5
Copper with a half-inch of head. This head is gone very quickly. Can't see through the beer, so let's call it cloudy.
Toasty and kinda mealy on the nose to start. There is some semblance of a floral and herbal quality from the hops, and a slight hint of caramel increases as we warm up with the beer. This is nice. Unfortunately, the smell of old flour is persistent.
Toasty with a minor EtOH impression. Not very rich, with that mealy character present. Tastes old in some way.
Nothing to write home about on the palate. Feels slightly flat. Lacks the crispness and drinkability of a good Vienna Lager.
A beer that has no distinguishable characteristics. Muddled, middling, ordinary.
691 characters

3.88
/5
rDev
+12.5%
look: 3.75 | smell: 3.75 | taste: 4 | feel: 4 | overall: 3.75
Reddish amber, clear, with off-white head. Head minimal, not lasting. Nose mildly hoppy over the malt, not strong, pleasant but not outstanding. Flavor is malt-dominant, with chestnut, spice, and mild caramel notes. A breadiness emerges after a few seconds. Don't chug it, let it develop. Mouthfeel mildly & pleasantly astringent. Overall a good beer.
Bottle dated "PKG ON 03/16/16A"
384 characters
3.09
/5
rDev
-10.4%
look: 3.5 | smell: 3.25 | taste: 3 | feel: 3 | overall: 3
Very crisp and carbonated this Vienna lager presents a ton of caramel sweetness and natural barley grain. The sweetness is a touch overpowering and doesn't allow this to be as drinkable as I would have thought.
210 characters
3.69
/5
rDev
+7%
look: 3.75 | smell: 3.5 | taste: 3.75 | feel: 3.75 | overall: 3.75
Pouring a cellar temp bottle into a snifter. The beer pours a clear chestnut color with fizzy off white head of 1 cm foaming up and fading to a thin edge layer pretty quickly after the pour. Aroma is toffee and caramel with a bit of biscuity note as well. Maybe a little bit of herbal hops but these are very mild and in the background.
First sip reveals an average body with very fine tingling carbonation and a smooth texture.
The flavor is sweet toffee and some biscuit malt up front that flows to just a bit of herbal tea hop bite on the finish. Very easy to drink and no offensive notes on this beer. Simple straight forward lager.
638 characters
3.25
/5
rDev
-5.8%
look: 3.5 | smell: 2.75 | taste: 3.25 | feel: 3.75 | overall: 3.5
12 oz bottle, poured into a pint glass
Appearance: Pours a very pretty, semi-cloudy, deep, amber color, with a finger of white-colored head that quickly dissolved away into a thin lacing of foam that partially covered the top of the beer.
Aroma: Not much in the way of aroma, but I do get some faint notes of toasted malt, black pepper and caramel.
Taste: Pretty good. Lots of toasted malt up front, biscuit-like and bready, followed by some caramel and honey-like sweetness, black pepper and coriander, and a touch of floral, grassy, piney hops at the finish.
Mouthfeel: Medium-bodied crisp, and nicely effervescent as there is quite a bit of carbonation to tickle the taste buds. With an ABV of 4.6%, there is no alcohol on the palate.
Overall: This is a nice beer, a really well-crafted American-version of a Vienna lager. Malty and bready, slightly sweet, with a kiss of hops, all wrapped up in a crisp, refreshing, satisfying, easy to drink quaff. If you like Vienna lagers, you'll like this one.
1,017 characters

3.4
/5
rDev
-1.4%
look: 3.5 | smell: 3.5 | taste: 3.25 | feel: 3.5 | overall: 3.5
Bottled 05/22/14 at 40 degrees into standard pint glass
Aroma lightly malty
Head average (4 cm), white, frothy, slowly diminishing to
Lacing poor – rare small islands
Body coppery, clear, few rising bubbles
Flavor slightly sweet, light toasted malt: no hops, no alcohol, no diacetyl
Palate light to medium, watery, soft carbonation
A pretty mild-mannered Vienna lager – really not much flavor.
398 characters
Jomo Vienna Lager from Starr Hill Brewery
Beer rating:
3.45
out of
5
with
59
ratings