Warm Up Winter Ale (Heavy Rotation Series No. 4)
| Starr Hill Brewery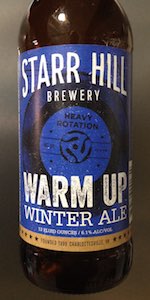 Write a Review

Average: 3.7

| pDev:

8.65%

Reviews:

6

| Ratings: Winter Warmer

| 6.10% ABV

Wants Gots Starr Hill Brewery Virginia

,

United Statesstarrhill.com

Notes: Rotating availibility.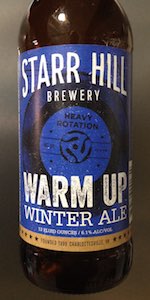 Reviews: 6 | Ratings: 11
3.44
/5
rDev
-7%
look: 3 | smell: 4 | taste: 3.5 | feel: 3 | overall: 3
Look: Poured into a pint glass from the bottle. Looked effervescent on the top, but the head quickly disappeared. Caramel/red color. 3.5
Smell: malty with scent of dark cherry. 4
Taste: I can't quite put my finger on it, but there's a smokey/toasty strain running through this. And of course, malt and spice. I don't love spiced beers, but this seems to be done well enough, so those who enjoy spiced beers might like this. 3.5
Feel: Medium body with thin, but present carbonation. Something about the smokiness leaves a slightly unpleasant feel in my mouth. 3
Overall: Under the right circumstances, I might be willing to drink this if I saw it on tap. A decently-crafted beer, but not one I prefer. 3
713 characters

3.95
/5
rDev
+6.8%
look: 4 | smell: 4 | taste: 4 | feel: 3.5 | overall: 4
Poured into a narrow pint glass: color is amber, a little dense looking, but dark amber; head is tan with fine bubbles and presents about 1/2 inch thick after a moderate strong pour.
Smell is very pleasant blend of spice and malt, spice notes are cinnamon and vanilla dominant, malt notes are caramel, toast, and heavy toffee.
Taste is similar to the aroma with moderate spiciness, cinnamon and vanilla prominent; malt is toffee, caramel, and toast and chocolate.
Mouthfeel is a bit strong and biting, with lingering presence on the tongue and sides of the tongue.
Overall, a good quality winter ale with mouthfeel that is biting but not cloying.
650 characters
3.75
/5
rDev
+1.4%
look: 4 | smell: 3.25 | taste: 4 | feel: 3.75 | overall: 3.75
Pours a brown ale color with plenty of frothy off white head. Smell is quite spicy. Initial taste is spicy as well with little to no hop flavor. Very slight spice aftertaste as well. Initially when I bought this a few months ago in the depth of winter, I did not like this at all, thought the spices we overwhelming. I am now in the process of drinking up all my "winter stock" so when I tried this today I had to reevaluate my original decision. Overall, I think this is a good solid brew to try if you want something different with all the different spices they have going on.
584 characters

3.5
/5
rDev
-5.4%
look: 3.5 | smell: 3.5 | taste: 3.5 | feel: 3.5 | overall: 3.5
12 oz bottle poured into a stemmed glass. L: Dark brown color. S: Pleasant malts, with winter spices. T: Good balance, spices were not overwhelming by any means. F: Medium body. O: Good winter ale.
199 characters
3.82
/5
rDev
+3.2%
look: 4 | smell: 3.75 | taste: 3.75 | feel: 4.25 | overall: 3.75
12oz brown bottle, sample from the brewery.
Dark brown brew with ruby highlights, decent lacing on top. Smells of spice and dark fruit. Cinnamon and vanilla come through the most in the nose and on the palate. Hint of nutmeg and cocoa, slightly chewy medium body shows there is a good amount of malt residuals in this brew. Spicing is balanced, hint of alcohol middle to finish. Hints of caramel, burnt sugar, and brown bread. Modest hopping but the spicing keeps this brew in check.
An all around good winter seasonal.
523 characters

4.04
/5
rDev
+9.2%
look: 4 | smell: 4.25 | taste: 4 | feel: 3.75 | overall: 4
Nothing like the gift of beer! I had just returned home the other day when a package containing two (2) bottles of this one & two (2) bottles of Double Bass arrived. Having chilled each of them, this seems like a good opportunity to get in a review.
From the bottle: "Heavy Rotation Series"; "A smooth, dark ale, spiced with cinnamon, cocoa, nutmeg and vanilla; a fine pairing for fireside sipping."
I Pop!ped the cap & commenced another heavy-handed pour since it was brewery fresh (just over two weeks!). A pseudo-cascade formed two-plus fingers of light-tan head with good retention. Color was Coppery-Brown (SRM = > 17, < 22) with NE-quality clarity, although the SRM was actually closer to 22. Nose presented a lot of spice, including cinnamon, clove and nutmeg. Mouthfeel was medium. The taste included a breadiness that caused me to think of spice cake! I love spice cake. I may even bake one for my birthday next month. All right, back to the review. It is a highly spiced ale which may not be to everyone's taste. The "Beer Styles" section of this site indicates that it is allowed and follows the "Wassail tradition". It was certainly more spicy than bready, but I liked it. Finish was very dry, as you might imagine with a spice-driven ale. I swear that I had it on draft (or maybe at a tasting) once before this bottle & my thought then & now is that it would be superb with an inexpensive piece of beef in a crock pot with some root vegetables. No additional spices and/or seasonings would be required, IMHO. I don't cook often, but when I do, you can bet that beer will be involved.
1,599 characters
Warm Up Winter Ale (Heavy Rotation Series No. 4) from Starr Hill Brewery
Beer rating:
83
out of
100
with
11
ratings