Santa's Little Helper - Oak Barrel Aged
| Port Brewing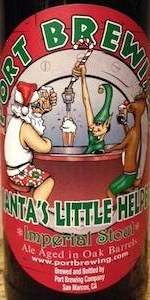 BEER INFO
Brewed by:
Port Brewing
California
,
United States
portbrewing.com
Style:
American Double / Imperial Stout
Alcohol by volume (ABV):
12.00%
Availability:
Winter
Notes / Commercial Description:
No notes at this time.
Added by GABrew on 12-24-2013
Reviews: 7 | Ratings: 58
4.07
/5
rDev
-6.9%
look: 4.75 | smell: 4 | taste: 4 | feel: 4.25 | overall: 4
Serving Type: Bottle (2013 vintage)
Consumed: 12.25.15
A: 4.75 Pours pitch black with a dense, dark tan head. Good retention and lacing.
S: 4 Lots of roasted malt, molasses, and alcohol on the nose. A bit of bourbon and vanilla in there as well, but the aromas are dominated by roast and char.
T: 4 Starts off a bit sweet with vanilla and bourbon. Moves quickly to char, roasted malt, coffee, and molasses. Things seem pretty good, but there's some fairly strong alcohol flavor and astringency that throws everything off a bit. Mild bitterness and berries on the finish.
M: 4.25 Pretty nice and thick body with decent carbonation. Finish is a little too dry for my tastes.
O: 4 I recall this one being better fresh – more integrated and bourbon forward. Still a pretty nice beer, but not up to the standard of some of the other BA stouts out there.
857 characters
4.6
/5
rDev
+5.3%
look: 4.5 | smell: 4.5 | taste: 4.75 | feel: 4.5 | overall: 4.5
375 ml bottle poured into a Lost Abbey teku glass
A: Pitch black, no light coming in, tan head, lots of lacing, the head stuck around for quite awhile.
A: Big bourbon, chocolate, getting a lot of alcohol burn on the nose, smells great.
T: Big bourbon up front, some toasted coconut, chocolate, definitely picking up the oak from the barrels, big alcohol on the end that lingers, finishes semi-dry on the palate, lots of flavors, really good.
M: Viscous, dry, not much carbonation, very nice mouthfeel.
O: This is a world class barrel aged stout, very complex, lots of flavor, oak, coconut, chocolate, my only complaint is that it's very hot, for 12% I am surprised how much burn lingers, but with some age I bet this mellows out really well.
747 characters
4.42
/5
rDev
+1.1%
look: 4 | smell: 4.5 | taste: 4.5 | feel: 4 | overall: 4.5
2012 Vintage.
appearance: very dark, nearly opaque. Crimson highlights. almost no head other than some tan bubbles on the pour.
smell: Smooth bourbon, oak, coffee, vanilla and chocolate treat. Decadent and well...oh so good.
taste: More of the same. This is why I loves the new wave of beers over stuffy wines.
overall: Wonderful. Shared with family on Christmas eve and everyone loved it.
390 characters

4.65
/5
rDev
+6.4%
look: 4.5 | smell: 4.5 | taste: 4.75 | feel: 4.5 | overall: 4.75
Review from notes. Black color with dark brown head that doesn't stay for long. Aroma has intense bourbon, vanilla and dried figs. Taste is not really sweet but has nice dried fruit, dates and figs mostly, ans also nuts. Alcohol is well hidden, you get the warming feel but not the taste. Complex, easy to drink, christmassy imperial stout.
340 characters
4.22
/5
rDev
-3.4%
look: 4.25 | smell: 3.5 | taste: 4.5 | feel: 4.75 | overall: 4.25
Dark almost perfectly black brew, topped by a moderate, 1 1/2 finger dark brown head. Retention is OK, leaving behind wide individual lines of lacing.
Brew has a relatively subdued nose. A bit of sour, dark fruit up front, sandwiched with oak and a hint of bourbon; roasted barley and dark cacao; a hint of vanilla. Everything smells quite good, just not particularly strong.
Tons of chocolate up front, roasted barley, banana, and then the bourbon hits. Strong and sweet, roughed around at the edges by oak, smoothed out by vanilla. The bourbon notes are very strong, but quite smooth; it's a very boozy beer.
Long finish, a little hot, quite wet, very boozy. Very thick mouthfeel - actually among the thickest for a BBA stout I've had.
This is a really, really good BBA stout. I'm very impressed with the thick mouthfeel, and the huge notes of chocolate. It's definitely a bourbon-lover's brew.
900 characters
4.26
/5
rDev
-2.5%
look: 4 | smell: 4.25 | taste: 4.25 | feel: 4.5 | overall: 4.25
So the bottle says Ale Aged in Oak Barrels and is 12%...but bottled in 2012. Weird that it was added in 2013.
Well here it goes...its 2014 so it has some age on it.
Nice deep black oily pour with great head retention. Nice fig and chocolate aromas with a hint of wood. Lots of booze in the nose.
Sweet sweet chocolate flavor with some dried fruit and hints of vanilla and wood aromas.
Super smooth and a pleasure to drink.
Overall, a nice brew with a lot of flavor but its subtle and unassuming.
Usually brews with a seasonal front like this may lack in flavor, but this is awesome.
well worth a try and while I haven't had it fresh, it was awesome with a year and half or so age on it.
686 characters

4.24
/5
rDev
-3%
look: 4 | smell: 4.25 | taste: 4.25 | feel: 4.25 | overall: 4.25
Appearance: pours a black color with a big 2" tan colored head that slowly falls to a thick surface covering. Nice lace develops during the session.
Smell: loads of roasted malt, woodiness, earthy hop bitterness, and some alcohol comes through to the nose.
Taste: big roasted malts, prunes, raisins, oak, and an earthy bitterness are most notable. Alcohol is warming.
Mouthfeel: heavy in body. Smooth at the start, more velvety at the finish. Long lasting aftertaste.
Overall: a great slow sipping beer that goes well as an after dinner drink or sitting in front of a fireplace during a snowstorm.
602 characters
Santa's Little Helper - Oak Barrel Aged from Port Brewing
4.37
out of
5
based on
58
ratings.