Happy Hour

Peak Organic Brewing Company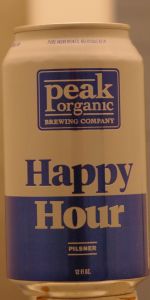 Write a Review
Beer Geek Stats:
| Print Shelf Talker
Style:

ABV:

4.7%

Score:

Avg:

3.83

| pDev:

8.62%

Reviews:

13

Ratings:

From:

Avail:

Rotating

Wants

Gots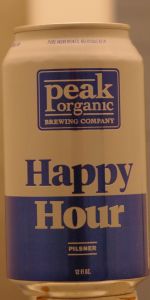 Notes:

4.78
/5
rDev
+24.8%
look: 5 | smell: 4.5 | taste: 4.75 | feel: 5 | overall: 5
Clear yellow, dense white head with excellent retention and lace
Noble hops, bready malt underneath, a whiff of sulfur.
Bready malt upfront, noble hops in the middle, then some malty sweetness, crisp finish
Light bodied and well carbonated.
Excellent pils
255 characters

3.88
/5
rDev
+1.3%
look: 4 | smell: 3.5 | taste: 4 | feel: 4 | overall: 4
Pours a slightly golden yellow. Smells faintly of hay and cereal. Taste leans in a malty direction with a noticeable bitter finish. Nice drinking for a low ABV beer with light to light-medium body. The kind of beer you can have a few of.
241 characters

4.4
/5
rDev
+14.9%
look: 4.25 | smell: 4.25 | taste: 4.5 | feel: 4.25 | overall: 4.5
Comes in a clear bubbly straw color with a big foamy white head. Decent retention with some lacing. I.e., it looks like a pilsner ought to.
Smells like a very fresh and balanced pilsner. Fresh clean grass and zingy green pepper flesh meet cracked grain sweetness with a touch of honey and white tea.
The taste follows the nose precisely. A nice clean bite of herbal Noble hops; green pepper flesh, white pepper seeds, grass, and maybe green onion. Simple cracked grain sweetness, toasty cracker with a dollop of honey. The key here is balance. Most American-made pilsners rely on intense hoppy bitterness, this one here strikes a nice balance with a very Helles-like grainy sweetness. But, it finishes crisp and clean with a little tiny bit of that fresh grassy bitterness carrying over, but ends clean as water.
The feel is very well carbonated, light as in chuggable but not watery. Instead, a forceful carbonation feels full on the palate and moves the beer quickly.
Overall, this is a fantastic pils from Peak Organic that tastes like an authentic German pils. Well done!
1,085 characters
4.06
/5
rDev
+6%
look: 4 | smell: 4.25 | taste: 4 | feel: 4 | overall: 4
Clear golden color , 2F head, with carbonation bubbles from the bottom of the glass. Served in Pilsner glass.
Strong fruit, esters in the aroma.
Malty, smooth MF.
Fruit taste followed by a dry, crisp, lightly bitter finish.
Excellent Pilsner.
246 characters

4.24
/5
rDev
+10.7%
look: 4 | smell: 4.25 | taste: 4.25 | feel: 4.25 | overall: 4.25
Poured into a pilsner glass, the appearance was a super nice looking golden yellow color with a nice transparency showcasing an ever so slight carbonation rising delicately to feed a two finger white foamy head. This head lasted about a minute before gently dropping off and a messy spotty lace wound around the glass.
The aroma melded sweet biscuit, small grassy hop spice sliding into a delicate earthiness, then a slight whiff of lemon, and ending with a touch of white pepper.
The flavor mainly sticks to the sweet biscuit. The lemon seems to slighter here than in the aroma, really - it's barely noticeable in the taste. Mobile sweet smooth biscuity aftertaste.
The mouthfeel was about medium bodied, maybe a touch under with a fine sessionability about it. Carbonation and ABV seemed good. Sweetness creates a fine smoothness along my tongue. The finish was semi-crisp with a fine sweet smoothness.
Overall, as a German Pilsener it works and definitely would be one to come back to.
989 characters
3.36
/5
rDev
-12.3%
look: 4 | smell: 3.5 | taste: 3.25 | feel: 3.25 | overall: 3.25
Poured from a 12 oz. can. Has a light golden color with a 1/2 inch head. Smell is of grains, malts. Taste is mild, grains, some malts, not really picking up any hops, which is surprising from this brewery. Feels medium/light bodied in the mouth and overall, it is crushable, as the can states, but otherwise is a mediocre beer.
327 characters
3.62
/5
rDev
-5.5%
look: 3 | smell: 3.5 | taste: 3.75 | feel: 3.5 | overall: 3.75
on draft in a shaker pint
very pale straw color - foamy white head. lighter in color than I'd expect. Mild grainy aroma, clean. easy drinking and mild pilsner malt and touch of grassy hops. thin bodied.
207 characters

3.91
/5
rDev
+2.1%
look: 3.5 | smell: 3.75 | taste: 4.25 | feel: 3.5 | overall: 3.75
And now, the aftermath of the Fourth of CANuly! I had laden my reefer with CANs that day, not really expecting to run through all of them, but more as a stopgap from running out before the day was over. The result is that now, I have a buncha cold CANs that I do not want to simply pull out & have get warm again. Ah, the trials & travails of The CANQuest (tm)! In this instance, I had purchased a duo-pack of Evergreen IPA and Crush IPA & since I seem to be immersed in Peak Organic B.C. CANs today, I figured to give this a whirl.
From the CAN: "Pure Ingredients, Delicious Beer".
Like the approved pic? Thank The CANQuest (tm)! I began with a loud Crack! and when it gave me a spritz across my fingertips, it was all that I could do to hold back from an inverted Glug. Sadly, my favorite Pilsner glass is not meant for that kind of nonsense, so I went with a standard Glug that still managed to raise a finger of dense, foamy, bone-white head with moderate retention. Color was Pale-Straw (SRM = 1 - 2) with NE-quality clarity. Nose had a peppery, Saaz-driven hoppiness overlain on a biscuity malt foundation, but I associate hop-first, malt-second more with the GER style Pils. Mouthfeel was thin-to-medium, just about what one should expect in the style. The taste was really lovely, beginning with an explosion of black pepper, like a Flash! Bang! grenade sent in to soften things up as it was followed by a lemon-grassiness and a biscuity maltiness. I would be reluctant to do so, but imagine cracked Black Pepper on Enrico's Lemon Biscotti from Pixburgh's Strip District. Oh my. Finish was dry, but not overwhelming. I imagine it to have a relatively-low ABV so it would be a great filler for the cooler, followed by the Evergreen & Crush IPAs. I am totally crushing this one! YMMV.
1,793 characters

3.77
/5
rDev
-1.6%
look: 4 | smell: 3.75 | taste: 3.75 | feel: 3.75 | overall: 3.75
Picked up at Downtown Crown in Gaithersburg for a cool ninety nine coppers for a twelve oz. can. In Montgomery County, MD, no less. Sign me up. Nice solid sticky head atop a pale body accompanied by a little fresh baked bread note and a touch of banana.
The same slightly fruity grain and fresh biscuit note maintains but is accented with a touch of spicy hops. Delicate in body but very flavorful and strong for what I was expecting. Really nice, interesting pilsner. I'd be happy to drink these all summer, particularly for that reasonable price.
557 characters
3.55
/5
rDev
-7.3%
look: 3.75 | smell: 3.75 | taste: 3.5 | feel: 3.25 | overall: 3.5
From the 12 fl. oz. can dated 07/27/16. Sampled on November 19, 2016.
The pour is yellow, fairly clear, and with busy carbonation leading up to a modest white fizzy head.
The aroma brings out those toasted bread characters of a decent pilsener along with grassy sensations.
The body is light.
I pick up the same sweet and toasted bread characters in the flavor along with a grassy finish. Mild to moderate tiast finish.
425 characters

4
/5
rDev
+4.4%
look: 4 | smell: 4 | taste: 4 | feel: 4 | overall: 4
I'm sitting on a beach in Aruba, so this might be impacting my objectivity, but this is a really good "beach beer," IMHO. It pours a slightly cloudy golden straw color with a finger+ nearly white head.
The aroma is grassy aromas, with the slightest sweetness from the Pilsner malt. The taste is noble hops - and a most welcome lemongrass flavor that really elevates this. The feel is bright, but not overly so.
Peak describes this as "crushable" on their website, and that's accurate. If I was so inclined, I could pound this all day long - especially if I was surrounded by a beach.
591 characters

3.26
/5
rDev
-14.9%
look: 3.75 | smell: 3.25 | taste: 3.25 | feel: 3 | overall: 3.25
Can from Bert's
Pours a slightly hazy light golden color with a huge off white head that persists. Light DMS initially with some faint bready pilsner and apple on the nose. earthy floral hop aromas. Bitter flavor with a slight chalk and barely any malt to balance it. Light astringency, Fairly dry finish. Not horrible but needs a bit of work.
343 characters

4
/5
rDev
+4.4%
look: 4 | smell: 4 | taste: 4 | feel: 4 | overall: 4
A: Pours a straw yellow color with 2 fingers of head that fades down to a small cap
S: Nice grassy and spicy noble hop character up front along with some crackery malts and light breadiness. Some floral notes in the back
T: Follows the nose. Starts off with a good noble hop character that imparts the usual grassy and spicy notes and then goes into a crackery and bready maltiness that provides a light sweetness and lingers for a good while. Finishes with lingering maltiness and spicy hop notes
M: Light-medium bodied with moderate carbonation
O: A solid and easy-going pils with good noble hop character and classic crackery maltiness. Very easy to drink. Peak has been putting out some nice new brews that are worthy of checking out. This one is no exception
767 characters
Happy Hour from Peak Organic Brewing Company
Beer rating:
84
out of
100
with
40
ratings