Super Juice

Peak Organic Brewing Company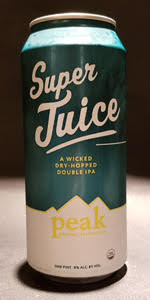 Write a Review
Beer Geek Stats:
| Print Shelf Talker
Style:

ABV:

8.2%

Score:

Avg:

3.94

| pDev:

9.14%

Reviews:

15

Ratings:

From:

Avail:

Rotating/Seasonal

Wants

Gots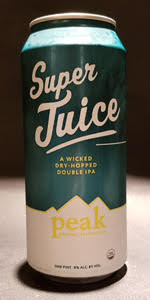 Notes: Super Juice is a wicked dry-hopped double IPA. We combine loads of our Azacca and El Dorado hops to create a bold hop character that bursts with peach-like flavors, and an aroma that pops at every sip. Locally grown oats round out the silky smooth body, creating a beer so juicy, it's almost like sipping a tropical-fruit daiquiri.
tone77 from Pennsylvania
3.5
/5
rDev
-11.2%
look: 4 | smell: 3.25 | taste: 3.5 | feel: 3.75 | overall: 3.5
A thanks to the commander of the canquest, woodychandler, for this beer. Poured from a 16 oz. can. Has a hazy, golden/orange color with a 1 inch head. Smell is mild, some tropical fruits. Taste is of resin, citrus, tropical fruits, moderate bitterness. Feels medium/bodied in the mouth and overall it ain't bad, but it's not up to the usual standards of this fine brewery.
Jul 07, 2019

woodychandler from Pennsylvania
4.34
/5
rDev
+10.2%
look: 3.5 | smell: 4.5 | taste: 4.5 | feel: 4 | overall: 4.25
Happy New CANned Modern Twin Peak Evil Times Beer Sunday (Week 744), Round 6! The CANQuest (tm) is getting a good workout.
From the CAN: "A wicked dry-hopped Double IPA"; "Local sourcing[,] Bright juicy hops[,] Certified organic"; "The best ingredients in beer".
I CANnot tell you why I perked up at the prospect of this one, but I did. I Crack!ed open the vent & beCAN a slow, gentle C-Line Glug into the awaiting glass. It came steaming up in a most hard-charging way to form just under two fingers of dense, foamy, rocky, tawny head with excellent retention. Color was a hazy Golden-Amber (SRM = > 5, < 7). Are we sure that this is not a NEIPA? Hey, I'll drink & review it either way, but it may be better served as the latter. Nose was really mellow, like tropical fruit jelly! It smelled like some of the stuff that our cooks came up with if our tropical fruit was starting to turn. Stewed mango? Pureed passion fruit? Jellied guava? They made it all! It really CANcentrated the sugars so that you could really taste the fruitiness. Stewed mango with grits or oatmeal was my fave, followed by jellied guava on freshly-baked bread or toast. Mmm. Gutes essen! Mouthfeel was medium-to-full, not quite creamy, but on par for the style. The taste was yummy, as long as you like a tropical fruit mélange. It was definitely Southern Hemisphere-driven with flavors straight outta Westpac! Mango, papaya, guava, Passion Fruit, all of my old faves. You've heard my tale of Mama-San at Uncle Sam's American Club in Barrio Baretto in Subic Bay, Luzon, Philippines, no?
I had taken to hammock sex with my girl when all of the available beds were taken & soon, it became a routine floor show! Knowing my affinity for fresh fruit & vegetables (FF&V), on our last night in-port, Mama-San & Miriam fashioned a Carmen Miranda-like outfit of FF&V for Miriam. I arrived, sat down to a Sammy Googoo (San Miguel) & inquired as to my honey. Instantly, the lights went down and a spotlight came on as she sashayed across the dance floor to our hammock. I partook of both FF&V & fleshy delights before the SPs (Shore Patrol) showed up, having been (finally) put wise to my antics. I bade Miriam a fond farewell & outran the SPs, buck nekkid, back to base & onto my ship. Good times.
Man, I CAN taste all of those fruits as well as her muskiness in drinking this one! Then again, guava has always looked & smelled like (ahem!) womanhood, so I may be CANflating the two. Still, yum yum! Get some! Okay, back to the beer. It did not look like much due to its haze, but it smelled & tasted fabby. Finish was dry and fruity which may seem oxymoronic, but if so, I am the moron. This was a really enjoyable beer, YMMV.
May 27, 2019

Lone_Freighter from Vermont
3.75
/5
rDev
-4.8%
look: 3.75 | smell: 3.75 | taste: 3.75 | feel: 3.75 | overall: 3.75
Poured into a tulip.
The appearance was a burnt orange to bronzed copper color with a thin finger's worth of eggshell white foamy head. Mild lace wound around the glass slightly to press against the glass decently.
The aroma had a mild grapefruit pith playing to the sweetness and bouncing against the bitter side then pushing against some caramel malts. Honestly, as it warmed and started to blend more, it came across like orange marmalade as subtle notes of orange played out.
The flavor yields to the sweetness of it all through the grapefruit and then charging into the overall mix of malts to hops. This is the same in the aftertaste (once again, very orange marmalade quality).
The mouthfeel was about medium bodied with a fair sipping quality about it. Moderate carbonation and a sticky malty finish seemed to settle nicely with the ABV selected by the brewer.
Overall, good double IPA that I could see myself coming back to.
Jul 16, 2018

beerthulhu from New Jersey
3.91
/5
rDev
-0.8%
look: 3.5 | smell: 3.75 | taste: 4 | feel: 4 | overall: 4
-spiegelau ipa glass.
A: Dark and dense orange with some life of effervesce within. Dull white head, porous content, with a spongey texture and slightly weak hold. Dark, juicy orange coloring offers some good anticipation.
S: Nose was surprisingly wet with dripping pine and freshly squeezed citrus. Was expecting a more dry approach from the cans, wickedly dry hopped label. Nice strength, while in the glass it showed a bit of wet grassiness of hops with hints of tart tangerine.
T: Grassy hops hit your from the start flavor wise, with some bittering pine. Nice level of dry hopping is perfectly balanced, teasing you with a soft bittering flowery hop finish, with some dry oranges, while anticipating the next sip of dank and juicy citrusy hop resins. Some grapefruit, and pine come on the finish and roundabout.
M: Tingly around the tongue's edges, dank juicy hop resins lie beautifully on the tongue. Nice feel.
O: A really nice drinking experience, perhaps its strongest factor, Flavorful, with some juicy notes and balancing dry bitterness works really well together. Great first impression, super juicy and tasty while the dry hop finish becomes more and more apparent deeper into the drink. Its balance and drink ability will keep you going back for more.
May 16, 2018
brureview from Massachusetts
4.08
/5
rDev
+3.6%
look: 4.25 | smell: 4.25 | taste: 4 | feel: 4 | overall: 4
Look: semi clear honey colored in a Spiegelau IPA glass.
Aroma: very fragrant, tropical fruit.
Taste: the taste doesn't transition from the aroma. It's dwarfed by the hoppy bitter finish which is excellent. Hints of tropical fruit and apple.
Excellent DIPA. The hoppy finish overwhelms the taste, and I was looking for more tropical fruit in the taste.
Apr 27, 2018
Krajnyak from Pennsylvania
4.18
/5
rDev
+6.1%
look: 4 | smell: 4 | taste: 4.25 | feel: 4.25 | overall: 4.25
Well balanced IPA. slight citrus taste, but mostly hoppy. A little high on the alcohol to keep you warm! Overall, this is a better than average IPA.
Mar 26, 2018
The_Kriek_Freak from Pennsylvania
4.08
/5
rDev
+3.6%
look: 4.25 | smell: 4.25 | taste: 4 | feel: 4 | overall: 4
It pours golden and completely transparent. Nice head but without much carbonation on the tongue (very creamy in fact overall). The taste is very floral and piney and with a lot of sweetness from the malts. A very nice DIPA that is both flavorful but at the same time easy to drink.
Mar 16, 2018

BEERMILER12 from Maine
4.06
/5
rDev
+3%
look: 4 | smell: 4.25 | taste: 4 | feel: 4 | overall: 4
A: Pours a golden color with 2 fingers of head that fades down to a thin cap that leaves good lacing
S: Lots of citrus and some tropical fruitiness up front along with a good malt backbone. Some floral notes in there as well
T: Follows the nose. Starts off with a wave of citrus and fruity notes with a definite floral tone. Moderately bitter. Bready malt balances nicely. Finishes with lingering citrus and floral notes
M: Medium bodied with moderate carbonation
O: A solid dry-hopped DIPA with lots of aromatic kick. Very easy to drink. I'd go for this over Ripe in terms of their DIPAs
Mar 12, 2018

DMC43 from Connecticut
3.98
/5
rDev
+1%
look: 4 | smell: 4 | taste: 4 | feel: 3.75 | overall: 4
First time trying Peak, very nice. I feel like anything with "juice" in the title cannot escape comparisons to NEIPAs, a style I do love. This is a really good beer that hits some nice citrus undertones w/o tasting like it was cut with orange juice.
Nov 13, 2017

jzeilinger from Pennsylvania
3.79
/5
rDev
-3.8%
look: 4 | smell: 3.75 | taste: 3.75 | feel: 4 | overall: 3.75
Many thanks to SawDog505.
A - A very hazy orange amber color with a thick cream colored ring of lacing.
S - Grapefruit, apricot.
T - Citrus, grapefruit, apricot.
M - Big medium body.
O - Really enjoyed this beer !
Nov 07, 2017
calebc10410 from Massachusetts
3.69
/5
rDev
-6.3%
look: 4 | smell: 3.75 | taste: 3.5 | feel: 4 | overall: 3.75
Not a bad beer by any means, but definitely not "juicy". A little more malty than I prefer and very bitter. I was expecting something on par with Super Fresh and The Juice, but this is much more West Coast than NE style. I enjoy the El Dorado hop that is in this beer, but it clashes with the malt and is buried by the bitterness. I'm glad I tried it, but it's not for me.
Nov 04, 2017

GratefulBeerGuy from New Hampshire
4.03
/5
rDev
+2.3%
look: 4 | smell: 4 | taste: 4 | feel: 4.25 | overall: 4
16 oz can.
A hazy honey-gold color, toeering white foam, thick and bubbly, slow dissipation. A slight bit of lacing forms and a solid ring with plenty of foamy goodness at all times.
The aroma is sweet and earthy, tropical, juicy fruits, pineapple, strawberry and kiwi from the hops. A musty, earthy and malty grains aroma balances it out. A rather subtle nose, but pleasant with it's sweet and fruity hop aroma. Spicy, earthy and sweet tropical aroma's pop out more after the liquid warms up a bit.
The flavor is the opposite side of the hoppy spectrum, with high-toned earthy and bitter hops. Tart fruits, citrus and grapefruit (hold the sugar) hop flavors dominate. Wicked dry-hopped bitter and assertive ibu's. is right on. Layers of big IBU's, mild juicy notes and more earthy, leafy tones. Super crisp and fresh feel, juicy and then very dry in the finish. The malted barley is light with a whole grains and wheat effect that is very nice. A sharp, tangy bite from crisp malt and earthy, bitter hops sum up the overall mouthfeel and effect. The 8% abv. Is well hidden amoungst the big bitter hops but still has a subtle warming thing in the middle.
I must say, I have noticed only certain breweries get the big scores. Tree House, Bissell Bros. Trillium, Night Shift etc....if you wait in a line of 300 people and pay $20 for a six pack, it must be better.......well, I just dont see it. Im not saying those breweries aren't making amazing beer, but lets not overlook the "not so hip" or not so hyped stuff. You might be surprised at the quality of the more common but good offerings.
Oct 24, 2017
Pubes_DDH_DIPA from Massachusetts
4.21
/5
rDev
+6.9%
look: 4 | smell: 4.25 | taste: 4.25 | feel: 4 | overall: 4.25
This is a good beer. Bunch of ingrates. We get it. It's not trillium. It's not Tree House. But if you handed me a glass of it and said it was Night Shift or Lamp Lighter I wouldn't bat an eye. Solid offering by Peak.
Oct 23, 2017
SawDog505 from New Hampshire
4.07
/5
rDev
+3.3%
look: 4.75 | smell: 4 | taste: 4 | feel: 4.25 | overall: 4
Poured into a 13 oz Tired Hands Teku glass canned on 9/20/17. Pours a hazy yellow orange with a massive 2 finger sticky white head that coats the sides of the glass with lace.
Smell is tangerine, papaya, apricot, pine, and grapefruit rind.
Taste follows nice and tropical upfront with a slightly bitter piney grapefruit finish.
Mouthfeel is a big medium, plenty of life, juicy but a little tacky from all the fresh hops.
Overall this is a very nice NEDIPA, that is nicely balance. Worth a shot for sure.
Oct 20, 2017
CNoj012 from New York
3.73
/5
rDev
-5.3%
look: 4 | smell: 4 | taste: 3.5 | feel: 3.75 | overall: 3.75
This beer pours a hazy golden orange color with a two finger, creamy off white head. Retention is below average and there are lots of thin, hanging rings of lacing as well as many spots left on the glass.
The smell is very bright and citrus forward. Notes of lemon are the most prominent with some peach and orange apparent as well.
The taste has the fruit notes as well, but was much different than the juice bomb I was expecting from the smell. There is also pine, green herbal notes, a touch of earthiness and some bready malts. The finish is moderately bitter. The other flavors along with the bitterness really seem to muddle the flavor of this beer rather than adding to it.
Feel is light side of medium, smooth and slightly creamy with a dry finish.
Overall this is a good beer, but the flavor isn't on par with some of Peak's other offerings. I would definitely say this beer is a level or two below The Juice and Super Fresh, but I split a 4pk with my brother and he says this is his favorite of the 3 by far. Different strokes for different folks I guess.
Sep 21, 2017
Super Juice from Peak Organic Brewing Company
Beer rating:
89
out of
100
with
48
ratings