Winter IPA

Peak Organic Brewing Company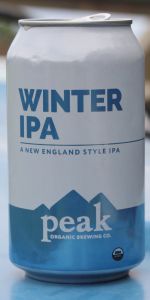 Write a Review
Beer Geek Stats:
| Print Shelf Talker
Style:

ABV:

6.2%

Score:

Avg:

4.06

| pDev:

12.07%

Reviews:

13

Ratings:

From:

Avail:

Rotating/Seasonal

Wants

Gots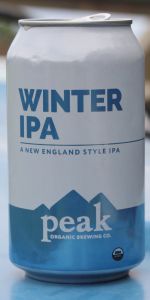 Notes: Winter IPA is a hazy, hop-bursted New England Style IPA, brewed to brighten things up a bit as the colder weather sets in. Infused with a juicy blend of Calypso, Azacca, Simcoe, and Citra hops.

daliandragon from Maryland
3.96
/5
rDev
-2.5%
look: 3.75 | smell: 4 | taste: 4 | feel: 3.75 | overall: 4
Picked up a sixer or a solid price at Trader Joe's in Commack, NY while visiting home for the holidays. The flavor has balance but a nice medium bitterness from herbal and floral with a little citrus mixed in. The overall flavorful but technically efficient brew kind of nopes out on the finish but is still pretty good value.
Dec 31, 2020

CTHomer from Connecticut
3.88
/5
rDev
-4.4%
look: 4 | smell: 4 | taste: 3.75 | feel: 4.25 | overall: 3.75
A: crystal clear; deep gold in color; 1+ finger ivory head that receded to a wispy cap; very nice lacing;
S: red grapefruit;
T: red grapefruit, but not as bright as the aroma; some sweet malt balances things; a hint of mint from the middle through the finish; mild to moderate bitterness at the end;
M: medium bodied; moderate carbonation; dry finish;
O: interesting; would have like more grapefruit in the flavor; other than being brewed in NE, these is nothing NEIPA about this beer;
Apr 22, 2020
metter98 from New York
3.99
/5
rDev
-1.7%
look: 3.75 | smell: 4 | taste: 4 | feel: 4 | overall: 4
A: The beer is hazy yellow in color and has some hues of amber along with a light amount of visible carbonation. It poured with a quarter finger high white head that quickly settled down, leaving a collar around the edge of the glass and a thin layer of bubbles covering the surface.
S: Moderate aromas of gooseberry and stone fruit are present in the nose.
T: The taste has flavors of passionfruit and pears along with some notes of pine towards the finish.
M: It feels medium-bodied, rather crisp and a little juicy on the palate with a moderate amount of carbonation.
O: This beer is more crisp then it is juicy and seems to resemble more of an American IPA than a New England IPA (albeit one that is brewed in New England).
Serving type: can
Jan 28, 2020

GratefulBeerGuy from New Hampshire
3.97
/5
rDev
-2.2%
look: 3.75 | smell: 4.25 | taste: 4 | feel: 3.75 | overall: 3.75
12 oz can: Best By 6/4/2020
Opened and reviewed on 12/4/19
Orange and copper glow, certainly not as hazy as most NEIPA'S. Carbonation is streaming to form a tight white foam cap. Plenty of coverage throughout with a bit of lacing to boot.
Dank earthy citrus aroma is very nice. Peppery pineapple and grainy golden light malts mix together righteously for the nose. Sweet tropical fruits and honey wheat grains is certainly bold and stanky .
One thing is always for sure with Peak... It's very fresh and crisp feeling. Full of life in the palate. Dry and smooth as the earthy grains pop out in the flavor. Husky and herbal hop flavors first, then pepper covered citrus and pineapple. The dry and bitter effects are pretty big, not as smooth and silky as some of my favorite NEIPA'S are, but more clean and snappy, finishing dry.
The Juicy and fruity aspects to the style is lacking, but is replaced with more malty/hoppy balance in a traditional way. I'm highly enjoying what the Winter offering is all about, but rated against others in it's style category makes it a bit low end. So I have to balance how much I actually like it with style guidelines. Complexity is low to medium but crazy easy to drink.
Dec 04, 2019
hoptheology from South Dakota
3.84
/5
rDev
-5.4%
look: 4.25 | smell: 4 | taste: 3.75 | feel: 3.75 | overall: 3.75
12 oz can sent by Sierranevallagash into Ommegang flute snifter. BBD 05/09/19.
Creamy juicy medium yellow color with a fluffy white head of 2 fingers leaving lots of lace up the sides of the glass.
Fresh cantaloupe and melon on the nose. Some nice green grape and grapefruit pith following. Slight hay and grass. Tangerine peel.
A huge flash wave of intense bitterness starts up this beer - I'm talking tons of grass, dank, pine, grapefruit pith, and lemon peel. You'd expect it to continue on like a super dank sticky west coast IPA. But then it simply vanishes like a magic trick - never seen this before - leaving delicate, yes delicate notes of melon, green grape, tangerine, and white grapefruit. Near zero lingering bitterness. Perhaps slight grassy bitterness but it's very minimal.
Lots of prickly carbonation with a soft body and acidity, definitely right with the water profile on this one. Slight lingering oily resins.
I've never ran into an IPA that brings such intense bitterness and then breaks away into an acoustic set right away. I'm really curious what hops/schedule they used, pretty unique stuff. Definitely try it once.
Mar 22, 2019
izraelc from New York
4.06
/5
rDev 0%
look: 4 | smell: 4.25 | taste: 4 | feel: 4 | overall: 4
Pours a nice bright orange. Smells like a hops rainbow. A bright flavorful ipa. Floral and citrus body. Slight bitter finish. No corn syrup in this brew.
Feb 17, 2019
VoxRationis from New York
3.68
/5
rDev
-9.4%
look: 4 | smell: 3.5 | taste: 3.75 | feel: 3.5 | overall: 3.75
Decanted from a 12 oz (355 ml can) into a conical pint glass; best by 06/17/19.
A: Pours a cloudy, golden to amber color with a two inch, white head, solid retention and rings of sticky lacing.
S: Aromas of grapefruit (really akin to Fresca soda), lime, tutti-fruity, and pine.
T: Semisweet to semidry. Flavors largely follow the nose, although a bit a caramel and honey seem to be in the mix and lime definitely strong than the grapefruit (not so in the nose). Light bitterness just sufficient to offset excess sweetness.
M: Light to medium bodied with medium carbonation.
O: Flavorful and enjoyable, although something about it seems a bit artificial. Would have it again.
Feb 16, 2019

HorseheadsHophead from New York
4.02
/5
rDev
-1%
look: 4.75 | smell: 4 | taste: 4 | feel: 3.75 | overall: 4
Hazy, opaque golden orange in appearance, with a small tight white head. Good retention. Rings of lacing.
Smells of sweet tropical fruits. Cantaloupe, mango, papaya, apricot, pineapple, and strawberry.
The taste follows the nose, but less sweet and more clean the nose would indicate. Nice sweet-tart mango, pineapple, papaya, and apricot, with a touch of mango. A bit of yellow grapefruit on the mid-palate, along with a light doughy malt. Finishes lightly dry with just a faint touch of bitterness that doesn't linger. Maybe a hint of pine and dankness along with the grapefruit, but it finishes quite clean.
The mouthfeel is soft and slightly creamy, medium-minus bodied, well carbonated, and slightly thin on the finish--but ends crisp and clean.
Jan 02, 2019
davesinger88 from Maine
4.51
/5
rDev
+11.1%
look: 4.5 | smell: 4.75 | taste: 4.25 | feel: 4.5 | overall: 4.75
Pours hazy straw into a tulip glass. Lacing throughout drinking
Smell is peaches, citrus, malt, pine, grass.
Taste is juicy: bright citrus and mango that falls onto a solid malt backbone.
Great beer!
Dec 10, 2018

Lucular from Maryland
3.99
/5
rDev
-1.7%
look: 3.75 | smell: 4 | taste: 4 | feel: 4 | overall: 4
Solid IPA with low bitterness and nice juicy citrus and tropical fruit notes. So...leaning NEIPA. But it's not all that hazy and the mouthfeel could be a lot softer. So...not really NEIPA especially considering it's stated to be so in the description. Tasty beer regardless.
Jan 23, 2018

BEERMILER12 from Maine
4.06
/5
rDev 0%
look: 4 | smell: 4.25 | taste: 4 | feel: 4 | overall: 4
A: Pours a lightly hazy yellow color without 2 fingers of head that fades down to a thin cap that leaves decent lacing
S: Moderate fruity and tropical notes up front. Some citrus and light pine in there as well
T: Follows the nose. Mostly tropical fruit and citrus with hints of pine. Moderately bitter. Finishes with lingering tropical fruit notes
M: Medium bodied with moderate carbonation
O: A solid IPA with great drinkability. Definitely leaning towards NE style. Nice
Jan 04, 2018
Czequershuus from Minnesota
4.02
/5
rDev
-1%
look: 3.25 | smell: 4.25 | taste: 4 | feel: 4 | overall: 4
This beer pour a fairly clear gold with a small head. The aroma is gorgeous and tropical, with guava, mango, pineapple, papaya, and pink grapefruit. The flavor is soft, with guava, mango, pineapple, orange peel, grapefruit flesh, and a moderate amount of bitterness. The mouthfeel is fairly full with bold carbonation. Overall this is a really tasty beer - the appearance is off for the style but the beer is excellent, so I am not complaining.
Dec 21, 2017

ichorNet from Massachusetts
3.92
/5
rDev
-3.4%
look: 4.5 | smell: 4.25 | taste: 3.75 | feel: 3.75 | overall: 3.75
Peak has been changing up their lineup recently, and to my taste, it's gotten worse. When they introduced Hop Harvest Octoberfest, The Juice, etc., they really started shaping up to be one of the most overlooked New England breweries... in fact, I had underestimated them for quite a while and even came close to writing them off due to a couple of their limited-release bomber beers I had that I didn't care for. Removing HHO and changing it to a rather-boring IPA and then going further and changing their cool, unique Citra-hopped dark wheat ale Winter Session out for a "Winter IPA" in the bandwagon-y NEIPA style made me confused. However, I try to always keep an open mind, and got a single of this. Before I begin, I must mention that this can is dated 10/12/17, making it close to two months old. We just recently got this in our distro area (Northeastern MA), which is almost unforgivable. Anyway.
Pours a beautiful golden color with a medium-hazy body and awesome head retention for almost five minutes. The lace this leaves behind is great too; sticky and amorphous with excellent legs. The surface is pretty obscure as well and there's quite a bit of particulate matter floating around in there too. Great appearance... a solid start!
The nose consists of strong sniffs of pine needle, peach, pear, honeydew melon, grapefruit and pithy orange. Very unique notes coming from the combination of Azacca with Citra/Simcoe. This also utilizes Calypso hops, which are, in a way, similar to Azacca with a "pear-like" and orchard fruit-forward element. I really like the way this hop combo smells in this recipe... it almost has a comforting "Wintry" spice aspect to it without any actual spice. The way the apple, pear and pine resin combine feels unique, which I really appreciate. Slight crackery malt and lightly-buttered biscuity notes come out here as well.
On the tongue, this at first seems to pop with peppery spice, pear and an almost "apple pie" like flavor that feels apropos of the season. I almost get a funky "saison-like" yeast note here, but it's rather neutered toward the finish. The unfortunate thing here is that, despite a slight kick of bitterness, this drinks kind of anonymously after the initial flavor piques my interest. I assume oats and/or wheat are used here to lend smoothness to the body, but they seem to contribute to a full body that doesn't go much of anywhere. I want this to be a bit brighter and more complex on the palate, overall, but it's pretty good. Maybe it would be better fresh?
Dec 07, 2017
Winter IPA from Peak Organic Brewing Company
Beer rating:
90
out of
100
with
48
ratings