Old Chico Brand Pale Bock
| Sierra Nevada Brewing Co.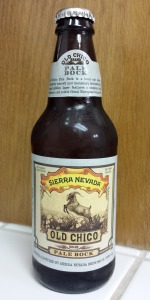 BEER INFO
Brewed by:
Sierra Nevada Brewing Co.
California
,
United States
sierra-nevada.com
Style:
Bock
Alcohol by volume (ABV):
6.80%
Availability:
Spring
Notes / Commercial Description:
No notes at this time.
Added by troobie on 07-06-2014
Reviews: 8 | Ratings: 33
3.32
/5
rDev
-12.4%
look: 3.5 | smell: 3.25 | taste: 3.25 | feel: 3.75 | overall: 3.25
Packaged 3/12/15.
Pours a hazy honey gold with a foamy beige head that settles to a partial film on top of the beer. Small patches of lace form around the glass on the drink down. Smell is of grain, caramel, and fruit aromas. Taste is much the same with grain, honey, and fruit flavors on the finish. There is a mild amount of earth bitterness on the palate with each sip. This beer has a lower level of carbonation with a slightly crisp mouthfeel. Overall, this is an above average beer with aromas and flavors that are quite subtle and a bit difficult to discern.
Serving type: bottle.
590 characters
3.7
/5
rDev
-2.4%
look: 3.5 | smell: 3.5 | taste: 3.75 | feel: 4 | overall: 3.75
Bottling date of 03/12/15
Appearance - Pours relatively clear and pure golden in color with a paltry quarter finger head that quickly dissipates, leaving a thin, broken layer of suds swirled across the surface.
Smell - Sweet and slightly sour, with touches of floral hop and lemon. Light biscuity undertones.
Taste - Strong floral character; think honeysuckle with a touch of rose. Light lemon with some grassy bitterness rolling through in the finish. Malts are beneath, but hit on caramel and lightly toasted bread. Bittersweet finish with a touch of the booze.
Mouthfeel - Medium-bodied with moderate carbonation. Slick and crisp with a warming finish.
Overall - Odd that I hadn't seen this in stores 'til now (or maybe I've quickly glanced over the Old Chico label a few times, assuming it the Crystal Wheat). Regardless, pretty good bock that does well to warm the belly while keeping a decent balance. At just under 7 months old, I'd certainly like to try a fresher batch, though I doubt I'd notice much a of a difference.
1,034 characters

3.58
/5
rDev
-5.5%
look: 3 | smell: 3.75 | taste: 3.5 | feel: 4 | overall: 3.5
Pours a half finger of head on a clear straw body.
The aroma is rich caramel.
The taste is caramel and molasses sweet.
The texture is medium.
The aroma is good, the taste is okay.
179 characters

4.5
/5
rDev
+18.7%
look: 4.5 | smell: 4.5 | taste: 4.5 | feel: 4.5 | overall: 4.5
Look: pours a very clear golden yellow. Nice white head. Smell is of floral hops and bready malts. Taste is spicy, a tad bit grassy, with a little saltine cracker like malts. Some apple , pear, and maybe even the slightest hint of rosewater. Leaves a lingering dryness on the palate, with a medium carbonated and delicate mouthfeel. Overall, a great pale bock.
361 characters
3.77
/5
rDev
-0.5%
look: 4 | smell: 3.75 | taste: 3.75 | feel: 3.75 | overall: 3.75
Pours a clear golden color with a tight, quickly fading white head that leaves little bits of lacing.
Smells of floral notes and some caramel.
Tastes of the floral hops with a solid malt base. Hops lead off with a clean floral note. This gives way to some sweet malts with notes of honey, caramel, and some bread. Fruity apple and pear notes come next. Finishes fairly dry with a bit of lingering sweetness.
Mouthfeel is medium-light with a slightly crisp amount of carbonation.
Overall, this is tasty and easy drinking, but I wouldn't say it outshines any other bock I have had.
587 characters

3.78
/5
rDev
-0.3%
look: 4.5 | smell: 3.25 | taste: 4 | feel: 3.75 | overall: 3.75
12 oz bottle purchased yesterday at the Mills River, NC brewery.
The aroma is more hoppy than malty; lightly spicy.
The flavor is just as one might expect for this mix of styles: tastes like a pale ale (although this is a lager) with some (not quite 50%) bock added.
Feel: smooth body with crisp and lively carbonation. Semi-dry finish.
O: Distinct yet highly drinkable, I can readily understand why this re-introduced beer is a "cult classic".
453 characters

4.59
/5
rDev
+21.1%
look: 3.5 | smell: 4.5 | taste: 4.75 | feel: 4.5 | overall: 4.75
Intro: After a long awaited 10 year stint, Pale Bock has made its triumphant return! Upon receiving countless pleas from their loyal following for the discontinued brew, Sierra Nevada finally caved, and started reproducing this cult-classic once again in 2014. For those wishing to taste this beer, you will have to travel to the land of Chico, CA during the Spring / early Summer time while this illustrious beer makes its seasonal, and extremely local, unveiling.
A: Robust golden hue. Nice white 3/4" head after pour, but minimal retention. Bubbles floating up for a good long while.
S: Complex malty background, scent of hops and floral profile. Semi-sweet. Noticeable smell of alcohol (it's 6.8%)
T: Malty; yet balanced by sweetness... Very smooth and drinkable. Slight tinge of roasty malts and wheaty mouthfeel.
M: Crisp, and carbonated. Warm, but still refreshing. Very smooth.
Overall: This beer was very delicious. From the first sip until the last lingering drops at the bottom of my glass, the beer retained carbonation, and consistent flavor. I found the level of drink-ability to be very high considering its nearly 7% content. I would recommend chilling your glass prior to pouring as it didn't seem to stay in the "Goldie Lock Zone" for long enough. After two, I'm definitively beginning to feel it, but I've also shared many pitchers with friends to mark the occasion during the release party at the Brewery here in Chico. I remember when Ken Grossman would go behind the bar and serve up this savory brew to his clan of beer lovers before Sierra Nevada became the most successful micro-brewery in the world. There was a certain undefinable quality that lead me to have another... and another...
Stay Positive
Deezel
1,768 characters

3.77
/5
rDev
-0.5%
look: 4 | smell: 3.75 | taste: 3.75 | feel: 3.75 | overall: 3.75
The beer is a very clear yellow color and looks great. The taste is fairly sweet with a bit of a wheat note and a light bitter hop note. The smell is fairly sweet and caramel. Pretty good and certainly interesting.
215 characters
Old Chico Brand Pale Bock from Sierra Nevada Brewing Co.
3.79
out of
5
based on
33
ratings.