Strawberry Wheat
| Sprecher Brewing Company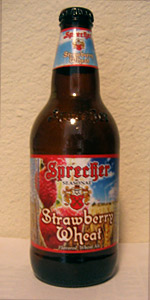 BEER INFO
Brewed by:
Sprecher Brewing Company
Wisconsin
,
United States
sprecherbrewery.com
Style:
Fruit / Vegetable Beer
Alcohol by volume (ABV):
4.20%
Availability:
Summer
Notes / Commercial Description:
No notes at this time.
Added by Winter on 07-14-2007
Ratings: 8 | Reviews: 7
Reviews by Winter:
2.93
/5
rDev
-12%
look: 3.5 | smell: 3 | taste: 3 | feel: 3 | overall: 2.5
Summer seasonal from Sprecher. The label, from the standard Sprecher 16 ounce bottle, portrays ripe, fresh strawberries falling from the sky with a field of wheat in the background. It states, "Strawberry Wheat, Flavored Wheat Ale".
Pours a hazy grapefruit reddish pink in color with a light pink head that retreats to a surface ring around the side of the glass. Aroma consists of wheat malt and strawberries with a sugary cereal sweetness to it. Mouthfeel is medium in body and teeters between being soft, yet oddly carbonated. First sip is interesting. It reminds me of a sugary strawberry cereal. Very sweet, but not cloyingly sweet like Leinie's Berry Weisse sweet. This has almost a powdery feel to it. But again not quite the powdery sweetness that a Nestle's Strawberry Quick possesses. Behind all the sweetness is an underlying wheat malt body, but it's overshadowed by the strawberry flavoring. The fruit flavor does not taste like fresh strawberries. Seems like an extract or syrup was used. Hops are minimal, or nearly nonexistent. The sticky sweetness though, makes me lick my lips after each sip.
Interesting, but not something I could down copious amounts of. Worth a try at least, if you like strawberry/fruit flavored beers. Perfect drink while enjoying your Saturday morning cartoons. Unfortunately, despite the sweetness, there's no sugar buzz.
1,369 characters
More User Reviews:
2.64
/5
rDev
-20.7%
look: 4 | smell: 2.5 | taste: 2.5 | feel: 3 | overall: 2.5
16oz single, $1.99 at rileys, hadnt ever seen this guy before
appearance: poured rapidly into a hefe glass...body is a distinct peach-apricot colour with a pink-beige fluffy head that retains itself fairly well. for what this beer attempts to be, i think it pulls off a nice appearance
smell: artificial sugary strawberries jump right out at you, grainy and sweet wheat felt beneath...i can tell right away this is going to be one of those artificial/sweet fruit beers
taste: flavour is not really as bad as the aroma suggests...watery wheat base covered in a thick artificial strawberry coating, rather syrupy, a touch of caramel, minimal hops. i guess it was worth a try, but thats it
mouthfeel: syrupy and fairly thick, artificial all around
drinkability: meh, dont want 16oz
783 characters
3.45
/5
rDev
+3.6%
look: 3.5 | smell: 3.5 | taste: 3.5 | feel: 4 | overall: 3
16 oz tap pour (see giant paragraph) into a Plastic cup @ Strawberry Fest in Cedarburg.
A - It poured a bright pink/red with a light pink frothy head with good retention.
S - The smell was a combination of strawberry syrup and a good hefe; yeasty banana esters, wheat, and a touch of spices.
T - Wheat and sugary (but not Berry Weiss rich) strawberry syrup with a touch of yeast, bananas, and a slightly mellowed spice.
M - Creamy and smooth going down with ample carbonation that balanced well with the creaminess.
D - It was good and I could have two or three on a hot summer day but the syrup was a bit much:
I had this in bottle form a few years ago. Since then I have never seen it until I emailed Sprecher asking about it a few months ago. They said they brew it for Strawberry Fest in Cedarburg (WI) so I went Saturday hoping they had it. The bottled ones, from years ago, were around because they brewed way too much that year. Well, they obviously changed the logistics of this beer because at Strawberry Fest they put a shot of syrup in the bottom of the cup and filled it with their Hefe Weiss. The "bar tender" said the syrup came from the brewery and is what they used to brew the beer with. I made the assumption that since they produce the Hefe year-round I'm sure they didn't want to take a bath on the deal of brewing something new so instead it was mixed. It was very similar to how I remember it.
1,421 characters

3.7
/5
rDev
+11.1%
look: 4 | smell: 4 | taste: 3 | feel: 4 | overall: 4.5
I bought a 16oz bottle of this because I found it stashed behind other random six and four packs. The bottle is at least two years old. It poured the color of grapefruit juice with a slightly tinged red creme head that laced the glass. The smell is absolutely delicious, a candied sweetness, can't say it's strawberry though. For the style, it smells too sweet. The taste is astoundingly delicious, it's like a very tasty creamy strawberry soda. For the style, it is far too sweet. The mouthfeel is very soft and creamy. I could drink this all day, because it's a beer that's not really a beer. It's basically a creamy strawberry soda. This beer tastes delicious but it misses on the style. Sprecher once again missed the mark, despite the good taste.
751 characters
4.07
/5
rDev
+22.2%
look: 3.5 | smell: 4 | taste: 4 | feel: 4 | overall: 4.5
Pours a deep pink, tanny color. An adequate wheat beer head, with good carbonation and good lacing.
Smells of flower blossoms, couldnt quite pinpoint what kind though. And a slight hint of fruit, but did not smell like strawberry.
Very minimal if any filtering which is good.
Tastes of slight bittering, citrus at first, and good strong strawberry aftertaste. Very creamy and slightly sweet, but not too sweet-maybe syrup? Medium light in the mouth and fluffy.
This was an excellent beer for once from Sprecher, I usually have not been to fond of their brews in the past.
573 characters
2.61
/5
rDev
-21.6%
look: 3.5 | smell: 2.5 | taste: 2.5 | feel: 3 | overall: 2.5
An interesting offering from my friendly neighborhood Sprecher Brewery.
A- A large head falls to a half an inch of froth that lasts throughout the tasting. Thin to moderate lacing. The hazy, Ruby Red grapefruit juice color appeals to the portion of me that doesn't hate Zach Braff movies.
S- Well, there's wheat and there's strawberries...no doubt about that. I don't pick up much else.
T- Heavy, artificial strawberry syrup front, enjoyable grapefruit/strawberry middle, wheat shows up faintly at the end. Could use some hops flavoring. The sweetness is bordering on mixed drink level. Overall, tasty at first, but prepare to get swept up in the sweetness.
M- Thin and bubbly, almost like champagne that's been mixed with Nesquik.
D- After the first, I didn't crave a second. My non-beer luvin' girlfriend inhaled two. Perfect place, perfect time: Sunday Brunch at home--4 pancakes, 3 sausage links, 2 eggs, and one Sprecher Strawberry Wheat.
961 characters
3.77
/5
rDev
+13.2%
look: 3 | smell: 3.5 | taste: 4 | feel: 3.5 | overall: 4
pint bottle poured into a weizen glass. pours a light pink color with orange highlights. a small whitish pink head tops it off.
aroma is very sweet, with a large portion of wheat malt present, alongside an ancillary strawberry aroma. a fruity base is the only other aroma over the sugars. aroma is reminiscent of a lambic.
taste is very sweet up front, with wheat malts and a fruity base, with strawberry present. strawberry is rather distant when compared to what one would expect. the palate here is less sweet than the aroma would suggest, which is positive. the strawberry is somewhat restrained as well, which also works to the benefit of the brew.
mouthfeel is light to medium bodied with a smooth texture and finish. not bad for a fruit brew.
drinkability is suprizingly good. usually these brews are packed with sugar and fruit, but this one is refined in that sense. after all, too much of a good thing is never a good thing. my respect goes to sprecher on this one for keeping the brew restrained, and ending with a refined fruit brew.
1,049 characters

Strawberry Wheat from Sprecher Brewing Company
3.33
out of
5
based on
8
ratings.