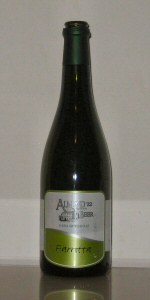 BEER INFO
Brewed by:
Almond '22
Italy
birraalmond.com
Style:
Belgian Pale Ale
Alcohol by volume (ABV):
5.80%
Availability:
Year-round
Notes / Commercial Description:
No notes at this time.
Added by stcules on 12-26-2006
Reviews: 9 | Ratings: 18
3.63
/5
rDev
+0.6%
look: 3.75 | smell: 3.75 | taste: 3.5 | feel: 3.5 | overall: 3.75
a "1001". Interesting, and the brewer is renown for bold experimenting. But there was an odd herbal and medicinal taste in this beer that causes me to think it probably does not deserve to be on the list.
★
204 characters

4.5
/5
rDev
+24.7%
look: 4.5 | smell: 4.5 | taste: 4.5 | feel: 4.5 | overall: 4.5
Farrotta | Almond '22. Oured from the bottle into a pint glass, this beer's head is three fingers thick, with secukar lacing, and a hazy golden amber body.
Smells like natural honey with buttery biscuit malts. Also a fairly noticeable earthy mustyness.
Tastes like much of what I just said, along with a nice mid-palatte alcohol warmth. This may be from aging this particular bottle for well over two years; who knows?
The mouthfeel here is medium with fair carbonation. Smooth and crisp.
Overall, I'll rate Farrotta | Almond '22 with a 4.5. This was a nice selection shared with my good friend @nicholas2121.
★
629 characters
4.5
/5
rDev
+24.7%
look: 4.5 | smell: 4.5 | taste: 4.5 | feel: 4.5 | overall: 4.5
Farrotta brewed by Almond 22 with a ABV of 5.80% This brew pours out a deep cloudy golden amber color with a small white head. This brew has the look of most unfiltered ale's on the market today. Now Farrotta is a unfiltered brew you can not see thought it. I'm not saying that is a bad thing . The smell of Farrotta is rich with grains, malts and some hops. There is also a nice sweetness of honey to the smell of this brew. Now for the taste, it is bold with flavors. You pick up on a mild sweetness of honey , grains and malts. There is something about the smoothness of Farrotta that I like. Farrotta has a nice balance to it, there is nothing overpowering about this brew. It is hard to pick on the 5.80% ABV in this brew. The mouthfeel of Farrotta is rich, bold, clean , smooth and refreshing. Overall I'm giving Farrotta a 4.50 out of 5. I would buy this brew again. Thank You Almond 22 Brewery, they did a real nice job with this brew. .
★
967 characters
3.62
/5
rDev
+0.3%
look: 3.75 | smell: 3.5 | taste: 3.75 | feel: 3.5 | overall: 3.5
A: The beer is hazy golden yellow in color and has a moderate amount of visible carbonation. It poured with a finger high white head that died down, leaving a circular patch of bubbles in the center of the glass, a thick collar around the edge and some lacing down the sides.
S: Light aromas of yeast are present in the nose along with notes of grainy malts and spices as well as hints of honey. The grain becomes a little stronger as the beer warms up.
T: The taste mostly follows the smell and has interesting flavors of yeast and grains, the latter of which I presume are from the spelt.
M: It feels just about medium-bodied on the palate and has a moderate amount of carbonation.
O: This beer tastes like a maltier version of a saison and seems like it would pair well with food since it doesn't have any dominant flavors.
★
826 characters
3.37
/5
rDev
-6.6%
look: 3 | smell: 3.5 | taste: 3 | feel: 4 | overall: 3.75
A: Light peach. lots of bubbles.cloudy.
S: Apricot. wild yeast? some metal. golden raisins. light malt and light hop.
T: I was expecting this to be tangy after smelling it but it's not at all. Honey really comes through, but in a nice mellowing way. chamomile. light banana and golden raisin. touch of floral. touch of phenols. It's ok. nothing breathtaking.
M: Very soft. the high level of carbonation and the chewiness from the honey really work well together. tickles the tongue and has a pleasant weight.
O: I had high hopes for this one. It wasn't the best gold ale, not horrid, but I won't seek it out. I do think the mouthfeel of this beer is noteworthy though.
★
675 characters

3.53
/5
rDev
-2.2%
look: 4 | smell: 3.5 | taste: 3.5 | feel: 3.5 | overall: 3.5
11+ oz bottle.
Pours a light straw gold, hazy, with an inch or more of white fluffy head, slow dissipation.
Light scent of grassy dry malt with some lemony notes and a hint of herbal like flavor.
Tastes light, grassy malts and coriander with some honey sweetness.
Medium body with a softer fluffy carbonation.
Nice, easy going ale, a bit light in the flavor, but otherwise quite enjoyable and saison-like. Pairs well with food because the flavor doesn't overwhelm. I could have this again.
★
495 characters

3.23
/5
rDev
-10.5%
look: 3.5 | smell: 3 | taste: 3 | feel: 5 | overall: 3
Bottle (375ml if I recall; my notes don't say) into a tasting glass. Thanks to Dan for sharing!
A: Bright, hazy straw body with a finger of frothy off-white foam. Not bad.
S: Grainy + light, with some biscuity malt + grassy hops. Fiarly clean, fairly boring.
T: More malty than hoppy, with some fairly sharp graininess and a cleanly bitter finish. Again, ok but unremarkable.
M: Soft, medium body with plenty of soft carbonation. Beautiful.
O: This was by no means an unpleasant beer, but it really didn't deliver any memorable or even truly enjoyable flavors. I certainly didn't pick up on anything characteristically Belgian about it, and that's a shame - some complexity from yeast esters would have been a big help. This is one obscure beer that deserves its obscurity.
Cheers!
★
788 characters

3.64
/5
rDev
+0.8%
look: 2.5 | smell: 3.5 | taste: 4 | feel: 3.5 | overall: 3.5
From a 750 ml bottle, this brew pours a hazy, yellow-golden color without much of a head. The haze borders on serious cloudiness. The aroma is inviting...honey, a little wheat, some fruit (apple and peach), and some very pale malt. The smell also has a tart and almost wild scent...(truffle???). Apparently, the hone addition to this beer is done cold (post-whirlpool?)...who knows what that brings in. It's enjoyable though. The taste is solidly good...centered on the honey flavor, there is some sweetness. Pale malt taste comes in second. Very little hop flavor, but there is enough bitterness for balance. The beer doesn't have a twang in the taste, but does have a decidedly wheat component. There's a lot going on in this beer. The mouthfeel is fairly full. Wonderfully interesting.
★
788 characters
3.35
/5
rDev
-7.2%
look: 3.5 | smell: 3.5 | taste: 3 | feel: 3 | overall: 4
Beer with spelt and honey.
Golden color. Very clean, with a beautiful white and compact foam.
In the smell, camomile, a good floreal, and even a light fruitiness (pineapple). Cereals notes, with, obviously the spelt.
Even some honey, and orange flowers.
In the taste the honey is clear, with the camomile, the pineapple and the citrusy. Again cereals notes in the background (spelt).
Not so much hop, even if in the aftertaste there is something grassy.
Surely, a little sweetie. Honey in the aftertaste, too, and citrusy.
Light body.
★
534 characters
Farrotta from Almond '22
3.61
out of
5
based on
18
ratings.