Arbor Brewing Brasserie Greff Framboise
| Arbor Brewing Company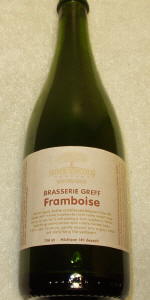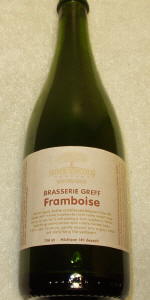 BEER INFO
Brewed by:
Arbor Brewing Company
Michigan
,
United States
arborbrewing.com
Style:
Lambic - Fruit
Alcohol by volume (ABV):
5.75%
Availability:
Limited (brewed once)
Notes / Commercial Description:
No notes at this time.
Added by Phatz on 10-14-2007
This beer is retired; no longer brewed.
Ratings: 13 | Reviews: 12
Reviews by Phatz:
3.38
/5
rDev
+15%
look: 3.5 | smell: 3 | taste: 3.5 | feel: 3.5 | overall: 3.5
This was a special release bottled on 9 '05 and shared with me by Hopdog. Thank you sir.
Appearance: Pours a murky read with a decent off white head.
Smell: Very slightly tart with raspberry and a bit of sherry.
Taste: The raspberry flavors are present; both sweet and tart but the sherry notes seem to suggest a slight oxidation. A Lambic should easily last two years in the proper cellar (where it was). There is an old oak wood flavor that may be the highlight but it finishes with a splash of Robitussin. The slightly medicinal finish may have been there fresh as well.
Mouthfeel: Soft and smooth through the mouth. a bit light.
Drinkability: It is OK but not much to right home about. I am very impressed that an American brewery had the gumption to tackle the style. Just don't expect La Folie.
Hope this is helpful.
Cheers!
838 characters
More User Reviews:
2.86
/5
rDev
-2.7%
look: 4 | smell: 3 | taste: 2.5 | feel: 3 | overall: 3
A corked and caged 750 mL bottle purchased at the AA brewpub. Shared with several BAs.
A: The lambic (?) is a marmalade color, bright orange that is hazed over. A thick head came along for the ride but left no lace behind.
S: The nose is mildly sour, sprinkled with a light dusting of brett, as though it caught a light sneeze. Raspberries? Nope.
T: The ale is a subtle sour beer, never quite getting any one aspect going. Sour noteslead off with a fleeting citric presence. There are no raspberries to be found. The wheat and barley base stand out best, a chewy base that has nothing to support. That leads to an aimless ale. Too bad because Divette was quite good.
M: The mouthfeel is meandering, unwilling or unable to get itself started.
D: The ale is is barely a lambic, and there is no fruit to be found. I wanted to like it but couldn't.
849 characters
3.06
/5
rDev
+4.1%
look: 4 | smell: 3 | taste: 3 | feel: 3 | overall: 3
This was shared courtesy of hopdog at Phatz's sour beer tasting...
Appears a hazy brown auburn with no head retention. Basically, zero lacing to speak of.
Smell is of tart berries, weird spices, cough medicine, and hints of grass with wet hay.
Taste mimics the aromas with the grassy, earthy notes melding together with tart, citrusy, hay-like, syrupy flavors.
Mouthfeel is medium bodied, lightly carbonated and mostly balanced towards tartness.
445 characters

2.53
/5
rDev
-13.9%
look: 3 | smell: 2.5 | taste: 2.5 | feel: 2.5 | overall: 2.5
Bottled shared by ygtbsm94. Thanks, Brad. Served in a snifter.
Pours a dark, hazy copper color without any real head. A good swirl brings up a bit, though that doesn't stick around long. The nose brings forward quite a few medicinal notes. This reminds me a lot of a mixture of cherry cough syrup with some stale raspberries. Mild tartness after that. The flavor doesn't improve on this at all--it's quite medicinal and doesn't really have any sour or wild components. No real funk either. Not really impressive at all. The finish is oddly bitter.
548 characters
3.55
/5
rDev
+20.7%
look: 3 | smell: 3 | taste: 4 | feel: 3.5 | overall: 3.5
750ml caged and corked bottle labeled bottled on 9 '05.
***Light gusher.***
Poured a medium to deeper and cloudy reddish/pinkish brown color with a larger sized pinkish off white head. Aromas of raspberries, vanilla and woody. Tastes of raspberries, wood, vanilla, and a little funky. Lightly tart but mostly sweet. I liked the wasy the raspberries were done.
Notes from 10/11/07
384 characters
3.18
/5
rDev
+8.2%
look: 3.5 | smell: 3 | taste: 3 | feel: 3.5 | overall: 3.5
Thanks to akorsak for sharing.
Pours a clouded orange color with a finger of big bubbly white foam that cracks and fizzes quite audibly. Bubbles rise through the body keeping the cap alive for quite a duration of time.
The aroma of this brew is lightly funked with a scent distantly reminiscent of cheese. There is quite a bit of sweetness that seems sugary and candy-like. There is a faint fruited aspect that mixes with the sugary aroma that comes across like raspberry but not quite. I keep thinking raspberry due to the label but I'm just not getting that fruit or even the lambic style from this brews aroma.
The taste of this brew is quite malty somewhat like caramel malt but candy-like by the same regard. There is a very faint funky character that imparts a bit of a stale cheese flavor. A faint aftertaste of raspberry fruit flavor comes through mixed with a touch of sulfur as this brew warms.
This is a light to medium bodied offering that is very carbonated and easy drinking. Without seeing the label of this brew I would not have guessed this to be a framboise. It's a little too malty and not "lambic" enough. To this brews credit it is easily approachable and the abv is hidden well.
1,204 characters

2.86
/5
rDev
-2.7%
look: 4 | smell: 3 | taste: 2.5 | feel: 4 | overall: 2.5
Bottle purchased from the brewery in Ann Arbor and shared on Premise.
A-pours a cloudy golden amber color with a fluffy off white bubbly head.
S-the nose is sweatyy up front, notes of medicinal phenol. the aroma sweetens and the raspberries come in next, a light bitterness to it with notes of acetone in the back that linger.
T-tart raspberries up front, acetone takes over, a light bit of acidity and sour raspberries, hint of bitterness and the acetone makes itself known again lingering after the sip is gone.
M-medium body with a strong carbonation, grainy on the palate with a crisp slightly dry finish.
D-very sweet with too much acetone and booze in the back. the sourness doesn't balance the sweetness, not recommened.
732 characters

2.73
/5
rDev
-7.1%
look: 3.5 | smell: 3 | taste: 2.5 | feel: 3 | overall: 2.5
Thanks to akorsak for sharing this at my wild ale tasting yesterday. The 750ml poured chilled info a tulip.
A color like raspberry tea -light amber with rosy hues, transparent in clarity with a slight haze and thick creamy cap with sporadic lace and tiny beading. The smell is very malty with a slight rosy floral accent. the smell is pretty faint if there is any raspberry in it -very light yeast element. The feel has a slightly smooth maltiness with high carbonation and semi-dry finish with a subtle sweetness in the middle.
The framboise is pretty lackluster taste wise for me -lightly fruity with subtle malt that seems pretty tame. The fruit may add sweetness but doesn't really stand out as raspberry and malt dominates with strong bready flavor w/ mild spice and almost tart finish. This is an ok beer, not really offensive, yet it didn't really deliver any kind of framboise flavor so it is pretty forgettable in the realm of fruit beers - and didn't seem to have any lambic qualities either.
1,008 characters

3.06
/5
rDev
+4.1%
look: 4 | smell: 3 | taste: 3 | feel: 3 | overall: 3
From 01/22/11 notes. Shared by ygtbsm94 at a tasting; thanks Brad.
a - Pours a murky amber color with high carbonation and two inches of white head.
s - Smells of bananas, yeast, spice, and dark fruit.
t - Taste is odd; tastes of dark fruits, bananas, and yeast. Something seems off.
m - Medium body and high carbonation that stings the tongue.
d - Not the best lambic. Wouldn't seek out again.
399 characters

2.63
/5
rDev
-10.5%
look: 3 | smell: 2.5 | taste: 2.5 | feel: 2.5 | overall: 3
Shared by ygtbsm94, thanks. Always looking for new lambics to try, this one no exception.
Beer is kind of dirty brown, mild haze, thin weak head, no lacing low carbonation.
Aroma is sweet like jelly, raspberry jelly. Oh no...
This beer kind of tastes like cough syrup if it were flavored with raspberries. Not a good beer. It's thin, OK, it has some carbonation on the palate...good....it's just not working for me. The finish is oddly dry, the fruit feels and tastes artificial, not a repeat.
496 characters

2.71
/5
rDev
-7.8%
look: 4 | smell: 3 | taste: 2.5 | feel: 2.5 | overall: 2.5
Bottle shared by ygtbsm94. Thanks Brad!
A: This brew appears hazy and light orange in color. The head stands in at just a quarter inch, has decent retention, and leaves a fair amount of lacing on the glass.
S: The aroma is of sweet tart candies, raspberries, and funk. The aroma is rather unusual.
T: An average / mediocre beer. The fruit and funk just never seem to cooperate with each other. Additionally, there is an odd aspect to the flavor that I find difficult to pinpoint, but I know I'm not into it. The raspberries never seem to cut through or fully emerge in the flavor. All in all, this one needs some work.
M: Thin body and slightly watery. The weird flavor asserts itself more as the beer warms and I progress deeper into my portion.
D: I wouldn't recommend this. I was pretty disappointed, as I love drinking sour beers, an am always excited to sample one for the first time.
896 characters
3.72
/5
rDev
+26.5%
look: 3 | smell: 3.5 | taste: 3.5 | feel: 4 | overall: 4.5
Another nice surprise from Hopdog shared at Phatz' sour beer tasting
Appearance: Pours a hazy brown color with red highlights. The ivory colored head is minimal and little lacing is noticable.
Smell: Raspberries are integral and overripened with funkiness to boot. Brett smells are there too.
Taste: Raspberry is the obvious flavor profile. It is funky, tart and sour. There is a slight astringency, could it be past its prime? Okay.
Mouthfeel: Light and airy in the palate, Tart, a little bit of funky, , and sourness make a good combination. Not too much carbonation.
Drinkability: I think this is a highly drinkable brew because of the low abv and refreshing nature of it. Overall, it is not outstanding but you could easily drink the whole 750. A rare find indeed.
773 characters
Arbor Brewing Brasserie Greff Framboise from Arbor Brewing Company
Beer rating:
0%
out of
100
with
13
ratings