Arbor Brewing Red Snapper Roasted Pale Ale
| Arbor Brewing Company
BA SCORE
83
good
12
Reviews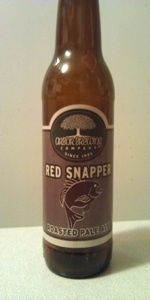 BEER INFO
Brewed by:
Arbor Brewing Company
Michigan
,
United States
arborbrewing.com
Style:
American Pale Ale (APA)
Alcohol by volume (ABV):
5.20%
Availability:
Year-round
Notes / Commercial Description:
No notes at this time.
Added by Brent on 09-28-2011
Reviews: 12 | Ratings: 38

4.31
/5
rDev
+20.4%
look: 4 | smell: 4.25 | taste: 4.5 | feel: 4 | overall: 4.25
Appearance - 4/5
Pours a muddy orange-red-brown color. Hazy. Can see a small amount of carbonation bubbles rising up at a slower than typical rate. Minimal head. I really like the color of the beer, it's very complex and multifaceted.
Smell - 4.25/5
Smells of the sweet maltiness of an amber ale, a bit a pale-ale hoppiness. Chocolate/roastiness, like you would get in a porter or stout. Like the color, the smell is complex and multifacted as well. I approve.
Taste - 4.5/5
Chocolate and roasty/smoky flavors, combined with a nicely balanced level of hoppiness. Sweet citrusy maltiness as well. Essentially tastes like the smell, but with more pronounced roasty/smokiness. I really like the complexity of the flavors. The roasty/smokiness makes it seem like I'm drinking a porter or a stout, but then the hoppiness comes along and reminds me I'm drinking a PA.
Mouthfeel - 4/5
Medium in body. Very crisp, light to medium carbonation, which is nicely balanced with the brew. I love the combination of the crispiness and the light to medium body, combined with the smokiness.
Overall - 4.25/5
This is a good roasty/smoky beer which is not super heavy like a lot of porters or stouts. If I want a smokier tasting brew, but want to drink something lighter in body, this would be an excellent choice. I like the roasty/smoky taste in combination with the light to medium level of hoppiness. This is a very well done beer, with several different flavors and styles working together to make a complex and delicious brew.
1,518 characters
3.9
/5
rDev
+8.9%
Nose: starts with unmalted grain nose, some roast.
brilliant chestnut, 2"off-white with a slight tan tint, finely bubbled foam cap. Lacy
Palate: some roasted malt, almost like germinated barley just as it is starting to kiln, starts very creamy, and then there are a host of roast flavors with a touch of green or very lightly roasted grains. Moderate hop accent on the finish.
Medium body and carbonation.
410 characters

4
/5
rDev
+11.7%
Great Pale Ale with hints of a Red or Amber Ale. The smell is of pale malts with some light fruity esters. The taste is more complex, it starts out like a pale then turns to a more bitter bite with a roasted malt backbone. There is a definite bitterness to this beer, but also a malty and fruity/spiciness to it. It has a really nicely balanced combination of flavors. I like it more every year.
400 characters
3.49
/5
rDev
-2.5%
look: 3.25 | smell: 3.5 | taste: 3.5 | feel: 3.5 | overall: 3.5
Amber colored beer with a big bubbled ivory colored head. Roasted grain nose with some faint smoke. Full flavored beer with strong citrus/grapefruit hops over a light toasted bread/caramel maltiness. There is an almost smoky sense to it. Some fruit, acidity, and a long bitter grapefruit rind finish. this is a solid, creative beer.
332 characters
3.58
/5
rDev 0%
look: 3.75 | smell: 3.75 | taste: 3.5 | feel: 3.5 | overall: 3.5
Appearance: a deep blood red. not quite clear. a small bubbly head that leaves nothing behind
Smell: citrusy and piney hops. some toastiness
Taste: strong citrus initially followed by a mixture of pine and toasted malts. the overall flavor is dominated by the hops. I'd prefer a weaker home profile to showcase those grains
Mouthfeel: pretty light, extremely bitter and resinous
Overall: I usually like a pale that showcases another aspect and uses the hops to balance and flavor. this seem to have an opposite approach. its a pretty good beer, just not exactly my style
574 characters
2.04
/5
rDev
-43%
look: 3.5 | smell: 3.25 | taste: 1.25 | feel: 3 | overall: 1.25
A - Pours a dark gold with a good sized white head that left no lacing.
S - Light roasted malt and banana, along with a very small amount of Mango.
T - Starts off with a massive roastiness, followed by some slight grapefruit. Wayyy too roasted in my opinion.
M - Medium bodied with medium carbonation.
O - Overall, It tasted like roasted rotten banana. I wouldn't have it again.
382 characters
3.8
/5
rDev
+6.1%
look: 4 | smell: 4 | taste: 3.5 | feel: 4 | overall: 4
Purchased a single to try it out.. definitely glad I did
A: Pours a light brownish red color with very frothy head, creamy looking in fact. very thick and full.
S: Roasted malt, even a hint of carmel and apple like spices
T: This is where its a very complex brew... has a hop tinge to it.. and almost mixes a malty flavor with a light version of a pale ale... very hard to put my finger on the taste of this one.... unique indeed.
M: Medium carbonation, roasted flavor... leaves a dry malty aftertaste
O: Great brew, a must try. Complex and creative flavor
562 characters
3.53
/5
rDev
-1.4%
look: 4 | smell: 3.5 | taste: 3.5 | feel: 3.5 | overall: 3.5
12oz brown bottle with no freshness date.
LOOKL: Gushing froth, nice head w/ a semi-clear reddish amber color
SMELL: Nutty, toasted bread crust, fallen apples, vegtal, herbal, mildly spicy
TASTE: Toasted grain, dried grass, nutty yeast, modest hop bitterness, faint broth, ripe pears, herbal, semi-dry toasted finish
Not half-bad, could use a bit less yeast in the bottle and the carbonation was a little too high but all in all I was good with this brew.
459 characters

3.56
/5
rDev
-0.6%
look: 4 | smell: 3.5 | taste: 3.5 | feel: 3.75 | overall: 3.5
A somewhat unique one. Pours reddish amber with fluffy head. Lacing abounds as the aroma of roasty malt and light pine hops comes off the top. Very roasted toffee and fruit flavor up front, and strong bitter finish that lingers on the palate for a good while. Medium bodied, high carbonation, and not super sessionable but very interesting. I liked this one or its unique flavors but otherwise not sure I want to come back to it.
429 characters

3.88
/5
rDev
+8.4%
look: 4 | smell: 3.5 | taste: 4 | feel: 4 | overall: 4
A. Pours out a red amber hue with a whitehead that maintains good retention and has good lacing too.
S. The aroma has a strong yeast smell along with hints of roasted malts.
T. The taste starts out with some hops followed by some roasted wheat and finishes off with a hint of more hops and some fruit. The taste seems to be quite unique, but very good.
M. The mouthfeel is rather smooth and creamy and very tasty.
O. A very good beer that reminds me of an IPA, Brown and Roasted Ales all combined into one yummy beer.
517 characters
4
/5
rDev
+11.7%
look: 4 | smell: 4 | taste: 4 | feel: 4 | overall: 4
A: nice amber/orange/brown color, slightly cloudy, with a one finger head that settles down to a layer of foam on top that stays throughout.
S: smells almost belgian, with the yeast seemingly a big part of it. I expected more roasted malt flavor - only a hint. Some apple, sourness, and bitterness.
T: The taste is a bit weird. First I get the tastes of what I just smelled combined, except the bitterness. That's next. Then comes the roasted malt flavors, and finally a funky aftertaste that I don't have the vocab to describe - kind of sour, leaves you wanting to sip again. Not bad.
M: medium body with a slurry of bubbles. Nice. Just thick enough to leave an aftertaste of that fruitiness.
O: solid beer, far better than I expected. Still not the best in the world, but I'd have this again. Interesting take on whatever category it's in. I might just call it an Amber Ale and be done with it, since it's much closer to that than a Pale Ale.
952 characters
4
/5
rDev
+11.7%
look: 4 | smell: 4 | taste: 4 | feel: 4 | overall: 4
Even the brewer finds this beer a bit hard to categorize, describing it on the website as combining the attributes of an amber ale, an APA and an English brown, calling it a "roasted pale ale." Who knows, this could be the next "Cascadian IPA/black IPA" or "let's put Belgian yeast in everything" craze.
But, I digress. On to the beer, which I thougth was quite good. There is a distinct roasted character to the malt, more toasted wheat bread than the deeper roast you get with porter and stouts. The interplay with the hops was interesting - enough hopping to let you know you are in pale ale territory, but does not go beyond that border. Finish was clean, with a roasted malt afternote. Extra points for creativity.
722 characters
Arbor Brewing Red Snapper Roasted Pale Ale from Arbor Brewing Company
3.58
out of
5
based on
38
ratings.