Lager
| Dead Frog Brewing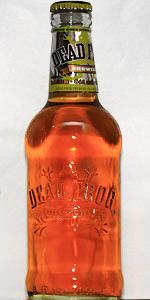 BEER INFO
Brewed by:
Dead Frog Brewing
British Columbia
,
Canada
deadfrogbrewery.com
Style:
American Pale Lager
Alcohol by volume (ABV):
5.00%
Availability:
Year-round
Notes / Commercial Description:
A smooth, crisp, easy drinking Lager that goes down easy. Who doesn't like things that go down easy?
12 IBU
Added by elricorico on 02-02-2009
Reviews: 6 | Ratings: 18
3.3
/5
rDev
+5.4%
look: 3 | smell: 3 | taste: 3.5 | feel: 3 | overall: 3.5
Another naked, sheer bottle, with only a choker-esque neck label...um, onto the beer...
This beer pours a slightly hazy pale apple juice colour, with one finger of fast-disappearing thin creamy white head, which leaves zip in the way of lace around the glass. It smells of very faint grainy malt, and the same in weedy, grassy hops. The taste is sweet bready grain, a small metallic edge, and soft leafy, weedy hops. The carbonation is on the low side, the body medium weight, kind of sugary in its smoothness, and a little clingy. It finishes still pretty sweet, the underwhelming hops trailing off almost completely.
A pretty lop-sided lager - too sweet, not enough bitterness, let alone of the crispy, grassy sort endemic in the best examples.
748 characters

2.88
/5
rDev
-8%
look: 3 | smell: 2.5 | taste: 3 | feel: 3 | overall: 3
They must have kept all the embossed bottles in BC cause my sample pack had boring clear ones. Minus .5 pts for looks right there. Lager/piss yellow. Fizzy head that retained better than i thought it would.
Weak grains, slightly sweet with not a lot of descernable hop.
Bland. Not horrible but nothing to say wow either. Weak, watery graininess with just a hint of grassy hop dryness.
Felt more like a light beer minus the over carbonation in say Coor light.
Meh. If I was finished mountain biking @ Whistler and someone offered me a cold one I certainly wouldn't turn it down. For me it's just another mediocre craft lager brewed to fill a spot in the product lineup.
674 characters

3.03
/5
rDev
-3.2%
look: 3.5 | smell: 3 | taste: 3 | feel: 3 | overall: 3
341ml bottle poured into tulip aug2 2010
A clear light yellow with bubbles of all sizes feeding a short lived finger of head that left a fingers width of lace where the foam existed
S sweet malts with mild grassy hops
T what I smell with a little more sweetness, just a tad of skunk and a little metal
M yet another lager thin, enough carbonation to to give it a slightly creamy feel
D nothing special but nothing offensive just another average lager that I doubt I'll look for when out at the bar
more people ask for this where I work then I'll ever understand, don't go looking for this but if passed to you I doubt you'll dump it
638 characters
3.27
/5
rDev
+4.5%
look: 3 | smell: 3.5 | taste: 3 | feel: 3.5 | overall: 3.5
Pours a clear pale golden color with a thin white head. Aroma of grains, light malt, citrus and some yeast. Taste is similar, with a little bit of spiciness. Not much hops bitterness in the taste. Light bodied with good carbonation. This is an average lager - drinkable but kind of bland.
288 characters
3.16
/5
rDev
+1%
look: 4 | smell: 3 | taste: 3 | feel: 3 | overall: 3.5
a - fairly golden, bright white head. some lacing.
s - fresh cut hay with some starting to getting mold hay, some sort of cereal grain combo going on. citrusness in the finish
t - kinda sweet. light maltiness.
m - nice carbonation. light body. even finish.
d - better than most, but not something I'd drink. Despite that it is easy to drink and unoffensive.
357 characters
3.2
/5
rDev
+2.2%
look: 3 | smell: 3 | taste: 3.5 | feel: 3 | overall: 3
Clear yellow gold, a rapid pour generates a thick finger of white head. Head falls steadily to a thin cap.
Smell is light, slightly sweet cereal grains for the most part. Hint of citrus zest.
Taste has the same slightly sweetened grain malt flavour. Hops start out nice and a bit spicy, but finish with quite the mettalic twang right at the back of the throat. As it warms the mettalic taste fades and a crispness develops, saving it from total mediocrity.
Light bodied with higher than average carbonation. The mouthfeel is reasonable.
A very average craft lager, my least favourite of the three beers I've had from this brewery.
634 characters
Lager from Dead Frog Brewing
3.13
out of
5
based on
18
ratings.