Sticks N' Stones
| Stone Brewing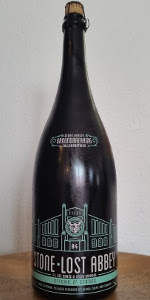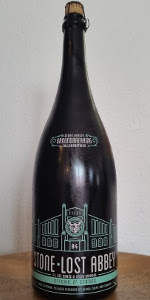 BEER INFO
Brewed by:
Stone Brewing
California
,
United States
stonebrewing.com
Style:
American Imperial Pilsner
Alcohol by volume (ABV):
8.30%
Availability:
Limited (brewed once)
Notes / Commercial Description:
Before the meaning of the name is revealed for that "ah-ha" moment, we must elaborate on the significance of the collaboration. Three key Stone brewers gathered together with long-time friend and Lost Abbey brewmaster Tomme Arthur in Berlin. There they collaborated on a beer representative of our presence in Germany and the craft beer crusade we have been on and never lost sight of despite all of the words of criticism. Too aggressive, too many hops, too expensive, too impossible to break into centuries of German tradition…all of that was just words. It didn't break us. And here we are, two decades later with a foothold in Berlin and our fingertips on the international craft beer moment. In honor of that we brewed a dark imperial lager with a German yeast strain and partially aged it with wooden chips "sticks" in stone granite barrels. Ah-ha.
Added by mbw314 on 04-03-2017
This beer is retired; no longer brewed.
HISTOGRAM
Ratings: 11 | Reviews: 3
3.94
/5
rDev
+3.7%
look: 4.25 | smell: 4 | taste: 3.75 | feel: 4.25 | overall: 4
Cellared for one year. It's very beautiful, with a rich, clear,semi-translucent red-brown color and a huge slightly-on-the-milky-side-café-au-lait head. It has an understated but fullsome aroma and a taste that's just a little disappointing but really quite good with nice dark bready malts, sharp, tangy hops floating on a light pilsner base. The feel is really great, smooth, effervescent and just a touch full on the tongue - perfect for the style. This is the second of the Groundbreaking Collaboration series I've had and I think it's quite good.
564 characters
3.87
/5
rDev
+1.8%
look: 4.5 | smell: 3.75 | taste: 4 | feel: 3.5 | overall: 3.75

3.66
/5
rDev
-3.7%
look: 3.5 | smell: 3.75 | taste: 3.75 | feel: 3.5 | overall: 3.5

3.08
/5
rDev
-18.9%
look: 3.5 | smell: 3 | taste: 3 | feel: 3.5 | overall: 3
Pours clear and deep amber, and brown outside of the light. Smell is pleasant and with light hop notes, touch of nutty/chocolate but not rich in malts. Nice off white cap of foam.
Taste of cocoa and spice, bit of caramel on the nose. ABV is well hidden, just a touch of ethanol on occasion with some brown malt. Some hop balance is there but this will likely fall short of any expectations for many. Sticks and stones are not evident but good marketing maybe.
More of an American Brown Ale than a pils. No sense of pils malt or lager yeast. But maybe that's a win for them. Still rather feeble in the collaboration scheme of things.
641 characters

3.68
/5
rDev
-3.2%
look: 3.5 | smell: 3.5 | taste: 3.75 | feel: 3.75 | overall: 3.75

3.79
/5
rDev
-0.3%
look: 3.75 | smell: 4 | taste: 3.75 | feel: 3.5 | overall: 3.75
4
/5
rDev
+5.3%
look: 4 | smell: 4 | taste: 4 | feel: 4 | overall: 4

4.08
/5
rDev
+7.4%
look: 4 | smell: 4 | taste: 4.25 | feel: 3.75 | overall: 4
The beer pours a nice slightly brownish tan head with a bit of red grape to it. The beer itself is a good looking opaque brown with a slight ruby hue around it that gives it a decent look to it.
The smell is good. It has a malty biscuit smell to it surrounded by a slight char and a decent caramel note with a nice mineral water note to it. It has a red sugary fruit note to it and a very slight earthy and bitter hop note. The sweeter and fruitier notes are more dominate and fairly decent.
The taste is pretty good with a bit variety and better mix to it. The taste has as good honey and biscuit malt note that mixes well with the charred and smokey notes to it. The fruit notes are light while the hop notes are a bit more present than in the taste. The hops have a nice earthy and slightly pine bitterness to it and are fairly moderate. It tastes like a good pilsner with char notes.
The feel is pretty good. It has a nice and tingling carbonation to it along with a very smooth and creamy finish. It's good.
Overall, it's a pretty good and interesting beer. The beer definitely resembles a nice pilsner in all but appearance. The smokiness and slight char definitely add something to the German hops and pilsner malts.
1,228 characters

3.71
/5
rDev
-2.4%
look: 3.75 | smell: 4 | taste: 3.5 | feel: 3.75 | overall: 3.75
3.85
/5
rDev
+1.3%
look: 3.75 | smell: 3.75 | taste: 4 | feel: 3.75 | overall: 3.75

4.17
/5
rDev
+9.7%
look: 4.25 | smell: 4 | taste: 4.25 | feel: 4 | overall: 4.25
Sticks N' Stones from Stone Brewing
Beer rating:
3.8
out of
5
with
11
ratings