Prime Max

Hite Brewery Company LTD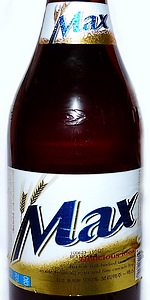 Write a Review
Beer Geek Stats:
| Print Shelf Talker
Style:

ABV:

4.5%

Score:

Avg:

2.5

| pDev:

22%

Reviews:

10

Ratings:

From:

Avail:

Year-round

Wants

Gots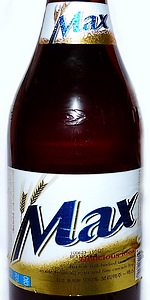 Notes:
2.9
/5
rDev
+16%
look: 3 | smell: 3 | taste: 2.75 | feel: 3 | overall: 3
A: Straw yellow, virtually no head, lots of carbonation.
S: Cardboard, banana, malt, water.
T: Malt, banana, a light sweetness, clean linen.
M: Light body, dry crisp finish.
O: A good water substitute if you live in Asia. Really not so bad, just the feeling of Deja Vu one tends to get with this style.
306 characters
2.5
/5
rDev 0%
look: 2.5 | smell: 2.5 | taste: 2.5 | feel: 2.5 | overall: 2.5
Appearance: Clear, medium golden in color, with a modest white head, which soon collapses to a scattering of foam. The carbonation is slight, the lacing is thin and broken.
Aroma: Modest grassy notes, faint herbal hops, and clean pale malt.
Taste: Opens with moderate malt and cooked vegetable notes, as the taste progresses, there is a very mild herbal hop presence. Finishes slightly dry.
Mouth feel: Thin with slightly stinging carbonation.
Drinkability/notes: Inoffensive, but undistinguished. A lawnmower beer, perfect for those hot summer days.
Presentation: Packaged in a twelve-ounce brown glass longneck bottle with a twist-off crown, served in a New Belgium Brewing chalice.
689 characters

1.03
/5
rDev
-58.8%
look: 1.5 | smell: 1 | taste: 1 | feel: 1 | overall: 1
The can itself is one color separation away from being a generic. Advertises itself as "All Malt Beer"—so, no hops? This was a Korean brew I had never seen nor heard of before, so of course I had to try it. From Hitejinro Brewery, makers of Hite beer (so I should have known better going into it).
This pours a crystal-gold with virtually no foam retention. Aroma is of musty cereal malt—corn and rice adjuncts at their finest. Really, it's more like off-putting and skunky, despite being from a freshly opened can. The flavor is absolutely forgettable. Thin bodied with an IBU you could count on one hand. Thin, fizzy, and light. As XicanoBeerRun says, "pour this back in the horse."
699 characters
2.97
/5
rDev
+18.8%
look: 2.5 | smell: 3 | taste: 3 | feel: 3 | overall: 3
Pours a medium gold with a modest white head that quickly vanishes leaving a minor ring and no lace at all. Aroma is floral and slight apple scent. Taste is typical macro lager with a dry finish and just a hint of hop bitterness. Label says all-malt and fine cascade hop. Mouthfeel was alright for the style. Low abv is a plus. It has little to recommend it above American Pale Lagers.
385 characters
2.52
/5
rDev
+0.8%
look: 2.5 | smell: 3 | taste: 2.5 | feel: 2.5 | overall: 2
Appearing on the darker shade of gold it is worryingly crystal clear with a massive array of small bubbles and a head that quickly goes somewhere
Sweet caramel smells are evident but not much else is apparent
Some caramel flavours are apparent on the taste , but there is a lack of depth .It is one dimensional, and that dimension is not very flattering.
Watery in the mouth .
Overall a boring beer and not particularly drinkable
Not a beer to drink much of
459 characters
3
/5
rDev
+20%
look: 3 | smell: 3 | taste: 3 | feel: 3 | overall: 3
I liked it. Smell was very subtle and malty, but the taste was a little stronger. The carbonation was exactly where you wanted it to be. When you are in Korea your options are Hite, Caas, and OB,then you would love to have the option of a wheat beer. It's not a great beer, but when that's all you have you are greatful.
320 characters
2.39
/5
rDev
-4.4%
look: 2 | smell: 3 | taste: 2.5 | feel: 1.5 | overall: 2
Can no longer has the word "Prime" on it, but otherwise the same.
A: clear, light yellow, fizzy white head dissipates quickly like soda.
S: some maltiness. not great, not bad, like a Czech lager. sorta like corn...
T: some maltiness upfront, typical generic "beer" flavor. after a few sips turns to soda water. i think i can taste the CO2... and some starchy corn or rice. fairly dry with no hops whatsoever. however, believe it or not, it's a step up from other Korean macro-brews. at least this tastes sorta like beer.
M: prickly carbonation, slightly oily. like soda water with a little corn starch and vegetable oil added.
D: pretty gassy, makes it tough to stomach much. could possibly be refreshing... if you're in Korea...
735 characters
2.62
/5
rDev
+4.8%
look: 2.5 | smell: 3 | taste: 2.5 | feel: 2.5 | overall: 2.5
It is a bright sunny Sunday afternoon and I've picked up the dog crap and leaves, mown the lawns for the first time this year, I am now sitting in the sun. My wife has even showered the dog in the garden, so summer is almost upon us (it's 15th March 2009 in Shropshire, England).
In my quest to drink around the world I ordered this beer along with a few others over the interenet from 'Beers of Europe', didn't know Korea was in Europe, but hey, they sent the beer.
Brown 330ml twist-top bottle, best before 24th Mar 09, drank 10 days before that date. Poured into a Hoegaarden Grand Cru tulip shaped glass.
Clear golden body, typical lager look, the large bubbles in the head didn't hang around and soon the white head was a weak collar and a pathetic wisp, these in turn also disappeared before my second gulp.
Sweet lemon grass was the smell I though I detected as I sniffed the bottle before pouring the beer. That aroms faded swifter than the head, so my normal lager/pilsner 3 for smell.
Not unpleasant, but nothing to mark it above anyother lager import around. Starts off sweet in the mouth then turns dry towards the end.
I could imagine drinking this at a hot and sweaty South East Asian beachbar but it isn't a UK summers drink. Not enough body or seoul (see what I did there? Seoul/Korea) to make it a truely memorable experience.
I am sure some wag has already suggested the brewery adds an 'S' to its name, it could then be called the 'Shite Brewery'. This however would be unfair in my opinion, nothing wrong with this lager, however it is just below par and the head loss didn't help its cause.
1,619 characters

1.48
/5
rDev
-40.8%
look: 2 | smell: 1.5 | taste: 1.5 | feel: 1 | overall: 1.5
this is just a worse version of Hite, maybe they take all the dropping of the Hite vats and rebottle them, i dont know.
pours a pale yellow with a thin white head, not much lacing.
smell is faint, grain, and bad malt.
taste is watery, grain, and a funky aftertate.
overall a bad beer, like almost all beers in korea.
320 characters
2.69
/5
rDev
+7.6%
look: 1.5 | smell: 2.5 | taste: 2 | feel: 4 | overall: 4
Appearance: Orange-ish gold with huge bubbles in overabundance and one of the fizziest, weakest heads I've seen in quite some time.
Smell: The bottle says this uses Cascade hops. Really? I'm not getting any grapefruity Cascade goodness from the nose. I'm not getting much of anything, really. Smells mostly of bready, sweet malt and a slight herbal-floral quality.
Taste: (Shrug.) Bland, but balanced. The malts have really no character, and unfortunately the slightly lemony hops don't exactly make up for it. There's an acidity to it reminiscent of soda water, and I can taste the alcohol, too - which seems like it could have been really easily avoided, this is only 4.5% ABV.
Mouthfeel: Fizzy, but not abrasively so, and mouth-fillingly airy. Quite dry and light.
Drinkability: I guess this is better than some Korean beer, but it's only "better" in the sense that it's less bad than others... if you know what I mean. Mindlessly drinkable and fairly refreshing.
978 characters
Prime Max from Hite Brewery Company LTD
Beer rating:
70
out of
100
with
21
ratings