Eso Marzen
| Pivovar Konrad / Pivovar Hols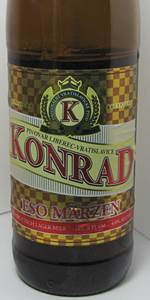 BEER INFO
Brewed by:
Pivovar Konrad / Pivovar Hols
Czech Republic
pivo-konrad.cz
Style:
Märzen / Oktoberfest
Alcohol by volume (ABV):
4.60%
Availability:
Fall
Notes / Commercial Description:
No notes at this time.
Added by cpolking on 03-23-2013
Reviews: 9 | Ratings: 19
4.3
/5
rDev
+16.5%
look: 4 | smell: 4 | taste: 4.5 | feel: 4.5 | overall: 4.25
Pours a clear, very deep Amber with a two finger, soapy tan head. A slight Carmel malt smell. A taste of much more hop than most European Marzens. A slight smoke taste as well. A very creamy consistency. A unique marten I am glad I tried.
243 characters

3.23
/5
rDev
-12.5%
look: 4 | smell: 2.75 | taste: 3.25 | feel: 3.25 | overall: 3.5
Dark amber with ample head that settles slowly leaving patches of lacing.
Smell , sorry to say but I picked up a hint of Euroskunk, none of the malt I associate with the style
Tastes maybe consistent with a 4.6% lager, dab of malt at best
feel is thin
Maybe my taste is warped by malty 7% US Marzens?
305 characters
3.99
/5
rDev
+8.1%
look: 4.25 | smell: 4 | taste: 4 | feel: 3.75 | overall: 4
Konrad Eso Marzen has a thick, creamy, cream-colored head, a semi-clear, amber, bubbly appearance, and fairly heavy lacing left behind. The aroma is of sweet, bready, crusty, malt, and the flavor is of all that with a zingy, spicy, yet mellow, hop bitterness rounding it out. Mouthfeel is light to medium, and Konrad Eso Marzen finishes crisp and highly refreshing.
RJT
371 characters
3.86
/5
rDev
+4.6%
look: 4.5 | smell: 4 | taste: 3.75 | feel: 3.75 | overall: 3.75
Poured from the bottle into a pokal glass.
Deep dark copper with brilliant clarity on the boddy appearance, with nice orange hues. Fine slow rising carbonation from the bottom, complete with a fairly good light colored head, slightly off white and creamy, making a solid three fingers off the pour, and perfectly pinhead bubbled.
Classic toffee amber sweetness, and mellow, with a big spicy dry note. Mild herbality but with lots dry toasty grains. Light and airy, quite inviting and nice, with a good brown sugar note though.
Very interesting palate. Light bodied, with a bit wet texture, gives to real steely fruit and borderline metallic tastes. Big dry finish matching the nose on the aftertaste, with a good malt caramel coating. Dryness seems to drag the beer out and not letting the flavors stick around, with a good crisp bite.
Overall an interesting light feeling marzen, quite decent if it could kick this steely character into better gear.
960 characters
3.49
/5
rDev
-5.4%
look: 3.75 | smell: 3.5 | taste: 3.5 | feel: 3.25 | overall: 3.5
A: The beer is clear amber in color and has a light amount of visible carbonation. It poured with a thin white head that quickly died down, leaving veins of bubbles on the surface and a collar around the edge of the glass.
S: Light aromas of sweet malt extracts are greener in the nose.
T: Similar to the smell, the taste is somewhat sweet and has flavors of toasted malts and caramel, but these are of the the malt extract variety.
M: It feels medium-bodied on the palate and has a moderate amount of carbonation.
O: This beer is malty and sweet, but it seems like extracts were used and doesn't taste like a traditional märzen.
634 characters
3.91
/5
rDev
+6%
look: 4 | smell: 3.5 | taste: 4 | feel: 4.25 | overall: 4
Bottle from Friar Tuck in Bloomington-Normal.
It pours a tawny russet amber into a large tapered mug, with a finger of frothy off white foam that leaves a broken ring of lace around the edges of the glass. The head retention is very good, as it never breaks for the duration of the glass. Clarity is bright and occasional carb trails are visible.
Aroma is somewhat muted even as it warms, but there's a hint of plum or dried fruit from the yeast no doubt. Light malt sweetness.
Taste is more expressive, buttered biscuit with plum preserves, lightly dry finish with a minor hop spice note from the Zatec hops the label describes. Sweetness is subdued, there's a firm malty base of bread crusts and a light nuttiness as well. Body is pretty smooth and mellow though fairly substantial in its weight. Overall it's worth a try if you see it and can determine it's fresh.
870 characters
4.06
/5
rDev
+10%
look: 3.25 | smell: 4 | taste: 4.25 | feel: 4 | overall: 4
From: Friar Tuck, Savoy, IL
Date: None, but was recently added on shelves
Glass: Cantillon stem glass
Pivovar Konrad's Eso Marzen is a poorly named (by Shelton Brothers, I mind you -- this is actually a beer in the Czech Polotmavý Ležák style) beer as it is quite different than a German marzen, lighter in body and flavor, with more toasted nuts and hop character than its German counterpart, also a bit smoother and lower in alcohol. I thought this was a delicious offering: toasty, nutty, with interesting hop complexity and mild bitterness I wasn't expecting. I'd be happy to get this again, and it's good enough to make me curious about the other two beers from the brewery that arrived at the same time as this.
Pours a 1cm tall head of light beige-colored foam that's made up of small-sized bubbles, yielding a frothy appearance. Head has retention of about one minute, fading to a thin ring around the perimeter of the glass and a medium-sized island lingering atop the body of the beer. Lacing is good, with a fairly large number of lines and dots clinging to the sides of the glass. Beer's body is a medium-dark golden brown color, with light bringing out dark golden orange and bright brown hues. Carbonation visible, moderate in number and activity, along the sides of the glass, despite the beer's transparency.
Aroma is smooth and refined, of light caramel and brown sugar sweetness, toasted nuts (almonds, hazelnuts, walnuts) and bread crusts, with mild woodsiness and dried sweet herbs from hops.
Flavor is of caramel and brown sugar sweetness, toasted nuts and bread crusts, with pleasant Saaz hop spiciness, woodsiness, and lemony dried grasses. Front of palate tastes very light caramel and browned sugar sweetness with a gentle spiciness and woodsiness from hops. Mid-palate of light caramel and brown sugar sweetness, toasted bread crusts and almonds/hazelnuts/walnuts, mild but definitely present spiciness, woodsiness, and lemony dried grasses from the Saaz hops. Back of palate tastes light caramel and brown sugar with toasted nuts, light bitterness from hops with an underlying woodsiness. Aftertaste of toasted nuts and bread crusts, slight burnt bread, and very faint hop bitterness.
Beer is medium-bodied, with medium-low levels of carbonation, leading to a lightly foamy (1/3), but otherwise smooth (2/3) mouthfeel that works with the beer and this smooth, malty style. Closes quite dry, with light residual stickiness clinging to palate and lips.
2,485 characters
3.4
/5
rDev
-7.9%
look: 4.25 | smell: 3.5 | taste: 3.25 | feel: 3.5 | overall: 3.25
500 ml bottle was poured into a pint glass.
Appearance: This beer poured a one finger head that reduced to a thin layer. It is a traditional looking copper color with great clarity and bubbles seen coming up the glass. Spotty lacing as the beer was drank.
Smell: Toasted and caramel malts followed by lager yeastiness and grassy noble hops.
Taste: Very little flavors mentioned above. Mild hop bitterness in the end too.
Mouthfeel: Smooth, light bodied, low to medium carbonation, and a little chewy.
Overall: This an alright marzen. Pretty light for the style and lacking a little bit in malty flavor. Hops and lager taste are spot on though.
649 characters
3.36
/5
rDev
-8.9%
look: 3.75 | smell: 3.25 | taste: 3.25 | feel: 3.5 | overall: 3.5
The beer pours a light chestnut brown, like dark cream soda, but clear. There is nearly an inch of off-white, thick and foamy head. The aroma is malty, toasted, caramel, with a touch of nut. The taste is light toasted malt, light caramel, very grassy, bitter and dry. It is well-carbonated and tingly and leaves a pleasant aftertaste.
334 characters
Eso Marzen from Pivovar Konrad / Pivovar Hols
3.69
out of
5
based on
19
ratings.