Gibbons
| Lion Brewery, Inc.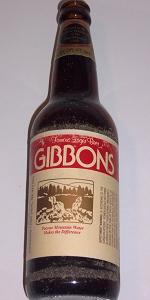 BEER INFO
Brewed by:
Lion Brewery, Inc.
Pennsylvania
,
United States
lionbrewery.com
Style:
American Pale Lager
Alcohol by volume (ABV):
not listed
Availability:
Year-round
Notes / Commercial Description:
No notes at this time.
Added by NeroFiddled on 11-25-2004
Ratings: 13 | Reviews: 10
Reviews by Generik420:
3.3
/5
rDev
+3.8%
look: 3 | smell: 3 | taste: 3 | feel: 4 | overall: 4
My dad bought me a case of this because it was 16oz returnable bottles and I was starting down a path of homebrewing and wanted some bottles larger then 12oz to re-use. My first complaint about this beer is the bottles are so re-used by the brewery that I really have to wonder how safe they are to drink out of anymore. There is literally an very etched and pitted band around the entire bottle from being washed so many times, and many of the bottles had minor pitting around the lip of the bottle. To add insult to injury on this, it appears the labels aren't even taken off when they are re-used and are washed with the label on and then repackaged.
Anyway, the beer itself isn't too bad. It is a pretty average brew, but I guess the price is very reasonable. Color is a clear and bright yellow with a fairly robust electric white head that does drop down to lacing. This beer has a sweeter then normal aroma, very minimal hop scent. Flavor is definitely on the sweeter side, but also had a bit of a dusty characteristic. Kind of reminiscent of an import pilsner. A somewhat light to medium body makes it a pretty drinkable beer.
1,136 characters
More User Reviews:
3.53
/5
rDev
+11%
look: 4 | smell: 3.5 | taste: 3.5 | feel: 3.5 | overall: 3.5
Mildly sweet and subtly nutty (trace diacetyl?) malt is the be-all and end-all of this simple, throwback lager. It's crystal-clear golden body reveals streams of steadily moving standard-sized bubbles beneath a thin cap of creamy white foam. The head retention is surprisingly good, and it leaves some nice lace throughout most of the glass. The nose is clean, but offers only a softly sweet and mildly nutty maltiness. No hops are to be found anywhere in this beer. The body is medium, and it's surprisingly creamy and smooth rather than crisp on the tongue. The flavor mirrors the aroma exactly, and its basic adjunct-laden maltiness is an easy drinking pleasure on a hot summers day. Basic, but nice.
703 characters
2.93
/5
rDev
-7.9%
look: 3.25 | smell: 2.75 | taste: 3 | feel: 2.75 | overall: 3

2.8
/5
rDev
-11.9%
look: 2 | smell: 2 | taste: 2.5 | feel: 4 | overall: 4
Appearance is gold with a slight hint of amber. very light. Good head on pour that soon disappeared without a trace.
Smell is so faint that you really have to look for it - slightly sweet malty smell is there, just barely.
Taste is a crisp adjuncty taste with a hint of malt. Absolutely inoffensive, but also rather boring. I've got nothing bad to say about it, but nothing good to say either.
Mouthfeel is surprisingly smooth for a beer of this style.
Drinkability - on a hot day they could go down like water. Not a beer I would seek out, but, on the other hand, I wouldn't turn down a free one.
This would be a great beer to serve at a party for people who normally prefer BMC - it's better and it's cheaper (I paid 12.79 + tax for a case of 16 oz. returnables) and it's made by a small brewery. However, I wouldn't recommend it for someone who prefers full flavored craft brews.
888 characters

2.83
/5
rDev
-11%
look: 3 | smell: 2.5 | taste: 3 | feel: 2.5 | overall: 3
Pours a light clear gold, with a white head. Smell is basic, hard to pick up any distinct flavors. So far similar to many macros. Taste is again basic and not huge, no hops really, just malt. This is an extremely basic beer, yet it is impressive by being very crisp and clean. It has a good amount of carbonation and just lacks in overall mouthfeel. You could pound these all day long, and if you prefer those "watered down macros" this is worth looking into but it doesn't have the same watery feel. I wouldn't find myself hunting this beer down. To plain and average, but if that is what you want this is the best plain beer I have had.
638 characters
3.3
/5
rDev
+3.8%
look: 3 | smell: 3 | taste: 3 | feel: 4 | overall: 4
Poured from a 16 ounce bottle with sticker marks that have been on and pulled off. Yellow honey color after pouring with almost no head. Thin white lacing under the beer. Scents of warm faded honey and yellow sugar. Watery mouthfeel make drinkable nature slightly heavy not like water.
285 characters

3.5
/5
rDev
+10.1%
look: 4 | smell: 4 | taste: 3 | feel: 3 | overall: 4
So visiting relatives in Wilkes Barre, I stopped by the Lions Brewery and loved that they're a local brewey that hasn't been scooped up by the big conglomerates. After asking around, I found that the "old timers" were dedicated to Gibbons. And thus, I had to get some.
The bottle promises some delicous beer, made perfect by Pocono water. I'm curious. It pours a beautiful gold. The creamy white head sticks around for about three minutes - then appears as a nice and consistent lace.
As to smell, it delivers for a domestic lager - toasty malt, a bit of bitter hop. But this beverage goes above and beyond with some exotic spice mixed in.
Nice carbonation on the tongue. Good flavor for a domestic, minimal aftertaste. Goes perfect with pizza.
It's medium-body and a bit heavier than Lion's other flagship beers such as the Pilsener and Stegmeir.
I like this brewery. They use an old school, gravity-based producation technique that starts with grain on the top floor and ends in the basement with some ultra-satisfying beer.
1,041 characters
3.23
/5
rDev
+1.6%
look: 4 | smell: 3.5 | taste: 3 | feel: 3.5 | overall: 3
Nice looking golden color with a 1/4 white head...nose is bready...malty...
Taste reminds me more of an ale...somewhat fruity(apples)...a little breadiness too...also some cooked corn...
Light bodied but not watery...spritzy mouthfeel...
All in all an OK beer...enjoyed a few of these after playing an afternoon flag football tournament and they hit the spot just right...I'll be Ok if i never revisit this one again but I would not turn it down either if offered...
475 characters
3.89
/5
rDev
+22.3%
look: 3 | smell: 4 | taste: 4 | feel: 3.5 | overall: 4
Pale, light golden. Thin wispy white head. Decent retention and lace. Small speckled carbonation is visible in the clear body. Sweet aroma. Malty sweet. Just a little adjuncty. But not a lot. A little breadiness on the nose. Good. Nicely carbonated. Refreshingly so. Medium bodied. Quenching mouthfeel. Taste is pretty nice. Rouned bready maltiness. Sweet adjunct like accents. Light hoppiness. A bit of a tangy finish. Good. I think the pocono mountain water really DOES make a difference. Nice little lager here.
514 characters
3.69
/5
rDev
+16%
look: 3 | smell: 4 | taste: 3.5 | feel: 3.5 | overall: 4
This is what my grand daddy used to drink on tap back in his day!
The 16oz bottle has been recycled so many times that the label was faded.
A- Honey color with a nice head
S- Give a nice hops scent with a "hey I am a REAL man's beer" feeling.
T- Carmel and I could almost taste the Pocono Spring Water.
M- heavy but refreshing refreshing
D- A good beer but a little too heavy for me. I drank six of these 16oz bottles and I was drunk and down for the count! Those old timers dont mess around!
497 characters
2.21
/5
rDev
-30.5%
look: 2 | smell: 2.25 | taste: 2.25 | feel: 2 | overall: 2.25
From my 1984 Rating log:
Appearance was a clear, light golden color. Minimum head was developed and the aroma was a sweet, light and grainy. Taste was sweet, a bit bready and weak. Had no aftertaste. When I had this beer, it cost $4.99 a case and was the cheapest beer in North Jersey. I was surprised by the decent reviews, wondering if they changed the recipe since then.
374 characters
Gibbons from Lion Brewery, Inc.
3.18
out of
5
based on
13
ratings.