India Pale Ale
| Laht Neppur Brewing Company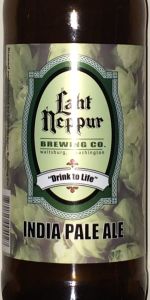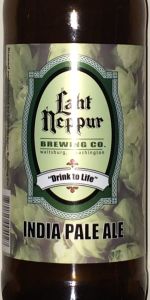 BEER INFO
Brewed by:
Laht Neppur Brewing Company
Washington
,
United States
lahtneppur.com
Style:
American IPA
Alcohol by volume (ABV):
6.50%
Availability:
Year-round
Notes / Commercial Description:
No notes at this time.
Added by JohnGalt1 on 06-28-2010
HISTOGRAM
Ratings: 12 | Reviews: 7
3.45
/5
rDev
+9.5%
look: 3 | smell: 3.5 | taste: 3.5 | feel: 3.25 | overall: 3.5
Bottle from friend (picked up at brewery). First reaction is that it reminds me of an East Coast IPA. Aroma is more fruity than hoppy, not citrus but pit fruit. Kind of a flat pour, taste adds hops to the fruitiness, unusual sweet character for a NW IPA. But not all together unpleasant.
287 characters
1.6
/5
rDev
-49.2%
look: 2 | smell: 2 | taste: 1.5 | feel: 1 | overall: 1.5
Dusty bottle (should have known better).
Huge gusher, lost half the bomber down the drain. Tried to salvage the remainder.
Slightly tart, metallic flavors.
Drank half the glass and dumped the rest.
Could have been decent.
221 characters

3.37
/5
rDev
+7%
look: 4 | smell: 3.25 | taste: 3.25 | feel: 4 | overall: 3.25
22oz bottle poured into a large snifter. No dates visible.
Pours pretty brassy golden. Medium-small pale head, lots of fine, slowish carbonation. Smell is a little boring, some hay, some spiciness.
Taste is a bit mild for an American pale ale, not particularly crisp, but not bad. Fair amount of lemon character, a bit of grassiness. Bitter aftertaste, in a neutral way.
Mouthfeel is dry and nice. Overall, it's not a bad beer, it's just a little boring.
457 characters
3.31
/5
rDev
+5.1%
look: 3.25 | smell: 3.5 | taste: 3.25 | feel: 3.25 | overall: 3.25
On tap at the brewery.
Golden with a solid sheet of fine whites and great clarity. Smells nice and hoppy - cascades fo' sho'. Grapefruit, resin and some lime. Taste is bitter, some bits of grapefruit pith, some aspirin, some honey and that's about it. It's really bitter. Medium bodied with moderate carb and a dry finish. As I said, this bitch is bitter. I sense they do a large addition early, then maybe a small addition at the end with a healthy dry hop. This beer could be really good with a couple small adjustments.
523 characters
3.53
/5
rDev
+12.1%
look: 4 | smell: 3.5 | taste: 3.5 | feel: 3.5 | overall: 3.5
On tap at the ale house in Walla Walla.
The beer pours an orange amber color with good head retention and lacing. The nose is attractive, as I pick up considerable dry citrus, some light earthiness and a hint of pepper. The flavor profile replicates the nose in this West Coast style IPA, with the considerable bitterness drying this beer out very nicely on the finish. However, there was some underlying grittiness and some noticeable heat in the finish, which made drinking this beer an increasing chore as I went along (ultimately, I didn't finish my 12 ounce glass). Mouthfeel was medium bodied otherwise, with a fairly long, noticeably bitter finish.
Not bad, and a beer I'd probably order again if there were no other or very few options. However, that's no longer the case in Walla Walla, so this may well be the last time I order this beer.
850 characters
3.5
/5
rDev
+11.1%
look: 3.5 | smell: 3.5 | taste: 3.5 | feel: 3.5 | overall: 3.5
On tap at Laht Neppur 2.20.11.
One finger white head, quick dissipation significant ring lacing retained. Nose is citrus, meyer lemon not grapefruit, caramel with what seems to be some pilsener malt contributing to a pretty dry beer for style. Taste mirrors the nose, not overly citrusy pretty well balanced, beer appears unfiltered or chill haze. Lengthy fairly bitter piney resin finish. I thought this wasn't too bad, though certainly not their signature beer.
464 characters
3.52
/5
rDev
+11.7%
look: 3.5 | smell: 4 | taste: 3 | feel: 3.5 | overall: 4
32 oz mason jar filled at the brewery.. shared with the Boise peeps..
Nice foamy 2 finger white head.. the brew is a hazy orange honey..
Nose is citrus with some other lite tropical fruity hoppiness.. good maltiness helps bring the hops up and out of the glass.
Flavor mirrors the nose with a minerally element.. not too bitter up front, instead the finish is lingering citrus hops with a pithy bitterness.
Body is medium, yet seems a tad high for an AIPA..
I would have a hard time putting this one in the IPA category.. instead a pretty hoppy APA would seem appropriate.. not enough bitterness at the front to make me take a 2nd or 3rd look.
Despite my above negatives, I am pretty happy with this brew.. I was hoping for a big ole PNW IPA... Still a darn nice brew and a good find along our travels.... I will definitely hit it anytime I'm in the area.
3.5/4/3/3.5/4
892 characters
India Pale Ale from Laht Neppur Brewing Company
Beer rating:
3.15
out of
5
with
12
ratings