Moa Harvest
| Moa Brewing Company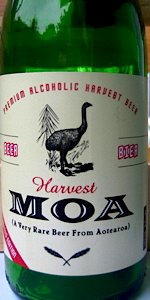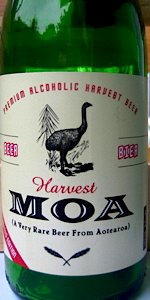 BEER INFO
Brewed by:
Moa Brewing Company
New Zealand (Aotearoa)
moabeer.co.nz
Style:
Fruit / Vegetable Beer
Alcohol by volume (ABV):
5.50%
Availability:
Rotating
Notes / Commercial Description:
Wheat-based beer with Nelson hops and Marlborough cherries.
Added by VitBAficionado on 11-22-2007
This beer is retired; no longer brewed.
HISTOGRAM
Ratings: 7 | Reviews: 7
Reviews by lamarr04:
3.21
/5
rDev
-11.6%
look: 4 | smell: 3 | taste: 3 | feel: 3.5 | overall: 3.5
375 ml bottle poured into a snifter
A: Pours a hazy gold with massive fluffy white head. leaves puffs of lacing down the glass.
S: At first I did not know how to describe the smell since I was not expecting it. Smell is of scented soap, candles, or potpurri. Sweet cherry mixed with aromatic flowers.
T: Smell overwhelms gustatory perception leaving the beer tasting of mildly sweet cherries. Wheat presents itself as bread-like biscuit quality around the edges.
M: Light to medium body with fizzy carbonation. Lingering mouthfeel as syrup like cherry remains on tongue.
D: This beer reminds me a lot of sam adams cherry wheat but less offensive. that being said, because the sweet cherry is tempered by a bit of wheat, it's remains a drinkable brew.
757 characters
More User Reviews:
3.35
/5
rDev
-7.7%
look: 4 | smell: 4 | taste: 3 | feel: 3.5 | overall: 3
So others say you can find this in Maryland, DC, New York ---- But this one was enjoyed in New Zealand.
Appearance- Vigorous Head even through its chilled. Wispy and Frothy Head. The lacing and carbonation are present. The body isn't really clear because its bottle conditioned and moderate amber yellow color. Its a lager.
Smell- Clearly Wheat and Cherries. Also a bottle conditioned smell of the yeast is present, but not over powering.
Taste- Closely Mimics the scent.
Mouthfeel- Smooth and quite thick, especially thick for lagers/wheat beers
Drinkability- Limited, but its not really my style so I'll reserve my judgment.
Note- Although this is a fresh bottle, the brewery has printed a good till 2010 date on this Moa. As always check you beer.
756 characters

3.77
/5
rDev
+3.9%
look: 3 | smell: 3.5 | taste: 4 | feel: 3.5 | overall: 4
Pale yellow colour with steady carbonation. Not much head although there was for a while. It dissipates. Not great, but acceptable.
Very floral on the nose. Literally, floral. Like a garden in springtime. Quite sweet and very fragrant, but simple. There's a one-smell fragrance to it.
Wow, taste is amazing, and singlehandedly restores the credibility of the Moa brewery. It's tangy and light and has an almost rosewater character to it. It's very tangy and citrusy but has a flowery spring-like character and texture. It is very like how a "harvest" beer should taste, however that is. Mouthfeel is a bit sharp but otherwise fine.
An interesting brew with a pleasant feel to it. Very drinkable. Frankly, Moa should abolish their wheat beer and just brew this instead.
771 characters
4.07
/5
rDev
+12.1%
look: 3.5 | smell: 4 | taste: 4 | feel: 4 | overall: 4.5
Vaguely cloudy yellow body with a thin pure white head. Lots of streaming carbonation. Looks pretty nice.
Nose is amazingly powerful of citrus and sugar. Hints of lavender, cherry and kaffir lime leaf. It's like a sherbet lemon. Quite flavoursome, very fragrant, fresh and delicious. Great smelling brew.
Taste is very similar to the nose. Sweet citrus characters a hint of rubber and crushed vegetation, even a flavour of olive oil or rosewater; something exotic. It's quite bizarre, but I like it a lot. Mouthfeel quite uplifting.
This is a really pleasant, drinkable beer. I'm really surprised I liked it so much.
619 characters
3.92
/5
rDev
+8%
look: 3.5 | smell: 4 | taste: 4 | feel: 3.5 | overall: 4
Bought this bottle while I was in New Zealand. This beer poured a golden yellow with a touch of white foam. It smelled of wheat, light fresh cherries and slight vanilla. It tasted light with some light cherries, slight banana, clove spices and wheat. Very drinkable and refreshing.
281 characters
3.2
/5
rDev
-11.8%
look: 3.5 | smell: 3.5 | taste: 3 | feel: 3.5 | overall: 3
A - Slightly hazy golden yellow colour with a solid inch of fluffy white head that hangs around for a fair while.
S - Smell is very cherry focused, a bit wheaty.
T - Cherry in taste as well as the wheat. Need more maltiness to balance the cherry.
M - Light bodied, quite dry, medium to high carbonation.
D - Not the best "fruit" beer but still worth a try if you can get it.
374 characters
3.86
/5
rDev
+6.3%
look: 4.5 | smell: 3.5 | taste: 4 | feel: 3.5 | overall: 4
Clear bright gold (pre-yeast) with a big billowy white head and a tornado of carbonation. Cherries mostly with a little bit of wheat. Dry wheat taste at first giving way to a sweeter cherry taste towards the middle with a bready dry finish. Velvety white-wine like texture and body with little of the carbonation coming through. Good hybrid along the lines of Quelque Chose but a bit less in your face.
402 characters
Moa Harvest from Moa Brewing Company
Beer rating:
3.63
out of
5
with
7
ratings