Yankee Jim Honey Lager
| Big Hole Brewing Company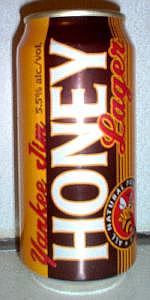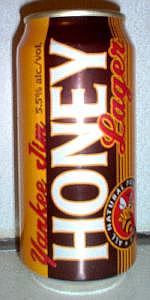 BEER INFO
Brewed by:
Big Hole Brewing Company
Montana
,
United States
bigholebeer.com
Style:
American Adjunct Lager
Alcohol by volume (ABV):
5.50%
Availability:
Year-round
Notes / Commercial Description:
No notes at this time.
Added by Frozensoul327 on 03-09-2006
HISTOGRAM
Ratings: 4 | Reviews: 4
Reviews by thehyperduck:

3.43
/5
rDev
-0.6%
look: 3.5 | smell: 3 | taste: 3.5 | feel: 3 | overall: 4
Tallboy can picked up at the LCBO; no freshness date. Claims to be 'ice-brewed' on the label - uh oh...
Pours a clear, pale amber colour, topped with one finger of creamy white head that shortly dies off, leaving only a soapy film and collar behind. Surprisingly decent quantity of lacing. Sweet, malty aroma; mostly bready with definite notes of honey.
For a cheap beer, this is reasonably tasty. Heavy on the malts as one might hope; doughy and bready, with a sweet, honey-like feel to it. Even more impressive, though - you can actually tell that this was brewed with hops! They provide noticeable, albeit weak, floral notes toward the end of the sip, certainly appreciated. Mostly clean finish, with only a twinge of bittersweetness. Light-bodied, with appropriately middling carbonation levels. Quite drinkable.
I've had a few Big Hole brews. They have all been cheap, but they have also been surprisingly serviceable. I don't mean to mislead any readers with all the praise, so let me clarify - this is not an outstanding amber, but I think you'd be hard-pressed to find another of comparable price and quality, and thus it must be given some credit. Think Lakeport Honey Lager, except noticeably better.
1,214 characters
More User Reviews:

3.2
/5
rDev
-7.2%
look: 3 | smell: 3 | taste: 3.5 | feel: 3 | overall: 3
A pretty good honey lager. Pours out to a rich amber golden color with a dense foamy head of about 1/4 inch. No lace. Aromas of malt, honey and grain. Taste is about the same; lightly laced malts mix with a touch of honey and dry grain, a hint of hops in the background. Mouthfeel is nominal. Drinkability is decent. If I wanted a honey lager, this would a fair choice. Worth a try.
382 characters
4.2
/5
rDev
+21.7%
look: 4 | smell: 4 | taste: 4 | feel: 4 | overall: 5
A good deal in Toronto at only $1.75 for a pint sized can plus one air mile each can on top of that. I've never seen the "little bitch cans" mentioned in the earlier reveiw though.
Anyway I poured into a pint sized mug and was relieved to see a nice dark amber. I had this fear I was getting some budlight-esque brew.
It also sported a decent head with good lacing. Alas I didn't wait to see how long the head retention lasted, I grabbed a quick gulp in an effort to satisfy my curiousity.
Again I was pleasantly surprised. It's nothing complex but it was crisp and refreshing without that gross cheap beer taste. (I actually find the cheapo light beers hard to swallow, guzzling a bud makes me gag). Which brings me to my next point, for those of you who may go camping or whatever with friends who's beer choice is limited to cheap beer, well we may have found a half way point here for the connoisseurs and the simpletons.
I gave this beer good ratings throughout with an exceptional drinkability because frankly it goes down so smooth, but also there are no bad feelings for knocking back a couple pints as it's incredibly reasonably priced. Well done Jimbo!
1,170 characters

2.98
/5
rDev
-13.6%
look: 3 | smell: 2.5 | taste: 3 | feel: 3 | overall: 3.5
Pour put an amber lager in the glass with a small rocky head that reduced quickly to a sticky lace...light whisps of sweet grainy smells could be some honey.
Medium body with a modest malt spine.
Sweet honey like malts up front then a nice dose of cedar hops balance..finish is wet with the hops mixing with that light whaft of honey to create a citrusy alsmost grapefruit-bubblegum sort of taste...sweet after taste. All in all not a badly put together brew for a cheep brew.
At 7.20 a six, you couldn't go wrong with this...far more flavorful and satisfying than most buck a beer lagers from Lakeport or Mol-corr-batt
631 characters
Yankee Jim Honey Lager from Big Hole Brewing Company
Beer rating:
3.45
out of
5
with
4
ratings