Java The Hop
| Fort George Brewery + Public House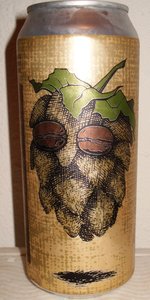 BEER INFO
Brewed by:
Fort George Brewery + Public House
Oregon
,
United States
fortgeorgebrewery.com
Style:
American IPA
Alcohol by volume (ABV):
6.50%
Availability:
Winter
Notes / Commercial Description:
"This limited edition winter seasonal is a collaboration between Coava Coffee Roasters and Fort George"
Single origin hops + single origin beans = Java the Hop
Added by ShaneDD on 01-17-2014
Reviews: 13 | Ratings: 86

3.29
/5
rDev
-14.8%
look: 2.5 | smell: 4 | taste: 3.25 | feel: 3.75 | overall: 2.5
Attractive amber color but marred by the worst case of floaties I've ever seen, and that's in the top 1/4 of the can. Nicely sudsy in the mouth. Very sharp and prickly.
Pleasant coffee aroma. Quite bitter. It's an interesting blend of bitterness from the coffee (Kenya) as well as the hops (Simcoe). This gets old really fast, but it's an interesting sip. From the 16 oz can.
376 characters

3.89
/5
rDev
+0.8%
look: 4.25 | smell: 4 | taste: 3.75 | feel: 3.75 | overall: 4
Pint can served cold into a tulip glass.
Java the Hop looks just like an IPA. Slightly hazy pale yellow-orange color with thick white head. The head settles fairly quickly and leaves some lacing.
Aroma is a mix of IPA and coffee with the latter being the more dominant of the two.
Flavor is much the same with the balance and body being like that of an IPA but the coffee flavor still dominates.
Mouthfeel is medium bodied and nicely carbonated. The balance is definately towards the bitter.
Overall an interesting beer but I wish the coffee was more subdued.
564 characters
3.8
/5
rDev
-1.6%
look: 3.25 | smell: 3.75 | taste: 4 | feel: 3.5 | overall: 3.75
rb
Picked up tonight at the COOP for $3ish per pounder can... At the other bottle shops for a little bigger price. Poured into my FunkFest goblet... short-lived 1 finger white head leaves only spotty lacing... The brew is orange with a weird yeasty colloidal suspension that isn't really off-putting, just odd.... Guess I should pour more carefully and leave a little brew in the can.
Nose is all about the coffee... mildly sweet and not burnt.
Flavor is again a coffee bean bomb that blows out most hop aspects and leaves behind a stripped down pithy citrus bitterness... light pale maltiness helps bind everything together... Lingering hop bitterness appears on the finish and is accentuated by a mildly astringent coffee bitterness.
Light/medium body with okay carbonation... very drinkable... I really enjoyed this one.
3.25/3.75/4/3.5/3.75
849 characters
4.25
/5
rDev
+10.1%
Nice yellow color, pleasant coffee aroma.
Decent if surprising light mouth feel, strong hop flavor that finishes subdued to the bitterness of the coffee. Tastes linger. Really a different kind of brew but definitely one worth trying.
233 characters
4.23
/5
rDev
+9.6%
look: 4.25 | smell: 4.25 | taste: 4.25 | feel: 4 | overall: 4.25
Poured from the 16 oz. can into a tulip. Nice golden color, fluffy white head holds for a good amount of time before dissipating. Smell is an interesting blend of what you'd expect: toasted malt grains, a bit of citrus hop aroma, both overshadowed by a nice, freshly ground coffee bean character. Taste features coffee in the forefront, but the bright hop character is still present. Mouthfeel is nice, crisp and dry, with the dark coffee bitterness balancing out the malt sweetness. This is a great beer, the differing flavors work very well together and never seem at odds. Porters and stouts have long been the obvious pick for brewers when it comes to adding coffee to beer, but this is another great example of what can be done adding coffee to a lighter ale. I look forward to this style becoming more prominent. Well done, Fort George, hope to try more from you in the future.
885 characters
3.08
/5
rDev
-20.2%
look: 3 | smell: 3 | taste: 3 | feel: 3.75 | overall: 3
16oz can at 41 F poured into a pint glass. Date on the bottom is 01/16/14.
Pours cloudy golden with chunks of dark sediment on the bottom. Small head, not much carbonation. Lots of floaters through the beer. Smell is spicy, lemony, maybe some hint of coffee. Something else is clearly in there...maybe akin to ginger, but I can't quite place it.
Taste is similar to the smell. Coffee is a little more recognizable, less of a ginger character, although it's still noticeable. Clearly some piney hops.
Mouthfeel is a nice medium texture and body. Overall, it's an OK beer. Mostly just odd.
590 characters

3.39
/5
rDev
-12.2%
look: 3.5 | smell: 3.25 | taste: 3.5 | feel: 4 | overall: 3
Poured from 16oz tall can into a pint glass.
Appearance: medium orange hue with a light haze and a strong effervescence. Head is a thin finger of frothy ivory foam. Additionally, the body has lots of floaties in it, which are slightly un-appetizing. Still, not bad.
Smell: bright, citrusy hops combine with a bitter coffee aroma to smell like -- well, it smells like a chili beer. I can't say as I love it, but points for the effort, eh?
Taste: what a weird flavor synthesis: grapefruit + coffee = chili peppers without the heat. What? It's actually not bad, and the flavor works a little bit better than the aroma. Still, weird.
Mouthfeel: medium body with a strong carbonation and a nice creaminess. Dig it.
Overall: it's seriously a non-spicy pepper beer. I don't understand what my taste buds are doing with this one. For me, it's not a *bad* beer, but not one I'd like to revisit.
890 characters
3.45
/5
rDev
-10.6%
look: 4 | smell: 3.25 | taste: 3.5 | feel: 3.25 | overall: 3.5
16oz can purchased at the Rocket Market on Spokane's South Hill for…some money. According to the date stamped on the bottom of the can this was canned on "01/16/14." There's quite a lot of information on the can, which includes a description of the beer ("a collaboration between Coava Coffee Roasters and Fort George….a beer made with "single origin" hops and coffee) and the artist responsible for the artwork displayed on the can (one Stephanie Sobierski), and cautions the consumer that they can "expect sediment at bottom of can," and that the beer should be drunk "fresh. Do not refrigerate."
Sediment did indeed make an appearance when I poured it into a large Sam Adams Boston Lager glass. The beer was a hazy straw color that took on a more orangey hue when held up to light. Big, creamy off-white head that left some "beer negligée" style lace.
The aroma is of tropical fruit-like hop scent. No coffee aroma at all.
Tastes mostly like an IPA made with hops that lend a tropical fruit-like tartness and sweetness. As the beer warms a bitter, vaguely coffeeish flavor can be tasted way, way in the background but I had expected that the coffee flavor one would expect in a beer called Java the Hop and explicitly declared to have been made with coffee would be more noteworthy and interesting.
Oily, resiny mouthfeel, with a body that is a tad watery.
I went into this beer with no idea what it would taste like, but I was intrigued by the notion of a coffee beer that wasn't a stout or porter. I was a little bummed out that it tasted like a fruity IPA. It's perfectly drinkable, however – just not terribly interesting when all's said and done.
1,698 characters

3.88
/5
rDev
+0.5%
look: 3.75 | smell: 3.75 | taste: 4 | feel: 4 | overall: 3.75
large creamy off white head ( about 1 inch). Got a quick whiff of medium roasted coffee then the floral and citric hops take over.After a while the coffee comes back and i find it goes surprisingly well with the hops! Taste is very strange the coffee being much stronger than in the aroma..medium to dark roast..tasty and the hops take a back seat. Really nice palate smooth and medium to heavy body. Great after taste of coffee. I really like this i had no idea that coffee could mix with an IPA but it works for me.
517 characters
4.7
/5
rDev
+21.8%
look: 4.5 | smell: 4.5 | taste: 5 | feel: 4.5 | overall: 4.5
Served from the can into a pint glass.
A- Poured a semi-hazy orange color with a bright white fluffy head that left glass coating lace.
S- Big roasted coffee and malt; big caramel, vanilla, and cream; bright citrusy hop character. Very complex and unique aroma reminiscent of coffee drizzled with caramel and whipped cream.
T- Big roasted coffee, roasted malt, caramel, vanilla, cream, and bright citrusy hop character. Pretty high bitterness on the finish.
M- Very dry, prickly carbonation, very smooth, medium body, and a little refreshing for a coffee beer.
O- Fort George is becoming one of my favorite crafters of IPAs. Their last three collaboration IPAs have been outstanding. Always very flavorful, unique twists on the style, and never skimping on the hop bitterness.
781 characters

4.2
/5
rDev
+8.8%
look: 3.75 | smell: 4.25 | taste: 4.25 | feel: 4 | overall: 4.25
Poured into a Chuckanut pint glass. Pours a slightly hazy medium golden amber with a fine one finger white head with good retention and lots of lacing. Aroma was very hop forward after the pour, but after sitting a few minutes has a more balanced aroma of neutral sweet malt, citrus hops and fresh coffee. Flavor is also well balanced lightly caramel malt, floral citrus hops and a quite nice quality coffee flavor. Medium bodied with light creaminess, nice. I'm impressed with this ale; I have found that I like coffee flavored stouts and porters but that the coffee often overwhelms the flavor in many lighter styles. This is exceptionally well integrated and the flavors all play well and compliment each other. Possibly my favorite coffee ale to date, tasty. Good job Fort George. Glad I picked this up despite reservations about the style. I will buying this again.
870 characters

4.29
/5
rDev
+11.1%
look: 3.75 | smell: 4 | taste: 4.5 | feel: 4 | overall: 4.5
16oz : SN IPA Glass
canned on 01-14-14
Pours a lightly hazy golden with a foamy white head.
Wonderful blend of fresh, lightly roasted coffee beans and a faint floral, citrus hop character.
The taste follows the same profile with lovely earthy, lightly roasty coffee bean notes predominately, highlighted by a floral, citrusy, lightly bitter backing.
Medium body, foamy carbonation, lightly hop-oily mouthfeel.
An incredibly well done beer. The coffee is a delicate, well done profile. The hops come through just a bit more in the flavor than the aroma. I really hope this Coffee IPA style takes off because the couple examples I have had of it have been wonderful.
669 characters
3.8
/5
rDev
-1.6%
look: 3.25 | smell: 4.5 | taste: 3.5 | feel: 3.75 | overall: 3.75
It poured pretty light golden in color, which was surprising. It's singled hopped and has single origin beans too. Immediate smell of coffee beans! Tasted good and was nice to drink. Not an expert but a pretty interesting beer and would buy it again.
250 characters
Java The Hop from Fort George Brewery + Public House
3.86
out of
5
based on
86
ratings.