Amstel Wheat
| Amstel Brouwerij B. V.
BA SCORE
77
okay
15
Reviews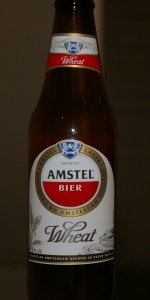 BEER INFO
Brewed by:
Amstel Brouwerij B. V.
Netherlands
amstel.com
Style:
Hefeweizen
Alcohol by volume (ABV):
4.50%
Availability:
Year-round
Notes / Commercial Description:
No notes at this time.
Added by TheManiacalOne on 01-28-2012
Reviews: 15 | Ratings: 44

2.7
/5
rDev
-12.9%
look: 4 | smell: 2.75 | taste: 2.5 | feel: 2.5 | overall: 2.75
Amstel Weiss - russian market localisation. 5,1% ABV, 11,4% Plato.
Visually not bad, nice retention. Sediment poured into glass. Aroma is rather weak. Taste is too sweet.
★
170 characters

3.64
/5
rDev
+17.4%
look: 3.5 | smell: 3.75 | taste: 3.5 | feel: 3.75 | overall: 3.75
Presentation: It was poured from a brown 12 oz bottle into a pint glass. There is a short description of the beer on the back label but it has no abv.
Appearance: It has a bright golden yellow body with lots of lively carbonation and a light foamy head. The head fades quickly.
Smell: The aroma has some bright lemony citrus and light white bready maltiness with just a slight touch of spice.
Taste / Palate: The flavor brings some mild lemony notes with light spice to its white bready base. The body feels light and refreshing and it finishes with very mild citrus hop bitterness. Overall it is a bit simpler than most Hefe Weizen beers but it is well balanced and quite drinkable.
★
689 characters
3.34
/5
rDev
+7.7%
look: 3 | smell: 3.25 | taste: 3.5 | feel: 3.25 | overall: 3.25
If you're someone who enjoys wheat beer this is up there with the best of them. It's essentially Hoegaarden but cheaper. Great unfiltered wheat flavor and easily recommended. But like I said, you have to like wheat beers. Great full bodied flavor with the wheaty finish.
★
270 characters

3.29
/5
rDev
+6.1%
look: 3.5 | smell: 3.25 | taste: 3.25 | feel: 3.5 | overall: 3.25
One and a half 12oz bottles poured into a weizen glass. Looks a cloudy ochre color with a thin ring of foam and some fine bubbles on the surface. Looks decent.
Wheat grain, banana, clove, light tangerine, and more citrus. A little muddled, but still nice. A bit grainier than a typical hefe nose, but decent.
Features a lemony banana with some spicy clove and a whole heap of extra wheaty grain. Clove swells a bit in the tail, like a spice drop. Has a bitterness upfront that is a bit accentuated, although it doesn't particularly hurt the drinkability. Late on the palate comes nuances of red apple. Carbonation is busy for the style, too. Body is wet, but not quite satisfying enough. Nearly medium.
It's okay. I'm impressed because the only other beer I've had from Amstel is Amstel Light. I was even doubting this to be a true hefeweizen, but it is, in fact. Not bad, either.
★
883 characters

2.68
/5
rDev
-13.5%
look: 3 | smell: 2.5 | taste: 2.75 | feel: 2.5 | overall: 2.75
More from local, in-person trader, tone77's big box o' beer! I was awaiting approval of my picture before opening it and here we are!
From the bottle: "A taste of Amsterdam brewed in every bottle"; "Pure Hefeweizen 100% Malted Wheat & Barley"; "Amstel Wheat is a classic European Hefeweizen, brewed with the craftsmanship that Amstel has been known for since 1870, to deliver its uniquely smooth and crisp taste."
I will tell you that it has a tendency to settle, so unless you are planning to review a krystalweizen, which this is not, I recommend agitating the bottle a little before popping the cap. I got a brief finger of soapy, bone-white head with limited retention from my pour. Color was a cloudy orangish-yellow. Nose had a faint orange/banana/clove ester scent, but it was fairly light for the style. Mouthfeel was kind of thin and watery and while it had the banana-forward taste of a hefeweizen, I just felt like it was lacking any Ooomph. Finish was semi-dry and the clove esters really hit after the swallow, but it was a case of too little, too late. I will cop to not being a fan of the style, but this was a shoddy example to begin with.
★
1,157 characters

2.96
/5
rDev
-4.5%
look: 3 | smell: 3.75 | taste: 2.5 | feel: 2.75 | overall: 3
Poured into a Franziskaner glass.
Pours a cloudy pale yellowish orange. Finger width of white head bubbles cascade. Minimal lace and head retention. Average looks.
Brew smells of lemon, wheat and light coriander. Pretty good nose.
Brew is very light in body and especially flavor. Faint in spice, banana, orange and wheat. Carbonation and a dry finish. Almost like a light wheat beer, cant even call this one a hefe (to me anyway). Most underwhelming hefe I have tried. A non offensive wheat brew. Makes the macro Blue Moon seem world class.
If you were hanging with a macro brew drinking crowd at a bbq, bring a case of this to let them see there is something else out there besides bud, miller, corona or coors. It may at least turn the macro crowd into trying something else, then maybe they will try craft brews.
★
820 characters
3.38
/5
rDev
+9%
look: 4.75 | smell: 3 | taste: 3.5 | feel: 3.25 | overall: 3.25
From the 12 fl. oz. bottle with a number on the label that reads: 227052-R0533. Sampled on February 8, 2013.
The pour is pale yellow with a full, puffy white head and very cloudy to the point that it is difficult to see through to the other side of the glass.
The aroma highlights the grapefruit, citrus character more than the wheat and there is a slight skunky note despite the fact that it came from a brown bottle.
The body is light to medium.
The wheat is more forward in the taste than in the aroma while the citrus zing is downplayed some. The finish is smooth and clean. You can tell the difference between this one and other better know German Hefe-Weizens.
★
671 characters
3.55
/5
rDev
+14.5%
look: 3.75 | smell: 3.75 | taste: 3.5 | feel: 3.25 | overall: 3.5
A little out of season, but I suppose anytime can be a good time for a classic style.
Poured into weizen glass.
This beers starts off quite nicely. Nice fresh aroma with bubblegum and mild spice a bit of banana at times and a solid yeast.
Large white head caps a cloudy yellow body. Some nice lacing.
Starts to fall off with taste. It's not bad. Banana, wheat, mild drying, slight spice flavor.
Body is a bit light and carbonation is kinda' prickly.
The many solid aspects start to fade in time. Body seems to get thinner and flavors seem to fade off. Nothing goes to bad, but just not as good. If offered, esp. in the summer and it is hot, this will work, there are just so many that are much better.
★
702 characters

2.87
/5
rDev
-7.4%
look: 3.5 | smell: 2.75 | taste: 2.75 | feel: 3 | overall: 3
Poured from bottle into pint glass
Appearance –Pours a yellow-straw color with a light orange glow. Upon pouring there is a medium level of haze and a big white head. The head fades fast at first, but then leaves a persistent and relatively thick white head on the brew. Over time this fades and leaves a light level of lacing on the sides of the glass.
Smell – The aroma of the brew is heaviest of a grainy wheat smell. Mixed with this are aromas of some lemon and light citrus hop as well as a somewhat papery smell.
Taste – The taste begins of a smooth wheat bread flavor with a light lemon flavor. Both flavors get stronger as the taste advances while the smoothness of the wheat diminishes to a more grainy and rough taste. At the end, the lemon gets even stronger and moves more toward a dry side, leaving a dry lemon grainy wheat taste on the tongue.
Mouthfeel –The body of the beer is rather low in its creaminess and thickness with a carbonation level that is light to average. The thin body suits the easy drinkability and light abv. of the beer well, although a bit higher carbonation may have been more appropriate for the style.
Overall – Ah nothing too exceptional, but not too bad. Average overall I would say and nothing to go out of our way for.
★
1,277 characters
3.55
/5
rDev
+14.5%
look: 3 | smell: 3.5 | taste: 3.75 | feel: 3.25 | overall: 3.5
Poured from a brown 12 oz. bottle. Has a light golden color with a 1/2 inch head. Smell is of mild banana, a touch f spice. Taste is good, banana, wheat, easy drinking and refreshing. Feels light in the mouth and overall not the best hefe I have had, but not bad.
★
263 characters

2.73
/5
rDev
-11.9%
look: 3.5 | smell: 3 | taste: 2.5 | feel: 3 | overall: 2.5
Served in a Samuel Adams Octoberfest stein at Independence Tap.
Had to go for one of the house specials while I was at IT, and the choice was easy, as I'd never had Amstel Wheat yet. It pours a partially hazy pale straw topped by a half-finger of off-white foam. The nose comprises cracked wheat, clove, and light coriander. The taste holds notes of light wheat and very light coriander. The body is a very light medium, with a very light moderate carbonation and a slick feel. Overall, as far as mass-produced pale wheats go, this one really isn't all bad. However, if it wants to style itself as a hefe, it fails big-time. The yeast character is subdued at best, with it mostly seeming absent throughout. I'll drink another, just not excitedly.
★
747 characters

2.75
/5
rDev
-11.3%
look: 3 | smell: 3 | taste: 3 | feel: 2.5 | overall: 2
Pours a small hazy, pale yellow color with a white head. In the aroma, a small lemon citrus and quite wheaty. In the taste, sugary lemon citrus, but very mellow. A small bite and a lighter bodied mouthfeel, with a dry small lemon to wheaty flavor in the aftertaste. Kind of sugary, and a domestic like wheat beer, eh!
★
317 characters

3.12
/5
rDev
+0.6%
look: 3 | smell: 3.5 | taste: 3 | feel: 3 | overall: 3
Had no clue this beer even existed, but I had to give it a try. Pours a lightly hazed dull gold color with moderate cap of white froth, little to no lacing. Scent is lightly bready with a faint kick of spice... Fortunately not served with any fruit, so I can tell the hop presence is minimal. Taste is light, contains little outside of mildly bready yeast and faint tang and spice, maybe a faint faint kiss of lemon. Light bodied, bubbly, refreshing. Overall, nothing bad... It's light flavor profile doesn't impress, but it beats the taste of any light macro lager.
★
566 characters
3.2
/5
rDev
+3.2%
look: 3.5 | smell: 3.5 | taste: 3 | feel: 3.5 | overall: 3
On-tap at Gleason's in Queens. I had no idea this even existed, so I ordered a pint. It's a clean wheat beer, reminding me of Widmer's hefe. The body is a light and crisp, with a gentle close spice in the flavor. Otherwise it's a plain bready wheat. No surprise, this is the Amstel Light of wheat beers.
★
303 characters
3.14
/5
rDev
+1.3%
look: 2.5 | smell: 3.5 | taste: 3 | feel: 3.5 | overall: 3
On-tap 1/24/2012 at Doherty's East Ave Irish Pub, in Pawtucket, RI served in a US tumbler pint glass.
A: The beer is a very pale yellow color with a large foamy white head that fades slowly and leaves a thin lace on the glass.
S: The aroma contains lemon, wheat, light caramelized malts, a faint touch of hops and some spice.
T: The taste starts out with bready flavors of wheat and a light malt character followed by mildly sweet flavors of lemon and spices. The hops presence is very mild and there's a decent balance. The after-taste is slightly bready and slightly sweet.
M: Smooth and a little crisp, light body, medium carbonation, finish is slightly sticky.
O: Tasty, goes down very easily, not filling at all, very mild kick, decent representation of style, it's a poundable beer since there isn't a lot to the beer but there are better wheat beers available.
★
890 characters
Amstel Wheat from Amstel Brouwerij B. V.
3.1
out of
5
based on
44
ratings.