Coldstream Naked Ale
| Coldstream Brewery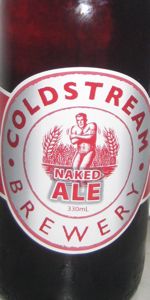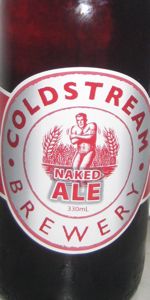 BEER INFO
Brewed by:
Coldstream Brewery
Australia
coldstreambrewery.com.au
Style:
English Pale Ale
Alcohol by volume (ABV):
4.80%
Availability:
Year-round
Notes / Commercial Description:
No notes at this time.
Added by dgilks on 12-13-2009
HISTOGRAM
Ratings: 7 | Reviews: 5
2.84
/5
rDev
-5%
look: 3 | smell: 2.75 | taste: 3 | feel: 2.5 | overall: 2.75
A: Pours a clear copper color with a small head that fades to bits of lacing.
S: Aroma of mild citrus, some malt sweetness and grain.
T: Taste of mild malt sweetness, some grain and bit of citrus. Quite dull actually. Mild bitterness and a fairly clean finish.
F: Body seems light for the style and short on flavor.
O: A decent non-offensive beer. probably closer to a Euro-Lager that a Pale Ale. Bottle label is "Coldstream Crisp Pale Ale" but suspect this beer is just being renamed.
493 characters
2.5
/5
rDev
-16.4%
look: 3 | smell: 3 | taste: 2.5 | feel: 2 | overall: 2
Pours a very clear amber-gold colour, with almost no head after some initial fizziness. Just some white film around the rim of the glass. Carbonation is persistent. The clarity is nice, but otherwise it looks pretty insipid.
Nose is a little sweet and grainy, with honeyed bland English characters coming through. Slight butterscotch and a hint of earthiness, but not nearly enough to balance it. Eh.
Taste is bland, and despite being rather insipid it feels unbalanced. The only characters are lightly sweet English malts, slightly dirty on the finish, with a touch of carbonation sting. There's really not much to talk about, it's pretty bland.
The best thing about this beer is that you can at least tell what it's meant to be. But this also then makes you compare it to the much better examples that are out there, which does the beer no favours.
853 characters
3.27
/5
rDev
+9.4%
look: 2.5 | smell: 3 | taste: 3.5 | feel: 3 | overall: 3.5
Appearance - 2.5
Pours a finger of cream coloured head which quickly reduced disappeared over a clear, light amber body.
Smell - 3.0
Mild aroma of toffee and a little fruit.
Taste - 3.5
Slightly sweet with a little biscuit and toffee balanced by slightly earthy, slightly fruity hops. At 4.8% alcohol it isn't that strong, but there is not a lot of anything else to hide it so it actually tastes quite alcoholic.
Mouthfeel - 3.0
Light to medium bodied with fine carbonation, though not enough of it - it's a little flat, though very smooth.
Drinkability - 3.0
Very easy to drink, quite sessionable but a little boring and has more alcohol than necessary IMO.
OVERALL - 3.15
To me this is like JS Golden Ale (the underwhelming current version, not the delicious version of 2009 and earlier) with bad head retention
818 characters
3.06
/5
rDev
+2.3%
look: 2 | smell: 3.5 | taste: 3 | feel: 2 | overall: 3.5
Pours amber with a small, instantly fading head.
Nose shows lots of caramel and herbal grassy notes, somewhat similar to seaweed. Slightly off-putting, but not really bad.
Flavours are similar with toasty, bready and caramel malt, similar to a bock. Harsh bitterness in the finish.
Body is quite thick and oily, with little carbonation.
336 characters
3.26
/5
rDev
+9%
look: 4 | smell: 3 | taste: 3 | feel: 4 | overall: 3.5
Pours a relatively clear copper colour. Decent 1-finger head which dissipates to a thin film.
Relatively sweet aroma with caramel notes. It almost seems slightly under-attenuated. Lots of fruitiness with banana playing an unusually prominent role. On the whole it seems a bit odd and unusual.
They are calling this a Golden Ale (or EPA) but it doesn't have those characteristics. Lots of toasty, bready malt makes up the majority of the flavour profile. Some bitterness with earthy, floral English hop types being noticeable. Again I get banana which is way out of style and maybe there is a hint of diacetyl. I'm not sure what to make of this.
A rich, medium-full body and less than average carbonation contribute to a creamy mouthfeel.
What can I say? It is tasty but has strange flavours that don't match the style by any means. I'm not sure what has happened here. Nonetheless a drinkable beer as long as I ignore what it is supposed to be.
956 characters
Coldstream Naked Ale from Coldstream Brewery
Beer rating:
2.99
out of
5
with
7
ratings