Maggie Maibock
| Blue Mountain Brewery
BA SCORE
84
good
10
Reviews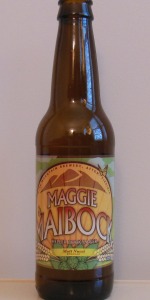 BEER INFO
Brewed by:
Blue Mountain Brewery
Virginia
,
United States
|
website
Style:
Maibock / Helles Bock
Alcohol by volume (ABV):
6.60%
Availability:
Spring
Notes / Commercial Description:
No notes at this time.
Added by JayQue on 05-13-2013
Reviews: 10 | Ratings: 42
3.52
/5
rDev
-5.9%
look: 3.75 | smell: 3.5 | taste: 3.5 | feel: 3.5 | overall: 3.5
Pours an orangey amber with a just a hint of creamier white head. The aroma and the taste are both fairly nondescript malt, nothing really to get excited about. Not bad, but kinda "meh". The body is a little thin but has a decent carbonation to it.
★
248 characters
3.93
/5
rDev
+5.1%
look: 3.75 | smell: 3.75 | taste: 4 | feel: 4 | overall: 4
12 oz bottle, poured into a pint glass
Appearance: Pours a pretty, slightly opaque, golden color, speckled with orange highlights and a quarter of a finger of white-head that quickly dissolved away into a thin lacing of foam that completely covered the top of the beer.
Aroma: Very nice aromas of bready, biscuit-like, toasted malt up front, along with some honey and caramel, honey-suckle, clover, straw, black pepper, coriander and cardamom.
Taste: Very nice flavors too! Tons of bready, biscuit-like, toasted malt up front, cracker-like and a little mineral-like, followed by lots of honey-like and a touch caramel-like sweetness, some spices of black pepper and coriander. The beer finishes with some floral, grassy, citrusy hops, but just a touch of it. Quite nice!
Mouthfeel: Medium-bodied, crisp, refreshing and very effervescent, as there's quite a lot of carbonation to tickle the taste buds. With an ABV of 6.6%, there is no alcohol on the palate.
Overall: This is a very tasty, very refreshing Maibock! Tons of malt and spices and some beautifully balanced hops. Very nice, Blue Mountain, very nice!
★
1,128 characters
4
/5
rDev
+7%
look: 4 | smell: 4 | taste: 4 | feel: 4 | overall: 4
Poured from the bottle into a Libbey style pilsner glass.
Bronze caramel with a great crystal clear brass tone to it. Minimal and slow rising carbonation but just the right amount. Head creation is minimal only a faint off white one finger head manages but settles to a thin puck and top. Fairly solid looker.
Interesting aroma. Sweet mix of toasty caramel, light brown bread, but sugary syrup as well. Slightly fruity a bit, but a mix of decent light character and crisp toffee notes. Nothing outrageous but once again pretty solid.
Interesting and unexpected on the palate. Fruity mid palate forward almost a mix between grape and raisin quality but a much lighter sweetness. The finish is all crisp toffee and really pops and grows big after the swallow. Light caramel and a good thin sticky quality in the palate as well.
It's a real simple animal overall, but it's great tasting and easy drinking and very much to style. Excellent drinker.
★
959 characters
3.78
/5
rDev
+1.1%
look: 4 | smell: 3.5 | taste: 4 | feel: 4 | overall: 3.5
12 ounce bottle into lager glass, best before 7/2014. Pours slightly hazy deep golden color with a 1 finger dense off white head with great retention, that reduces to a small cap that lingers. Spotty soapy lacing clings down the glass, with a moderate amount of streaming carbonation retaining the head. Aromas of pear, apple, biscuit, toast, light honey, herbal, grass, pepper, and yeast earthiness. Nice and pleasant aromas with good balance of pale malt, earthy hops, and yeast ester notes; with solid strength. Taste of pear, apple, biscuit, toast, honey, herbal, grass, pepper, and yeast earthiness. Fair amount of herbal/earthy bitterness on the finish; with lingering notes of pear, apple, biscuit, toast, honey, herbal, grass, pepper, and yeast earthiness on the finish for a good bit. Very nice balance and robustness of pale malt, earthy hops, and yeast ester flavors; with a good malt/bitterness balance and zero cloying flavors after the finish. Medium carbonation and body; with a very smooth, crisp, and lightly bready mouthfeel that is nice. Alcohol is well hidden with zero warming present after the finish. Overall this is a very good maibock style. All around good robustness and balance of pale malt, earthy hops, and yeast ester flavors; and very smooth and crisp to drink. A nicely enjoyable offering.
★
1,322 characters

4.53
/5
rDev
+21.1%
look: 5 | smell: 4.5 | taste: 4.5 | feel: 4.5 | overall: 4.5
This was a recent acquisition from the Friendly Greek Bottle Shop and since a picture exists and Maibocks seem to be on the menu this morning, this seems like a good time to get the review done and the bottle emptied. Wake up, Maggie Maibock, I got a glass to use for you!
From the bottle: "Heller Bock Lager Matt Nucci Brewdad"; "Part of the PROGENY SERIES from Blue Mountain Brewery".
Once more, the contrasting colors made the pseudo-cascade a sight to behold! Man, I could do this all day. My efforts resulted in three fingers of dense, eggshell-white head with lasting retention. Once again, the color was a deep, golden-yellow (SRM = > 5, < 7) with NE-quality clarity and I could see into the future, where I was back at the Greek, drinking beer. In the interim, since they had never left, the Unholy Trio of Mammon, Midas and Croesus were battling for a taste. Once more, the nose had that terrific combination of biscuit malts and grassy Noble hops and now, my mouth was watering. Either my overdosing with AIPAs has left me craving something else, or that AIPA obsession is wrong-headed and I should be branching out more often. Guess what? I am sticking with my AIPAs, but I can appreciate a well-made beer in another style. Great lacing began to appear in the glass as I typed and now I was ready! Mouthfeel was full, more towards creamy then the Troegs Maibock and the sweetness was a little more pronounced ("Statistics [:] 22 IBUs 16.2 Plato"), more honey-like than bready and still with some fusel alcohol heat. I felt compelled to break out the pretzels at this point and they really went well with this beer. Finish was bone-dry and I was coming to realize that I prefer it this way. I am not into sweets as a usual thing anyway and the dryness really allows for a clean finish with a definitive grassy aftertaste.
★
1,839 characters

3.41
/5
rDev
-8.8%
look: 3.75 | smell: 3.25 | taste: 3.5 | feel: 3 | overall: 3.5
Bought a growler fill this weekend. Great color, good aroma. Saw it in bottle in the grocery store yesterday. Perfect choice for this time of year. Planning on going back soon for the full menu at the Barrel House Brewery. This is a great area to be a beer lover.
★
263 characters
3.88
/5
rDev
+3.7%
look: 3.5 | smell: 3.5 | taste: 4 | feel: 4.25 | overall: 4
12oz bottle obtained from the brewpub for me by coworker. Thanks Steve!
Poured into an imperial pint glass, formed a 1/2" off-white head over the clear golden amber brew. Head falls to a thin layer of bubbles, with leggy fleeting lace. Aroma is minimal.
Taste starts sweet, which lingers a bit longer like a maibock should, peek of fruit in the middle, balancing bitterness at the close. Mouthfeel is very soft and smooth, and drinkability is way easy. Liking this one.
★
473 characters

3.48
/5
rDev
-7%
look: 3.75 | smell: 3.75 | taste: 3.25 | feel: 3.5 | overall: 3.5
Crystal clear. Burnt orange in color against my wall, but golden against my computer screen.3 finger off white head that becomes chunky as it recedes leaving copious lacing.
Fruity, grassy hops. Apricot and light ripe citrus. Toasty malt.
Sweet malt. Tart and bitter hops. Toast. Bitterness dominates in the end.
Light pepper, slightly syrupy but not sticky, burn of alcohol in the throat.
A decent spring brew, if a bit subdued. Still, it's an easy drinker, and perhaps almost sessionable.
★
494 characters
3.42
/5
rDev
-8.6%
look: 3.5 | smell: 3.25 | taste: 3.5 | feel: 3.25 | overall: 3.5
First had: on tap at Blue Mountain, Afton, VA
Clear darker amber pour, with a large, frothy, white head that receded to a wispy layer, lacing the glass as it descended. Light aroma, dry malts, essence of fruity esters, grassy/herbal hops. Taste of bready caramel malts and probably some Vienna?, light, clean notes of stone fruit, herbal hops. Pretty basic stuff, but good nonetheless. Light-medium body and drinkable for the style.
★
433 characters

3.5
/5
rDev
-6.4%
look: 4 | smell: 3.25 | taste: 3.5 | feel: 3.75 | overall: 3.5
Poured a dark gold color with a big white bubbly head (hard pour). There are thick patches of lacing and fairly decent head retention.
The aroma isn't much, a little grassy hops.
Flavor is better than the nose. A bready malt backbone with some finishing grassy hops.
Mouthfeel is light and crisp, just right for a lager.
A nice springtime sipping beer.
★
358 characters
Maggie Maibock from Blue Mountain Brewery
3.74
out of
5
based on
42
ratings.