Batiscani Réserve Spéciale

À La Fût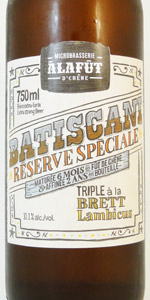 Write a Review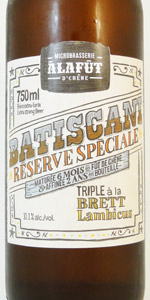 Notes:

flipper2gv from Canada
4.25
/5
rDev
-0.7%
look: 4.25 | smell: 4.25 | taste: 4.25 | feel: 4.25 | overall: 4.25
A: Pours a very nice golden orange color with a pure white creamy looking head. Retention is ok but lacing is very good. Semi hazy.
S: Pretty strong nose. The brett influences are quite evident with strong funk, lemon like acidity, green apple tartness, hay and horse blanket. You get triple like notes with cinnamon, pepper, coriander, candi sugar and marmelade.
T: Medium intensity taste. You get the tripel up front with biscuit like maltiness, cinnamon, coriander, pepper and a little cloves. Decent amount of funk, hay, musk and a tiny amount of sweet red apples (no lemon or tartness in the taste). Dried apricots and marmelade in the finish. It has some of the typical brett dryness but it still is sweet-ish. Also, some tannins from the oak is apparent with little notes of coconut and vanilla. LONG aftertaste.
M: Medium body with medium carbonation. Carbonation is quite fine for a bretted beer. A little sticky for a belgian style beer but still very good feel.
O: This is a very very solid beer IMO. I had very low hopes after the western porter but this is super solid. Highly recommended.
Mar 04, 2020

TheBierdimpfe from Canada
4.34
/5
rDev
+1.4%
look: 3.75 | smell: 4 | taste: 4.5 | feel: 4.5 | overall: 4.5
Medium: Capped + tulip glass.
Opacity: Clear with a light veil, cloudy with the yeast.
Color: Golden with low activity.
Head: Foamy 2-3 beige finger.
Legs: Moderate but strong lacing with good swirl reaction.
Smell: Wild yeast/Oak/Caramel/Peach.
Taste: Apricot/Clove/Banana/Floral.
Feel: Brett/Bready/Spicy/Wood.
Body: Medium to full, quite oily but good smoothness.
Carbonation: Moderately crispy, a bit faint.
Overall: Nice warming aged Tripel cross Wild ale. Superb quality craft with high drinkability.
Visual 7/10 - Flavors 9/10 - Sensations 9/10 - Balance 8.5/10 -
Freshness 5/10 - Intensity 7/10 - Complexity 9/10 - Appreciation 9/10
Oct 22, 2019
Phyl21ca from Canada
4.25
/5
rDev
-0.7%
look: 4.25 | smell: 4.25 | taste: 4.25 | feel: 4.25 | overall: 4.25
Bottle: Poured an orangey color ale with a large white foamy head with good retention and lacing. Aroma of fruity Brett notes with some funky notes and light spicy yeast notes also perceptible. Taste is a complex mix of light sweet Belgian malt notes with some residual candi sugar with some fruity and funky Brett notes with light peppery yeast notes with a smooth finish courtesy of the barrel-aging. Body is full with good carbonation with no real apparent alcohol notes. This sis real treat with the Brett and barrel-aging adding a ton of complexity to the base beer.
Jun 13, 2019
Batiscani Réserve Spéciale from À La Fût
Beer rating:
4.28
out of
5
with
3
ratings